Abstract
The dynamics of haematopoietic stem cell differentiation and the hierarchy of oligopotent stem cells in the bone marrow remain controversial. Here we dissect haematopoietic progenitor populations at single cell resolution, deriving an unbiased reference model of transcriptional states in normal and perturbed murine bone marrow. We define the signature of the naive haematopoietic stem cell and find a continuum of core progenitor states. Core cell populations mix transcription of pre-myeloid and pre-lymphoid programs, but do not mix erythroid or megakaryocyte programs with other fates. CRISP-seq perturbation analysis confirms our models and reveals that Cebpa regulates entry into all myeloid fates, while Irf8 and PU.1 deficiency block later differentiation towards monocyte or granulocyte fates. Our transcriptional map defines a reference network model for blood progenitors and their differentiation trajectories during normal and perturbed haematopoiesis.
Your institute does not have access to this article
Relevant articles
Open Access articles citing this article.
Yuji Takihara

,

Takumi Higaki

…

Hidenobu Mizuno

Communications Biology Open Access 02 August 2022

Peng Ding

,

Qiyuan Tan

…

Chen Yao

Bone Research Open Access 27 May 2022

Bingrui Wang

,

Chenchen Wang

…

Lihong Shi

Cell Discovery Open Access 10 May 2022
Access options
Subscribe to Nature+
Get immediate online access to the entire Nature family of 50+ journals
Subscribe to Journal
Get full journal access for 1 year
$99.00
only $8.25 per issue
All prices are NET prices.
VAT will be added later in the checkout.
Tax calculation will be finalised during checkout.
Buy article
Get time limited or full article access on ReadCube.
$32.00
All prices are NET prices.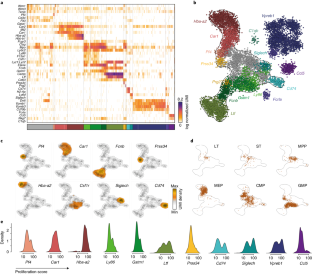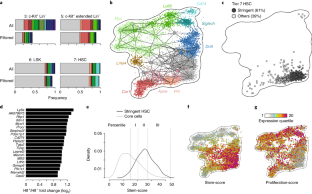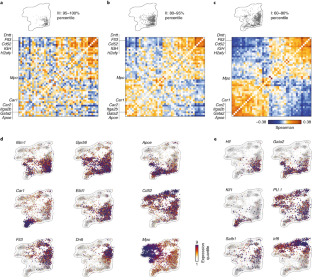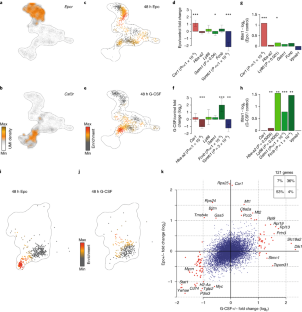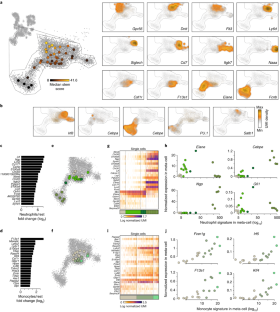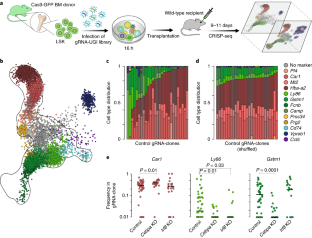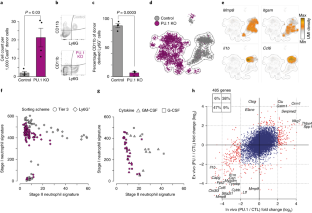 References
Orkin, S. H. & Zon, L. I. Hematopoiesis: an evolving paradigm for stem cell biology. Cell 132, 631–644 (2008).

Till, J. E. & Mc, C. E. A direct measurement of the radiation sensitivity of normal mouse bone marrow cells. Radiat. Res. 14, 213–222 (1961).

Spangrude, G. J., Heimfeld, S. & Weissman, I. L. Purification and characterization of mouse hematopoietic stem cells. Science 241, 58–62 (1988).

Meuwissen, H. J., Gatti, R. A., Terasaki, P. I., Hong, R. & Good, R. A. Treatment of lymphopenic hypogammaglobulinemia and bone-marrow aplasia by transplantation of allogeneic marrow. Crucial role of histocompatibility matching. N. Engl. J. Med. 281, 691–697 (1969).

Tho, E. D., Lochte, H. L., W, C. L. U. & Ferrebee, J. W. Intravenous infusion of bone marrow in patients receiving radiation and chemotherapy. N. Engl. J. Med. 257, 491–496 (1957).

Arinobu, Y. et al. Reciprocal activation of GATA-1 and PU.1 marks initial specification of hematopoietic stem cells into myeloerythroid and myelolymphoid lineages. Cell Stem Cell 1, 416–427 (2007).

Pronk, C. J. et al. Elucidation of the phenotypic, functional, and molecular topography of a myeloerythroid progenitor cell hierarchy. Cell Stem Cell 1, 428–442 (2007).

Schroeder, T. Hematopoietic stem cell heterogeneity: subtypes, not unpredictable behavior. Cell Stem Cell 6, 203–207 (2010).

Yamamoto, R. et al. Clonal analysis unveils self-renewing lineage-restricted progenitors generated directly from hematopoietic stem cells. Cell 154, 1112–1126 (2013).

Lara-Astiaso, D. et al. Immunogenetics. Chromatin state dynamics during blood formation. Science 345, 943–949 (2014).

Cabezas-Wallscheid, N. et al. Identification of regulatory networks in HSCs and their immediate progeny via integrated proteome, transcriptome, and DNA methylome analysis. Cell Stem Cell 15, 507–522 (2014).

Sawyers, C. L., Denny, C. T. & Witte, O. N. Leukemia and the disruption of normal hematopoiesis. Cell 64, 337–350 (1991).

Sykes, M. & Nikolic, B. Treatment of severe autoimmune disease by stem-cell transplantation. Nature 435, 620–627 (2005).

Spitzer, M. H. et al. An interactive reference framework for modeling a dynamic immune system. Science 349, 1259425 (2015).

Guo, G. et al. Mapping cellular hierarchy byÿsingle-cellÿanalysis of the cell surface repertoire. Cell Stem Cell 13, 492–505 (2013).

Perie, L., Duffy, K. R., Kok, L., de Boer, R. J. & Schumacher, T. N. The branching point in erythro–myeloid differentiation. Cell 163, 1655–1662 (2015).

Adolfsson, J. et al. Identification of Flt3+ lympho–myeloid stem cells lacking erythro-megakaryocytic potential a revised road map for adult blood lineage commitment. Cell 121, 295–306 (2005).

Kondo, M. Lymphoid and myeloid lineage commitment in multipotent hematopoietic progenitors. Immunol. Rev. 238, 37–46 (2010).

Gorgens, A. et al. Revision of the human hematopoietic tree: granulocyte subtypes derive from distinct hematopoietic lineages. Cell Rep. 3, 1539–1552 (2013).

Paul, F. et al. Transcriptional heterogeneity and lineage commitment in myeloid progenitors. Cell 163, 1663–1677 (2015).

Naik, S. H. et al. Diverse and heritable lineage imprinting of early haematopoietic progenitors. Nature 496, 229–232 (2013).

Notta, F. et al. Distinct routes of lineage development reshape the human blood hierarchy across ontogeny. Science 351, aab2116 (2016).

Sanjuan-Pla, A. et al. Platelet-biased stem cells reside at the apex of the haematopoietic stem-cell hierarchy. Nature 502, 232–236 (2013).

Jaitin, D. A. et al. Massively parallel single-cell RNA-seq for marker-free decomposition of tissues into cell types. Science 343, 776–779 (2014).

Grun, D. et al. Single-cell messenger RNA sequencing reveals rare intestinal cell types. Nature 525, 251–255 (2015).

Zeisel, A. et al. Brain structure. Cell types in the mouse cortex and hippocampus revealed by single-cell RNA-seq. Science 347, 1138–1142 (2015).

Habib, N. et al. Div-Seq: single-nucleus RNA-seq reveals dynamics of rare adult newborn neurons. Science 353, 925–928 (2016).

Treutlein, B. et al. Reconstructing lineage hierarchies of the distal lung epithelium using single-cell RNA-seq. Nature 509, 371–375 (2014).

Scialdone, A. et al. Resolving early mesoderm diversification through single-cell expression profiling. Nature 535, 289–293 (2016).

Han, X. et al. Mapping the mouse cell atlas by microwell-Seq. Cell 172, 1091–1107 (2018).

Tanay, A. & Regev, A. Scaling single-cell genomics from phenomenology to mechanism. Nature 541, 331–338 (2017).

Nestorowa, S. et al. A single-cell resolution map of mouse hematopoietic stem and progenitor cell differentiation. Blood 128, e20–e31 (2016).

Drissen, R. et al. Distinct myeloid progenitor-differentiation pathways identified through single-cell RNA sequencing. Nat. Immunol. 17, 666–676 (2016).

Schlitzer, A. et al. Identification of cDC1- and cDC2-committed DC progenitors reveals early lineage priming at the common DC progenitor stage in the bone marrow. Nat. Immunol. 16, 718–728 (2015).

Olsson, A. et al. Single-cell analysis of mixed-lineage states leading to a binary cell fate choice. Nature 537, 698–702 (2016).

See, P. et al. Mapping the human DC lineage through the integration of high-dimensional techniques. Science 356, eaag3009 (2017).

Velten, L. et al. Human haematopoietic stem cell lineage commitment is a continuous process. Nat. Cell Biol. 19, 271–281 (2017).

Tusi, B. K. et al. Population snapshots predict early haematopoietic and erythroid hierarchies. Nature 555, 54–60 (2018).

Zheng, S., Papalexi, E., Butler, A., Stephenson, W. & Satija, R. Molecular transitions in early progenitors during human cord blood hematopoiesis. Mol. Syst. Biol. 14, e8041 (2018).

Sun, J. et al. Clonal dynamics of native haematopoiesis. Nature 514, 322–327 (2014).

Jaitin, D. A. et al. Dissecting immune circuits by linking CRISPR-pooled screens with single-cell RNA-seq. Cell 167, 1883–1896 (2016).

Ogawa, M. et al. Expression and function of c-kit in hemopoietic progenitor cells. J. Exp. Med. 174, 63–71(1991).

Morrison, S. J. & Weissman, I. L. The long-term repopulating subset of hematopoietic stem cells is deterministic and isolatable by phenotype. Immunity 1, 661–673 (1994).

Yang, L. et al. Identification of Lin– Sca1+ kit+ CD34+ Flt3– short-term hematopoietic stem cells capable of rapidly reconstituting and rescuing myeloablated transplant recipients. Blood 105, 2717–2723 (2005).

Kiel, M. J. et al. SLAM family receptors distinguish hematopoietic stem and progenitor cells and reveal endothelial niches for stem cells. Cell 121, 1109–1121 (2005).

Shojaei, F. et al. Hierarchical and ontogenic positions serve to define the molecular basis of human hematopoietic stem cell behavior. Dev. Cell 8, 651–663 (2005).

Riddell, J. et al. Reprogramming committed murine blood cells to induced hematopoietic stem cells with defined factors. Cell 157, 549–564 (2014).

Cabezas-Wallscheid, N. et al. Vitamin A–retinoic acid signaling regulates hematopoietic stem cell dormancy. Cell 169, 807–823 (2017).

Laslo, P. et al. Multilineage transcriptional priming and determination of alternate hematopoietic cell fates. Cell 126, 755–766 (2006).

Huang, S., Guo, Y. P., May, G. & Enver, T. Bifurcation dynamics in lineage-commitment in bipotent progenitor cells. Dev. Biol. 305, 695–713 (2007).

Rodriguez-Fraticelli, A. E. et al. Clonal analysis of lineage fate in native haematopoiesis. Nature 553, 212–216 (2018).

Metcalf, D. The granulocyte-macrophage colony-stimulating factors. Science 229, 16–22 (1985).

Cohen, A. M. et al. In vivo stimulation of granulopoiesis by recombinant human granulocyte colony-stimulating factor. Proc. Natl Acad. Sci. USA 84, 2484–2488 (1987).

Zhang, J. et al. Characterization of Siglec-H as a novel endocytic receptor expressed on murine plasmacytoid dendritic cell precursors. Blood 107, 3600–3608 (2006).

Fogg, D. K. et al. A clonogenic bone marrow progenitor specific for macrophages and dendritic cells. Science 311, 83–87 (2006).

Onai, N. et al. Identification of clonogenic common Flt3+ M-CSFR+ plasmacytoid and conventional dendritic cell progenitors in mouse bone marrow. Nat. Immunol. 8, 1207–1216 (2007).

Waskow, C. et al. The receptor tyrosine kinase Flt3 is required for dendritic cell development in peripheral lymphoid tissues. Nat. Immunol. 9, 676–683 (2008).

Scott, E. W., Simon, M. C., Anastasi, J. & Singh, H. Requirement of transcription factor PU.1 in the development of multiple hematopoietic lineages. Science 265, 1573–1577 (1994).

Anderson, K. L., Smith, K. A., Pio, F., Torbett, B. E. & Maki, R. A. Neutrophils deficient in PU.1 do not terminally differentiate or become functionally competent. Blood 92, 1576–1585 (1998).

McKercher, S. R. et al. Targeted disruption of the PU.1 gene results in multiple hematopoietic abnormalities. EMBO J. 15, 5647–5658 (1996).

Lominadze, G. et al. Proteomic analysis of human neutrophil granules. Mol. Cell Proteom. 4, 1503–1521 (2005).

Theilgaard-Monch, K. et al. The transcriptional program of terminal granulocytic differentiation. Blood 105, 1785–1796 (2005).

Zhang, J. et al. Identification of the haematopoietic stem cell niche and control of the niche size. Nature 425, 836–841 (2003).

Mendez-Ferrer, S. et al. Mesenchymal and haematopoietic stem cells form a unique bone marrow niche. Nature 466, 829–834 (2010).

Cordeiro Gomes, A. et al. Hematopoietic stem cell niches produce lineage-instructive signals to control multipotent progenitor differentiation. Immunity 45, 1219–1231 (2016).

Haas, S. et al. Inflammation-induced emergency megakaryopoiesis driven by hematopoietic stem cell-like megakaryocyte progenitors. Cell Stem Cell 17, 422–434 (2015).

Essers, M. A. et al. IFNα activates dormant haematopoietic stem cells in vivo. Nature 458, 904–908 (2009).

Rieger, M. A., Hoppe, P. S., Smejkal, B. M., Eitelhuber, A. C. & Schroeder, T. Hematopoietic cytokines can instruct lineage choice. Science 325, 217–218 (2009).

Giladi, A. & Amit, I. Single-cell genomics: a stepping stone for future immunology discoveries. Cell 172, 14–21 (2018).

Vallejos, C. A., Marioni, J. C. & Richardson, S. BASiCS: Bayesian analysis of single-cell sequencing data. PLoS Comput. Biol. 11, e1004333 (2015).
Acknowledgements
The authors thank members of the Tanay and Amit laboratories for critical discussions. Research by I.A. and A.Ta. is supported by the Chan Zuckerberg Initiative. I.A. is supported by a Howard Hughes Medical Institute International Scholar Award, the European Research Council (309788), the Israel Science Foundation, the Ernest and Bonnie Beutler Research Program of Excellence in Genomic Medicine, the Helen and Martin Kimmel award for innovative investigation, a Minerva Stiftung research grant, the Israeli Ministry of Science, Technology and Space, the David and Fela Shapell Family Foundation and the Abramson Family Center for Young Scientists. I.A. is the incumbent of the Alan and Laraine Fischer Career Development Chair. Research in the A.Ta. laboratory is supported by the European Research Council, FAMRI, the I-CORE for chromatin and RNA regulation, and a grant from the Israel Science Foundation. A.Ta. is a Kimmel investigator. A.G. is a recipient of the Clore fellowship. F.P. is a fellow of the German–Israeli Helmholtz Research School in Cancer Biology. This work was supported by the Deutsche Forschungsgemeinschaft (SFB873), the José Carreras Leukämie-Stiftung and the Dietmar Hopp Stiftung (all to A.Tr.).
Ethics declarations
Competing interests
The authors declare no competing interests.
Additional information
Publisher's note: Springer Nature remains neutral with regard to jurisdictional claims in published maps and institutional affiliations.
Integrated supplementary information
Supplementary information
About this article
Cite this article
Giladi, A., Paul, F., Herzog, Y. et al. Single-cell characterization of haematopoietic progenitors and their trajectories in homeostasis and perturbed haematopoiesis. Nat Cell Biol 20, 836–846 (2018). https://doi.org/10.1038/s41556-018-0121-4
Received:

Accepted:

Published:

Issue Date:

DOI: https://doi.org/10.1038/s41556-018-0121-4