Abstract
As oxygen is essential for many metabolic pathways, tumour hypoxia may impair cancer cell proliferation1,2,3,4. However, the limiting metabolites for proliferation under hypoxia and in tumours are unknown. Here, we assessed proliferation of a collection of cancer cells following inhibition of the mitochondrial electron transport chain (ETC), a major metabolic pathway requiring molecular oxygen5. Sensitivity to ETC inhibition varied across cell lines, and subsequent metabolomic analysis uncovered aspartate availability as a major determinant of sensitivity. Cell lines least sensitive to ETC inhibition maintain aspartate levels by importing it through an aspartate/glutamate transporter, SLC1A3. Genetic or pharmacologic modulation of SLC1A3 activity markedly altered cancer cell sensitivity to ETC inhibitors. Interestingly, aspartate levels also decrease under low oxygen, and increasing aspartate import by SLC1A3 provides a competitive advantage to cancer cells at low oxygen levels and in tumour xenografts. Finally, aspartate levels in primary human tumours negatively correlate with the expression of hypoxia markers, suggesting that tumour hypoxia is sufficient to inhibit ETC and, consequently, aspartate synthesis in vivo. Therefore, aspartate may be a limiting metabolite for tumour growth, and aspartate availability could be targeted for cancer therapy.
Relevant articles
Open Access articles citing this article.
Jianguo Bai

,

Ruifeng Tang

…

Chao Sun

BMC Medical Genomics Open Access 25 October 2022

Bin Li

,

Junyi Wang

…

Minghua Jiang

Cancer Cell International Open Access 19 September 2022

Rens Peeters

,

Jorge Cuenca-Escalona

…

Annemiek B. van Spriel

Nature Communications Open Access 13 September 2022
Access options
Subscribe to Nature+
Get immediate online access to Nature and 55 other Nature journal
Subscribe to Journal
Get full journal access for 1 year
$99.00
only $8.25 per issue
All prices are NET prices.
VAT will be added later in the checkout.
Tax calculation will be finalised during checkout.
Buy article
Get time limited or full article access on ReadCube.
$32.00
All prices are NET prices.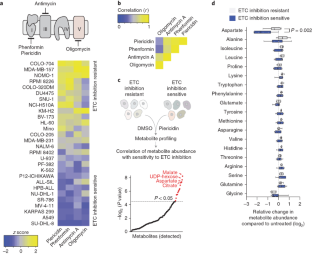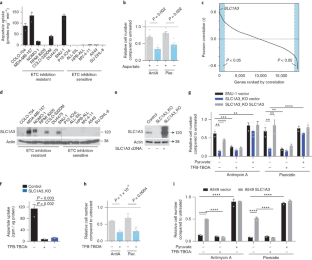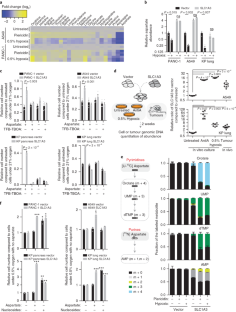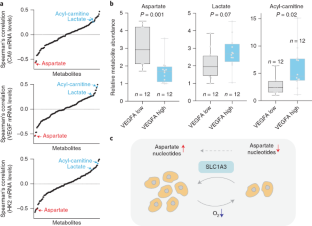 References
Henze, A. T. et al. Loss of PHD3 allows tumours to overcome hypoxic growth inhibition and sustain proliferation through EGFR. Nat. Commun. 5, 5582 (2014).

Goda, N. et al. Hypoxia-inducible factor 1α is essential for cell cycle arrest during hypoxia. Mol. Cell. Biol. 23, 359–369 (2003).

Durand, R. E. & Raleigh, J. A. Identification of nonproliferating but viable hypoxic tumor cells in vivo. Cancer Res. 58, 3547 (1998).

Webster, L., Hodgkiss, R. J. & Wilson, G. D. Cell cycle distribution of hypoxia and progression of hypoxic tumour cells in vivo. Br. J. Cancer 77, 227–234 (1998).

Chandel, N., Budinger, G. R., Kemp, R. A. & Schumacker, P. T. Inhibition of cytochrome-c oxidase activity during prolonged hypoxia. Am. J. Physiol. 268, 918–925 (1995).

Ackerman, D. & Simon, M. C. Hypoxia, lipids, and cancer: surviving the harsh tumor microenvironment. Trends Cell Biol. 24, 472–478 (2014).

Pavlova, N. N. & Thompson, C. B. The emerging hallmarks of cancer metabolism. Cell Metab. 23, 27–47 (2016).

Semenza, G. L. Oxygen-dependent regulation of mitochondrial respiration by hypoxia-inducible factor 1. Biochem. J. 405, 1–9 (2007).

Goldfine, H. The evolution of oxygen as a biosynthetic reagent. J. Gen. Physiol. 49, 253–268 (1965).

Gardner, L. B. et al. Hypoxia inhibits G1/S transition through regulation of p27 expression. J. Biol. Chem. 276, 7919–7926 (2001).

Enriquez, J. A. et al. Human mitochondrial genetic system. Rev. Neurol. 26, 21–26 (1998).

Weinberg, F. et al. Mitochondrial metabolism and ROS generation are essential for Kras-mediated tumorigenicity. Proc. Natl Acad. Sci. USA 107, 8788–8793 (2010).

Weinberg, S. E. & Chandel, N. S. Targeting mitochondria metabolism for cancer therapy. Nat. Chem. Biol. 11, 9–15 (2015).

Wheaton, W. W. et al. Metformin inhibits mitochondrial complex I of cancer cells to reduce tumorigenesis. eLife 3, e02242 (2014).

Owen, M. R., Doran, E. & Halestrap, A. P. Evidence that metformin exerts its anti-diabetic effects through inhibition of complex 1 of the mitochondrial respiratory chain. Biochem. J. 348, 607–614 (2000).

Birsoy, K. et al. An essential role of the mitochondrial electron transport chain in cell proliferation is to enable aspartate synthesis. Cell 162, 540–551 (2015).

Sullivan, L. B. et al. Supporting aspartate biosynthesis is an essential function of respiration in proliferating cells. Cell 162, 552 –563 (2015).

Kanai, Y. et al. The SLC1 high-affinity glutamate and neutral amino acid transporter family. Mol. Asp. Med. 34, 108–120 (2013).

Barretina, J. et al. The Cancer Cell Line Encyclopedia enables predictive modelling of anticancer drug sensitivity. Nature 483, 603–607 (2012).

Storck, T., Schulte, S., Hofmann, K. & Stoffel, W. Structure, expression, and functional analysis of a Na+-dependent glutamate/aspartate transporter from rat brain. Proc. Natl Acad. Sci. USA 89, 10955–10959 (1992).

King, M. P. & Attardi, G. Human cells lacking mtDNA: repopulation with exogenous mitochondria by complementation. Science 246, 500–503 (1989).

Tsukada, S., Iino, M., Takayasu, Y., Shimamoto, K. & Ozawa, S. Effects of a novel glutamate transporter blocker, (2S, 3S)-3-[3-[4-(trifluoromethyl)benzoylamino]benzyloxy]aspartate (TFB-TBOA), on activities of hippocampal neurons. Neuropharmacology 48, 479–491 (2005).

Canul-Tec, J. C. et al. Structure and allosteric inhibition of excitatory amino acid transporter 1. Nature 544, 446–451 (2017).

Abrahamsen, B. et al. Allosteric modulation of an excitatory amino acid transporter: the subtype-selective inhibitor UCPH-101 exerts sustained inhibition of EAAT1 through an intramonomeric site in the trimerization domain. J. Neurosci. Off. J. Soc. Neurosci. 33, 1068–1087 (2013).

Vaupel, P., Kallinowski, F. & Okunieff, P. Blood flow, oxygen and nutrient supply, and metabolic microenvironment of human tumors: a review. Cancer Res. 49, 6449–6465 (1989).

Vaupel, P., Schlenger, K., Knoop, C. & Hockel, M. Oxygenation of human tumors: evaluation of tissue oxygen distribution in breast cancers by computerized O2 tension measurements. Cancer Res. 51, 3316–3322 (1991).

Cantor, J. R. et al. Physiologic medium rewires cellular metabolism and reveals uric acid as an endogenous inhibitor of UMP synthase. Cell 169, 258–272 (2017).

Kamphorst, J. J. et al. Human pancreatic cancer tumors are nutrient poor and tumor cells actively scavenge extracellular protein. Cancer Res. 75, 544–553 (2015).

Commisso, C. et al. Macropinocytosis of protein is an amino acid supply route in Ras-transformed cells. Nature 497, 633–637 (2013).

Davidson, S. M. et al. Direct evidence for cancer-cell-autonomous extracellular protein catabolism in pancreatic tumors. Nat. Med. 23, 235–241 (2017).

Wang, G. L., Jiang, B. H., Rue, E. A. & Semenza, G. L. Hypoxia-inducible factor 1 is a basic-helix-loop-helix-PAS heterodimer regulated by cellular O2 tension. Proc. Natl Acad. Sci. USA 92, 5510–5514 (1995).

Poon, E., Harris, A. L. & Ashcroft, M. Targeting the hypoxia-inducible factor (HIF) pathway in cancer. Expert Rev. Mol. Med. 11, e26 (2009).

Frezza, C. et al. Metabolic profiling of hypoxic cells revealed a catabolic signature required for cell survival. PloS ONE 6, e24411 (2011).

Chughtai, K., Jiang, L., Greenwood, T. R., Glunde, K. & Heeren, R. M. Mass spectrometry images acylcarnitines, phosphatidylcholines, and sphingomyelin in MDA-MB-231 breast tumor models. J. Lipid Res. 54, 333–344 (2013).

Sullivan, L. Evidence for aspartate as an endogenous metabolic limitation for tumour growth. Nat. Cell. Biol. https://doi.org/10.1038/s41556-018-0125-0 (2018).

Buescher, J. M. et al. A roadmap for interpreting 13C metabolite labeling patterns from cells. Curr. Opin. Biotechnol. 34, 189–201 (2015).

Birsoy, K. et al. Metabolic determinants of cancer cell sensitivity to glucose limitation and biguanides. Nature 508, 108–112 (2014).
Acknowledgements
We thank all members of the Birsoy lab for helpful suggestions, and C. Moraes, and I. F. M. de Coo for providing the WT 143B and CYTB 143B cell lines. The KP cell lines are gifts from N. Bardeesy and T. Papagiannakopoulos. We also thank A. M. Hosios for natural abundance correction. This research is supported by an EMBO long-term fellowship to J.G.-B. (EMBO ALTF 887-2016). Profiling of human glioblastoma samples was supported by the Friedberg Charitable Foundation and Sohn Foundation grants to M.S. and Rachel Molly Markoff Foundation grant to M.S. and R.L.P. R.L.P. was supported by the NIH (R21CA198543), K.B. was supported by K22 (1K22CA193660), DP2 (DP2 OD024174-01), Irma-Hirschl Trust, AACR NextGen Grant and the Breast Cancer Research Foundation, and is a Searle Scholar, Sidney Kimmel Scholar and Basil O'Connor Scholar of March of Dimes.
Ethics declarations
Competing interests
The authors declare no competing interests.
Additional information
Publisher's note: Springer Nature remains neutral with regard to jurisdictional claims in published maps and institutional affiliations.
Integrated Supplementary Information
Supplementary information
About this article
Cite this article
Garcia-Bermudez, J., Baudrier, L., La, K. et al. Aspartate is a limiting metabolite for cancer cell proliferation under hypoxia and in tumours. Nat Cell Biol 20, 775–781 (2018). https://doi.org/10.1038/s41556-018-0118-z
Received:

Accepted:

Published:

Issue Date:

DOI: https://doi.org/10.1038/s41556-018-0118-z