Abstract
The development of the digestive tract is critical for proper food digestion and nutrient absorption. Here, we analyse the main organs of the digestive tract, including the oesophagus, stomach, small intestine and large intestine, from human embryos between 6 and 25 weeks of gestation as well as the large intestine from adults using single-cell RNA-seq analyses. In total, 5,227 individual cells are analysed and 40 cell types clearly identified. Their crucial biological features, including developmental processes, signalling pathways, cell cycle, nutrient digestion and absorption metabolism, and transcription factor networks, are systematically revealed. Moreover, the differentiation and maturation processes of the large intestine are thoroughly investigated by comparing the corresponding transcriptome profiles between embryonic and adult stages. Our work offers a rich resource for investigating the gene regulation networks of the human fetal digestive tract and adult large intestine at single-cell resolution.
Access options
Subscribe to Journal
Get full journal access for 1 year
$225.00
only $18.75 per issue
All prices are NET prices.
VAT will be added later in the checkout.
Rent or Buy article
Get time limited or full article access on ReadCube.
from$8.99
All prices are NET prices.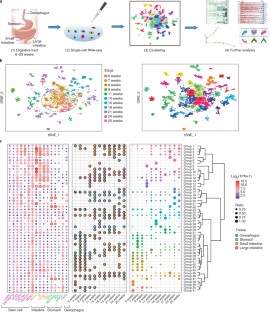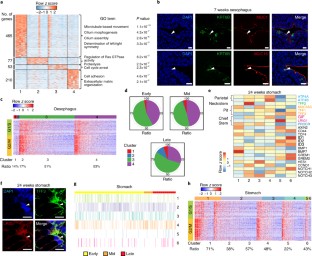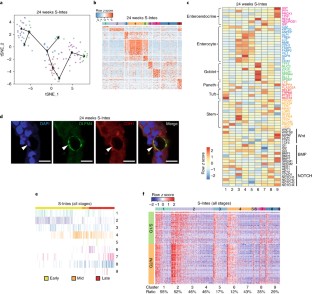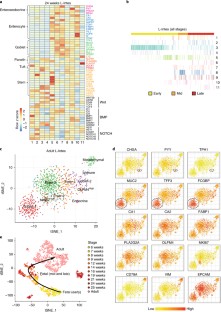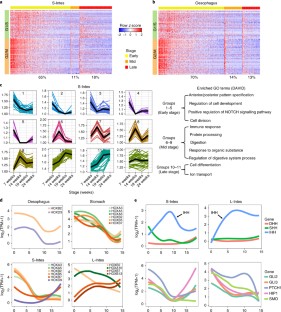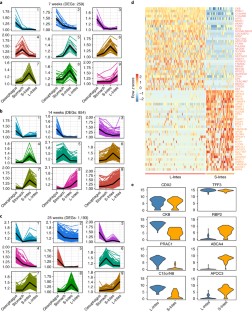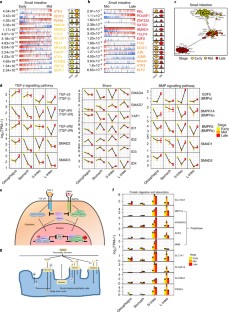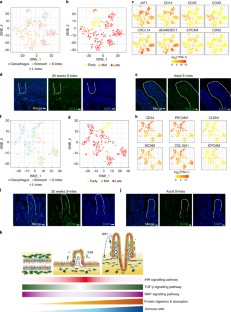 References
1.

Zorn, A. M. & Wells, J. M. Vertebrate endoderm development and organ formation. Annu. Rev. Cell Dev. Biol. 25, 221–251 (2009).

2.

Kraus, M. R. & Grapin-Botton, A. Patterning and shaping the endoderm in vivo and in culture. Curr. Opin. Genet. Dev. 22, 347–353 (2012).

3.

Sherwood, R. I., Chen, T. Y. & Melton, D. A. Transcriptional dynamics of endodermal organ formation. Dev. Dyn. 238, 29–42 (2009).

4.

Schedl, H. P. & Clifton, J. A. Solute and water absorption by the human small intestine. Nature 199, 1264–1267 (1963).

5.

Schulz, M. D. et al. High-fat-diet-mediated dysbiosis promotes intestinal carcinogenesis independently of obesity. Nature 514, 508–512 (2014).

6.

Ugolev, A. Influence of the surface of the small intestine on enzymatic hydrolysis of starch by enzymes. Nature 188, 588–589 (1960).

7.

Maynard, C. L., Elson, C. O., Hatton, R. D. & Weaver, C. T. Reciprocal interactions of the intestinal microbiota and immune system. Nature 489, 231–241 (2012).

8.

Palm, N. W. et al. Immunoglobulin A coating identifies colitogenic bacteria in inflammatory bowel disease. Cell 158, 1000–1010 (2014).

9.

Jervis, E. L. & Levin, R. J. Anatomic adaptation of the alimentary tract of the rat to the hyperphagia of chronic alloxan-diabetes. Nature 210, 391–393 (1966).

10.

Alexandrov, L. B. et al. Signatures of mutational processes in human cancer. Nature 500, 415–421 (2013).

11.

Park, Y. H. & Kim, N. Review of atrophic gastritis and intestinal metaplasia as a premalignant lesion of gastric cancer. J. Cancer Prev. 20, 25–40 (2015).

12.

Hashimshony, T., Wagner, F., Sher, N. & Yanai, I. CEL-Seq: single-cell RNA-seq by multiplexed linear amplification. Cell Rep. 2, 666–673 (2012).

13.

Picelli, S. et al. Full-length RNA-seq from single cells using Smart-seq2. Nat. Protoc. 9, 171–181 (2014).

14.

Klein, A. M. et al. Droplet barcoding for single-cell transcriptomics applied to embryonic stem cells. Cell 161, 1187–1201 (2015).

15.

Tang, F. et al. RNA-seq analysis to capture the transcriptome landscape of a single cell. Nat. Protoc. 5, 516–535 (2010).

16.

Fan, X. et al. Single-cell RNA-seq transcriptome analysis of linear and circular RNAs in mouse preimplantation embryos. Genome Biol. 16, 148 (2015).

17.

Jaitin, D. A. et al. Massively parallel single-cell RNA-seq for marker-free decomposition of tissues into cell types. Science 343, 776–779 (2014).

18.

Islam, S. et al. Characterization of the single-cell transcriptional landscape by highly multiplex RNA-seq. Genome Res 21, 1160–1167 (2011).

19.

Macosko, E. Z. et al. Highly parallel genome-wide expression profiling of individual cells using nanoliter droplets. Cell 161, 1202–1214 (2015).

20.

Svensson, V. et al. Power analysis of single-cell RNA-sequencing experiments. Nat. Methods 14, 381–387 (2017).

21.

Ziegenhain, C. et al. Comparative analysis of single-cell RNA sequencing methods. Mol. Cell 65, 631–643 (2017).

22.

Satija, R., Farrell, J. A., Gennert, D., Schier, A. F. & Regev, A. Spatial reconstruction of single-cell gene expression data. Nat. Biotechnol. 33, 495–502 (2015).

23.

Grun, D. et al. De novo prediction of stem cell identity using single-cell transcriptome data. Cell Stem Cell 19, 266–277 (2016).

24.

Grun, D. et al. Single-cell messenger RNA sequencing reveals rare intestinal cell types. Nature 525, 251–255 (2015).

25.

Trapnell, C. et al. The dynamics and regulators of cell fate decisions are revealed by pseudotemporal ordering of single cells. Nat. Biotechnol. 32, 381–386 (2014).

26.

Qiu, X. et al. Single-cell mRNA quantification and differential analysis with Census. Nat. Methods 14, 309–315 (2017).

27.

Joost, S. et al. Single-cell transcriptomics reveals that differentiation and spatial signatures shape epidermal and hair follicle heterogeneity. Cell Syst. 3, 221–237 (2016).

28.

Schumacher, M. A. et al. The use of murine-derived fundic organoids in studies of gastric physiology. J. Physiol. 593, 1809–1827 (2015).

29.

Haber, A. L. et al. A single-cell survey of the small intestinal epithelium. Nature 551, 333–339 (2017).

30.

Petropoulos, S. et al. Single-cell RNA-seq reveals lineage and X chromosome dynamics in human preimplantation embryos. Cell 165, 1012–1026 (2016).

31.

Mohammed, H. et al. Single-cell landscape of transcriptional heterogeneity and cell fate decisions during mouse early gastrulation. Cell Rep. 20, 1215–1228 (2017).

32.

Noah, T. K., Donahue, B. & Shroyer, N. F. Intestinal development and differentiation. Exp. Cell Res. 317, 2702–2710 (2011).

33.

Kearns, N. A. et al. Generation of organized anterior foregut epithelia from pluripotent stem cells using small molecules. Stem Cell Res. 11, 1003–1012 (2013).

34.

Peters, H. et al. Isolation of the Pax9 cDNA from adult human esophagus. Mamm. Genome 8, 62–64 (1997).

35.

Quante, M., Marrache, F., Goldenring, J. R. & Wang, T. C. TFF2 mRNA transcript expression marks a gland progenitor cell of the gastric oxyntic mucosa. Gastroenterology 139, 2018–2027 (2010).

36.

Noguchi, T. K. et al. Generation of stomach tissue from mouse embryonic stem cells. Nat. Cell Biol. 17, 984–993 (2015).

37.

Goodell, M. A., Nguyen, H. & Shroyer, N. Somatic stem cell heterogeneity: diversity in the blood, skin and intestinal stem cell compartments. Nat. Rev. Mol. Cell Biol. 16, 299–309 (2015).

38.

Barker, N. Adult intestinal stem cells: critical drivers of epithelial homeostasis and regeneration. Nat. Rev. Mol. Cell Biol. 15, 19–33 (2014).

39.

Rishniw, M. et al. Molecular aspects of esophageal development. Ann. NY Acad. Sci. 1232, 309–315 (2011).

40.

Yu, W. Y., Slack, J. M. & Tosh, D. Conversion of columnar to stratified squamous epithelium in the developing mouse oesophagus. Dev. Biol. 284, 157–170 (2005).

41.

Gao, Y., Chen, Y., Xu, D., Wang, J. & Yu, G. Differential expression of ANXA1 in benign human gastrointestinal tissues and cancers. BMC Cancer 14, 520 (2014).

42.

Onozawa, H. et al. Annexin A1 is involved in resistance to 5-FU in colon cancer cells. Oncol. Rep. 37, 235–240 (2017).

43.

Kim, T. H. & Shivdasani, R. A. Stomach development, stem cells and disease. Development 143, 554–565 (2016).

44.

McCracken, K. W. et al. Modelling human development and disease in pluripotent stem-cell-derived gastric organoids. Nature 516, 400–404 (2014).

45.

Bartfeld, S. et al. In vitro expansion of human gastric epithelial stem cells and their responses to bacterial infection. Gastroenterology 148, 126–136 (2015).

46.

Wang, D. et al. Identification of multipotent mammary stem cells by protein C receptor expression. Nature 517, 81–84 (2015).

47.

de Lau, W. et al. Peyer's patch M cells derived from Lgr5+ stem cells require SpiB and are induced by RankL in cultured 'miniguts'. Mol. Cell Biol. 32, 3639–3647 (2012).

48.

Almohazey, D. The ErbB3 receptor tyrosine kinase negatively regulates Paneth cells by PI3K-dependent suppression of Atoh1. Cell Death Differ. 24, 855–865 (2017).

49.

Beck, F. Homeobox genes in gut development. Gut 51, 450–454 (2002).

50.

Merchant, J. L. Hedgehog signalling in gut development, physiology and cancer. J. Physiol. 590, 421–432 (2012).

51.

Kim, B. M. & Choi, M. Y. New insights into the role of Hedgehog signaling in gastrointestinal development and cancer. Gastroenterology 137, 422–424 (2009).

52.

Litingtung, Y., Lei, L., Westphal, H. & Chiang, C. Sonic hedgehog is essential to foregut development. Nat. Genet. 20, 58–61 (1998).

53.

Motoyama, J. et al. Essential function of Gli2 and Gli3 in the formation of lung, trachea and oesophagus. Nat. Genet. 20, 54–57 (1998).

54.

van den Brink, G. R. et al. Indian Hedgehog is an antagonist of Wnt signaling in colonic epithelial cell differentiation. Nat. Genet. 36, 277–282 (2004).

55.

van den Brink, G. R. Hedgehog signaling in development and homeostasis of the gastrointestinal tract. Physiol. Rev. 87, 1343–1375 (2007).

56.

Katoh, Y. & Katoh, M. Hedgehog signaling, epithelial-to-mesenchymal transition and miRNA (review). Int J. Mol. Med 22, 271–275 (2008).

57.

Li, L. et al. Single-cell RNA-seq analysis maps development of human germline cells and gonadal niche interactions. Cell Stem Cell 20, 891–892 (2017).

58.

Siegel, P. M., Shu, W. & Massague, J. Mad upregulation and Id2 repression accompany transforming growth factor (TGF)-beta-mediated epithelial cell growth suppression. J. Biol. Chem. 278, 35444–35450 (2003).

59.

Wang, R. N. et al. Bone morphogenetic protein (BMP) signaling in development and human diseases. Genes Dis. 1, 87–105 (2014).

60.

Qi, Z. BMP restricts stemness of intestinal Lgr5(+) stem cells by directly suppressing their signature genes. Nat. Commun. 8, 13824 (2017).

61.

Trapnell, C., Pachter, L. & Salzberg, S. L. TopHat: discovering splice junctions with RNA-seq. Bioinformatics 25, 1105–1111 (2009).

62.

Anders, S., Pyl, P. T. & Huber, W. HTSeq—a Python framework to work with high-throughput sequencing data. Bioinformatics 31, 166–169 (2015).

63.

Chung, N. C. & Storey, J. D. Statistical significance of variables driving systematic variation in high-dimensional data. Bioinformatics 31, 545–554 (2015).

64.

Bodenhofer, U., Kothmeier, A. & Hochreiter, S. APCluster: an R package for affinity propagation clustering. Bioinformatics 27, 2463–2464 (2011).

65.

Frey, B. J. & Dueck, D. Clustering by passing messages between data points. Science 315, 972–976 (2007).

66.

Tirosh, I. et al. Dissecting the multicellular ecosystem of metastatic melanoma by single-cell RNA-seq. Science 352, 189–196 (2016).

67.

Scialdone, A. et al. Computational assignment of cell-cycle stage from single-cell transcriptome data. Methods 85, 54–61 (2015).

68.

Lachmann, A., Giorgi, F. M., Lopez, G. & Califano, A. ARACNe-AP: gene network reverse engineering through adaptive partitioning inference of mutual information. Bioinformatics 32, 2233–2235 (2016).

69.

Zhang, H. M. et al. AnimalTFDB 2.0: a resource for expression, prediction and functional study of animal transcription factors. Nucleic Acids Res. 43, 76–81 (2015).

70.

Zhang, H. M. et al. AnimalTFDB: a comprehensive animal transcription factor database. Nucleic Acids Res. 40, 144–149 (2012).
Acknowledgements
This work was supported by grants from the National Natural Science Foundation of China (31625018, 31230047, 31601177, 81521002), the Ministry of Science and Technology of China (2017YFA0102702), a General Financial Grant from the China Postdoctoral Science Foundation (2017M610703) and Shanghai Science and Technology Development Funds (16YF140940).
Ethics declarations
Competing interests
The authors declare no competing interests.
Additional information
Publisher's note: Springer Nature remains neutral with regard to jurisdictional claims in published maps and institutional affiliations.
Integrated supplementary information
Supplementary information
About this article
Cite this article
Gao, S., Yan, L., Wang, R. et al. Tracing the temporal-spatial transcriptome landscapes of the human fetal digestive tract using single-cell RNA-sequencing. Nat Cell Biol 20, 721–734 (2018). https://doi.org/10.1038/s41556-018-0105-4
Received:

Accepted:

Published:

Issue Date: