Abstract
Activation of metastatic reprogramming is critical for tumour metastasis. However, more detailed knowledge of the underlying mechanism is needed to enable targeted intervention. Here, we show that paraspeckle component 1 (PSPC1), identified in an aberrant 13q12.11 locus, is upregulated and associated with poor survival in patients with cancer. PSPC1 promotes tumorigenesis, epithelial-to-mesenchymal transition (EMT), stemness and metastasis in multiple cell types and in spontaneous mouse cancer models. PSPC1 is the master activator for transcription factors of EMT and stemness and accompanies c-Myc activation to facilitate tumour growth. PSPC1 increases transforming growth factor-β1 (TGF-β1) secretion through an interaction with phosphorylated and nuclear Smad2/3 to potentiate TGF-β1 autocrine signalling. Moreover, PSPC1 acts as a contextual determinant of the TGF-β1 pro-metastatic switch to alter Smad2/3 binding preference from tumour-suppressor to pro-metastatic genes. Having validated the PSPC1–Smads–TGF-β1 axis in various cancers, we conclude that PSPC1 is a master activator of pro-metastatic switches and a potential target for anti-metastasis drugs.
Relevant articles
Open Access articles citing this article.
Ting Zhan

,

Xueting Cheng

…

Xiaodong Huang

Cell Death Discovery Open Access 10 March 2023

Kaige Yang

,

Yufang Xie

…

Jianming Hu

Journal of Translational Medicine Open Access 14 January 2023

Jiaqi Liu

,

Guang Shu

…

Gang Yin

Scientific Reports Open Access 19 September 2022
Access options
Access Nature and 54 other Nature Portfolio journals
Get Nature+, our best-value online-access subscription
$29.99 per month
cancel any time
Subscribe to this journal
Receive 12 print issues and online access
$209.00 per year
only $17.42 per issue
Rent or buy this article
Get just this article for as long as you need it
$39.95
Prices may be subject to local taxes which are calculated during checkout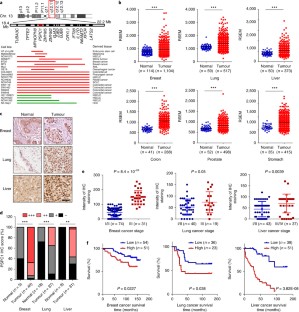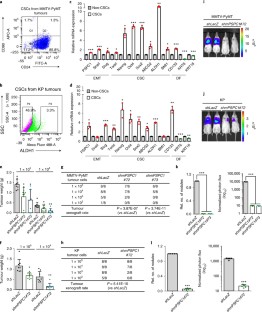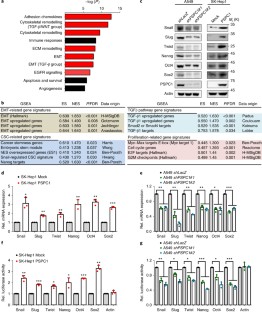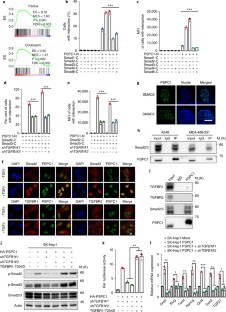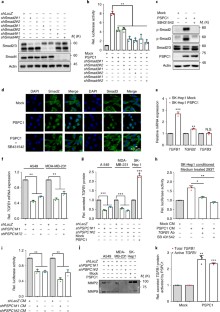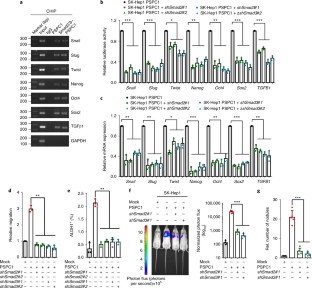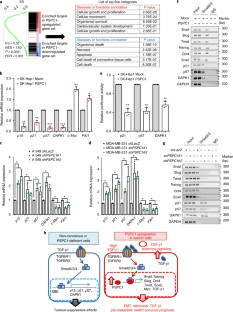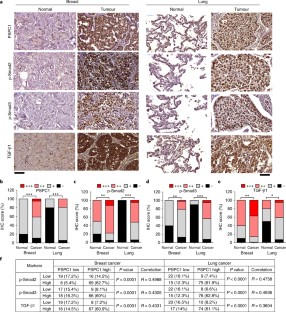 References
Fidler, I. J. The pathogenesis of cancer metastasis: the 'seed and soil' hypothesis revisited. Nat. Rev. Cancer 3, 453–458 (2003).

Massague, J. & Obenauf, A. C. Metastatic colonization by circulating tumour cells. Nature 529, 298–306 (2016).

Mani, S. A. et al. The epithelial–mesenchymal transition generates cells with properties of stem cells. Cell 133, 704–715 (2008).

Thiery, J. P., Acloque, H., Huang, R. Y. & Nieto, M. A. Epithelial–mesenchymal transitions in development and disease. Cell 139, 871–890 (2009).

Lamouille, S., Xu, J. & Derynck, R. Molecular mechanisms of epithelial–mesenchymal transition. Nat. Rev.Mol. Cell Biol. 15, 178–196 (2014).

Nieto, M. A., Huang, R. Y., Jackson, R. A. & Thiery, J. P. EMT: 2016. Cell 166, 21–45 (2016).

Ocana, O. H. et al. Metastatic colonization requires the repression of the epithelial–mesenchymal transition inducer Prrx1. Cancer Cell. 22, 709–724 (2012).

Tsai, J. H., Donaher, J. L., Murphy, D. A., Chau, S. & Yang, J. Spatiotemporal regulation of epithelial–mesenchymal transition is essential for squamous cell carcinoma metastasis. Cancer Cell. 22, 725–736 (2012).

Aceto, N. et al. Circulating tumor cell clusters are oligoclonal precursors of breast cancer metastasis. Cell 158, 1110–1122 (2014).

Hou, J. M. et al. Clinical significance and molecular characteristics of circulating tumor cells and circulating tumor microemboli in patients with small-cell lung cancer. J. Clin. Oncol. 30, 525–532 (2012).

Cheung, K. J. & Ewald, A. J. A collective route to metastasis: seeding by tumor cell clusters. Science 352, 167–169 (2016).

Yu, M. et al. Circulating breast tumor cells exhibit dynamic changes in epithelial and mesenchymal composition. Science 339, 580–584 (2013).

Hendrix, M.J. et al. Coexpression of vimentin and keratins by human melanoma tumor cells: correlation with invasive and metastatic potential.J. Natl Cancer Inst. 84, 165–174 (1992).

Ruscetti, M., Quach, B., Dadashian, E. L., Mulholland, D. J. & Wu, H. Tracking and functional characterization of epithelial–mesenchymal transition and mesenchymal tumor cells during prostate cancer metastasis. Cancer Res. 75, 2749–2759 (2015).

Pickup, M., Novitskiy, S. & Moses, H. L. The roles of TGFβ in the tumour microenvironment. Nat. Rev. Cancer 13, 788–799 (2013).

Moses, H. L., Roberts, A. B. & Derynck, R. The Discovery and early days of TGF-β: a historical perspective. Cold Spring Harb. Perspect. Biol. 8, a021865 (2016).

Penuelas, S. et al. TGF-β increases glioma-initiating cell self-renewal through the induction of LIF in human glioblastoma. Cancer Cell. 15, 315–327 (2009).

Ikushima, H. et al. Autocrine TGF-β signaling maintains tumorigenicity of glioma-initiating cells through Sry-related HMG-box factors. Cell Stem Cell 5, 504–514 (2009).

Massague, J. TGFβ signalling in context. Nat. Rev. Mol. Cell Biol. 13, 616–630 (2012).

Feng, X. H. & Derynck, R. Specificity and versatility in TGF-β signaling through Smads. Annu. Rev. Cell. Dev. Biol. 21, 659–693 (2005).

Fox, A. H. et al. Paraspeckles: a novel nuclear domain. Curr. Biol. 12, 13–25 (2002).

Sasaki, Y. T., Ideue, T., Sano, M., Mituyama, T. & Hirose, T. MENε/β noncoding RNAs are essential for structural integrity of nuclear paraspeckles. Proc. Natl Acad. Sci. USA 106, 2525–2530 (2009).

Knott, G. J., Bond, C. S. & Fox, A. H. The DBHS proteins SFPQ, NONO and PSPC1: a multipurpose molecular scaffold. Nucleic Acids Res. 44, 3989–4004 (2016).

Kuwahara, S. et al. PSPC1, NONO, and SFPQ are expressed in mouse Sertoli cells and may function as coregulators of androgen receptor-mediated transcription. Biol. Reprod. 75, 352–359 (2006).

Chen, L. L. & Carmichael, G. G. Altered nuclear retention of mRNAs containing inverted repeats in human embryonic stem cells: functional role of a nuclear noncoding RNA. Mol. Cell. 35, 467–478 (2009).

Clemson, C. M. et al. An architectural role for a nuclear noncoding RNA: NEAT1 RNA is essential for the structure of paraspeckles. Mol. Cell. 33, 717–726 (2009).

Gao, X. et al. Paraspeckle protein 1 (PSPC1) is involved in the cisplatin induced DNA damage response-role in G1/S checkpoint. PLoS ONE 9, e97174 (2014).

Chen, Y. et al. Identification of druggable cancer driver genes amplified across TCGA datasets. PLoS ONE 9, e98293 (2014).

Santarius, T., Shipley, J., Brewer, D., Stratton, M. R. & Cooper, C. S. A census of amplified and overexpressed human cancer genes. Nat. Rev. Cancer 10, 59–64 (2010).

Chen, C. F., Yeh, S. H., Chen, D. S., Chen, P. J. & Jou, Y. S. Molecular genetic evidence supporting a novel human hepatocellular carcinoma tumor suppressor locus at 13q12.11. Genes. Chromosomes Cancer 44, 320–328 (2005).

Shiau, C. K., Gu, D. L., Chen, C. F., Lin, C. H. & Jou, Y. S. IGRhCellID: integrated genomic resources of human cell lines for identification. Nucleic Acids Res. 39, D520–D524 (2011).

Ginestier, C. et al. ALDH1 is a marker of normal and malignant human mammary stem cells and a predictor of poor clinical outcome. Cell Stem Cell 1, 555–567 (2007).

Guy, C. T., Cardiff, R. D. & Muller, W. J. Induction of mammary tumors by expression of polyomavirus middle T oncogene: a transgenic mouse model for metastatic disease. Mol. Cell Biol. 12, 954–961 (1992).

DuPage, M., Dooley, A. L. & Jacks, T. Conditional mouse lung cancer models using adenoviral or lentiviral delivery of Cre recombinase. Nat. Protoc. 4, 1064–1072 (2009).

Malanchi, I. et al. Interactions between cancer stem cells and their niche govern metastatic colonization. Nature 481, 85–89 (2011).

Brown, K. A. et al. Identification of novel Smad2 and Smad3 associated proteins in response to TGF-β1. J. Cell. Biochem. 105, 596–611 (2008).

Abdollah, S. et al. TβRI phosphorylation of Smad2 on Ser465 and Ser467 is required for Smad2–Smad4 complex formation and signaling. J. Biol. Chem. 272, 27678–27685 (1997).

Koinuma, D. et al. Chromatin immunoprecipitation on microarray analysis of Smad2/3 binding sites reveals roles of ETS1 and TFAP2A in transforming growth factor β signaling. Mol. Cell Biol. 29, 172–186 (2009).

Chen, C. R., Kang, Y. & Massague, J. Defective repression of c-myc in breast cancer cells: a loss at thecore of the transforming growth factor β growth arrest program. Proc. Natl Acad. Sci.USA 98, 992–999 (2001).

Dennler, S. et al. Direct binding of Smad3 and Smad4 to critical TGF β-inducible elements in the promoter of human plasminogen activator inhibitor-type 1 gene. EMBO J. 17, 3091–3100 (1998).

Jang, C. W. et al. TGF-β induces apoptosis through Smad-mediated expression of DAP-kinase. Nat. Cell Biol. 4, 51–58 (2002).

Hahn, S. A. et al. DPC4, a candidate tumor suppressor gene at human chromosome 18q21.1. Science 271, 350–353 (1996).

Mullen, A. C. et al. Master transcription factors determine cell-type-specific responses to TGF-β signaling. Cell 147, 565–576 (2011).

Xu, R. H. et al. NANOG is a direct target of TGFβ/activin-mediated SMAD signaling in human ESCs. Cell Stem Cell 3, 196–206 (2008).

Zheng, H. & Kang, Y. Multilayer control of the EMT master regulators. Oncogene 33, 1755–1763 (2014).

Puisieux, A., Brabletz, T. & Caramel, J. Oncogenic roles of EMT-inducing transcription factors. Nat. Cell Biol. 16, 488–494 (2014).

Brabletz, T. et al. Variable β-catenin expression in colorectal cancers indicates tumor progression driven by the tumor environment. Proc. Natl Acad. Sci. USA 98, 10356–10361 (2001).

Vega, S. et al. Snail blocks the cell cycle and confers resistance to cell death. Genes Dev. 18, 1131–1143 (2004).

Gomis, R. R. et al. A FoxO-Smad synexpression group in human keratinocytes. Proc. Natl Acad. Sci. USA 103, 12747–12752 (2006).

Seoane, J., Le, H. V., Shen, L., Anderson, S. A. & Massague, J. Integration of Smad and forkhead pathways in the control of neuroepithelial and glioblastoma cell proliferation. Cell 117, 211–223 (2004).

Gomis, R. R., Alarcon, C., Nadal, C., Van Poznak, C. & Massague, J. C/EBPβ at the core of the TGFβ cytostatic response and its evasion in metastatic breast cancer cells. Cancer Cell. 10, 203–214 (2006).

David, C. J. et al. TGF-β tumor suppression through a lethal EMT. Cell 164, 1015–1030 (2016).

Xu, J. et al. 14-3-3ζ turns TGF-β's function from tumor suppressor to metastasis promoter in breast cancer by contextual changes of Smad partners from p53 to Gli2. Cancer Cell. 27, 177–192 (2015).

Pattabiraman, D. R. & Weinberg, R. A. Tackling the cancer stem cells — what challenges do they pose? Nat. Rev. Drug. Discov. 13, 497–512 (2014).

ten Dijke, P. & van Dam, H. 14-3-3ζ turns TGF-β to the dark side. Cancer Cell. 27, 151–153 (2015).

Steeg, P. S. Targeting metastasis. Nat. Rev. Cancer 16, 201–218 (2016).

Wang, Y. W. et al. Identification of oncogenic point mutations and hyperphosphorylation of anaplastic lymphoma kinase in lung cancer. Neoplasia 13, 704–715 (2011).

Chen, C. F. et al. Overlapping high-resolution copy number alterations in cancer genomes identified putative cancer genes in hepatocellular carcinoma. Hepatology 52, 1690–1701 (2010).

Yang, M. H. et al. Direct regulation of TWIST by HIF-1α promotes metastasis. Nat. Cell Biol. 10, 295–305 (2008).

Yang, M. H. et al. Overexpression of NBS1 induces epithelial–mesenchymal transition and co-expression of NBS1 and Snail predicts metastasis of head and neck cancer. Oncogene 26, 1459–1467 (2007).

Chang, C. C., Lin, D. Y., Fang, H. I., Chen, R. H. & Shih, H. M. Daxx mediates the small ubiquitin-like modifier-dependent transcriptional repression of Smad4. J. Biol. Chem. 280, 10164–10173 (2005).

Cheng, G. Z. et al. Twist is transcriptionally induced by activation of STAT3 and mediates STAT3 oncogenic function. J. Biol. Chem. 283, 14665–14673 (2008).

Chang, C. Y., Lin, S. C., Su, W. H., Ho, C. M. & Jou, Y. S. Somatic LMCD1 mutations promoted cell migration and tumor metastasis in hepatocellular carcinoma. Oncogene 31, 2640–2652 (2012).
Acknowledgements
We thank the Common Equipment Core of IBMS and Academia Sinica for help with microscopy, DNA sequencing, the SPF animal facility and flow cytometry. We also acknowledge the National Center for Genome Medicine and Genomics for RNA-seq services, Y. T. Wang and P. C. Jin for their help with animal experiments, and R. Z. Lin and M. H. Yang for reading the manuscript. Our work was supported by grants from the Academia Sinica and Ministry of Science and Technology (MOST) (grant no. 106-0210-01-15-02) and from MOST (grant nos. 1062321B001051 and 1042320B001009MY3) of Taiwan.
Ethics declarations
Competing Interests
The authors declare no competing interests.
Additional information
Publisher's note: Springer Nature remains neutral with regard to jurisdictional claims in published maps and institutional affiliations.
Integrated supplementary information
Supplementary information
About this article
Cite this article
Yeh, HW., Hsu, EC., Lee, SS. et al. PSPC1 mediates TGF-β1 autocrine signalling and Smad2/3 target switching to promote EMT, stemness and metastasis. Nat Cell Biol 20, 479–491 (2018). https://doi.org/10.1038/s41556-018-0062-y
Received:

Accepted:

Published:

Issue Date:

DOI: https://doi.org/10.1038/s41556-018-0062-y