Abstract
Reactive oxygen species (ROS) contribute to tissue damage and remodelling mediated by the inflammatory response after injury. Here we show that ROS, which promote axonal dieback and degeneration after injury, are also required for axonal regeneration and functional recovery after spinal injury. We find that ROS production in the injured sciatic nerve and dorsal root ganglia requires CX3CR1-dependent recruitment of inflammatory cells. Next, exosomes containing functional NADPH oxidase 2 complexes are released from macrophages and incorporated into injured axons via endocytosis. Once in axonal endosomes, active NOX2 is retrogradely transported to the cell body through an importin-β1–dynein-dependent mechanism. Endosomal NOX2 oxidizes PTEN, which leads to its inactivation, thus stimulating PI3K–phosporylated (p-)Akt signalling and regenerative outgrowth. Challenging the view that ROS are exclusively involved in nerve degeneration, we propose a previously unrecognized role of ROS in mammalian axonal regeneration through a NOX2–PI3K–p-Akt signalling pathway.
Your institute does not have access to this article
Relevant articles
Open Access articles citing this article.
Yishu Fan

,

Zhuohui Chen

&

Mengqi Zhang

Journal of Translational Medicine Open Access 27 June 2022

Zeina Msheik

,

Mohamed El Massry

…

Alexis Desmoulière

Journal of Neuroinflammation Open Access 16 April 2022

Xiaojun Wang

,

Hui Ding

…

Wei Wei

Signal Transduction and Targeted Therapy Open Access 16 March 2022
Access options
Subscribe to Nature+
Get immediate online access to the entire Nature family of 50+ journals
Subscribe to Journal
Get full journal access for 1 year
$99.00
only $8.25 per issue
All prices are NET prices.
VAT will be added later in the checkout.
Tax calculation will be finalised during checkout.
Buy article
Get time limited or full article access on ReadCube.
$32.00
All prices are NET prices.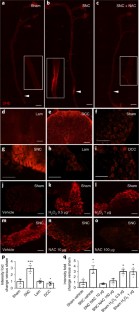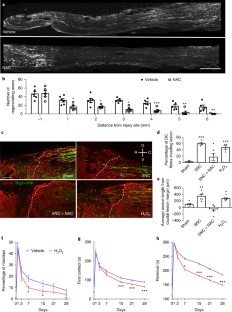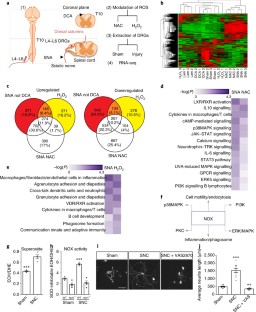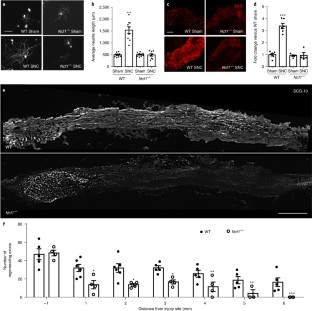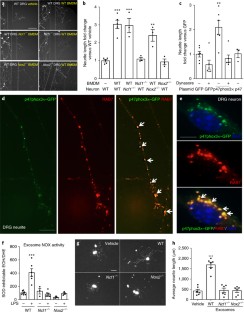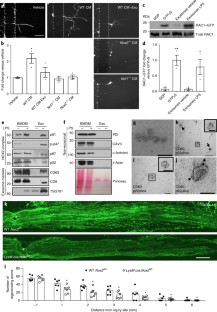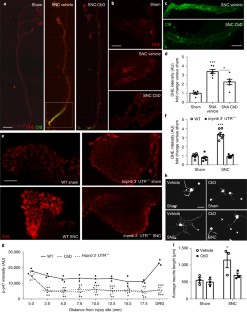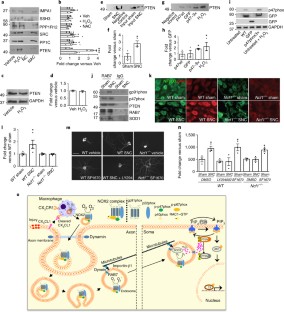 References
Tezil, T. & Basaga, H. Modulation of cell death in age-related diseases. Curr. Pharm. Des. 20, 3052–3067 (2014).

Scott, T. L., Rangaswamy, S., Wicker, C. A. & Izumi, T. Repair of oxidative DNA damage and cancer: recent progress in DNA base excision repair. Antioxid. Redox Signal. 20, 708–726 (2014).

Min, J. Y. et al. Staurosporin induces neurite outgrowth through ROS generation in HN33 hippocampal cell lines. J. Neural Transm. 113, 1821–1826 (2006).

Rieger, S. & Sagasti, A. Hydrogen peroxide promotes injury-induced peripheral sensory axon regeneration in the zebrafish skin. PLoS. Biol. 9, e1000621 (2011).

Gauron, C. et al. Sustained production of ROS triggers compensatory proliferation and is required for regeneration to proceed. Sci. Rep. 3, 2084 (2013).

Pirotte, N. et al. Reactive oxygen species in planarian regeneration: an upstream necessity for correct patterning and brain formation. Oxid. Med. Cell. Longev. 2015, 392476 (2015).

Ferreira, F., Luxardi, G., Reid, B. & Zhao, M. Early bioelectric activities mediate redox-modulated regeneration. Development 143, 4582–4594 (2016).

Meda, F. et al. Nerves control redox levels in mature tissues through Schwann cells and hedgehog signaling. Antioxid. Redox Signal. 24, 299–311 (2016).

Liang, R. & Ghaffari, S. Stem cells, redox signaling, and stem cell aging. Antioxid. Redox Signal. 20, 1902–1916 (2014).

Forsberg, K. & Di Giovanni, S. Cross talk between cellular redox status, metabolism, and p53 in neural stem cell biology. Neuroscientist 20, 326–342 (2014).

Le Belle, J. E. et al. Proliferative neural stem cells have high endogenous ROS levels that regulate self-renewal and neurogenesis in a PI3K/Akt-dependant manner. Cell. Stem Cell. 8, 59–71 (2011).

Buch, P. K. et al. In contrast to AAV-mediated Cntf expression, AAV-mediated Gdnf expression enhances gene replacement therapy in rodent models of retinal degeneration. Mol. Ther. 14, 700–709 (2006).

Burgoyne, J. R., Mongue-Din, H., Eaton, P. & Shah, A. M. Redox signaling in cardiac physiology and pathology. Circ. Res. 111, 1091–1106 (2012).

Wilson, C. et al. A feed-forward mechanism involving the NOX complex and RyR-mediated Ca2+ release during axonal specification. J. Neurosci. 36, 11107–11119 (2016).

D'Autreaux, B. & Toledano, M. B. ROS as signalling molecules: mechanisms that generate specificity in ROS homeostasis. Nat. Rev. Mol. Cell Biol. 8, 813–824 (2007).

Holmstrom, K. M. & Finkel, T. Cellular mechanisms and physiological consequences of redox-dependent signalling. Nat. Rev. Mol. Cell Biol. 15, 411–421 (2014).

Spencer, N. Y. & Engelhardt, J. F. The basic biology of redoxosomes in cytokine-mediated signal transduction and implications for disease-specific therapies. Biochemistry 53, 1551–1564 (2014).

Rishal, I. & Fainzilber, M. Axon–soma communication in neuronal injury. Nat. Rev. Neurosci. 15, 32–42 (2014).

Saito, A. & Cavalli, V. Signaling over distances. Mol. Cell. Proteom. 15, 382–393 (2016).

Kretz, A., Kugler, S., Happold, C., Bahr, M. & Isenmann, S. Excess Bcl-XL increases the intrinsic growth potential of adult CNS neurons in vitro. Mol. Cell. Neurosci. 26, 63–74 (2004).

Hausenloy, D. J. Cardioprotection techniques: preconditioning, postconditioning and remote conditioning (basic science). Curr. Pharm. Des. 19, 4544–4563 (2013).

Dezfulian, C., Garrett, M. & Gonzalez, N. R. Clinical application of preconditioning and postconditioning to achieve neuroprotection. Transl. Stroke Res. 4, 19–24 (2013).

Smith, D. S. & Skene, J. H. A transcription-dependent switch controls competence of adult neurons for distinct modes of axon growth. J. Neurosci. 17, 646–658 (1997).

Neumann, S. & Woolf, C. J. Regeneration of dorsal column fibers into and beyond the lesion site following adult spinal cord injury. Neuron 23, 83–91 (1999).

Giridharan, S. S. & Caplan, S. MICAL-family proteins: complex regulators of the actin cytoskeleton. Antioxid. Redox Signal. 20, 2059–2073 (2014).

IJkema-Paassen, J., Jansen, K., Gramsbergen, A. & Meek, M. F. Transection of peripheral nerves, bridging strategies and effect evaluation. Biomaterials 25, 1583–1592 (2004).

Jiang, F., Zhang, Y. & Dusting, G. J. NADPH oxidase-mediated redox signaling: roles in cellular stress response, stress tolerance, and tissue repair. Pharmacol. Rev. 63, 218–242 (2011).

ten Freyhaus, H. et al. Novel Nox inhibitor VAS2870 attenuates PDGF-dependent smooth muscle cell chemotaxis, but not proliferation. Cardiovasc. Res. 71, 331–341 (2006).

Huang, C. K., Zhan, L., Hannigan, M. O., Ai, Y. & Leto, T. L. P47phox-deficient NADPH oxidase defect in neutrophils of diabetic mouse strains, C57BL/6J-m db/db and db/+. J. Leukoc. Biol. 67, 210–215 (2000).

Roepstorff, K. et al. Stimulus-dependent regulation of the phagocyte NADPH oxidase by a VAV1, RAC1, and PAK1 signaling axis. J. Biol. Chem. 283, 7983–7993 (2008).

Sag, C. M. et al. Distinct regulatory effects of myeloid cell and endothelial cell NAPDH oxidase 2 on blood pressure. Circulation 135, 2163–2177 (2017).

Perry, R. B. et al. Subcellular knockout of importin β1 perturbs axonal retrograde signaling. Neuron 75, 294–305 (2012).

Lee, S. R. et al. Reversible inactivation of the tumor suppressor PTEN by H2O2. J. Biol. Chem. 277, 20336–20342 (2002).

Kwon, M. J. et al. CCL2 mediates neuron-macrophage interactions to drive proregenerative macrophage activation following preconditioning injury. J. Neurosci. 35, 15934–15947 (2015).

Kigerl, K. A. et al. Identification of two distinct macrophage subsets with divergent effects causing either neurotoxicity or regeneration in the injured mouse spinal cord. J. Neurosci. 29, 13435–13444 (2009).

Christie, K. J., Webber, C. A., Martinez, J. A., Singh, B. & Zochodne, D. W. PTEN inhibition to facilitate intrinsic regenerative outgrowth of adult peripheral axons. J. Neurosci. 30, 9306–9315 (2010).

Liu, K. et al. PTEN deletion enhances the regenerative ability of adult corticospinal neurons. Nat. Neurosci. 13, 1075–1081 (2010).

Hawkins, P. T., Davidson, K. & Stephens, L. R. The role of PI3Ks in the regulation of the neutrophil NADPH oxidase. Biochem. Soc. Symp. 74, 59–67 (2007).

Landry, W. D. & Cotter, T. G. ROS signalling, NADPH oxidases and cancer. Biochem. Soc. Trans. 42, 934–938 (2014).

Old, E. A. et al. Monocytes expressing CX3CR1 orchestrate the development of vincristine-induced pain. J. Clin. Invest. 124, 2023–2036 (2014).

Floriddia, E. M. et al. p53 regulates the neuronal intrinsic and extrinsic responses affecting the recovery of motor function following spinal cord injury. J. Neurosci. 32, 13956–13970 (2012).

Laurindo, F. R., Fernandes, D. C. & Santos, C. X. Assessment of superoxide production and NADPH oxidase activity by HPLC analysis of dihydroethidium oxidation products. Methods Enzymol. 441, 237–260 (2008).

Zhang, X., Goncalves, R. & Mosser, D. M. The isolation and characterization of murine macrophages. Curr. Protoc. Immunol. 83, 14.1.1–14.1.14 (2008).

Shin, J. E. Dual leucine zipper kinase is required for retrograde injury signaling and axonal regeneration. Neuron 74, 1015–1022 (2012).

Ueyama, T. et al. Superoxide production at phagosomal cup/phagosome through βI protein kinase C during FcγR-mediated phagocytosis in microglia. J. Immunol. 173, 4582–4589 (2004).

Ueyama, T. et al. Cooperation of p40phox with p47phox for Nox2-based NADPH oxidase activation during Fcγ Receptor (FcγR)-mediated phagocytosis. J. Biol. Chem. 286, 40693–40705 (2011).

Tuszynski, M. H. & Steward, O. Concepts and methods for the study of axonal regeneration in the CNS. Neuron 74, 777–791 (2012).
Acknowledgements
We acknowledge financial support from the Leverhulme Trust (S.D.G.); the Hertie Foundation (S.D.G.); Wings for Life (S.D.G. and M.F.); the DFG (S.D.G.); start-up funds from the Division of Brain Sciences, Imperial College London (S.D.G.); the European Research Council (Neurogrowth, M.F.); Minerva Foundation (M.F.) and the Israel Science Foundation (M.F.); and the British Heart Foundation (A.M.S.). The research was supported by the National Institute for Health Research (NIHR) Imperial Biomedical Research Centre (S.D.G.). M.F. is the incumbent of the Chaya Professorial Chair in Molecular Neuroscience at the Weizmann Institute of Science. We thank M. Malcangio and E. Old (King's College) for providing the Cx3cr1-null mice; W. M. Nauseef (University of Iowa) for critically discussing this manuscript; and G. Vizcay-Barrena at the Centre for Ultrastructural Imaging, King's College London for technical support. The views expressed are those of the author(s) and not necessarily those of the NHS, the NIHR or the Department of Health.
Ethics declarations
Competing interests
The authors declare no competing financial interests.
Additional information
Publisher's note: Springer Nature remains neutral with regard to jurisdictional claims in published maps and institutional affiliations.
A correction to this article is available online at https://doi.org/10.1038/s41556-018-0063-x.
Integrated supplementary information
Supplementary information
About this article
Cite this article
Hervera, A., De Virgiliis, F., Palmisano, I. et al. Reactive oxygen species regulate axonal regeneration through the release of exosomal NADPH oxidase 2 complexes into injured axons. Nat Cell Biol 20, 307–319 (2018). https://doi.org/10.1038/s41556-018-0039-x
Received:

Accepted:

Published:

Issue Date:

DOI: https://doi.org/10.1038/s41556-018-0039-x