Abstract
For many patients with breast cancer, symptomatic bone metastases appear after years of latency. How micrometastatic lesions remain dormant and undetectable before initiating colonization is unclear. Here, we describe a mechanism involved in bone metastatic latency of oestrogen receptor-positive (ER+) breast cancer. Using an in vivo genome-wide short hairpin RNA screening, we identified the kinase MSK1 as an important regulator of metastatic dormancy in breast cancer. In patients with ER+ breast cancer, low MSK1 expression associates with early metastasis. We show that MSK1 downregulation impairs the differentiation of breast cancer cells, increasing their bone homing and growth capacities. MSK1 controls the expression of genes required for luminal cell differentiation, including the GATA3 and FOXA1 transcription factors, by modulating their promoter chromatin status. Our results indicate that MSK1 prevents metastatic progression of ER+ breast cancer, suggesting that stratifying patients with breast cancer as high or low risk for early relapse based on MSK1 expression could improve prognosis.
This is a preview of subscription content
Access options
Subscribe to Journal
Get full journal access for 1 year
$99.00
only $8.25 per issue
All prices are NET prices.
VAT will be added later in the checkout.
Tax calculation will be finalised during checkout.
Rent or Buy article
Get time limited or full article access on ReadCube.
from$8.99
All prices are NET prices.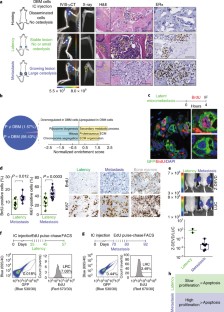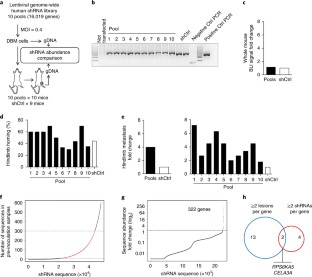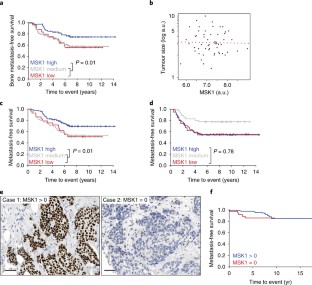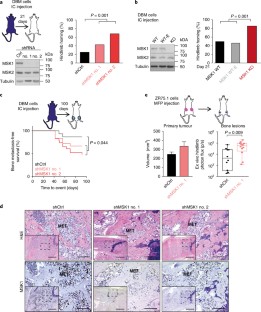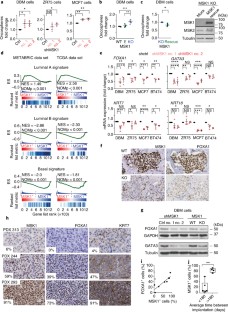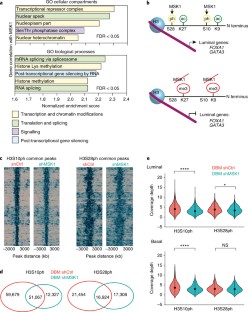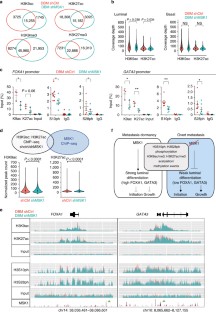 References
1.

Kennecke, H. et al. Metastatic behavior of breast cancer subtypes. J. Clin. Oncol. 28, 3271–3277 (2010).

2.

Janni, W. J. et al. Pooled analysis of the prognostic relevance of circulating tumor cells in primary breast cancer. Clin. Cancer Res. 22, 2583–2593 (2016).

3.

Ding, L. et al. Genome remodelling in a basal-like breast cancer metastasis and xenograft. Nature 464, 999–1005 (2010).

4.

Prat, A., Ellis, M. J. & Perou, C. M. Practical implications of gene-expression-based assays for breast oncologists. Nat. Rev. Clin. Oncol. 9, 48–57 (2011).

5.

Pavlovic, M. et al. Enhanced MAF oncogene expression and breast cancer bone metastasis. J. Natl. Cancer Inst. 107, djv256 (2015).

6.

Gomis, R. R. & Gawrzak, S. Tumor cell dormancy. Mol. Oncol. 11, 62–78 (2017).

7.

Sosa, M. S., Bragado, P. & Aguirre-Ghiso, J. A. Mechanisms of disseminated cancer cell dormancy: an awakening field. Nat. Rev. Cancer 14, 611–622 (2014).

8.

Bragado, P. et al. TGF-β2 dictates disseminated tumour cell fate in target organs through TGF-β-RIII and p38α/β signalling. Nat. Cell. Biol. 15, 1351–1361 (2013).

9.

Vicent, G. P. et al. Induction of progesterone target genes requires activation of Erk and Msk kinases and phosphorylation of histone H3. Mol. Cell. 24, 367–381 (2006).

10.

Deak, M., Clifton, A. D., Lucocq, L. M. & Alessi, D. R. Mitogen- and stress-activated protein kinase-1 (MSK1) is directly activated by MAPK and SAPK2/p38, and may mediate activation of CREB. EMBO J. 17, 4426–4441 (1998).

11.

Reyskens, K. M. & Arthur, J. S. Emerging roles of the mitogen and stress activated kinases MSK1 and MSK2. Front. Cell. Dev. Biol. 4, 56 (2016).

12.

Naqvi, S. et al. Characterization of the cellular action of the MSK inhibitor SB-747651A. Biochem. J. 441, 347–357 (2012).

13.

Merlos-Suarez, A. et al. The intestinal stem cell signature identifies colorectal cancer stem cells and predicts disease relapse. Cell. Stem Cell. 8, 511–524 (2011).

14.

Morales, M. et al. RARRES3 suppresses breast cancer lung metastasis by regulating adhesion and differentiation. EMBO Mol. Med. 6, 865–881 (2014).

15.

Chou, J., Provot, S. & Werb, Z. GATA3 in development and cancer differentiation: cells GATA have it! J. Cell. Physiol. 222, 42–49 (2010).

16.

Charafe-Jauffret, E. et al. Gene expression profiling of breast cell lines identifies potential new basal markers. Oncogene 25, 2273–2284 (2006).

17.

Neve, R. M. et al. A collection of breast cancer cell lines for the study of functionally distinct cancer subtypes. Cancer Cell. 10, 515–527 (2006).

18.

Curtis, C. et al. The genomic and transcriptomic architecture of 2,000 breast tumours reveals novel subgroups reveals novel subgroups. Nature 486, 346–352 (2012).

19.

Pereira, B. et al. The somatic mutation profiles of 2,433 breast cancers refines their genomic and transcriptomic landscapes. Nat. Commun. 7, 11479 (2016).

20.

Cancer Genome Atlas Network.. Comprehensive molecular portraits of human breast tumours. Nature 490, 61–70 (2012).

21.

Bruna, A. et al. A biobank of breast cancer explants with preserved intra-tumor heterogeneity to screen anticancer compounds. Cell 167, 260–274.e22 (2016).

22.

Soloaga, A. et al. MSK2 and MSK1 mediate the mitogen- and stress-induced phosphorylation of histone H3 and HMG-14. EMBO J. 22, 2788–2797 (2003).

23.

Reyes, D. et al. Activation of mitogen- and stress-activated kinase 1 is required for proliferation of breast cancer cells in response to estrogens or progestins. Oncogene 33, 1570–1580 (2014).

24.

Josefowicz, S. Z. et al. Chromatin kinases act on transcription factors and histone tails in regulation of inducible transcription. Mol. Cell. 64, 347–361 (2016).

25.

Prat, A. et al. Prognostic significance of progesterone receptor-positive tumor cells within immunohistochemically defined luminal A breast cancer. J. Clin. Oncol. 31, 203–209 (2013).

26.

Vermeulen, L., De Wilde, G., Van Damme, P., Vanden Berghe, W. & Haegeman, G. Transcriptional activation of the NF-κB p65 subunit by mitogen- and stress-activated protein kinase-1 (MSK1). EMBO J. 22, 1313–1324 (2003).

27.

Aguirre-Ghiso, J. A. Models, mechanisms and clinical evidence for cancer dormancy. Nat. Rev. Cancer 7, 834–846 (2007).

28.

Johnson, R. W. et al. Induction of LIFR confers a dormancy phenotype in breast cancer cells disseminated to the bone marrow. Nat. Cell. Biol. 18, 1078–1089 (2016).

29.

Gao, H. et al. The BMP inhibitor Coco reactivates breast cancer cells at lung metastatic sites. Cell 150, 764–779 (2012).

30.

Malladi, S. et al. Metastatic latency and immune evasion through autocrine inhibition of WNT. Cell 165, 45–60 (2016).

31.

McBryan, J. et al. Transcriptomic profiling of sequential tumors from breast cancer patients provides a global view of metastatic expression changes following endocrine therapy. Clin. Cancer Res. 21, 5371–5379 (2015).

32.

Cejalvo, J. M. et al. Intrinsic subtypes and gene expression profiles in primary and metastatic breast cancer. Cancer Res. 77, 2213-2221 (2017).

33.

Kouros-Mehr, H., Kim, J. W., Bechis, S. K. & Werb, Z. GATA-3 and the regulation of the mammary luminal cell fate. Curr. Opin. Cell. Biol. 20, 164–170 (2008).

34.

Asselin-Labat, M. L. et al. Gata-3 is an essential regulator of mammary-gland morphogenesis and luminal-cell differentiation. Nat. Cell. Biol. 9, 201–209 (2007).

35.

Augello, M. A., Hickey, T. E. & Knudsen, K. E. FOXA1: master of steroid receptor function in cancer. EMBO J. 30, 3885–3894 (2011).

36.

Mehra, R. et al. Identification of GATA3 as a breast cancer prognostic marker by global gene expression meta-analysis. Cancer Res. 65, 11259–11264 (2005).

37.

Mair, B. et al. Gain- and loss-of-function mutations in the breast cancer gene GATA3 result in differential drug sensitivity. PLoS. Genet. 12, e1006279 (2016).

38.

Mehta, R. J. et al. FOXA1 is an independent prognostic marker for ER-positive breast cancer. Breast Cancer Res. Treat. 131, 881–890 (2012).

39.

Jozwik, K. M. & Carroll, J. S. Pioneer factors in hormone-dependent cancers. Nat. Rev. Cancer 12, 381–385 (2012).

40.

Root, D. E., Hacohen, N., Hahn, W. C., Lander, E. S. & Sabatini, D. M. Genome-scale loss-of-function screening with a lentiviral RNAi library. Nat. Methods 3, 715–719 (2006).

41.

Ran, F. A. et al. Genome engineering using the CRISPR–Cas9 system. Nat. Protoc. 8, 2281–2308 (2013).

42.

Cong, L. et al. Multiplex genome engineering using CRISPR/Cas systems. Science 339, 819–823 (2013).

43.

Smyth, G. K. Linear models and empirical bayes methods for assessing differential expression in microarray experiments. Stat. Appl. Genet. Mol. Biol. 3, 3 (2004).

44.

Benjamini, Y. & Hochberg, Y. Controlling the false discovery rate: a practical and powerful approach to multiple testing. J. R. Stat. Soc. 57, 289-300 (1995).

45.

Venkatraman, E. S. & Olshen, A. B. A faster circular binary segmentation algorithm for the analysis of array CGH data. Bioinformatics 23, 657–663 (2007).

46.

Gargiulo, G., Serresi, M., Cesaroni, M., Hulsman, D. & van Lohuizen, M. In vivo shRNA screens in solid tumors. Nat. Protoc. 9, 2880–2902 (2014).

47.

Gautier, L., Cope, L., Bolstad, B. M. & Irizarry, R. A. affy—analysis of Affymetrix GeneChip data at the probe level. Bioinformatics 20, 307–315 (2004).

48.

Bolstad, B. M., Collin, F., Simpson, K. M., Irizarry, R. A. & Speed, T. P. Experimental design and low-level analysis of microarray data. Int. Rev. Neurobiol. 60, 25–58 (2004).

49.

Eklund, A. C. & Szallasi, Z. Correction of technical bias in clinical microarray data improves concordance with known biological information. Genome Biol. 9, R26 (2008).

50.

Bates, D., Mächler, M., Boker, B. & Walker, S. Fitting linear mixed-effects models using lme4. J. Stat. Soft. 67, 1–48 (2015).

51.

Kuznetsova, A., Brockhoff, P. B. & Christensen, R. H. B. lmerTest package: tests in lenear mixed effects models. J. Stat. Soft. 82, 1–26 (2017).

52.

Benjamini, Y. & Yekutieli, D. The control of the false discovery rate in multiple testing under dependency. Ann. Stat. 29, 1165–1188 (2001).

53.

Therneau, T. M., Grambsch, P. M. & Pankratz, V. S. Penalized survival models and frailty. J. Comp. Graph. Stat. 12, 156–175 (2003).

54.

Subramanian, A. et al. Gene set enrichment analysis: a knowledge-based approach for interpreting genome-wide expression profiles. Proc. Natl. Acad. Sci. USA 102, 15545–15550 (2005).

55.

Curtis, C. et al. The genomic and transcriptomic architecture of 2,000 breast tumours reveals novel subgroups. Nature 486, 346–352 (2012).

56.

Wallden, B. et al. Development and verification of the PAM50-based Prosigna breast cancer gene signature assay. BMC Med. Genom. 8, 54 (2015).

57.

Urosevic, J. et al. Colon cancer cells colonize the lung from established liver metastases through p38 MAPK signalling and PTHLH. Nat. Cell. Biol. 16, 685–694 (2014).

58.

Slebe, F. et al. FoxA and LIPG endothelial lipase control the uptake of extracellular lipids for breast cancer growth. Nat. Commun. 7, 11199 (2016).

59.

Herrera-Abreu, M. T. et al. Early adaptation and acquired resistance to CDK4/6 inhibition in oestrogen receptor-positive breast cancer. Cancer Res. 76, 2301–2313 (2016).

60.

Rinaldi, L. et al. Dnmt3a and Dnmt3b associate with enhancers to regulate human epidermal stem cell homeostasis. Cell. Stem Cell. 19, 491–501 (2016).

61.

Langmead, B., Trapnell, C., Pop, M. & Salzberg, S. L. Ultrafast and memory-efficient alignment of short DNA sequences to the human genome. Genome Biol. 10, R25 (2009).

62.

Li, H. & Durbin, R. Fast and accurate short read alignment with Burrows–Wheeler transform. Bioinformatics 25, 1754–1760 (2009).

63.

Kent, W. J. et al. The human genome browser at UCSC. Genome Res. 12, 996–1006 (2002).

64.

The R Core Team. R: A Language and Environment for Statistical Computing (R Foundation for Statistical Computing, 2016); https://cran.r-project.org/doc/manuals/r-release/fullrefman.pdf

65.

Shaffer, J. P. Modified sequentally rejective multiple test procedures. J. Am. Stat. Assoc. 81, 826-831 (1986).
Acknowledgements
We thank V. Raker for manuscript editing and IRB Barcelona Functional Genomics (J.I. Pons and D. Fernández), Histopathology (N. Prats), Advanced Digital Microscopy (J. Colombelli) and Flow Cytometry (J. Comas) Core Facilities for assistance. S.Gawrzak, L.R., E.J.A. and K.S. were supported by La Caixa PhD fellowships. J.M.C. received a fellowship from 'PhD4MD', a Collaborative Research Training Programme for Medical Doctors (IDIBAPS, August Pi i Sunyer Institute for Biomedical Research and IRB Barcelona), and partial funding by the ISCIII (project: II14/00019). S.Gregorio, C.F.-P. and A.B. were funded by the Spanish Government (MINECO-Formación de personal Investigador). J.U. is an AECC (Asociación Española Contra el Cáncer) Fellow. D.K. was co-funded by FP7 Marie Curie Actions (COFUND program; grant agreement no. IRBPostPro2.0 600404); A.P. was supported by Susan Komen Foundation, SEOM, BBVA Foundation and the ISCIII–PI13/01718. J. Albanell. was supported by ISCIIi/FEDER under projects CIBERONC, PIE15/00008, PI15/00146 and Generalitat de Catalunya (2014 SGR 740). R.R.G., S.A.-B, J. Arribas. and A.R.N. are supported by the Institució Catalana de Recerca i Estudis Avançats. Support and structural funds were provided by the Generalitat de Catalunya (2014 SGR 535) to R.R.G. and A.R.N., and by the BBVA Foundation, the ISCIII/FEDER-CIBERONC, Worldwide Cancer Research (grant 15–1316), the Spanish Ministerio de Economia y Competitividad (MINECO) and FEDER funds (CIBEREONC and SAF2016-76008-R) to R.R.G.
Ethics declarations
Competing interests
The authors declare no competing financial interests.
Additional information
Publisher's note: Springer Nature remains neutral with regard to jurisdictional claims in published maps and institutional affiliations.
Integrated supplementary information
Supplementary information
About this article
Cite this article
Gawrzak, S., Rinaldi, L., Gregorio, S. et al. MSK1 regulates luminal cell differentiation and metastatic dormancy in ER+ breast cancer. Nat Cell Biol 20, 211–221 (2018). https://doi.org/10.1038/s41556-017-0021-z
Received:

Accepted:

Published:

Issue Date: