Abstract
CD8+ memory T (Tm) cells are fundamental for protective immunity against infections and cancers1,2,3,4,5. Metabolic activities are crucial in controlling memory T-cell homeostasis, but mechanisms linking metabolic signals to memory formation and survival remain elusive. Here we show that CD8+ Tm cells markedly upregulate cytosolic phosphoenolpyruvate carboxykinase (Pck1), the hub molecule regulating glycolysis, tricarboxylic acid cycle and gluconeogenesis, to increase glycogenesis via gluconeogenesis. The resultant glycogen is then channelled to glycogenolysis to generate glucose-6-phosphate and the subsequent pentose phosphate pathway (PPP) that generates abundant NADPH, ensuring high levels of reduced glutathione in Tm cells. Abrogation of Pck1–glycogen–PPP decreases GSH/GSSG ratios and increases levels of reactive oxygen species (ROS), leading to impairment of CD8+ Tm formation and maintenance. Importantly, this metabolic regulatory mechanism could be readily translated into more efficient T-cell immunotherapy in mouse tumour models.
Access options
Subscribe to Journal
Get full journal access for 1 year
$209.00
only $17.42 per issue
All prices are NET prices.
VAT will be added later in the checkout.
Rent or Buy article
Get time limited or full article access on ReadCube.
from$8.99
All prices are NET prices.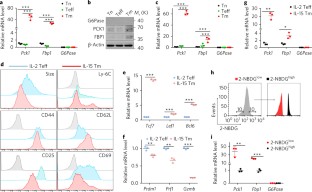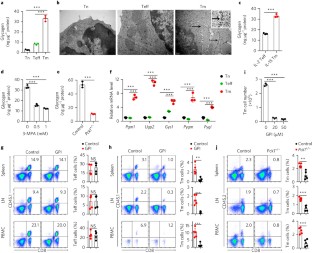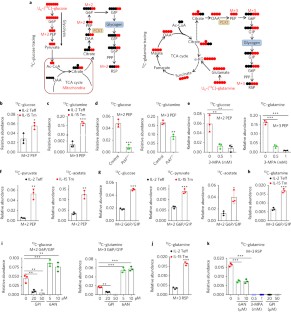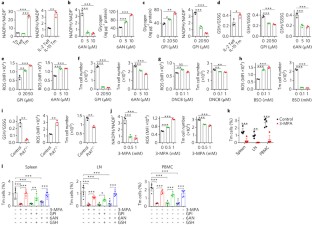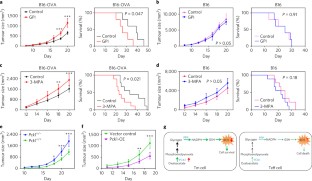 References
1.

Williams, M. A. & Bevan, M. J. Effector and memory CTL differentiation. Annu. Rev. Immunol. 25, 171–192 (2007).

2.

Surh, C. D. & Sprent, J. Homeostasis of naive and memory T cells. Immunity 29, 848–862 (2008).

3.

Klebanoff, C. A., Gattinoni, L. & Restifo, N. P. CD8+ T-cell memory in tumor immunology and immunotherapy. Immunol. Rev. 211, 214–224 (2006).

4.

Seder, R. A., Darrah, P. A. & Roederer, M. T-cell quality in memory and protection: implications for vaccine design. Nat. Rev. Immunol. 8, 247–258 (2008).

5.

Farber, D. L., Yudanin, N. A. & Restifo, N. P. Human memory T cells: generation, compartmentalization and homeostasis. Nat. Rev. Immunol. 14, 24–35 (2014).

6.

O'Sullivan, D. et al. Memory CD8+ T cells use cell-intrinsic lipolysis to support the metabolic programming necessary for development. Immunity 41, 75–88 (2014).

7.

Gubser, P. M. et al. Rapid effector function of memory CD8+ T cells requires an immediate-early glycolytic switch. Nat. Immunol. 14, 1064–1072 (2013).

8.

Araki, K. et al. mTOR regulates memory CD8 T-cell differentiation. Nature 460, 108–112 (2009).

9.

Crompton, J. G. et al. Akt inhibition enhances expansion of potent tumor-specific lymphocytes with memory cell characteristics. Cancer Res. 75, 296–305 (2015).

10.

Pearce, E. L. et al. Enhancing CD8 T-cell memory by modulating fatty acid metabolism. Nature 460, 103–107 (2009).

11.

Chang, J. T., Wherry, E. J. & Goldrath, A. W. Molecular regulation of effector and memory T cell differentiation. Nat. Immunol. 15, 1104–1115 (2014).

12.

Cui, G. et al. IL-7-induced glycerol transport and TAG synthesis promotes memory CD8+ T cell longevity. Cell 161, 750–761 (2015).

13.

Ma, R. et al. Switch of glycolysis to gluconeogenesis by dexamethasone for treatment of hepatocarcinoma. Nat. Commun. 4, 2508 (2013).

14.

Weninger, W., Crowley, M. A., Manjunath, N. & von Andrian, U. H. Migratory properties of naive, effector, and memory CD8+ T cells. J. Exp. Med. 194, 953–966 (2001).

15.

Manjunath, N. et al. Effector differentiation is not prerequisite for generation of memory cytotoxic T lymphocytes. J. Clin. Invest. 108, 871–878 (2001).

16.

Carrio, R., Bathe, O. F. & Malek, T. R. Initial antigen encounter programs CD8+ T cells competent to develop into memory cells that are activated in an antigen-free, IL-7- and IL-15-rich environment. J. Immunol. 172, 7315–7323 (2004).

17.

Sukumar, M. et al. Inhibiting glycolytic metabolism enhances CD8+ T cell memory and antitumor function. J. Clin. Invest. 123, 4479–4488 (2013).

18.

Montal, E. D. et al. PEPCK coordinates the regulation of central carbon metabolism to promote cancer cell growth. Mol. Cell 60, 571–583 (2015).

19.

Vincent, E. E. et al. Mitochondrial phosphoenolpyruvate carboxykinase regulates metabolic adaptation and enables glucose-independent tumor growth. Mol. Cell 60, 195–207 (2015).

20.

Ho, P. C. et al. Phosphoenolpyruvate is a metabolic checkpoint of anti-tumor T cell responses. Cell 162, 1217–1228 (2015).

21.

Rao, R. R., Li, Q., Odunsi, K. & Shrikant, P. A. The mTOR kinase determines effector versus memory CD8+ T cell fate by regulating the expression of transcription factors T-bet and Eomesodermin. Immunity 32, 67–78 (2010).

22.

Berezhnoy, A., Castro, I., Levay, A., Malek, T. R. & Gilboa, E. Aptamer-targeted inhibition of mTOR in T cells enhances antitumor immunity. J. Clin. Invest. 124, 188–197 (2014).

23.

Pollizzi, K. N. et al. mTORC1 and mTORC2 selectively regulate CD8+ T cell differentiation. J. Clin. Invest. 125, 2090–2108 (2015).

24.

Ling, Y. M. et al. Vacuolar and plasma membrane stripping and autophagic elimination of Toxoplasma gondii in primed effector macrophages. J. Exp. Med. 203, 2063–2071 (2006).

25.

Liu, X., Ser, Z. & Locasale, J. W. Development and quantitative evaluation of a high-resolution metabolomics technology. Anal. Chem. 86, 2175–2184 (2014).
Acknowledgements
This work was supported by the National Natural Science Foundation of China (81788104, 81661128007, 81530080), the National Basic Research Program of China (2014CB542103), the National Natural Science Fund for Young Scholars of China (81502415) and the CAMS Initiative for Innovative Medicine (2016-I2M-1-007).
Ethics declarations
Competing interests
The authors declare no competing financial interests.
Additional information
Publisher's note: Springer Nature remains neutral with regard to jurisdictional claims in published maps and institutional affiliations.
Electronic supplementary material
Supplementary Figure 1–6, plus legends
About this article
Cite this article
Ma, R., Ji, T., Zhang, H. et al. A Pck1-directed glycogen metabolic program regulates formation and maintenance of memory CD8+ T cells. Nat Cell Biol 20, 21–27 (2018). https://doi.org/10.1038/s41556-017-0002-2
Received:

Accepted:

Published:

Issue Date: