Abstract
Multimodal sensory feedback from upper-limb prostheses can increase their function and usability. Here we show that intuitive thermal perceptions during cold-object grasping with a prosthesis can be restored in a phantom hand through targeted nerve stimulation via a wearable thin-film thermoelectric device with high cooling power density and speed. We found that specific regions of the residual limb, when thermally stimulated, elicited thermal sensations in the phantom hand that remained stable beyond 48 weeks. We also found stimulation sites that selectively elicited sensations of temperature, touch or both, depending on whether the stimulation was thermal or mechanical. In closed-loop functional tasks involving the identification of cold objects by amputees and by non-amputee participants, and compared with traditional bulk thermoelectric devices, the wearable thin-film device reliably elicited cooling sensations that were up to 8 times faster and up to 3 times greater in intensity while using half the energy and 1/600th the mass of active thermoelectric material. Wearable thin-film thermoelectric devices may allow for the non-invasive restoration of thermal perceptions during touch.
Access options
Access Nature and 54 other Nature Portfolio journals
Get Nature+, our best-value online-access subscription
$29.99 / 30 days
cancel any time
Subscribe to this journal
Receive 12 digital issues and online access to articles
$99.00 per year
only $8.25 per issue
Rent or buy this article
Prices vary by article type
from$1.95
to$39.95
Prices may be subject to local taxes which are calculated during checkout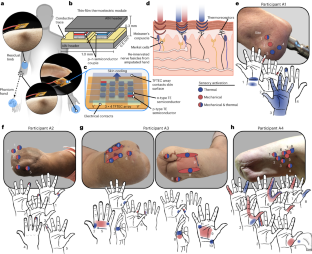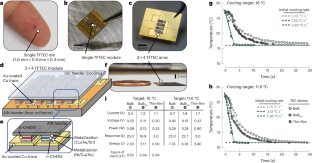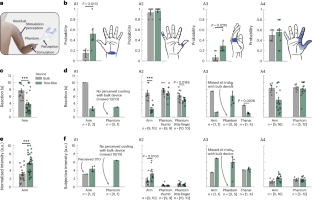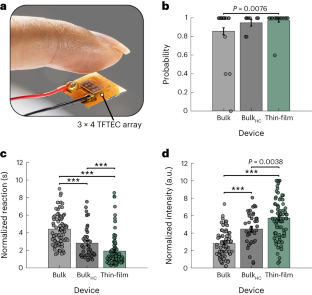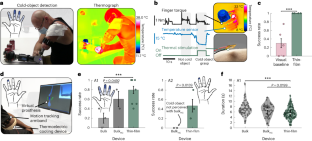 Data availability
All source data generated or analysed during the study and needed to interpret and verify the findings are available within the paper and its Supplementary Information. Source data are provided with this paper.
Code availability
The code used for controlling the virtual and physical prosthetic limb is available at https://bitbucket.org/rarmiger/minivie. The custom Arduino code used for monitoring and controlling thermal stimulation and the custom MATLAB code used for running the thermal-reaction-time experiment and for analysing the data are available for research purposes from the corresponding authors on reasonable request.
References
Abraira, V. E. & Ginty, D. D. The sensory neurons of touch. Neuron 79, 618–639 (2013).

Schepers, R. J. & Ringkamp, M. Thermoreceptors and thermosensitive afferents. Neurosci. Biobehav. Rev. 34, 177–184 (2010).

Graczyk, E. L. et al. The neural basis of perceived intensity in natural and artificial touch. Sci. Transl. Med. 8, 362ra142 (2016).

Oddo, C. M. et al. Intraneural stimulation elicits discrimination of textural features by artificial fingertip in intact and amputee humans. eLife 5, e09148 (2016).

Osborn, L. E. et al. Prosthesis with neuromorphic multilayered e-dermis perceives touch and pain. Sci. Robot. 3, eaat3818 (2018).

Kuiken, T. A., Marasco, P. D., Lock, B. A., Harden, R. N. & Dewald, J. P. A. Redirection of cutaneous sensation from the hand to the chest skin of human amputees with targeted reinnervation. Proc. Natl Acad. Sci. USA 104, 20061–20066 (2007).

Ortiz-Catalan, M., Mastinu, E., Sassu, P., Aszmann, O. & Brånemark, R. Self-contained neuromusculoskeletal arm prostheses. N. Engl. J. Med. 382, 1732–1738 (2020).

Srinivasan, S. S. & Herr, H. M. A cutaneous mechanoneural interface for neuroprosthetic feedback. Nat. Biomed. Eng. 6, 731–740 (2022).

Bensmaia, S. J., Tyler, D. J. & Micera, S. Restoration of sensory information via bionic hands. Nat. Biomed. Eng. 7, 443–455 (2023).

Raspopovic, S., Valle, G. & Petrini, F. M. Sensory feedback for limb prostheses in amputees. Nat. Mater. 20, 925–939 (2021).

Bohic, M. & Abraira, V. E. Wired for social touch: the sense that binds us to others. Curr. Opin. Behav. Sci. 43, 207–215 (2022).

Zbinden, J., Lendaro, E. & Ortiz-Catalan, M. A multi-dimensional framework for prosthetic embodiment: a perspective for translational research. J. Neuroeng. Rehabil. 19, 122 (2022).

Srinivasan, S. S. et al. On prosthetic control: a regenerative agonist–antagonist myoneural interface. Sci. Robot. 2, eaan2971 (2017).

Valle, G. et al. Biomimetic intraneural sensory feedback enhances sensation naturalness, tactile sensitivity, and manual dexterity in a bidirectional prosthesis. Neuron 100, 37–45 (2018).

Osborn, L. E. et al. Sensory stimulation enhances phantom limb perception and movement decoding. J. Neural Eng. 17, 056006 (2020).

Christie, B. P. et al. Ambulatory searching task reveals importance of somatosensation for lower-limb amputees. Sci. Rep. 10, 1–11 (2020).

George, J. A. et al. Biomimetic sensory feedback through peripheral nerve stimulation improves dexterous use of a bionic hand. Sci. Robot. 4, eaax2352 (2019).

Preatoni, G., Valle, G., Petrini, F. M. & Raspopovic, S. Lightening the perceived prosthesis weight with neural embodiment promoted by sensory feedback. Curr. Biol. 31, 1065–1071 (2021).

Graczyk, E. L., Resnik, L., Schiefer, M. A., Schmitt, M. S. & Tyler, D. J. Home use of a neural-connected sensory prosthesis provides the functional and psychosocial experience of having a hand again. Sci. Rep. 8, 9866 (2018).

Merrill, D. R., Bikson, M. & Jefferys, J. G. R. Electrical stimulation of excitable tissue: design of efficacious and safe protocols. J. Neurosci. Methods 141, 171–198 (2005).

Venkatasubramanian, R., Siivola, E., Colpitts, T. & O'Quinn, B. Thin-film thermoelectric devices with high room-temperature figures of merit. Nature 413, 597–602 (2001).

Jin, Q. et al. Flexible layer-structured Bi2Te3 thermoelectric on a carbon nanotube scaffold. Nat. Mater. 18, 62–68 (2019).

Sun, T. et al. Stretchable fabric generates electric power from woven thermoelectric fibers. Nat. Commun. 11, 1–10 (2020).

Venkatasubramanian, R., Pierce, J. M. & Dezsi, G. Superlattice structures for thermoelectric devices. US patent 10,903,139 (2021).

Venkatasubramanian, R., Pierce, J. M., Himmtann, M., Dezsi, G. & Rhim, Y.-R. Thin-film thermoelectric conversion devices for direct thermal-to-electric conversion for DC and pulse power. Johns Hopkins APL Tech. Dig. 35, 448–452 (2021).

Osborn, L. et al. Phantom hand activation during physical touch and targeted transcutaneous electrical nerve stimulation. In MEC Symposium Conference (2020).

Osborn, L. et al. Targeted transcutaneous electrical nerve stimulation for phantom limb sensory feedback. In IEEE Trans. Biomed. Circuits Syst. 1–4 (2017); https://doi.org/10.1109/BIOCAS.2017.8325200

Luo, M. et al. High-density thermal sensitivity maps of the human body. Build. Environ. 167, 106435 (2020).

Green, B. G. & Akirav, C. Threshold and rate sensitivity of low-threshold thermal nociception. Eur. J. Neurosci. 31, 1637–1645 (2010).

Adair, R. K. A model of the detection of warmth and cold by cutaneous sensors through effects on voltage-gated membrane channels. Proc. Natl Acad. Sci. USA 96, 11825–11829 (1999).

Chowdhury, I. et al. On-chip cooling by superlattice-based thin-film thermoelectrics. Nat. Nanotechnol. 4, 235–238 (2009).

Venkatasubramanian, R., Osborn, L. E., Armiger, R. S., Himmtann, M. & Pierce, J. M. Fast-rate thermoelectric device. US patent 11,227,988 (2022).

Johannes, M. S. et al. In Wearable Robotics (eds Rosen, J. & Ferguson, P. W.) 393–444 (Academic, 2020).

Izawa, J. & Shadmehr, R. On-line processing of uncertain information in visuomotor control. J. Neurosci. 28, 11360–11368 (2008).

Wei, K. & Koerding, K. Uncertainty of feedback and state estimation determines the speed of motor adaptation. Front. Comput. Neurosci. 4, 11 (2010).

Zhu, K., Perrault, S., Chen, T., Cai, S. & Lalintha Peiris, R. A sense of ice and fire: exploring thermal feedback with multiple thermoelectric-cooling elements on a smart ring. Int. J. Hum. Comput. Stud. 130, 234–247 (2019).

Gallo, S. et al. Encoded and crossmodal thermal stimulation through a fingertip-sized haptic display. Front. Robot. AI 2, 25 (2015).

Kim, S. et al. Two-dimensional thermal haptic module based on a flexible thermoelectric device. Soft Robot. 7, 736–742 (2020).

Kishore, R. A., Nozariasbmarz, A., Poudel, B., Sanghadasa, M. & Priya, S. Ultra-high performance wearable thermoelectric coolers with less materials. Nat. Commun. 10, 1765 (2019).

Lee, J. et al. Stretchable skin-like cooling/heating device for reconstruction of artificial thermal sensation in virtual reality. Adv. Funct. Mater. 30, 1909171 (2020).

Chatt, A. B. & Kenshalo, D. R. Cerebral evoked responses to skin warming recorded from human scalp. Exp. Brain Res 28, 449–455 (1977).

Li, G. et al. Integrated microthermoelectric coolers with rapid response time and high device reliability. Nat. Electron. 1, 555–561 (2018).

Ren, W. et al. High-performance wearable thermoelectric generator with self-healing, recycling, and Lego-like reconfiguring capabilities. Sci. Adv. 7, eabe0586 (2021).

Dunham, M. T. et al. Experimental characterization of microfabricated thermoelectric energy harvesters for smart sensor and wearable applications. Adv. Mater. Technol. 3, 1700383 (2018).

Kim, F. et al. 3D printing of shape-conformable thermoelectric materials using all-inorganic Bi2Te3-based inks. Nat. Energy 3, 301–309 (2018).

Jo, S., Choo, S., Kim, F., Heo, S. H. & Son, J. S. Ink processing for thermoelectric materials and power‐generating devices. Adv. Mater. 31, 1804930 (2019).

Beukema, P. et al. TrpM8-mediated somatosensation in mouse neocortex. J. Comp. Neurol. 526, 1444–1456 (2018).

Naver, H. et al. Autonomic and thermal sensory symptoms and dysfunction after stroke. Stroke 26, 1379–1385 (1995).

Xue, M. & Jackson, C. J. Extracellular matrix reorganization during wound healing and its impact on abnormal scarring. Adv. Wound Care 4, 119–136 (2015).

Osborn, L. E. et al. Extended home use of an advanced osseointegrated prosthetic arm improves function, performance, and control efficiency. J. Neural Eng. 18, 026020 (2021).

Hebert, J. S. et al. Novel targeted sensory reinnervation technique to restore functional hand sensation after transhumeral amputation. IEEE Trans. Neural Syst. Rehabil. Eng. 22, 765–773 (2014).

Roh, I. J. et al. Harman measurements for thermoelectric materials and modules under non-adiabatic conditions. Sci. Rep. 6, 1–10 (2016).

Harman, T. C. Special techniques for measurement of thermoelectric properties. J. Appl. Phys. 29, 1373–1374 (1958).

Cook, B. A. et al. High-performance three-stage cascade thermoelectric devices with 20% efficiency. J. Electron. Mater. 44, 1936–1942 (2015).

Geng, Q. et al. Temperature limit values for touching cold surfaces with the fingertip. Ann. Occup. Hyg. 50, 851–862 (2006).

McKemy, D. D. The molecular and cellular basis of cold sensation. ACS Chem. Neurosci. 4, 238–247 (2012).

Simone, D. A. & Kajander, K. C. Responses of cutaneous A-fiber nociceptors to noxious cold. J. Neurophysiol. 77, 2049–2060 (1997).

Osborn, L. E. et al. Monitoring at-home prosthesis control improvements through real-time data logging. J. Neural Eng. 19, 036021 (2022).

Handelman, D. A. et al. Shared control of bimanual robotic limbs with a brain-machine interface for self-feeding. Front. Neurorobot. 16, 918001 (2022).

Perry, B. N. et al. Virtual integration environment as an advanced prosthetic limb training platform. Front. Neurol. 9, 785 (2018).

Englehart, K. & Hudgins, B. A robust, real-time control scheme for multifunction myoelectric control. IEEE Trans. Biomed. Eng. 50, 848–854 (2003).

Armiger, R. S. et al. A real-time virtual integration environment. Johns Hopkins APL Tech. Dig. 30, 198–206 (2011).

Wester, B. A. et al. CONVEY: connecting STEM outreach now using VIE education for youth. Johns Hopkins APL Tech. Dig. 35, 259–266 (2020).

Shapiro, S. S. & Wilk, M. B. An analysis of variance test for normality (complete samples). Biometrika 52, 591–611 (1965).

Goldsmid, H. J. In CRC Handbook of Thermoelectrics (ed. Rowe, D. M.) 19–26 (CRC, 1995).

Semenyuk, V. In Thermoelectrics Handbook (ed. Rowe, D. M.) 58-1-58-21 (Taylor & Francis, 2006).

von Gunten, K. Thermal cycler optimized for real-time DNA analysis. EE Times (2012).
Acknowledgements
The authors thank the participants who contributed their time to improving the technology for those with upper-extremity impairment. The authors thank B. Christie for reviewing results and analysis, M. Iskarous for assistance with managing ethical-approval documentation, J. Forsberg and P. Pasquina for programmatic support, B. Wester for data-visualization guidance and C. Carneal for programmatic guidance and support. R.S.A. acknowledges support from the Uniformed Services University of Health Sciences and the Henry M. Jackson Foundation for the Advancement of Military Medicine (HJF) under federal awards HU00011520028 and HU00012020062. L.E.O. acknowledges internal research support from the Johns Hopkins University Applied Physics Laboratory. R.V. acknowledges support for the original development of CHESS thin-film thermoelectric materials and technology from the Defense Advanced Research Projects Agency (DARPA) under contract HR0011-16-C-0011. The MPL and vMPL were previously developed as part of the DARPA Revolutionizing Prosthetics Program. The views expressed in this article are those of the authors and do not reflect the official policy of HJF, the Department of Army/Navy/Air Force, Department of Defense or the US Government. The opinions and assertions expressed herein are those of the authors and do not necessarily reflect the official policy or position of the Uniformed Services University or the Department of Defense.
Ethics declarations
Competing interests
R.V., L.E.O., M.H., J.M.P. and R.S.A. are inventors on intellectual property pertaining to thin-film thermoelectric devices and US patents 11,227,988 and 11,532,778 and application 18/071,789. R.V. and J.M.P. are inventors on US patent 10,903,139. The Johns Hopkins University is the applicant on these patents. The other authors declare no competing interests.
Peer review
Peer review information
Nature Biomedical Engineering thanks Kornelius Nielsch and the other, anonymous, reviewer(s) for their contribution to the peer review of this work. Peer reviewer reports are available.
Additional information
Publisher's note Springer Nature remains neutral with regard to jurisdictional claims in published maps and institutional affiliations.
Supplementary information
Rights and permissions
Springer Nature or its licensor (e.g. a society or other partner) holds exclusive rights to this article under a publishing agreement with the author(s) or other rightsholder(s); author self-archiving of the accepted manuscript version of this article is solely governed by the terms of such publishing agreement and applicable law.
About this article
Cite this article
Osborn, L.E., Venkatasubramanian, R., Himmtann, M. et al. Evoking natural thermal perceptions using a thin-film thermoelectric device with high cooling power density and speed. Nat. Biomed. Eng (2023). https://doi.org/10.1038/s41551-023-01070-w
Received:

Accepted:

Published:

DOI: https://doi.org/10.1038/s41551-023-01070-w