Abstract
Mitochondrial replacement therapy (MRT) has been used to prevent maternal transmission of disease-causing mutations in mitochondrial DNA (mtDNA). However, because MRT requires nuclear transfer, it carries the risk of mtDNA carryover and hence of the reversion of mtDNA to pathogenic levels owing to selective replication and genetic drift. Here we show in HeLa cells, mouse embryos and human embryos that mtDNA heteroplasmy can be reduced by pre-labelling the mitochondrial outer membrane of a donor zygote via microinjection with an mRNA coding for a transmembrane peptide fused to an autophagy receptor, to induce the degradation of the labelled mitochondria via forced mitophagy. Forced mitophagy reduced mtDNA carryover in newly reconstructed embryos after MRT, and had negligible effects on the growth curve, reproduction, exercise capacity and other behavioural characteristics of the offspring mice. The induction of forced mitophagy to degrade undesired donor mtDNA may increase the clinical feasibility of MRT and could be extended to other nuclear transfer techniques.
Access options
Subscribe to Nature+
Get immediate online access to Nature and 55 other Nature journal
Subscribe to Journal
Get full journal access for 1 year
$79.00
only $6.58 per issue
All prices are NET prices.
VAT will be added later in the checkout.
Tax calculation will be finalised during checkout.
Buy article
Get time limited or full article access on ReadCube.
$32.00
All prices are NET prices.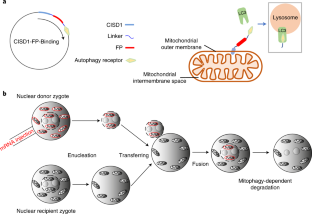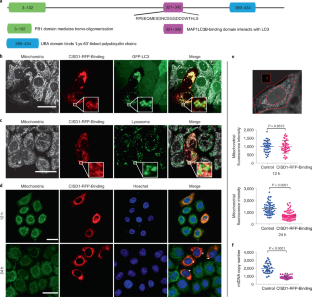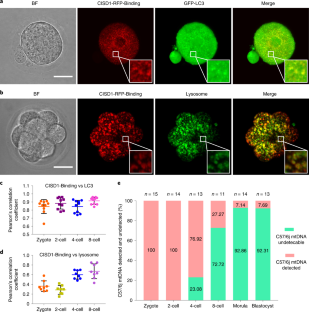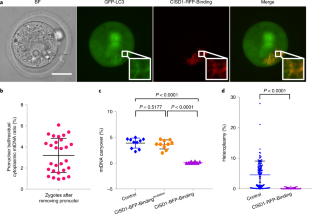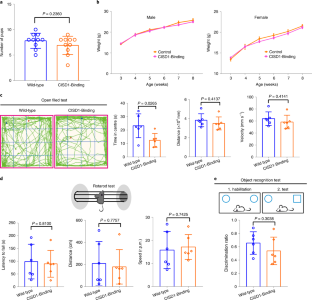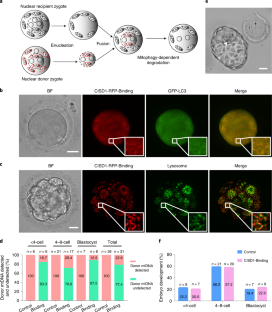 Data availability
The main data supporting the results in this study are available within the paper and its Supplementary Information. Source data for the figures are provided with this paper. Other raw data generated during the study are available from the corresponding authors on reasonable request. Source data are provided with this paper.
References
Elliott, H. R., Samuels, D. C., Eden, J. A., Relton, C. L. & Chinnery, P. F. Pathogenic mitochondrial DNA mutations are common in the general population. Am. J. Hum. Genet. 83, 254–260 (2008).

Gorman, G. S. et al. Prevalence of nuclear and mitochondrial DNA mutations related to adult mitochondrial disease. Ann. Neurol. 77, 753–759 (2015).

Lightowlers, R. N., Taylor, R. W. & Turnbull, D. M. Mutations causing mitochondrial disease: what is new and what challenges remain? Science 349, 1494–1499 (2015).

DeLuca, S. Z. & O'Farrell, P. H. Barriers to male transmission of mitochondrial DNA in sperm development. Dev. Cell 22, 660–668 (2012).

Luo, S. M., Schatten, H. & Sun, Q. Y. Sperm mitochondria in reproduction: good or bad and where do they go? J. Genet. Genomics 40, 549–556 (2013).

Wallace, D. C. Mitochondrial genetic medicine. Nat. Genet. 50, 1642–1649 (2018).

Ou, X. H. & Sun, Q. Y. Mitochondrial replacement techniques or therapies (MRTs) to improve embryo development and to prevent mitochondrial disease transmission. J. Genet. Genomics 44, 371–374 (2017).

Stewart, J. B. & Chinnery, P. F. The dynamics of mitochondrial DNA heteroplasmy: implications for human health and disease. Nat. Rev. Genet. 16, 530–542 (2015).

Bacman, S. R. et al. MitoTALEN reduces mutant mtDNA load and restores tRNA(Ala) levels in a mouse model of heteroplasmic mtDNA mutation. Nat. Med. 24, 1696–1700 (2018).

Gammage, P. A. et al. Genome editing in mitochondria corrects a pathogenic mtDNA mutation in vivo. Nat. Med. 24, 1691–1695 (2018).

Mok, B. Y. et al. A bacterial cytidine deaminase toxin enables CRISPR-free mitochondrial base editing. Nature https://www.nature.com/articles/s41586-020-2477-4 (2020).

Greenfield, A. et al. Assisted reproductive technologies to prevent human mitochondrial disease transmission. Nat. Biotechnol. 35, 1059–1068 (2017).

Craven, L. et al. Pronuclear transfer in human embryos to prevent transmission of mitochondrial DNA disease. Nature 465, 82–85 (2010).

Hyslop, L. A. et al. Towards clinical application of pronuclear transfer to prevent mitochondrial DNA disease. Nature 534, 383–386 (2016).

Kang, E. et al. Mitochondrial replacement in human oocytes carrying pathogenic mitochondrial DNA mutations. Nature 540, 270–275 (2016).

Paull, D. et al. Nuclear genome transfer in human oocytes eliminates mitochondrial DNA variants. Nature 493, 632–637 (2013).

Tachibana, M. et al. Towards germline gene therapy of inherited mitochondrial diseases. Nature 493, 627–631 (2013).

Tachibana, M. et al. Mitochondrial gene replacement in primate offspring and embryonic stem cells. Nature 461, 367–372 (2009).

Wang, T. et al. Polar body genome transfer for preventing the transmission of inherited mitochondrial diseases. Cell 157, 1591–1604 (2014).

Wu, K. et al. Polar bodies are efficient donors for reconstruction of human embryos for potential mitochondrial replacement therapy. Cell Res. 27, 1069–1072 (2017).

Wang, Z. et al. Mitochondrial replacement in macaque monkey offspring by first polar body transfer. Cell Res. 31, 233–236 (2021).

Hudson, G., Takeda, Y. & Herbert, M. Reversion after replacement of mitochondrial DNA. Nature 574, E8–E11 (2019).

Yamada, M. et al. Genetic drift can compromise mitochondrial replacement by nuclear transfer in human oocytes. Cell Stem Cell 18, 749–754 (2016).

Craven, L., Tang, M. X., Gorman, G. S., De Sutter, P. & Heindryckx, B. Novel reproductive technologies to prevent mitochondrial disease. Hum. Reprod. Update 23, 501–519 (2017).

Youle, R. J. & Narendra, D. P. Mechanisms of mitophagy. Nat. Rev. Mol. Cell Biol. 12, 9–14 (2011).

Kerr, J. S. et al. Mitophagy and Alzheimer's disease: cellular and molecular mechanisms. Trends Neurosci. 40, 151–166 (2017).

Sandoval, H. et al. Essential role for Nix in autophagic maturation of erythroid cells. Nature 454, 232–235 (2008).

Birgisdottir, A. B., Lamark, T. & Johansen, T. The LIR motif - crucial for selective autophagy. J. Cell Sci. 126, 3237–3247 (2013).

Wu, K. et al. Mitochondrial replacement by pre-pronuclear transfer in human embryos. Cell Res. 27, 834–837 (2017).

Tsukamoto, S. et al. Functional analysis of lysosomes during mouse preimplantation embryo development. J. Reprod. Dev. 59, 33–39 (2013).

Luo, S. M. et al. Unique insights into maternal mitochondrial inheritance in mice. Proc. Natl Acad. Sci. USA 110, 13038–13043 (2013).

Bavister, B. D. & Squirrell, J. M. Mitochondrial distribution and function in oocytes and early embryos. Hum. Reprod. 15, 189–198 (2000).

Wai, T. et al. The role of mitochondrial DNA copy number in mammalian fertility. Biol. Reprod. 83, 52–62 (2010).

Cao, L. et al. The mitochondrial bottleneck occurs without reduction of mtDNA content in female mouse germ cells. Nat. Genet. 39, 386–390 (2007).

Cree, L. M. et al. A reduction of mitochondrial DNA molecules during embryogenesis explains the rapid segregation of genotypes. Nat. Genet. 40, 249–254 (2008).

Khrapko, K. Two ways to make an mtDNA bottleneck. Nat. Genet. 40, 134–135 (2008).

Lieber, T., Jeedigunta, S. P., Palozzi, J. M., Lehmann, R. & Hurd, T. R. Mitochondrial fragmentation drives selective removal of deleterious mtDNA in the germline. Nature 570, 380–384 (2019).

Wai, T., Teoli, D. & Shoubridge, E. A. The mitochondrial DNA genetic bottleneck results from replication of a subpopulation of genomes. Nat. Genet. 40, 1484–1488 (2008).

Ma, H. et al. Functional human oocytes generated by transfer of polar body genomes. Cell Stem Cell 20, 112–119 (2017).

Bredenoord, A. L. & Appleby, J. B. Mitochondrial replacement techniques: remaining ethical challenges. Cell Stem Cell 21, 301–304 (2017).

Zhang, J. et al. Live birth derived from oocyte spindle transfer to prevent mitochondrial disease. Reprod. Biomed. Online 34, 361–368 (2017).

Reichmann, J. et al. Dual-spindle formation in zygotes keeps parental genomes apart in early mammalian embryos. Science 361, 189–193 (2018).

Xu, X., Li, L., Zhang, C. & Meng, L. Observation of two separate bipolar spindles in the human zygote. J. Assist. Reprod. Genet. 36, 601–602 (2019).

Tamashiro, K. L. et al. Phenotype of cloned mice: development, behavior, and physiology. Exp. Biol. Med. 228, 1193–1200 (2003).

Rodriguiz, R. M. & Wetsel, W. C. in Animal Models of Cognitive Impairment (eds. Levin, E. D. & Buccafusco, J. J.) Ch. 12 (CRC Press/Taylor & Francis, 2006).

Brown, R. E. Behavioural phenotyping of transgenic mice. Can. J. Exp. Psychol. 61, 328–344 (2007).

Barritt, J., Willadsen, S., Brenner, C. & Cohen, J. Cytoplasmic transfer in assisted reproduction. Hum. Reprod. Update 7, 428–435 (2001).

Miao, Y. L., Kikuchi, K., Sun, Q. Y. & Schatten, H. Oocyte aging: cellular and molecular changes, developmental potential and reversal possibility. Hum. Reprod. Update 15, 573–585 (2009).

Planchon, T. A. et al. Rapid three-dimensional isotropic imaging of living cells using Bessel beam plane illumination. Nat. Methods 8, 417–423 (2011).

Waterfall, C. M., Eisenthal, R. & Cobb, B. D. Kinetic characterization of primer mismatches in allele-specific PCR: a quantitative assessment. Biochem. Biophys. Res. Commun. 299, 715–722 (2002).
Acknowledgements
We thank those who donated gametes for this study, and R. Chen (South China Normal University, Guangzhou, China) and H. Schatten (University of Missouri-Columbia) for editing and proofreading the manuscript. This study was supported by the National Key Research and Development Program of China (2018YFC1004800), the National Natural Science Foundation of China (82071714, 81971357) and the Key-Area Research and Development Program of Guangdong Province (2019B030335001).
Ethics declarations
Competing interests
The authors declare no competing interests.
Peer review
Peer review information
Nature Biomedical Engineering thanks the anonymous reviewer(s) for their contribution to the peer review of this work. Peer reviewer reports are available.
Additional information
Publisher's note Springer Nature remains neutral with regard to jurisdictional claims in published maps and institutional affiliations.
Supplementary information
Supplementary figures and tables, and informed-consent templates.
About this article
Cite this article
Fan, XY., Guo, L., Chen, LN. et al. Reduction of mtDNA heteroplasmy in mitochondrial replacement therapy by inducing forced mitophagy. Nat. Biomed. Eng 6, 339–350 (2022). https://doi.org/10.1038/s41551-022-00881-7
Received:

Accepted:

Published:

Issue Date:

DOI: https://doi.org/10.1038/s41551-022-00881-7
This article is cited by
Anastasia Kirillova
Ilya Mazunin

Journal of Assisted Reproduction and Genetics (2022)