Abstract
Human spinal-cord-like tissues induced from human pluripotent stem cells are typically insufficiently mature and do not mimic the morphological features of neurulation. Here, we report a three-dimensional culture system and protocol for the production of human spinal-cord-like organoids (hSCOs) recapitulating the neurulation-like tube-forming morphogenesis of the early spinal cord. The hSCOs exhibited neurulation-like tube-forming morphogenesis, cellular differentiation into the major types of spinal-cord neurons as well as glial cells, and mature synaptic functional activities, among other features of the development of the spinal cord. We used the hSCOs to screen for antiepileptic drugs that can cause neural-tube defects. hSCOs may also facilitate the study of the development of the human spinal cord and the modelling of diseases associated with neural-tube defects.
Your institute does not have access to this article
Access options
Subscribe to Nature+
Get immediate online access to the entire Nature family of 50+ journals
Subscribe to Journal
Get full journal access for 1 year
$59.00
only $4.92 per issue
All prices are NET prices.
VAT will be added later in the checkout.
Tax calculation will be finalised during checkout.
Buy article
Get time limited or full article access on ReadCube.
$32.00
All prices are NET prices.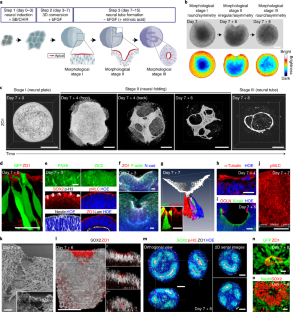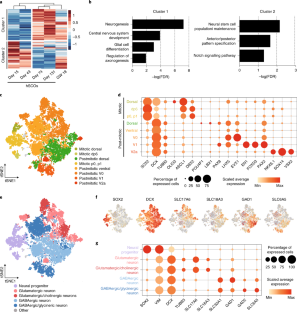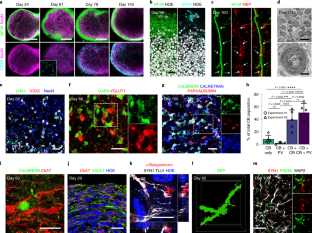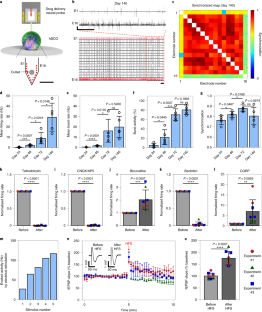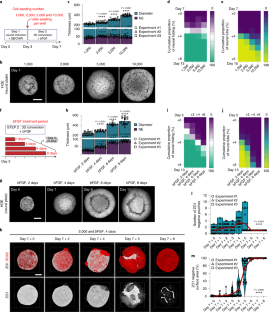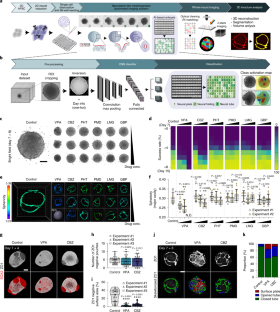 Data availability
The main data supporting the results in this study are available within the paper and its Supplementary Information. Gene expression data are available in the Gene Expression Omnibus (GEO) under accession numbers GSE196573 (for single-cell RNA-sequencing data) and GSE157696 (for microarray data). Source data are provided with this paper.
References
Smith, J. L. & Schoenwolf, G. C. Neurulation: coming to closure. Trends Neurosci. 20, 510–517 (1997).

Jankowska, E. Spinal interneuronal systems: identification, multifunctional character and reconfigurations in mammals. J. Physiol. 533, 31–40 (2001).

Lu, D. C., Niu, T. & Alaynick, W. A. Molecular and cellular development of spinal cord locomotor circuitry. Front. Mol. Neurosci. 8, 25 (2015).

Greene, N. D., Stanier, P. & Copp, A. J. Genetics of human neural tube defects. Hum. Mol. Genet. 18, R113–R129 (2009).

Loeken, M. R. Current perspectives on the causes of neural tube defects resulting from diabetic pregnancy. Am. J. Med. Genet. C 135, 77–87 (2005).

Matok, I. et al. Exposure to folic acid antagonists during the first trimester of pregnancy and the risk of major malformations. Br. J. Clin. Pharmacol. 68, 956–962 (2009).

Mølgaard-Nielsen, D. & Hviid, A. Newer-generation antiepileptic drugs and the risk of major birth defects. JAMA 305, 1996–2002 (2011).

Warmflash, A., Sorre, B., Etoc, F., Siggia, E. D. & Brivanlou, A. H. A method to recapitulate early embryonic spatial patterning in human embryonic stem cells. Nat. Methods 11, 847–854 (2014).

Haremaki, T. et al. Self-organizing neuruloids model developmental aspects of Huntington's disease in the ectodermal compartment. Nat. Biotechnol. 37, 1198–1208 (2019).

Moris, N. et al. An in vitro model of early anteroposterior organization during human development. Nature 582, 410–415 (2020).

Kim, J., Koo, B.-K. & Knoblich, J. A. Human organoids: model systems for human biology and medicine. Nat. Rev. Mol. Cell Biol. 21, 571–584 (2020).

Lancaster, M. A. et al. Cerebral organoids model human brain development and microcephaly. Nature 501, 373 (2013).

Qian, X. et al. Brain-region-specific organoids using mini-bioreactors for modeling ZIKV exposure. Cell 165, 1238–1254 (2016).

Quadrato, G. et al. Cell diversity and network dynamics in photosensitive human brain organoids. Nature 545, 48 (2017).

Paşca, A. M. et al. Functional cortical neurons and astrocytes from human pluripotent stem cells in 3D culture. Nat. Methods 12, 671 (2015).

Kadoshima, T. et al. Self-organization of axial polarity, inside-out layer pattern, and species-specific progenitor dynamics in human ES cell–derived neocortex. Proc. Natl Acad. Sci. USA 110, 20284–20289 (2013).

Meinhardt, A. et al. 3D reconstitution of the patterned neural tube from embryonic stem cells. Stem Cell Rep. 3, 987–999 (2014).

Ogura, T., Sakaguchi, H., Miyamoto, S. & Takahashi, J. Three-dimensional induction of dorsal, intermediate and ventral spinal cord tissues from human pluripotent stem cells. Development 145, dev162214 (2018).

Hor, J. H. et al. Cell cycle inhibitors protect motor neurons in an organoid model of spinal muscular atrophy. Cell Death Dis. 9, 1–12 (2018).

Martins, J.-M. F. et al. Self-organizing 3D human trunk neuromuscular organoids. Cell Stem Cell 26, 172–186.e176 (2020).

Rifes, P. et al. Modeling neural tube development by differentiation of human embryonic stem cells in a microfluidic WNT gradient. Nat. Biotechnol. 38, 1265–1273 (2020).

Quadrato, G., Brown, J. & Arlotta, P. The promises and challenges of human brain organoids as models of neuropsychiatric disease. Nat. Med. 22, 1220 (2016).

Velasco, S. et al. Individual brain organoids reproducibly form cell diversity of the human cerebral cortex. Nature 570, 523–527 (2019).

Denham, M. et al. Multipotent caudal neural progenitors derived from human pluripotent stem cells that give rise to lineages of the central and peripheral nervous system. Stem Cells 33, 1759–1770 (2015).

Anderson, M. J. et al. TCreERT2, a transgenic mouse line for temporal control of Cre-mediated recombination in lineages emerging from the primitive streak or tail bud. PLoS ONE 8, e62479 (2013).

Nagai, T. et al. The expression of the mouse Zic1, Zic2, and Zic3 gene suggests an essential role for Zic genes in body pattern formation. Dev. Biol. 182, 299–313 (1997).

Pyrgaki, C., Trainor, P., Hadjantonakis, A. K. & Niswander, L. Dynamic imaging of mammalian neural tube closure. Dev. Biol. 344, 941–947 (2010).

Aaku-Saraste, E., Hellwig, A. & Huttner, W. B. Loss of occludin and functional tight junctions, but not ZO-1, during neural tube closure—remodeling of the neuroepithelium prior to neurogenesis. Dev. Biol. 180, 664–679 (1996).

Nishimura, T., Honda, H. & Takeichi, M. Planar cell polarity links axes of spatial dynamics in neural-tube closure. Cell 149, 1084–1097 (2012).

Stuart, T. et al. Comprehensive integration of single-cell data. Cell 177, 1888–1902.e1821 (2019).

Delile, J. et al. Single cell transcriptomics reveals spatial and temporal dynamics of gene expression in the developing mouse spinal cord. Development 146, dev173807 (2019).

Floyd, T. L., Dai, Y. & Ladle, D. R. Characterization of calbindin D28k expressing interneurons in the ventral horn of the mouse spinal cord. Dev. Dyn. 247, 185–193 (2018).

Dale, N. Reciprocal inhibitory interneurones in the Xenopus embryo spinal cord. J. Physiol. 363, 61–70 (1985).

Shin, H. et al. Multifunctional multi-shank neural probe for investigating and modulating long-range neural circuits in vivo. Nat. Commun. 10, 3777 (2019).

Hanson, M. G. & Landmesser, L. T. Characterization of the circuits that generate spontaneous episodes of activity in the early embryonic mouse spinal cord. J. Neurosci. 23, 587–600 (2003).

Zafeiriou, M.-P. et al. Developmental GABA polarity switch and neuronal plasticity in bioengineered neuronal organoids. Nat. Commun. 11, 3791 (2020).

Greene, N. D. & Copp, A. J. Neural tube defects. Annu. Rev. Neurosci. 37, 221–242 (2014).

Agopian, A., Tinker, S. C., Lupo, P. J., Canfield, M. A. & Mitchell, L. E. Proportion of neural tube defects attributable to known risk factors. Birth Defects Res. A 97, 42–46 (2013).

Weston, J. et al. Monotherapy treatment of epilepsy in pregnancy: congenital malformation outcomes in the child. Cochrane Database Syst. Rev. 11, CD010224 (2016).

Hughes, A., Greene, N. D., Copp, A. J. & Galea, G. L. Valproic acid disrupts the biomechanics of late spinal neural tube closure in mouse embryos. Mech. Dev. 149, 20–26 (2018).

Sahni, G. et al. A micropatterned human-specific neuroepithelial tissue for modeling gene and drug‐induced neurodevelopmental defects. Adv. Sci. 8, 2001100 (2021).

Kawada, J. et al. Generation of a motor nerve organoid with human stem cell-derived neurons. Stem Cell Rep. 9, 1441–1449 (2017).

Sternfeld, M. J. et al. Speed and segmentation control mechanisms characterized in rhythmically-active circuits created from spinal neurons produced from genetically-tagged embryonic stem cells. eLife 6, e21540 (2017).

Zheng, Y. et al. Dorsal-ventral patterned neural cyst from human pluripotent stem cells in a neurogenic niche. Sci. Adv. 5, eaax5933 (2019).

Davidson, B. P., Kinder, S. J., Steiner, K., Schoenwolf, G. C. & Tam, P. P. Impact of node ablation on the morphogenesis of the body axis and the lateral asymmetry of the mouse embryo during early organogenesis. Dev. Biol. 211, 11–26 (1999).

Stemple, D. L. Structure and function of the notochord: an essential organ for chordate development. Development 132, 2503–2512 (2005).

Moury, J. D. & Schoenwolf, G. C. Cooperative model of epithelial shaping and bending during avian neurulation: autonomous movements of the neural plate, autonomous movements of the epidermis, and interactions in the neural plate/epidermis transition zone. Dev. Dyn. 204, 323–337 (1995).

Sato, T. et al. Single Lgr5 stem cells build crypt–villus structures in vitro without a mesenchymal niche. Nature 459, 262 (2009).

Lowery, L. A. & Sive, H. Strategies of vertebrate neurulation and a re-evaluation of teleost neural tube formation. Mech. Dev. 121, 1189–1197 (2004).

Yoon, S.-J. et al. Reliability of human cortical organoid generation. Nat. Met. 16, 75–78 (2019).

Bakkum, D. J. et al. Parameters for burst detection. Front. Comput. Neurosci. 7, 193 (2014).

Dobin, A. et al. STAR: ultrafast universal RNA-seq aligner. Bioinformatics 29, 15–21 (2013).

Butler, A., Hoffman, P., Smibert, P., Papalexi, E. & Satija, R. Integrating single-cell transcriptomic data across different conditions, technologies, and species. Nat. Biotechnol. 36, 411–420 (2018).

Hafemeister, C. & Satija, R. Normalization and variance stabilization of single-cell RNA-seq data using regularized negative binomial regression. Genome Biol. 20, 1–15 (2019).

Sakar, M. S. et al. Formation and optogenetic control of engineered 3D skeletal muscle bioactuators. Lab Chip 12, 4976–4985 (2012).
Acknowledgements
We would like to thank the Korea Basic Science Institute, Korea Brain Research Institute, K.-S. Yang and J. Na for their technical support. We especially thank SCREEN Holdings (Kyoto, Japan) and Kim & Friends (Seoul, Republic of Korea) for technical support utilizing the OCT instrument, Cell3iMager Estier. We also thank J. Hosung (Yonsei University) for his critical comments. This research was supported by the Brain Research Program through the National Research Foundation (NRF), which is funded by the Korean Ministry of Science, ICT and Future Planning (NRF-2015M3C7A1028790, NRF-2017M3C7A1047654, NRF-2017M3A9B3061308 and NRF-2021M3E5D9021368).
Ethics declarations
Competing interests
N.L. is employed by InterMinds. The authors declare no other competing interests.
Peer review
Peer review information
Nature Biomedical Engineering thanks Agnete Kirkeby, Matthias Lutolf and the other, anonymous, reviewer(s) for their contribution to the peer review of this work. Peer reviewer reports are available.
Additional information
Publisher's note Springer Nature remains neutral with regard to jurisdictional claims in published maps and institutional affiliations.
Supplementary information
About this article
Cite this article
Lee, JH., Shin, H., Shaker, M.R. et al. Production of human spinal-cord organoids recapitulating neural-tube morphogenesis. Nat. Biomed. Eng 6, 435–448 (2022). https://doi.org/10.1038/s41551-022-00868-4
Received:

Accepted:

Published:

Issue Date:

DOI: https://doi.org/10.1038/s41551-022-00868-4