Abstract
Histological examinations typically require the excision of tissue, followed by its fixation, slicing, staining, mounting and imaging, with timeframes ranging from minutes to days. This process may remove functional tissue, may miss abnormalities through under-sampling, prevents rapid decision-making, and increases costs. Here, we report the feasibility of microscopes based on swept confocally aligned planar excitation technology for the volumetric histological imaging of intact living tissue in real time. The systems' single-objective, light-sheet geometry and 3D imaging speeds enable roving image acquisition, which combined with 3D stitching permits the contiguous analysis of large tissue areas, as well as the dynamic assessment of tissue perfusion and function. Implemented in benchtop and miniaturized form factors, the microscopes also have high sensitivity, even for weak intrinsic fluorescence, allowing for the label-free imaging of diagnostically relevant histoarchitectural structures, as we show for pancreatic disease in living mice, for chronic kidney disease in fresh human kidney tissues, and for oral mucosa in a healthy volunteer. Miniaturized high-speed light-sheet microscopes for in-situ volumetric histological imaging may facilitate the point-of-care detection of diverse cellular-level biomarkers.
Relevant articles
Open Access articles citing this article.
A. Niazi

,

P. Parvin

…

A. Moafi

Scientific Reports Open Access 03 December 2022
Access options
Access Nature and 54 other Nature Portfolio journals
Get Nature+, our best-value online-access subscription
$29.99 / 30 days
cancel any time
Subscribe to this journal
Receive 12 digital issues and online access to articles
$99.00 per year
only $8.25 per issue
Rent or buy this article
Prices vary by article type
from$1.95
to$39.95
Prices may be subject to local taxes which are calculated during checkout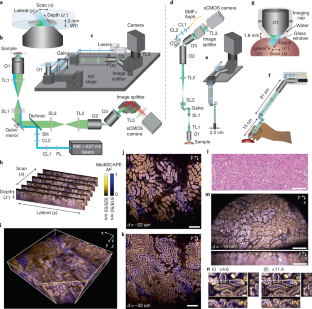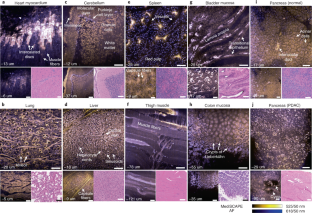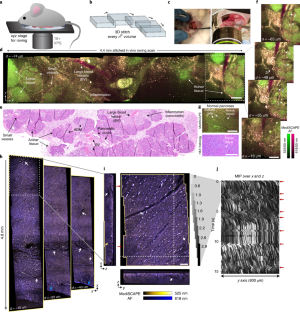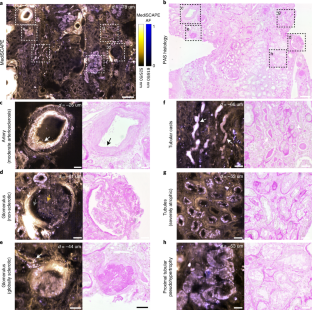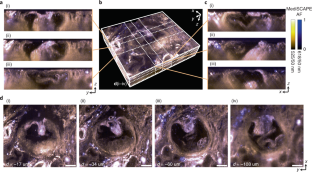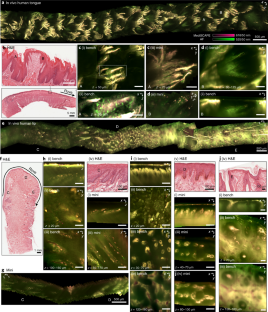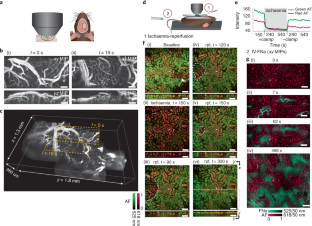 Data availability
The main data supporting the results in this study are available within the paper and its Supplementary Information. The raw and analysed datasets generated during the study are too large to be publicly shared, yet they are available for research purposes from the corresponding authors on reasonable request.
Code availability
All custom MATLAB and ImageJ scripts used to process and stitch data are available from the authors upon request. Pairwise stitching code for stitching roving scans in ImageJ is available on the Hillman Lab GitHub github.com/hillmanlab/mediSCAPE_stitching.
References
Biopsy Devices - Global Analysis and Market Forecasts. 66 (GlobalData MediPoint, 2016).

Jaafar, H. Intra-operative frozen section consultation: concepts, applications and limitations. Malays. J. Med. Sci. 13, 4–12 (2006).

Vieth, M., Ell, C., Gossner, L., May, A. & Stolte, M. Histological analysis of endoscopic resection specimens from 326 patients with Barrett's esophagus and early neoplasia. Endoscopy 36, 776–781 (2004).

Wang, T. D. et al. Functional imaging of colonic mucosa with a fibered confocal microscope for real-time in vivo pathology. Clin. Gastroenterol. Hepatol. 5, 1300–1305 (2007).

Goetz, M. & Kiesslich, R. Advances of endomicroscopy for gastrointestinal physiology and diseases. Am. J. Physiol. Gastrointest. Liver Physiol. 298, G797–G806 (2010).

van Dam, G. M. et al. Intraoperative tumour-specific fluorescence imaging in ovarian cancer by folate receptor-alpha targeting: first in-human results. Nat. Med. 17, 1315–1319 (2011).

Hsiung, P. L. et al. Detection of colonic dysplasia in vivo using a targeted heptapeptide and confocal microendoscopy. Nat. Med. 14, 454–458 (2008).

Sun, Y. et al. Endoscopic fluorescence lifetime imaging for in vivo intraoperative diagnosis of oral carcinoma. Microsc. Microanal. 19, 791–798 (2013).

Saar, B. G. et al. Video-rate molecular imaging in vivo with stimulated Raman scattering. Science 330, 1368–1370 (2010).

Grosberg, L. E., Radosevich, A. J., Asfaha, S., Wang, T. C. & Hillman, E. M. Spectral characterization and unmixing of intrinsic contrast in intact normal and diseased gastric tissues using hyperspectral two-photon microscopy. PLoS ONE 6, e19925 (2011).

You, S. et al. Intravital imaging by simultaneous label-free autofluorescence-multiharmonic microscopy. Nat. Commun. 9, 2125 (2018).

Orringer, D. A. et al. Rapid intraoperative histology of unprocessed surgical specimens via fibre-laser-based stimulated Raman scattering microscopy. Nat. Biomed. Eng. https://doi.org/10.1038/s41551-016-0027 (2017).

Hollon, T. C. et al. Near real-time intraoperative brain tumour diagnosis using stimulated Raman histology and deep neural networks. Nat. Med. 26, 52–58 (2020).

Konig, K. et al. Clinical two-photon microendoscopy. Microsc. Res. Tech. 70, 398–402 (2007).

Bouchard, M. B. et al. Swept confocally-aligned planar excitation (SCAPE) microscopy for high speed volumetric imaging of behaving organisms. Nat. Photonics 9, 113–119 (2015).

Xu, L. et al. Widespread receptor-driven modulation in peripheral olfactory coding. Science https://doi.org/10.1126/science.aaz5390 (2020).

Voleti, V. et al. Real-time volumetric microscopy of in vivo dynamics and large-scale samples with SCAPE 2.0. Nat. Methods 16, 1054–1062 (2019).

Vaadia, R. D. et al. Characterization of proprioceptive system dynamics in behaving Drosophila larvae using high-speed volumetric microscopy. Curr. Biol. 29, 935–944.e4 (2019).

Hillman, E. M. et al. High-speed 3D imaging of cellular activity in the brain using axially-extended beams and light sheets. Curr. Opin. Neurobiol. 50, 190–200 (2018).

Yin, C. et al. Miniature in vivo MEMS-based line-scanned dual-axis confocal microscope for point-of-care pathology. Biomed. Opt. Express 7, 251–263 (2016).

Liu, J. T. et al. Point-of-care pathology with miniature microscopes. Anal. Cell Pathol. 34, 81–98 (2011).

Flusberg, B. A. et al. Fiber-optic fluorescence imaging. Nat. Methods 2, 941–950 (2005).

Husain, S. A. et al. Reproducibility of deceased donor kidney procurement biopsies. Clin. J. Am. Soc. Nephrol. 15, 257–264 (2020).

Deal, J. et al. Identifying molecular contributors to autofluorescence of neoplastic and normal colon sections using excitation-scanning hyperspectral imaging. J. Biomed. Opt. 24, 1–11 (2018).

Pavlova, I., Williams, M., El-Naggar, A., Richards-Kortum, R. & Gillenwater, A. Understanding the biological basis of autofluorescence imaging for oral cancer detection: high-resolution fluorescence microscopy in viable tissue. Clin. Cancer Res. 14, 2396–2404 (2008).

Hu, W. Y. & Fu, L. Simultaneous characterization of pancreatic stellate cells and other pancreatic components within three-dimensional tissue environment during chronic pancreatitis. J. Biomed. Opt. https://doi.org/10.1117/1.Jbo.18.5.056002 (2013).

Hingorani, S. R. et al. Trp53R172H and KrasG12D cooperate to promote chromosomal instability and widely metastatic pancreatic ductal adenocarcinoma in mice. Cancer Cell 7, 469–483 (2005).

Preibisch, S., Saalfeld, S. & Tomancak, P. Globally optimal stitching of tiled 3D microscopic image acquisitions. Bioinformatics 25, 1463–1465 (2009).

Siegel, R. L., Miller, K. D., Fuchs, H. E. & Jemal, A. Cancer statistics, 2021. CA Cancer J. Clin. 71, 7–33 (2021).

Thekkek, N. et al. Vital-dye enhanced fluorescence imaging of GI mucosa: metaplasia, neoplasia, inflammation. Gastrointest. Endosc. 75, 877–887 (2012).

Giacomelli, M. G. et al. Virtual hematoxylin and eosin transillumination microscopy using epi-fluorescence imaging. PLoS ONE 11, e0159337 (2016).

Skala, M. C. et al. In vivo multiphoton microscopy of NADH and FAD redox states, fluorescence lifetimes, and cellular morphology in precancerous epithelia. Proc. Natl Acad. Sci. USA 104, 19494–19499 (2007).

Liang, W., Hall, G., Messerschmidt, B., Li, M. J. & Li, X. Nonlinear optical endomicroscopy for label-free functional histology in vivo. Light Sci. Appl. https://doi.org/10.1038/lsa.2017.82 (2017).

Drezek, R. et al. Autofluorescence microscopy of fresh cervical-tissue sections reveals alterations in tissue biochemistry with dysplasia. Photochem. Photobiol. 73, 636–641 (2001).

Neira, J. A. et al. Aggressive resection at the infiltrative margins of glioblastoma facilitated by intraoperative fluorescein guidance. J. Neurosurg. 127, 111–122 (2017).

Miller, S. E. et al. First-in-human intraoperative near-infrared fluorescence imaging of glioblastoma using cetuximab-IRDye800. J. Neurooncol. 139, 135–143 (2018).

Abeytunge, S. et al. Confocal microscopy with strip mosaicing for rapid imaging over large areas of excised tissue. J. Biomed. Opt. 18, 61227 (2013).

Giacomelli, M. G. et al. Comparison of nonlinear microscopy and frozen section histology for imaging of Mohs surgical margins. Biomed. Opt. Express 10, 4249–4260 (2019).

Fereidouni, F. et al. Microscopy with ultraviolet surface excitation for rapid slide-free histology. Nat. Biomed. Eng. 1, 957–966 (2017).

Barner, L. A., Glaser, A. K., Huang, H., True, L. D. & Liu, J. T. C. Multi-resolution open-top light-sheet microscopy to enable efficient 3D pathology workflows. Biomed. Opt. Express 11, 6605–6619 (2020).

Glaser, A. K. et al. Light-sheet microscopy for slide-free non-destructive pathology of large clinical specimens. Nat. Biomed. Eng. https://doi.org/10.1038/s41551-017-0084 (2017).

Abadie, S. et al. 3D imaging of cleared human skin biopsies using light-sheet microscopy: a new way to visualize in-depth skin structure. Skin Res. Technol. 24, 294–303 (2018).

Noe, M. et al. Immunolabeling of cleared human pancreata provides insights into three-dimensional pancreatic anatomy and pathology. Am. J. Pathol. 188, 1530–1535 (2018).

Hillman, E. M. & Moore, A. All-optical anatomical co-registration for molecular imaging of small animals using dynamic contrast. Nat. Photonics 1, 526–530 (2007).

Xing, J. Liu S. and Zhao, W. FPGA-accelerated real-time volume rendering for 3D medical image. 2010 3rd International Conference on Biomedical Engineering and Informatics https://doi.org/10.1109/BMEI.2010.5639475 (2010).

Jin, K., Lee, K. & Kim, G. in 3rd IEEE International Conference on Computer and Communications (ICCC) 2085–2088 (2017).

Rivenson, Y. et al. Virtual histological staining of unlabelled tissue-autofluorescence images via deep learning. Nat. Biomed. Eng. 3, 466–477 (2019).

Kester, R. T., Tkaczyk, T. S., Descour, M. R., Christenson, T. & Richards-Kortum, R. High numerical aperture microendoscope objective for a fibre confocal reflectance microscope. Opt. Express 15, 2409–2420 (2007).

Barretto, R. P., Messerschmidt, B. & Schnitzer, M. J. In vivo fluorescence imaging with high-resolution microlenses. Nat. Methods 6, 511–512 (2009).

McCaslin, A. F., Chen, B. R., Radosevich, A. J., Cauli, B. & Hillman, E. M. In vivo 3D morphology of astrocyte-vasculature interactions in the somatosensory cortex: implications for neurovascular coupling. J. Cereb. Blood Flow Metab. 31, 795–806 (2011).

Preibisch, S., Saalfeld, S. & Tomancak, P. Globally optimal stitching of tiled 3D microscopic image acquisitions. Bioinformatics 25, 1463–1465 (2009).

Schindelin, J. et al. Fiji: an open-source platform for biological-image analysis. Nat. Methods 9, 676–682 (2012).

Horl, D. et al. BigStitcher: reconstructing high-resolution image datasets of cleared and expanded samples. Nat. Methods 16, 870–874 (2019).
Acknowledgements
We thank L. Hammond and D. Peterka at the Zuckerman Institute's Cellular Imaging platform for help with confocal and slide imaging; the Histology Core facility services within the Molecular Pathology Shared Resource (CUMC Herbert Irving Comprehensive Cancer Center) for processing all histological samples; H. Remotti (Columbia) and J. Poneros (Columbia) for their support and valuable insights on possible application spaces; S. Sastra and C. Palermo (Columbia) for assistance with mouse pancreas experiments; M. Hortsch (University of Michigan Medical School) for sharing high-quality histology images of human tissues on their Virtual Microscopy Database (under CC BY-SA-NC); C. Kim and S. Kim for assistance with mouse work, and other members of the Hillman laboratory for their support and assistance, including H. Yu, W. Yan, M. Shaik, H. Yu, L. Grosberg and K. Stewart. Funding for this work was provided by the Columbia-Coulter Translational Research Partnership (37) and the Coulter Foundation Early Career programme to E.M.C.H.; the National Institutes of Health BRAIN initiative grants U01NS09429, UF1NS108213 to E.M.C.H. and U19NS104649 to R. Costa; NCI grant U01CA236554 to E.M.C.H. and D. Brenner; the National Science Foundation NSF-GRFP DGE - 1644869 to K.B.P., IGERT 0801530 to V.V. and CAREER CBET-0954796 to E.M.C.H.; the Simons Foundation Collaboration on the Global Brain 542951 to E.M.C.H.; the Department of Defense MURI W911NF-12-1-0594 to E.M.C.H.; and the Kavli Institute for Brain Science to E.M.C.H.
Ethics declarations
Competing interests
Columbia University holds intellectual property rights on SCAPE and MediSCAPE, some of which are licensed to Leica Microsystems. E.M.C.H., K.B.P., V.V., W. Li, W. Liang, G. S. Lee and C.P.C. could financially benefit from the commercial development of MediSCAPE. The other authors declare no competing interests.
Peer review
Peer review information
Nature Biomedical Engineering thanks Ralf Bauer, Matthias Gunzer and the other, anonymous, reviewer(s) for their contribution to the peer review of this work.
Additional information
Publisher's note Springer Nature remains neutral with regard to jurisdictional claims in published maps and institutional affiliations.
Supplementary information
About this article
Cite this article
Patel, K.B., Liang, W., Casper, M.J. et al. High-speed light-sheet microscopy for the in-situ acquisition of volumetric histological images of living tissue. Nat. Biomed. Eng 6, 569–583 (2022). https://doi.org/10.1038/s41551-022-00849-7
Received:

Accepted:

Published:

Issue Date:

DOI: https://doi.org/10.1038/s41551-022-00849-7