Abstract
Focused ultrasound can deliver energy safely and non-invasively into tissues at depths of centimetres. Here we show that the genetics and cellular functions of chimeric antigen receptor T cells (CAR-T cells) within tumours can be reversibly controlled by the heat generated by short pulses of focused ultrasound via a CAR cassette under the control of a promoter for the heat-shock protein. In mice with subcutaneous tumours, locally injected T cells with the inducible CAR and activated via focused ultrasound guided by magnetic resonance imaging mitigated on-target off-tumour activity and enhanced the suppression of tumour growth, compared with the performance of non-inducible CAR-T cells. Acoustogenetic control of the activation of engineered T cells may facilitate the design of safer cell therapies.
Relevant articles
Open Access articles citing this article.
Ying Xin

,

Keming Li

…

Xin Tang

Oncogene Open Access 20 October 2023

Pei Liu

,

Josquin Foiret

…

Lei S. Qi

Nature Communications Open Access 18 October 2023

Ye Yang

,

Yaozhang Yang

…

Hairong Zheng

Nature Communications Open Access 06 June 2023
Access options
Access Nature and 54 other Nature Portfolio journals
Get Nature+, our best-value online-access subscription
$29.99 / 30 days
cancel any time
Subscribe to this journal
Receive 12 digital issues and online access to articles
$99.00 per year
only $8.25 per issue
Rent or buy this article
Prices vary by article type
from$1.95
to$39.95
Prices may be subject to local taxes which are calculated during checkout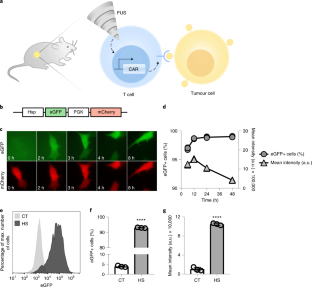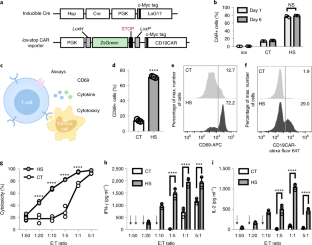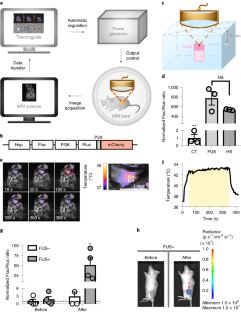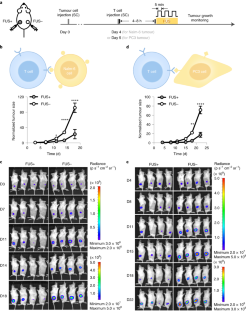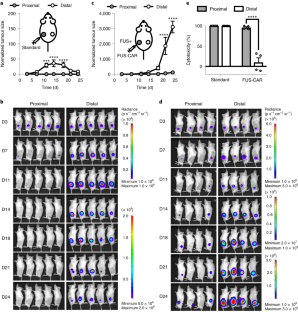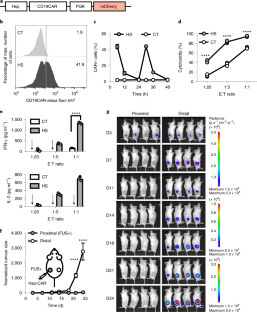 Data availability
The main data supporting the results of this study are available within the paper and its Supplementary Information. Source data for tumour growth curves are provided with this paper. Other raw data generated during this study are available from the corresponding authors on reasonable request.
References
Tsien, R. Y. Imagining imaging's future. Nat. Rev. Mol. Cell Biol. 4 (Suppl.), SS16–SS21 (2003).

Thanou, M. & Gedroyc, W. MRI-guided focused ultrasound as a new method of drug delivery. J. Drug Deliv. 2013, 616197 (2013).

Deckers, R. et al. Image-guided, non-invasive, spatiotemporal control of gene expression. Proc. Natl Acad. Sci. USA 106, 1175–1180 (2009).

Guilhon, E. et al. Image-guided control of transgene expression based on local hyperthermia. Mol. Imaging 2, 11–17 (2003).

Wang, S., Zderic, V. & Frenkel, V. Extracorporeal, low-energy focused ultrasound for noninvasive and nondestructive targeted hyperthermia. Future Oncol. 6, 1497–1511 (2010).

Smith, R. C., Machluf, M., Bromley, P., Atala, A. & Walsh, K. Spatial and temporal control of transgene expression through ultrasound-mediated induction of the heat shock protein 70B promoter in vivo. Hum. Gene Ther. 13, 697–706 (2002).

Madio, D. P. et al. On the feasibility of MRI-guided focused ultrasound for local induction of gene expression. J. Magn. Reson. Imaging 8, 101–104 (1998).

Piraner, D. I., Abedi, M. H., Moser, B. A., Lee-Gosselin, A. & Shapiro, M. G. Tunable thermal bioswitches for in vivo control of microbial therapeutics. Nat. Chem. Biol. 13, 75–80 (2017).

Davila, M. L. et al. Efficacy and toxicity management of 19-28z CAR T cell therapy in B cell acute lymphoblastic leukemia. Sci. Transl. Med. 6, 224ra225 (2014).

Chakravarti, D. & Wong, W. W. Synthetic biology in cell-based cancer immunotherapy. Trends Biotechnol. 33, 449–461 (2015).

Maus, M. V., Grupp, S. A., Porter, D. L. & June, C. H. Antibody-modified T cells: CARs take the front seat for hematologic malignancies. Blood 123, 2625–2635 (2014).

Morgan, R. A. et al. Case report of a serious adverse event following the administration of T cells transduced with a chimeric antigen receptor recognizing ERBB2. Mol. Ther. 18, 843–851 (2010).

Akpek, G., Lee, S. M., Anders, V. & Vogelsang, G. B. A high-dose pulse steroid regimen for controlling active chronic graft-versus-host disease. Biol. Blood Marrow Transpl. 7, 495–502 (2001).

Di Stasi, A. et al. Inducible apoptosis as a safety switch for adoptive cell therapy. N. Engl. J. Med. 365, 1673–1683 (2011).

Themeli, M. & Sadelain, M. Combinatorial antigen targeting: ideal T-cell sensing and anti-tumor response. Trends Mol. Med. 22, 271–273 (2016).

Cho, J. H., Collins, J. J. & Wong, W. W. Universal chimeric antigen receptors for multiplexed and logical control of T cell responses. Cell 173, 1426–1438 e1411 (2018).

Fedorov, V. D., Themeli, M. & Sadelain, M. PD-1- and CTLA-4-based inhibitory chimeric antigen receptors (iCARs) divert off-target immunotherapy responses. Sci. Transl. Med. 5, 215ra172 (2013).

Roybal, K. T. et al. Precision tumor recognition by t cells with combinatorial antigen-sensing circuits. Cell 164, 770–779 (2016).

Wu, C. Y., Roybal, K. T., Puchner, E. M., Onuffer, J. & Lim, W. A. Remote control of therapeutic T cells through a small molecule-gated chimeric receptor. Science 350, aab4077 (2015).

D'Aloia, M. M., Zizzari, I. G., Sacchetti, B., Pierelli, L. & Alimandi, M. CAR-T cells: the long and winding road to solid tumors. Cell Death Dis. 9, 282 (2018).

Grivennikov, S. I., Greten, F. R. & Karin, M. Immunity, inflammation, and cancer. Cell 140, 883–899 (2010).

Pan, Y. et al. Mechanogenetics for the remote and non-invasive control of cancer immunotherapy. Proc. Natl Acad. Sci. USA 115, 992–997 (2018).

Miller, I. C., Gamboa Castro, M., Maenza, J., Weis, J. P. & Kwong, G. A. Remote control of mammalian cells with heat-triggered gene switches and photothermal pulse trains. ACS Synth. Biol. 7, 1167–1173 (2018).

Abravaya, K., Phillips, B. & Morimoto, R. I. Attenuation of the heat shock response in HeLa cells is mediated by the release of bound heat shock transcription factor and is modulated by changes in growth and in heat shock temperatures. Genes Dev. 5, 2117–2127 (1991).

Ghosh, S. K., Missra, A. & Gilmour, D. S. Negative elongation factor accelerates the rate at which heat shock genes are shut off by facilitating dissociation of heat shock factor. Mol. Cell. Biol. 31, 4232–4243 (2011).

Martinez, M. & Moon, E. K. CAR-T cells for solid tumours: new strategies for finding, infiltrating and surviving in the tumour microenvironment. Front. Immunol. 10, 128 (2019).

Sridhar, P. & Petrocca, F. Regional delivery of chimeric antigen receptor (CAR) T-cells for cancer therapy. Cancers 9, 92 (2017).

Brown, C. E. et al. Optimization of IL13R alpha 2-targeted chimeric antigen receptor T cells for improved anti-tumour efficacy against glioblastoma. Mol. Ther. 26, 31–44 (2018).

Priceman, S. J. et al. Regional delivery of chimeric antigen receptor-engineered T cells effectively targets HER2 thorn breast cancer metastasis to the brain. Clin. Cancer Res. 24, 95–105 (2018).

Donovan, L. K. et al. Locoregional delivery of CAR-T cells to the cerebrospinal fluid for treatment of metastatic medulloblastoma and ependymoma. Nat. Med. 26, 720–731 (2020).

Theruvath, J. et al. Locoregionally administered B7-H3-targeted CAR-T cells for treatment of atypical teratoid/rhabdoid tumors. Nat. Med. 26, 712–719 (2020).

Mahmood, U. et al. Current clinical presentation and treatment of localized prostate cancer in the United States. J. Urol. 192, 1650–1656 (2014).

Musunuru, H. B. et al. Active surveillance for intermediate risk prostate cancer: survival outcomes in the sunnybrook experience. J. Urol. 196, 1651–1657 (2016).

Rastinehad, A. R. et al. Gold nanoshell-localized photothermal ablation of prostate tumors in a clinical pilot device study. Proc. Natl Acad. Sci. USA 116, 18590–18596 (2019).

Boice, M. et al. Loss of the HVEM tumour suppressor in lymphoma and restoration by modified CAR-T Cells. Cell 167, 405–418.e413 (2016).

Roybal, K. T. et al. Engineering T cells with customized therapeutic response programs using synthetic notch receptors. Cell 167, 419–432.e416 (2016).

Chew, W. L. et al. A multifunctional AAV–CRISPR–Cas9 and its host response. Nat. Methods 13, 868–874 (2016).

Moreno, A. M. et al. Immune-orthogonal orthologues of AAV capsids and of Cas9 circumvent the immune response to the administration of gene therapy. Nat. Biomed. Eng. 3, 806–816 (2019).

Wang, C. H. et al. Monitoring of the central blood pressure waveform via a conformal ultrasonic device. Nat. Biomed. Eng. 2, 687–695 (2018).

Boyden, E. S., Zhang, F., Bamberg, E., Nagel, G. & Deisseroth, K. Millisecond-timescale, genetically targeted optical control of neural activity. Nat. Neurosci. 8, 1263–1268 (2005).

Fite, B. Z. et al. Magnetic resonance thermometry at 7T for real-time monitoring and correction of ultrasound-induced mild hyperthermia. PLoS ONE 7, e35509 (2012).

Otto-Duessel, M. et al. In vivo testing of Renilla luciferase substrate analogs in an orthotopic murine model of human glioblastoma. Mol. Imaging 5, 57–64 (2006).

Mcburney, M. W. et al. The mouse Pgk-1 gene promoter contains an upstream activator sequence. Nucleic Acids Res. 19, 5755–5761 (1991).
Acknowledgements
This work was supported in part by grants from NIH HL121365, GM125379, GM126016, CA204704 and CA209629 (Y. Wang). We thank F. Couillaud (University of Bordeaux, France) for providing the Hsp template; M. Sadelain (Sloan Kettering Institute, USA) for the PSMA scFv and PSMA constructs and the Nalm-6 cells; E. Dumont and S. Hoarau-Recco (Image Guided Therapy, France) for their most valuable help on the FUS system; and P. Mali for the insightful discussion.
Ethics declarations
Competing interests
Y. Wang is scientific co-founder of Cell E&G Inc. and Acoustic Cell Therapy Inc. These financial interests do not affect the design, conduct or reporting of this research.
Additional information
Peer review information Nature Biomedical Engineering thanks the anonymous reviewer(s) for their contribution to the peer review of this work. Peer reviewer reports are available.
Publisher's note Springer Nature remains neutral with regard to jurisdictional claims in published maps and institutional affiliations.
Supplementary information
About this article
Cite this article
Wu, Y., Liu, Y., Huang, Z. et al. Control of the activity of CAR-T cells within tumours via focused ultrasound. Nat Biomed Eng 5, 1336–1347 (2021). https://doi.org/10.1038/s41551-021-00779-w
Received:

Accepted:

Published:

Issue Date:

DOI: https://doi.org/10.1038/s41551-021-00779-w