A prototype device for performing magnetic-resonance-imaging scans of the brain that integrates a lightweight permanent magnet and low-power gradient coils is suitable for eventual use at the bedside.
Access options
Subscribe to Journal
Get full journal access for 1 year
$99.00
only $8.25 per issue
All prices are NET prices.
VAT will be added later in the checkout.
Tax calculation will be finalised during checkout.
Rent or Buy article
Get time limited or full article access on ReadCube.
from$8.99
All prices are NET prices.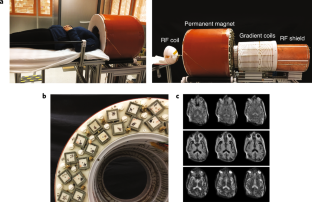 References
1.

Heye, T. et al. Radiology 295, 593–605 (2020).

2.

Papanicolas, I., Woskie, L. R. & Jha, A. K. JAMA 319, 1024–1039 (2018).

3.

Ogbole, G. I., Adeyomoye, A. O., Badu-Peprah, A., Mensah, Y. & Nzeh, D. A. Pan Afr. Med. J. 30, 240 (2018).

4.

Cooley, C. Z. et al. Nat. Biomed. Eng. https://doi.org/10.1038/s41551-020-00641-5 (2020).

5.

Chang, W.-H., Chen, J.-H. & Hwang, L.-P. Magn. Reson. Imaging 24, 1095–1102 (2006).

6.

Manz, B., Benecke, M. & Volke, F. J. Magn. Reson. 192, 131–138 (2008).

7.

Tewari, S., O'Reilly, T. & Webb, A. J. Magn. Reson. 324, 106923 (2021).

8.

LaPierre, C. D., Sarracanie, M., Waddington, D. E. J. & Rosen, M. S. A single channel spiral volume coil for in vivo imaging of the whole human brain at 6.5 mT. In Proc. 23rd Annual Meeting of the International Society for Magnetic Resonance in Medicine (ISMRM) Abstract no. 1793 (ISMRM, 2015).

9.

Lin, F.-H. et al. Magn. Reson. Med. 68, 1145–1156 (2012).
Ethics declarations
Competing interests
The author declares no competing interests.
About this article
Cite this article
Tyszka, J.M. Compact brain MRI. Nat Biomed Eng 5, 201–202 (2021). https://doi.org/10.1038/s41551-021-00702-3