Lipofuscin, an endogenous pigment, can be used as a near-infrared fluorescent biomarker to stage and to monitor the progression of chronic liver disease, as shown in mice with induced liver disease and in human livers biopsied from patients with liver fibrosis.
Access options
Subscribe to Journal
Get full journal access for 1 year
$99.00
only $8.25 per issue
All prices are NET prices.
VAT will be added later in the checkout.
Rent or Buy article
Get time limited or full article access on ReadCube.
from$8.99
All prices are NET prices.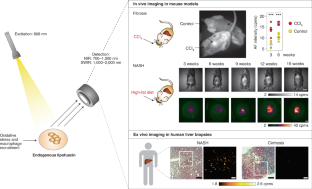 References
1.

Brunt, E. et al. Nat. Rev. Dis. Primers1, 15080 (2015).

2.

Bugianesi, E. et al. Nat. Rev. Gastroenterol. Hepatol.15, 11–20 (2018).

3.

Satapathy, S. K. & Sanyal, A. J. Semin. Liver Dis.35, 221–35 (2015).

4.

Smith, A. D. et al. Hepatology49, 1017–1044 (2009).

5.

Saif, M. et al. Nat. Biomed. Eng. https://doi.org/10.1038/s41551-020-0569-y (2020).

6.

Moreno-Garcia, A., Kun, A., Calero, O., Medina, M. & Calero, M. Front. Neurosci.12, 464 (2018).

7.

Scholten, D., Trebicka, J., Liedtke, R. & Weiskirchen, R. Lab. Anim.49, 4–11 (2015).

8.

Samir, A. E., Sirlin, C., Grajo, J. R., Dhyani, M. & Li, Q. World J. Hepatol.10, 530–542 (2018).

9.

Schenker, S., Ali, S. K., Kataria, A. & Malakouti, M. J. Clin. Transl. Hepatol.5, 394–403 (2017).
About this article
Cite this article
O'Sullivan, J.J., Harder, N.H.O. & Heffern, M.C. Detecting liver disease via an endogenous pigment. Nat Biomed Eng 4, 761–762 (2020). https://doi.org/10.1038/s41551-020-0601-2