Coating continuous glucose-monitoring sensors with zwitterionic polymer reduces early inflammatory responses and signal noise after sensor implantation in live animals, and improves the performance of the sensors without the need for additional recalibration.
Access options
Subscribe to Journal
Get full journal access for 1 year
$104.00
only $8.67 per issue
All prices are NET prices.
VAT will be added later in the checkout.
Rent or Buy article
Get time limited or full article access on ReadCube.
from$8.99
All prices are NET prices.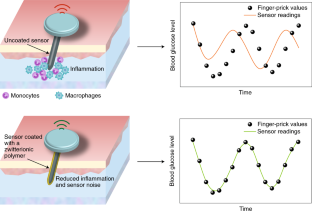 References
1.

Dondossola, E. et al. Nat. Biomed. Eng. 1, 0007 (2017).

2.

Zhang, L. et al. Nat. Biotechnol. 31, 553–556 (2013).

3.

Doloff, J. C. et al. Nat. Mater. 16, 671–680 (2017).

4.

Ward, W. K. J. Diabetes Sci. Technol. 2, 768–777 (2008).

5.

Gifford, R. ChemPhysChem 14, 2032–2044 (2013).

6.

Rodbard, D. Diabetes Technol. Ther. 18 (Suppl. 2), S3–S13 (2016).

7.

Novak, M. T., Yuan, F. & Reichert, W. M. Diabetes Sci. Technol. 7, 1547–1560 (2013).

8.

Nichols, S. P. et al. Chem. Rev. 113, 2528–2549 (2013).

9.

Xie, X. et al. Nat. Biomed. Eng. https://doi.org/10.1038/s41551-018-0273-3 (2018).

10.

Abbott Diabetes Care Inc. Freestyle Libre 14 Day Flash Glucose Monitoring System - P160030/S017 (FDA, 2018); https://www.fda.gov/MedicalDevices/ProductsandMedicalProcedures/DeviceApprovalsandClearances/Recently-ApprovedDevices/ucm614903.htm
About this article
Cite this article
Zhang, E., Cao, Z. Coated glucose sensors dodge recalibration. Nat Biomed Eng 2, 881–882 (2018). https://doi.org/10.1038/s41551-018-0329-4
Further reading
Mihaela Porumb

,

Saverio Stranges

,

Antonio Pescapè

&

Leandro Pecchia

Scientific Reports (2020)

Ershuai Zhang

&

Zhiqiang Cao

Journal of Diabetes Science and Technology (2019)