Abstract
Wireless powering could enable the long-term operation of advanced bioelectronic devices within the human body. Although both enhanced powering depth and device miniaturization can be achieved by shaping the field pattern within the body, existing electromagnetic structures do not provide the spatial phase control required to synthesize such patterns. Here, we describe the design and operation of conformal electromagnetic structures, termed phased surfaces, that interface with non-planar body surfaces and optimally modulate the phase response to enhance the performance of wireless powering. We demonstrate that the phased surfaces can wirelessly transfer energy across anatomically heterogeneous tissues in large animal models, powering miniaturized semiconductor devices (<12 mm3) deep within the body (>4 cm). As an illustration of in vivo operation, we wirelessly regulated cardiac rhythm by powering miniaturized stimulators at multiple endocardial sites in a porcine animal model.
Your institute does not have access to this article
Relevant articles
Open Access articles citing this article.
Amjad Iqbal

,

Penchala Reddy Sura

…

Tayeb A. Denidni

Scientific Reports Open Access 11 August 2022

Yihan Zhang

,

Prashant Muthuraman

…

Kenneth L. Shepard

Nature Communications Open Access 20 June 2022

Rongzhou Lin

,

Han-Joon Kim

…

John S. Ho

Nature Communications Open Access 21 April 2022
Access options
Subscribe to Nature+
Get immediate online access to the entire Nature family of 50+ journals
Subscribe to Journal
Get full journal access for 1 year
$59.00
only $4.92 per issue
All prices are NET prices.
VAT will be added later in the checkout.
Tax calculation will be finalised during checkout.
Buy article
Get time limited or full article access on ReadCube.
$32.00
All prices are NET prices.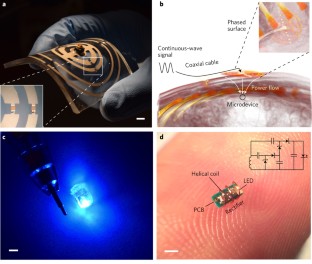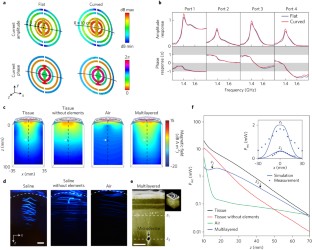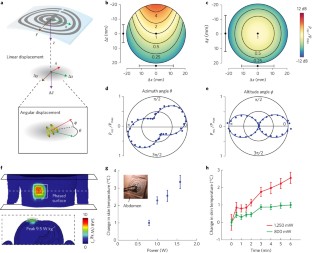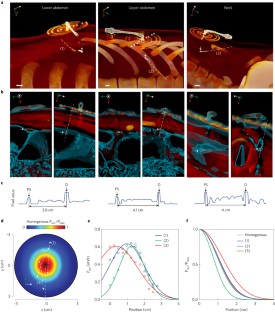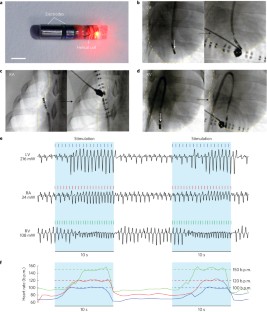 References
Chandrakasan, A. P., Verma, N. & Daly, D. C. Ultralow-power electronics for biomedical applications. Annu. Rev. Biomed. Eng. 10, 247–274 (2008).

Dagdeviren, C. et al. Conformal piezoelectric energy harvesting and storage from motions of the heart, lung, and diaphragm. Proc. Natl Acad. Sci. USA 111, 1927–1932 (2014).

Leonov, V. Thermoelectric energy harvesting of human body heat for wearable sensors. IEEE Sens. J. 13, 2284–2291 (2013).

Schuder, J., Stephenson, H. Jr & Townsend, J. High level electromagnetic energy transfer through a closed chest wall. Inst. Radio Engrs. Int. Conv. Record. 9, 119–126 (1961).

Jow, U.-M. & Ghovanloo, M. Design and optimization of printed spiral coils for efficient transcutaneous inductive power transmission. IEEE Trans. Biomed. Circuits Syst. 1, 193–202 (2008).

Liu, W. et al. A neuro-stimulus chip with telemetry unit for retinal prosthetic device. IEEE J. Solid-State Circuits 35, 1487–1497 (2000).

RamRakhyani, A. K., Mirabbasi, S. & Chiao, M. Design and optimization of resonance-based efficient wireless power delivery systems for biomedical implants. IEEE Trans. Biomed. Circuits Syst. 5, 48–63 (2011).

Waters, B. H., Sample, A. P., Bonde, P. & Smith, J. R. Powering a ventricular assist device (VAD) with the free-range resonant electrical energy delivery (FREE-D) system. Proc. IEEE 100, 138–149 (2012).

Ahn, D. & Ghovanloo, M. Optimal design of wireless power transmission links for millimeter-sized biomedical implants. IEEE Trans. Biomed. Circuits Syst. 10, 125–137 (2016).

Kim, S., Ho, J. S. & Poon, A. S. Y. Midfield wireless powering of subwavelength autonomous devices. Phys. Rev. Lett. 110, 203905 (2013).

Ho, J. S. et al. Wireless power transfer to deep-tissue microimplants. Proc. Natl Acad. Sci. USA 111, 7974–7979 (2014).

Chow, E. Y. et al. Wireless powering and the study of RF propagation through ocular tissue for development of implantable sensors. IEEE Trans. Antennas Propag. 59, 2379–2387 (2011).

Ling, H. & Lee, S. W. Focusing of electromagnetic waves through a dielectric interface. J. Opt. Soc. Am. A 1, 965–973 (1984).

Li, X., Davis, S. K., Hagness, S. C., van der Weide, D. W. & Van Veen, B. D. Microwave imaging via space–time beamforming: experimental investigation of tumor detection in multilayer breast phantoms. IEEE Trans. Microwave Theory Techn. 52, 1856–1865 (2004).

Ling, H., Lee, S. & Gee, W. Frequency optimization of focused microwave hyperthermia applicators. Proc. IEEE 72, 224–225 (1984).

Meaney, P. M., Fanning, M. W. & Li, D. A clinical prototype for active microwave imaging of the breast. IEEE Trans. Microwave Theory Tech. 48, 1841–1853 (2000).

Wu, L., McGough, R. J., Arabe, O. A. & Samulski, T. V. An RF phased array applicator designed for hyperthermia breast cancer treatments. Phys. Med. Biol. 51, 1–20 (2005).

Xu, S. et al. Soft microfluidic assemblies of sensors, circuits, and radios for the skin. Science 344, 70–74 (2014).

Hussain, A. M. et al. Metal/polymer based stretchable antenna for constant frequency far-field communication in wearable electronics. Adv. Funct. Mater. 25, 6565–6575 (2015).

Yu, N. & Capasso, F. Flat optics with designer metasurfaces. Nat. Mater. 13, 139–150 (2014).

Ho, J. S. et al. Planar immersion lens with metasurfaces. Phys. Rev. B 91, 125145–12514 8 (2015).

Harrington, R. F. Reactively controlled directive arrays. IEEE Trans. Antennas Propag. 26, 390–395 (1978).

Grbic, A., Merlin, R., Thomas, E. M. & Imani, M. F. Near-field plates: metamaterial surfaces/arrays for subwavelength focusing and probing. Proc. IEEE 99, 1806–1815 (2011).

Ozeki, T. et al. Functions for detecting malposition of transcutaneous energy transmission coils. ASAIO J. 49, 469–474 (2003).

IEEE Standard for Safety Levels with Respect to Human Exposure to Radio Frequency Electromagnetic Fields, 3 kHz to 300 GHz, IEEE Standard C95.1 (Institute of Electronic and Electrical Engineers, 2005).

Montgomery, K. L. et al. Wirelessly powered, fully internal optogenetics for brain, spinal and peripheral circuits in mice. Nat. Methods 12, 969–974 (2015).

Meng, C., Maeng, J., John, S. W. M. & Irazoqui, P. P. Ultrasmall integrated 3D micro-supercapacitors solve energy storage for miniature devices. Adv. Energy Mater. 4, 1301269 (2013).

Birmingham, K. et al. Bioelectronic medicines: a research roadmap. Nat. Rev. Drug Discov. 13, 399–400 (2014).

Zhao, Y. & Alu, A. Manipulating light polarization with ultrathin plasmonic metasurfaces. Phys. Rev. B 84, 205428–20542 6 (2011).

Pfeiffer, C. & Grbic, A. Metamaterial Huygens' surfaces: tailoring wave fronts with reflectionless sheets. Phys. Rev. Lett. 110, 197401–19740 5 (2013).

Gabriel, S., Lau, R. W. & Gabriel, C. The dielectric properties of biological tissues: III. Parametric models for the dielectric spectrum of tissues. Phys. Med. Biol. 41, 2271–2293 (1996).
Acknowledgements
We acknowledge support from grants from the Singapore Institute for Neurotechnology, US National Science Foundation (ECCS-1351687), the US National Institutes of Health (National Institute of Biomedical Imaging and Bioengineering grant R21EB020894) and the Hong Kong Innovation and Technology Fund (ITS/087/14).
Ethics declarations
Competing interests
This work relates to patent PCT/US2015/052642.
Supplementary information
About this article
Cite this article
Agrawal, D., Tanabe, Y., Weng, D. et al. Conformal phased surfaces for wireless powering of bioelectronic microdevices. Nat Biomed Eng 1, 0043 (2017). https://doi.org/10.1038/s41551-017-0043
Received:

Accepted:

Published:

DOI: https://doi.org/10.1038/s41551-017-0043