eROSITA, a new X-ray telescope currently performing an all-sky survey of unprecedented depth, aims to provide insights into dark energy, dark matter, black holes and perhaps new phenomena that have so far been invisible.
Access options
Subscribe to Journal
Get full journal access for 1 year
$99.00
only $8.25 per issue
All prices are NET prices.
VAT will be added later in the checkout.
Tax calculation will be finalised during checkout.
Rent or Buy article
Get time limited or full article access on ReadCube.
from$8.99
All prices are NET prices.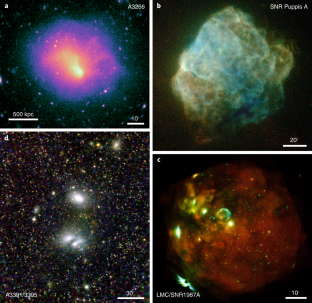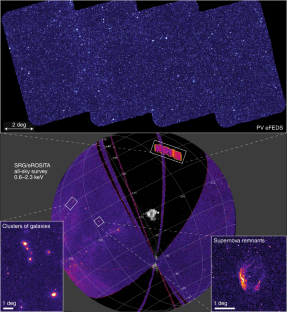 References
1.

Giacconi, R., Gursky, H., Paolini, F. R. & Rossi, B. Phys. Rev. Lett. 9, 439–443 (1962).

2.

Vikhlinin, A. et al. Astrophys. J. 692, 1060–1074 (2009).

3.

Trümper, J. Science 260, 1769–1771 (1993).

4.

Predehl, P. Astron. Nachr. 338, 159–164 (2017).

5.

Merloni, A. et al. Preprint at https://arxiv.org/abs/1209.3114 (2012).

6.

Pavlinsky, M. et al. Proc. SPIE 8147, 814706 (2011).

7.

Pillepich, A., Reiprich, T. H., Porciani, C., Borm, K. & Merloni, A. Mon. Not. R. Astron. Soc. 481, 613–626 (2018).

8.

Bocquet, S. et al. Astrophys. J. 878, 55–79 (2019).

9.

DES Collaboration Preprint at https://arxiv.org/abs/2002.11124 (2020).
Acknowledgements
This work is based on data from eROSITA, the primary instrument aboard SRG, a joint Russian–German science mission supported by the Russian Space Agency (Roskosmos), in the interests of the Russian Academy of Sciences represented by its Space Research Institute (IKI), and the Deutsches Zentrum für Luft- und Raumfahrt (DLR). The SRG spacecraft was built by Lavochkin Association (NPOL) and its subcontractors, and is operated by NPOL with support from the Max Planck Institute for Extraterrestrial Physics (MPE). The development and construction of the eROSITA X-ray instrument was led by MPE, with contributions from the Dr. Karl Remeis Observatory Bamberg, the University of Hamburg Observatory, the Leibniz Institute for Astrophysics Potsdam (AIP) and the Institute for Astronomy and Astrophysics of the University of Tübingen, with the support of DLR and the Max Planck Society. The Argelander Institute for Astronomy of the University of Bonn and the Ludwig Maximilians Universität Munich also participated in the science preparation for eROSITA. The eROSITA data shown here were processed using the eSASS software system developed by the German eROSITA consortium.
About this article
Cite this article
Merloni, A., Nandra, K. & Predehl, P. eROSITA's X-ray eyes on the Universe. Nat Astron 4, 634–636 (2020). https://doi.org/10.1038/s41550-020-1133-0