Abstract
The oxygen emission at 557.7 nm is a ubiquitous component of the spectrum of the terrestrial polar aurora and the reason for its usual green colour1. It is also observed as a thin layer of glow surrounding the Earth near 90 km altitude in the dayside atmosphere2,3 but it has so far eluded detection in other planets. Here we report dayglow observations of the green line outside the Earth. They have been performed with the Nadir and Occultation for Mars Discovery ultraviolet and visible spectrometer instrument on board the European Space Agency's ExoMars Trace Gas Orbiter. Using a special observation mode, scans of the dayside limb provide the altitude distribution of the intensity of the 557.7 nm line and its variability. Two intensity peaks are observed near 80 and 120 km altitude, corresponding to photodissociation of CO2 by solar Lyman α and extreme ultraviolet radiation, respectively. A weaker emission, originating from the same upper level of the oxygen atom, is observed in the near ultraviolet at 297.2 nm. These simultaneous measurements of both oxygen lines make it possible to directly derive a ratio of 16.5 between the visible and ultraviolet emissions, and thereby clarify a controversy between discordant ab initio calculations and atmospheric measurements that has persisted despite multiple efforts. This ratio is considered a standard for measurements connecting the ultraviolet and visible spectral regions. This result has consequences for the study of auroral and airglow processes and for spectral calibration.
Access options
Access Nature and 54 other Nature Portfolio journals
Get Nature+, our best-value online-access subscription
$29.99 per month
cancel any time
Subscribe to this journal
Receive 12 digital issues and online access to articles
$119.00 per year
only $9.92 per issue
Rent or buy this article
Get just this article for as long as you need it
$39.95
Prices may be subject to local taxes which are calculated during checkout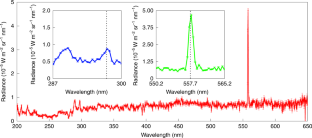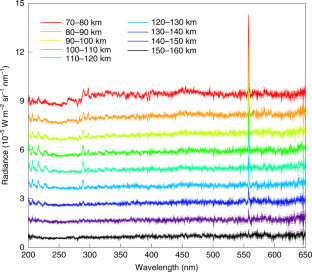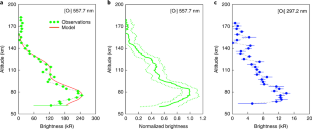 References
Kramida, A., Ralchenko, Y., Reader, J. & NIST ASD Team NIST Atomic Spectra Database version 5.7.1 (NIST, 2019); https://physics.nist.gov/asd

Zhang, S. P. & Shepherd, G. G. On the response of the O(1S) dayglow emission rate to the Sun's energy input: an empirical model deduced from WINDII/UARS global measurements. J. Geophys. Res. 110, A03304 (2005).

Witasse, O., Lilensten, J., Lathuillière, C. & Blelly, P. L. Modeling the OI 630.0 and 557.7 nm thermospheric dayglow during EISCAT-WINDII coordinated measurements. J. Geophys. Res. 104, 24639–24655 (1999).

Fox, J. L. & Dalgarno, A. Ionization, luminosity, and heating of the upper atmosphere of Mars. J. Geophys. Res. 84, 7315–7333 (1979).

Barth, C. A. The atmosphere of Mars. Annu. Rev. Earth Planet. Sci. 2, 333–367 (1974).

Stewart, A. I. Mariner 6 and 7 ultraviolet spectrometer experiment: implications of CO2+, CO and O airglow. J. Geophys. Res. 77, 54–68 (1972).

Leblanc, F., Chaufray, J. Y., Lilensten, J., Witasse, O. & Bertaux, J. L. Martian dayglow as seen by the SPICAM UV spectrograph on Mars Express. J. Geophys. Res. 111, E09S11 (2006).

Jain, S. K. et al. The structure and variability of Mars upper atmosphere as seen in MAVEN/IUVS dayglow observations. Geophys. Res. Lett. 42, 9023–9030 (2015).

Slanger, T. G., Cosby, P. C., Sharpee, B. D., Minschwaner, K. R. & Siskind, D. E. O(1S→ 1D, 3P) branching ratio as measured in the terrestrial nightglow. J. Geophys. Res. 111, A12318 (2006).

Gattinger, R. L. et al. Observation of the 557.7 nm to 297.2 nm brightness ratio in the auroral spectrum with OSIRIS on Odin. Can. J. Phys. 87, 1133–1137 (2009).

Vandaele, A. C. et al. Science objectives and performances of NOMAD, a spectrometer suite for the ExoMars TGO mission. Planet. Space Sci. 119, 233–249 (2018).

Vandaele, A. C. et al. Optical and radiometric models of the NOMAD instrument part I: the UVIS channel. Opt. Express 23, 30028–30042 (2015).

Patel, M. R. et al. NOMAD spectrometer on the ExoMars trace gas orbiter mission: part 2—design, manufacturing, and testing of the ultraviolet and visible channel. Appl. Opt. 56, 2771–2782 (2017).

López-Valverde, M. A. et al. Investigations of the Mars upper atmosphere with ExoMars Trace Gas Orbiter. Space Sci. Rev. 214, 29 (2018).

Gkouvelis, L. et al. The O (1S) 297.2‐nm dayglow emission: a tracer of CO2 density variations in the martian lower thermosphere. J. Geophys. Res. 123, 3119–3132 (2018).

Gérard, J. C. et al. MAVEN IUVS observations of the CO2+ UV doublet and CO cameron bands in the martian thermosphere: aeronomy, seasonal and latitudinal distribution. J. Geophys. Res. 124, 5816–5827 (2019).

Lawrence, G. M. Production of O(1S) from photodissociation of CO2. J. Chem. Phys. 57, 5616–5617 (1972).

Gkouvelis, L. et al. Airglow remote sensing of the seasonal variation of the martian upper atmosphere: MAVEN limb observations and model comparison. Icarus 341, 113666 (2020).

Forget, F. et al. Improved general circulation models of the Martian atmosphere from the surface to above 80 km. J. Geophys. Res. 104, 24155–24175 (1999).

González-Galindo, F., López-Valverde, M. A., Angelat i Coll, M. & Forget, F. Extension of a Martian general circulation model to thermospheric altitudes: UV heating and photochemical models. J. Geophys. Res. 110, E09008 (2005).

Thiemann, E. et al. The MAVEN EUVM model of solar spectral irradiance variability at Mars: algorithms and results. J. Geophys. Res. 122, 2748–2767 (2017).

Chantler, C. T., Nguyen, T. V. B., Lowe, J. A. & Grant, I. P. Relativistic calculation of transition probabilities for 557.7 nm and 297.2 nm emission lines in oxygen. Astrophys. J. 769, 84 (2013).
Acknowledgements
B.H. is research associate and S.A. is postdoctoral researcher of the Belgian Fund for Scientific Research (FNRS). ExoMars is a space mission of the ESA and Roscosmos. The NOMAD experiment is led by the IASB-BIRA, assisted by Co-PI teams from Spain (IAA-CSIC), Italy (INAF-IAPS) and the United Kingdom (The Open University). This project acknowledges funding from BELSPO, with the financial and contractual coordination by the ESA Prodex Office (PEA grant numbers 4000103401 and 4000121493). M.A.L.-V. and J.-J.L.-M. were supported by grant number PGC2018-101836-B-100 (MCIU/AEI/FEDER, EU) and by the Spanish Science Ministry Centro de Excelencia Severo Ochoa Program under grant number SEV-2017-0709. We also acknowledge support from the UK Space Agency through grant numbers ST/R005761/1, ST/P001262/1 and ST/S00145X/1 and the Italian Space Agency through grant number 2018-2-HH.0. We thank the ESA TGO team and its project scientist H. Svedhem for supporting observations in this special mode.
Ethics declarations
Competing interests
The authors declare no competing interests.
Additional information
Publisher's note Springer Nature remains neutral with regard to jurisdictional claims in published maps and institutional affiliations.
Supplementary information
About this article
Cite this article
Gérard, JC., Aoki, S., Willame, Y. et al. Detection of green line emission in the dayside atmosphere of Mars from NOMAD-TGO observations. Nat Astron 4, 1049–1052 (2020). https://doi.org/10.1038/s41550-020-1123-2
Received:

Accepted:

Published:

Issue Date:

DOI: https://doi.org/10.1038/s41550-020-1123-2
This article is cited by
Na Yang
Chunliang Xia
William Edmund Ward

Science China Earth Sciences (2021)