The measure of Titan's incredibly large migration speed away from Saturn reveals that tidal dissipation depends on the orbital frequency. This new paradigm has many implications for the internal structure of Saturn and the history of its satellite system.
Access options
Subscribe to Journal
Get full journal access for 1 year
$99.00
only $8.25 per issue
All prices are NET prices.
VAT will be added later in the checkout.
Tax calculation will be finalised during checkout.
Rent or Buy article
Get time limited or full article access on ReadCube.
from$8.99
All prices are NET prices.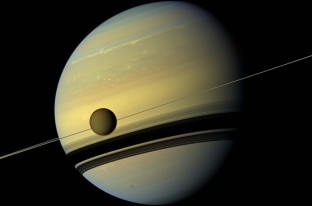 References
1.

Lainey, V. et al. Nat. Astron. https://doi.org/10.1038/s41550-020-1120-5 (2020).

2.

Fuller, J., Luan, J. & Quataert, E. Mon. Not. R. Astron. Soc. 458, 3867–3879 (2016).

3.

Lainey, V. et al. Astrophys. J. 752, 14 (2012).

4.

Charnoz, S. et al. Icarus 212, 535–550 (2011).

5.

Ćuk, M., Dones, L. & Nesvorny, D. Astrophys. J. 820, 97 (2016).

6.

Crida, A. & Charnoz, S. Science 338, 1196–1199 (2012).
About this article
Cite this article
Crida, A. Large tides alert on Saturn. Nat Astron 4, 1024–1025 (2020). https://doi.org/10.1038/s41550-020-1109-0