The International Astronomical Youth Camp has benefited thousands of lives during its 50 year history. We explore the pedagogy behind this success, review a survey taken by more than 300 previous participants and discuss some of the challenges the camp faces in the future.
Access options
Subscribe to Journal
Get full journal access for 1 year
$99.00
only $8.25 per issue
All prices are NET prices.
VAT will be added later in the checkout.
Tax calculation will be finalised during checkout.
Rent or Buy article
Get time limited or full article access on ReadCube.
from$8.99
All prices are NET prices.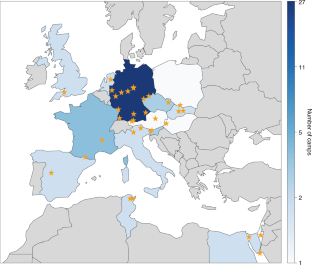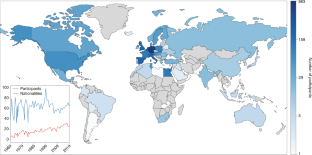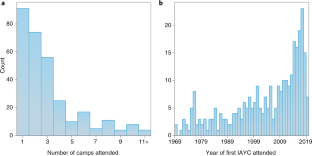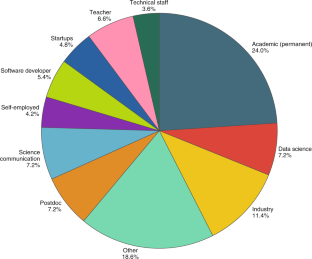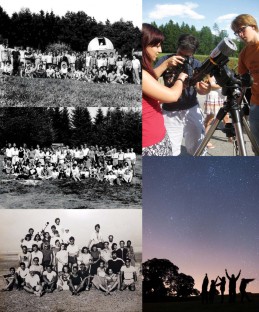 References
1.

Glendinning, A. J. Br. Astron. Assoc. 80, 53–53 (1969).

2.

Glendinning, A. J. Br. Astron. Assoc. 81, 220–221 (1971).

3.

Dalgleish, H. J. Br. Astron. Assoc. 126, 13–14 (2016).

4.

Slavin, R. E. Educ. Leadersh. 48, 71–82 (1991).

5.

Mondragon Cortes, E. astrophYsics Experiments wiTh partIcles - YETI at IAYC 2018 (DPG-Verhandlungen, 2019); https://go.nature.com/2s4A3al

6.

Gee, J. P. Situated Language and Learning: A Critique of Traditional Schooling (Routledge, 2004).

7.

Becker, H. J. in Proc. International Meteor Conference (eds Schmitz, B. & Becker, H. J.) 20–22 (International Meteor Organization, 1979).

8.

Dietrich, J. P. et al. Nature 487, 202–204 (2012).

9.

Werner, N. et al. Nature 502, 656–658 (2013).

10.

Kamphuis, P. & van der Kruit, P. C. Preprint at https://arxiv.org/abs/1011.5311 (2010).

11.

Mobberley, M. Hunting and Imaging Comets (Springer-Verlag, 2011).

12.

Karkoschka, E. Icarus 151, 69–77 (2001).

13.

Roggemans, P. WGN 34, 115–118 (2006).

14.

Dalgleish, H. S. & Veitch-Michaelis, J. L. in Proc. Communicating Astronomy with the Public Conference (ed. Canas, L.) 206–207 (NAOJ, 2018).

15.

Kong, X., Dabney, K. P. & Tai, R. H. Int. J. Sci. Educ. B 4, 54–65 (2014).

16.

Eurostat (European Commission, 2019); http://appsso.eurostat.ec.europa.eu/nui/show.do?dataset=edat_lfse_03&lang=eng.

17.

Fields, D. A. Int. J. Sci. Educ. 31, 151–171 (2009).

18.

Miley, G. et al. IAU Strategic Plan 2010–2020: Astronomy for the Developing World — Building from IYA2009 (IAU, 2012).

19.

Huppenkothen, D., McFee, B. & Norén, L. Preprint at https://arxiv.org/abs/1905.03314 (2019).
Acknowledgements
Organizing the IAYC is a team endeavour. The camp would not exist were it not for the considerable efforts of more than 120 volunteers, and thus we acknowledge all current and past leaders who have made the camp possible since 1969, as well as all the participants who agreed to fill out the survey. We also thank the current members of IWA who provided comments on the final draft as well as N. Mórocza for her comments and advice on survey interpretation.
About this article
Cite this article
Dalgleish, H.S., Veitch-Michaelis, J.L. Assessing the influence of one astronomy camp over 50 years. Nat Astron 3, 1043–1047 (2019). https://doi.org/10.1038/s41550-019-0965-y
Further reading
Martin O. Archer

,

Jennifer DeWitt

,

Charlotte Thorley

&

Olivia Keenan

Geoscience Communication (2021)