Abstract
Striving for equality means striving for an equal, inclusive and diverse world. Gender is just one facet of the broader theme of diversity. Years of dedicated efforts to tackle gender equality in the workforce and throughout society in Europe show positive trends, but the timescales involved in implementing changes and making them effective means equality between women and men remains an important goal yet to be achieved by the majority of players (be these institutes, universities, research organizations or companies). This Perspective reports on the most recent initiatives in science and technology, with a special focus on the field of astronomy.
Main
Europe has recognized very early on the need to support and invest in gender equality, by establishing the European Institute for Gender Equality, an autonomous body of the European Union (EU) that is tasked with strengthening the promotion of gender equality and gender mainstreaming in all EU policies and fighting against sex-based discrimination. The EU has also developed awareness campaigns, by organizing cross-disciplinary and cross-national working groups, and has deployed guidelines, codes of conduct and policies that aim at achieving a healthier balance in the European workforce. Its current Framework Programme, Horizon 2020, has organized dedicated calls for funding projects in science with and for society and its future Framework Programme, Horizon Europe, promises to continue these efforts. Gender equality and gender mainstreaming in academic research is also one of the top priorities of the European Research Area.
"Equality between women and men is a core value of the European Union, enshrined in the European Treaties," is the opening statement of the Executive Summary of She Figures 2018, the official report on EU gender monitoring efforts, published every two years. Overall numbers (that is, averaged over the 28 European Union member states, EU-28, and across all fields) show a slow, but constant progress, especially among doctoral graduates where women now represent the majority. The same report shows that even in the more challenging STEM (science, technology, engineering and mathematics) fields the overall number of female doctoral students has increased over the past 15 years at a faster pace than the male students, reaching a high of 46% in the disciplines of the natural sciences, mathematics and statistics. Disparities, however, remain rather pronounced among disciplinary areas (in comparison, engineering, manufacturing and construction, and information and communication technologies score around 29% and 21%, respectively) and among countries (in some cases, there is a difference of up to 20–30 percentage points).
She Figures 2018 also indicates that progress drastically slows down as one moves up the academic ladder, especially in STEM fields. Despite female doctoral students and graduates making up almost 40% of the total population, women researchers hold only 15% of grade-A academic positions (equivalent to full professor). Slightly higher representations are found for board membership and leadership (27% and 20%, respectively). Gender differences also remain in working conditions: still more women than men are part-time workers (13% versus 8%), on precarious contract arrangements (8.1% versus 5.2%) and with lower pay (17% less earnings for women in R&D; the pay gap is found to increase with age).
The improvement is thus visible, but the issues are far from being solved. Believing that the problem will solve itself as soon as we achieve gender equality at the start of the STEM career pipeline is wishful thinking. It would be easier to focus only on educating the younger generations and their families about the affordability and attractiveness of a STEM career for everyone, but the inequality currently present at advanced career levels is too large to be solved in this way. Women leave academia in larger numbers than their male colleagues (for example, see ref. 1), they have a harder time being promoted and they rarely reach the top management positions (university dean, director generals, CEOs and so on). Those who stay in the field accumulate disadvantages due to higher loads of administrative tasks that reduce their research time, hence their scientific productivity.
Therefore, the greatest progress will come only from coordinated actions towards improving several aspects of the academic career. Without proper gender equality plans at institutional level that offer fair and transparent recruitment policies, fair promotion and rewards schemes, and equal career development opportunities to all scientists, the achievement of gender balance in the student STEM population won't suffice. On the other hand, increasing the fraction of junior female scientists will help in reducing the administrative load on the few women currently present (for example, see ref. 2), which will help them with their scientific productivity and in turn career development. This is why improving these matters is very challenging and is taking a long time—it relies on making progress and changing attitudes on several different fronts. The good thing is that these themes are now on most agendas, they are routinely scrutinized and correcting actions are deployed. This means that the mentality is changing and people are working towards these goals proactively.
Global initiatives in astronomy
The International Astronomical Union (IAU) has the mission to promote and safeguard the science of astronomy in all its aspects, including research, communication, education and development, through international cooperation. It brings together 13,000 professional astronomers, at the PhD level and beyond, from more than 100 countries, who are active in research, education and outreach. As such, it can have an important role in setting guidelines and standards for the research community and organizations, especially in the activities it organizes on a regular basis, like the IAU symposia and education/outreach initiatives. The union is organized into divisions, commissions and working groups that cover all main research topics in the field of astronomy. It has an Executive Committee, elected every three years, along with a President and a General Secretary.
The IAU monitors gender disaggregated statistics (as a whole and per member country). As of October 2019, it counts almost 13,700 members, with women making up 18.3% of the total. Figure 1 shows graphically the percentage of female astronomers within the IAU membership. The union has also recognized the need to engage younger generations of potential astronomers and has recently created a Junior Membership level which has already shown to be significantly better balanced than the more senior sections of the union (30% of junior members are female).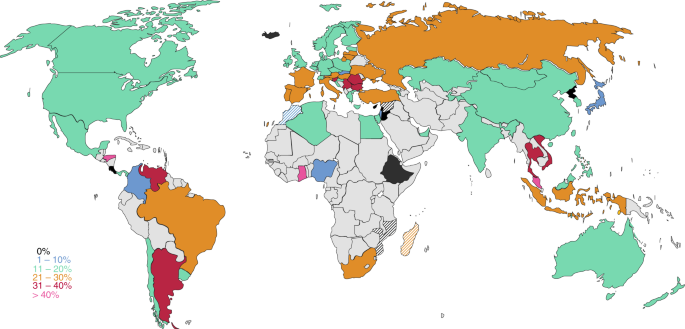 In 2003, at the 25th IAU General Assembly in Sydney, Australia, the importance of gender equality was recognized by the establishing of a Working Group on Women in Astronomy, directly reporting to the Executive Committee. It provides feedback/recommendations on gender/diversity-related issues, while also monitoring gender distributions among the participants at IAU symposia and organizing equality/diversity programmes at its general assemblies3.
In 2017, the IAU partnered with other professional unions in STEM fields on the project A Global Approach to the Gender Gap in Mathematical, Computing, and Natural Sciences: How to Measure It, How to Reduce It, known as the Gender Gap project. The project is an interdisciplinary collaboration of eleven partners, led by the International Mathematical Union (IMU) and the International Union of Pure and Applied Chemistry and supported by the International Science Council over the triennium 2017–2019. It also includes the International Union of Pure and Applied Physics, the IAU, the International Union of Biological Sciences, the International Council for Industrial and Applied Mathematics, the International Union of History and Philosophy of Science and Technology, the Association for Computing Machinery, as well as the world-wide organizations UNESCO (United Nations Educational, Scientific and Cultural Organization, via the STEM and Gender Advancement project), the Organization for Women in Science for the Developing World, and GenderInSite.
The project aims to better understand the problems mathematical, computing and natural science academics and practitioners are facing around the world and it consists of three work packages. The first core task is a cross-disciplinary joint survey (also referred to as the Joint Global Survey) that covers the entire educational and professional life of the respondents, making the dataset a unique treasure from which to derive essential information on career choices and paths in a variety of STEM fields, and on the issues faced at different career stages by different professionals with different nationalities and genders. It was set-up in a similar manner as the 2010 Global Survey of Physicists4, which had 15,000 respondents and helped understanding gender issues such as differential access to resources, opportunities for men and women on a country-by-country basis, and cultural expectations concerning child care.
In this project, we have improved and extended the global survey to chemistry, astronomy, biology, computer science and mathematics. The new survey was disseminated in more than 130 countries, translated into ten languages, and over a period of eight months (May–December 2018) collected more than 32,000 responses from all over the world (40% of them from Europe). Astronomy collected a total of almost 2,700 responses, 48% of which came from Europe (Fig. 2). Thanks to the world-wide coverage, contrasts and common ground across regions and cultures, less and highly developed countries, men and women, will be highlighted.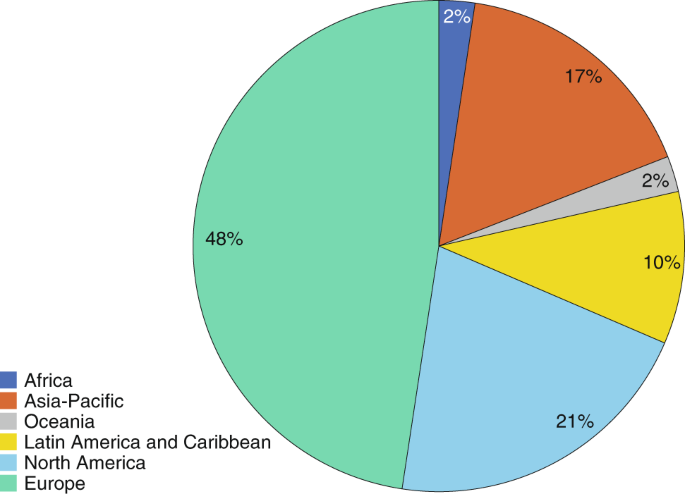 Further data are being collected via a bibliographic study of publication patterns (core task two) that analyses comprehensive metadata sources corresponding to publications of more than 500,000 scientists since 1970. A solid publication record is a key factor in a successful academic career. In mathematics, a recent study5 on publication patterns based on comprehensive metadata sources showed a systemic gender imbalance in the publication distribution of mathematicians. Using four decades of data, it showed that women mathematicians tripled their number since 1970, but publish less than men at the beginning of their careers, and leave academia at a higher rate. High-ranked journals publish fewer articles by women, some showing less than 5% authorships by women with no change over time. Women publish fewer single-authored papers, although their co-author networks are similar in size to those of men.
The Gender Gap project is now applying a similar methodology to study publication patterns in physics, chemistry, astronomy, possibly biology and computer science, and across countries and regions, which will allow us to understand common and discipline-specific issues that require interventions. A key objective has been to create a sustainable and dynamic methodology to provide a continuous data processing flow, and hence allow for easy updates and longitudinal data analyses.
Finally, the project is also developing a database offering easy access to a critical compilation of materials and initiatives proven to be useful in encouraging girls and young women to study and pursue education in mathematics and natural sciences (regional information about careers, jobs and salaries directed at parents, schools and other relevant agents). The database (core task three) will be hosted by IMU in the first instance, but it will be properly publicized and disseminated through each participating organization, IAU included. It will target not only young women, but also parents and organizations involved in guiding young women into careers. This is especially important in developing countries, where information is needed about the stability of a career in science, and the availability of jobs.
Last but not least, the IAU (as one of the main supporting agencies for the organization of international scientific meetings and symposia) has approved the first symposium on Astronomy for Equity, Diversity and Inclusion, aiming to become a roadmap to action and to highlight the role diversity and inclusion play in producing better science. IAUS 358 will be held in Tokyo, Japan, on 12–15 November 2019. On top of being a great opportunity for networking, discussing issues and sharing best practices, the main conclusions of the symposium will be collected to form a dedicated set of recommendations that will then turn into future IAU resolutions on equity, equality, diversity and inclusion policies in astronomy, in alignment with the new IAU Strategic Plan 2020–203015.
The role of leading astronomical organizations
Europe can also claim to have been very farsighted when, back in the 1960s, the collaborative initiative of a few European countries made possible the founding of two intergovernmental organizations related to the field of astronomy. Both of them, the European Southern Observatory (ESO) and the European Space Agency (ESA) have played a major role in shaping European astronomical research and providing state-of-the-art facilities—the former focusing on ground-based astronomical facilities and the latter supporting space missions. Gender equality, diversity and inclusion are very high on the agendas of both organizations.
At the ESO, the leading organization for ground-based astronomy, we strongly believe in diversity and inclusion and in the importance of setting high standards that can then be inspirational to others. Many initiatives have therefore been undertaken during the last decade. In 2007 the ESO conducted a snapshot study of gender disaggregated statistics in various corners of the organization, from basic numbers like the gender fraction of its employees to more science-oriented aspects, like students, fellows, colloquia speakers and even external committees6. That study showed that there was room for improvement, almost on all aspects, except for the students and fellows programmes, where the numbers were significantly more acceptable, albeit fluctuating.
From then on, gender disaggregated statistics have been monitored and evaluated at regular intervals, with the implementation of new work–life balance solutions, like the possibility to access a daycare facility on campus, increasing the duration of maternity and paternity leave, flexible working arrangements and, more recently, mobile working. The next trigger came when ESO joined the Horizon 2020 GENERA project (Gender Equality in the European Research Area) as an observer. This further pushed gender equality up the agenda and offered ESO and CERN (also an observer of GENERA) the opportunity to jointly organize a Gender in Physics Day in early 2017 that was attended by all eight member organizations of the EIROforum with extensive expertise in the areas of basic research and the management of large, international infrastructures, facilities and research programmes. The meeting focused on the gender equality perspective and diversity challenges of inter-governmental research organizations. In turn, this contribution triggered the implementation of two thematic working groups: a Diversity and Inclusion Committee at ESO and an Ad hoc Working Group on Diversity and Inclusiveness, within the EIROforum. The latter has become an exchange platform where a variety of initiatives, procedures and best practices on diversity, inclusion and equality are shared.
The Diversity and Inclusion Committee at ESO is a body reporting directly to the ESO Director General and working in collaboration with the human resources department. It aims at advancing diversity and inclusion at all levels within ESO, by fostering a culture and atmosphere of mutual respect and promoting outstanding employees from all backgrounds, genders and cultures. It focuses on three main areas: recruitment and career development, inclusive environment and culture, and working conditions. Its members represent different national and professional backgrounds, with different levels of seniority as well as different motivations and interests. So far, its main area of action has been to scrutinize recruitment procedures and the training of selection boards, along with providing recommendations for the usage of gender-neutral pronouns in all organizational communications. The committee has also started a Diversity and Inclusion Talks series, which includes different speakers, from neuroscientists (discussing the genderization of the human brain) to physicists and educators, to highlight some of the most common paradoxes affecting scientists and raise awareness on these topics.
Implementing changes
Changes can be implemented in different areas and at different levels. Institutions aim for gender equality plans, which usually entail a broad range of actions that can affect the entire population of that institution, that is, from students up to leadership. These plans can tackle various aspects, from how to attract more female students or applicants, to how to evaluate career progression and promotions, or how to improve work–life balance conditions for employees. The past decade has witnessed an intensification of projects (several supported via the EU Horizon 2020 framework) in which universities and research organizations have joined efforts to evaluate and propose guidelines for the implementation of gender equality plans (for example, GENERA and SAGE). They produce reports and gender equality toolkits that could then also be used by other universities. For instance, the PLOTINA (Promoting Gender Balance and Inclusion in Research, Innovation and Training) project published several videos, one of which tackles the unconscious bias and gender schemes present in recruitment interviews. Another major player in the European research scene is the League of European Research Universities (LERU), that, although more focused on promoting basic research as an important means for society to progress, also produces reports on gender equality aspects of academic research (for example, see refs. 7,8,9). Its 23 members, scattered across Europe, are also quite active in implementing new policies that aim at improving gender equality.
Gender equality plans and toolkits are high-level institutional actions. There are also other aspects that can be scrutinized and improved. A very important and highly visible aspect in any STEM research field is the attendance of international conferences and meetings, where teams' or individuals' results are shared and discussed. This is another area which has been dominated by male scientists. But while in the past this inequality could be justified by the small fraction of female scientists in academia, in more recent times this is no longer the case.
A monitoring exercise of gender disaggregated statistics among the participants of IAU symposia carried out by the IAU Working Group on Women in Astronomy during the past ten years shows that women remain disfavoured as invited or keynote speakers. This is probably due to a mix of reasons, with women possibly rejecting these invitations at higher rates than their male colleagues (this was highlighted by several symposia organizers during the last data collection—in mid 2018—and it is an aspect that deserves some more thought), but there may also be an attitudinal or behavioural component. Unless gender equality and diversity are spelled out from the start as very important selection parameters, members of scientific organizing committees, men and women alike, end up choosing the same names, because these individuals are good speakers, they are famous, they are doing good work and so on. This is faster, easier and safer, in terms of time investment and programme attractiveness. We are still struggling because the pool of candidates for keynote or invited speeches has been dominated by male scientists until rather recently.
On a more positive note, scientific meetings now tend to have codes of conduct officially posted so that attendees can familiarize themselves and be reminded about what is proper or improper behaviour. This is not specifically about gender, rather it touches upon diversity and inclusion, with the aim of creating environments where everyone feels safe and free to speak. Since the beginning of 2019, ESO is requesting every registered participant to confirm that they have read the ESO Code of Conduct for scientific meetings. Our set of guidelines applies to meetings organized on ESO premises and those outside if ESO co-sponsors them.
Another important aspect in the field of astronomical research and one that touches on career development and advancement, is the awarding of telescope time. Observational astronomers need to first collect data, which they then analyse and use to test their theories. Do men and women achieve the same success rates? Unfortunately not, but corrective measures are being implemented, with some positive results already. At ESO, the Observing Programmes Office (OPO)—which is in charge of the collection, evaluation (via its Observing Programmes Committee) and scheduling of observing programmes at the ESO telescopes in Chile—has been very active in sensitizing its community and its referees on biases affecting proposal evaluations.
The evaluation process of more than 13,000 ESO observing proposals has been analysed in detail10, submitted over a period of eight years by 3,000 principal investigators (PIs). The main findings were that female proposers have been affected by a significant disadvantage with respect to their male colleagues, with only a 16 ± 0.6% overall success rate compared to 22 ± 0.4% for male PIs, very similar to what was found for Hubble Space Telescope proposals11. In other words, the probability of getting telescope time if you are a female PI is 20–30% lower than if you are a man. However, these numbers show a very marked correlation with career seniority, stronger than any other aspect purely related to gender. In fact, the above-mentioned overall success rates are mainly driven by the professional astronomers and postdocs, whereas students are better balanced. Furthermore, only 34% of the female PIs are professionally employed astronomers compared to 53% of male PIs. Also, among the referees some small but significant gender bias was noticed: although both genders show similar systematics, these are larger for male referees.
These analyses have now triggered important changes in the way telescope time requests are formatted and even evaluated. The review of Hubble Space Telescope proposals has made a significant leap forward during their last two cycle evaluations by implementing and refining a double-blind peer review (proposers and referees do not know each other). This resulted in female and male PIs achieving almost the same success rate (8.7% and 8.3%, respectively) during the Cycle 26 Telescope Allocation Committee (TAC) review12. Although no firm conclusion can be drawn yet, the comparison with the previous Cycle 25 TAC process (13% and 24% respectively, on large and medium proposals) is remarkably good. ESO has started more gradually, by obfuscating some information about the proposers, namely the identification of the PI (all investigators are now listed in alphabetical order), the affiliation of all proposers, and by moving this section to a less prominent place in the proposal (the last page).
Moreover, the ESO OPO has recently run a different type of experiment: a trial of a distributed peer review system. The experiment is described in ref. 13 and by W. Kerzendorf et al. (manuscript in preparation) and is based on the acceptance by each proposer to have their proposals reviewed by peers and be themselves reviewers for a certain number of proposals. Without describing all of the details of this approach (the original papers provide these at length), the trial—although rather small in size—has shown no statistically significant differences between the two genders, not in the evaluation efficacy or in the success rate or even in the usefulness of the feedback provided. This result may not be representative because of the small scale of the experiment, but it might be worthwhile to investigate it further and understand why no bias was detected.
Concluding remarks
I have been asked many times why we are still talking about gender equality, after so many years and initiatives. Is this because we have not tackled the problem well or because the situation is hopeless? Neither, I always answer. Every action, small or big, helps—big initiatives are of course more visible and may have more impact, but even a small sensibilization campaign in one's own institute can improve the working climate and increase awareness of gender equality, diversity and inclusion matters. The timescales are indeed long, because any change does not require just establishing a new or better policy, but also a change in the attitude and mentality of people. This is where each of us can help.
Indeed, there remains a lot of emphasis on collecting numbers and documenting if any gender bias is present. Without this documentation, however, any discussion today would be qualitative. As the recent analyses of telescope time allocations have shown, there may still be other aspects of a research career in astronomy that need to be investigated and for which corrective measures can be deployed. Numbers will always have to be collected for monitoring and evaluation purposes, especially after implementing changes. What an individual possibly struggles to see are concrete results. Despite the many initiatives and pan-European projects, and their several deliverables in terms of reports and guidelines, it remains challenging to firstly find all of this valuable material and secondly to know which action has been implemented and how successful it was. This may seem to be uncoordinated and uphill way to move forward with concrete actions, but the scheme is such that by allowing universities, research departments or policy officers to partner and tackle their own internal rules and structures, with time more and more research entities will have made some progress. Ultimately, one may aspire to achieve some sort of gender equality certification that requires transformational changes at institutional and individual level and that becomes part of regular reviews. In this respect, the award schemes that have already been launched (for example, Athena SWAN, the Juno Project and the Pleiades Awards) seem promising.
Whatever improvement one wishes to target, coordinated actions are key in order to: (1) promote science from very early on, educating parents and children that science is fun and open to everyone; (2) support the enrollment and completion of a study programme in STEM subjects at undergraduate and post-graduate level by openly discussing the importance of diversity and inclusion and how to counteract possible gender biases so that minority groups are well prepared and non-minority groups are more aware of the issues and obstacles; (3) implement hiring and promotion procedures that are transparent, fair and equal for all. The latter point has a major influence on this whole theme because any small disadvantage gets carried over for a long time (for example, see ref. 14). As long as we continue evaluating scientists mainly on some productivity indices that do not take into account other important contributions and allow for different career paths to be valued and for career breaks to be properly accounted for, it won't be possible to make any significant progress, in a reasonable time. Gender equality is not a concern for women only—it must be a concern for all of us.
References
1.

Etzkowitz, H. & Ranga, M. Gender dynamics in science and technology: from the "leaky pipeline" to the "vanish box". Brussels Econ. Rev. 54, 131–147 (2011).

2.

Guarino, C. M. & Borden, V. M. H. Faculty service loads and gender: are women taking care of the academic family? Res. High. Educ. 58, 672–694 (2017).

3.

Primas, F. Gender initiatives in astronomy. Nat. Astron. 2, 771–772 (2018).

4.

Ivie, R. & Langer Tesfaye, C. Women in physics: a tale of limits. Phys. Today 65, 47–50 (2012).

5.

Mihaljević-Brandt, H., Santamaría, L. & Tullney, M. The effect of gender in the publication patterns in mathematics. PLoS ONE 11, e0165367 (2017).

6.

Primas, F. Status of women at ESO: a pilot study on ESO staff gender distribution. The Messenger 128, 67–71 (2007).

7.

Gvozdanović, J. & Maes, K. Implicit Bias in Academia: A Challenge to the Meritocratic Principle and to Women's Careers — And What to Do About It (LERU, 2018); https://go.nature.com/2IHkECe

8.

Buitendijk, S. & Maes, K. Gendered Research and Innovation: Integrating Sex and Gender Analysis into the Research Process (LERU, 2015); https://go.nature.com/313d2At

9.

Maes, K., Gvozdanović, J., Buitendijk, S., Ingalill Rahm, H. & Mantilleri, B. Women, Research and Universities: Excellence Without Gender Bias (LERU, 2012); https://go.nature.com/2VDIK66

10.

Patat, F. Gender Systematics in Telescope Time Allocation at ESO. The Messenger 165, 2–9 (2016).

11.

Reid, I. N. Gender-correlated systematics in HST proposal selection. Publ. Astron. Soc. Pac. 126, 923–934 (2014).

12.

Reid, I. N. Hubble Cycle 26 TAC and anonymous peer review. Space Telescope Science Institute Newsletter (2018); https://go.nature.com/33uyQ9y

13.

Patat, F., Kerzendorf, W., Bordelon, D., Van de Ven, G. & Pritchard, T. The distributed peer review experiment. The Messenger 177, 3–13 (2019).

14.

Martell, R. F., Lane, D. M. & Emrich, C. Male-female differences: a computer simulation. Am. Psychol. 51, 157–158 (1996).

15.

IAU Strategic Plan 2020–2030 (IAU, 2018); https://go.nature.com/2Wlbhxy

16.

IAU Catalyst (IAU, June 2019); https://go.nature.com/2NkOYEf
Acknowledgements
The author thanks all of the colleagues with whom, over the past ten years, the author has exchanged views, engaged in stimulating discussions and attended or organized gender-related meetings and events.
Ethics declarations
Competing interests
The author declares no competing interests.
Additional information
Publisher's note Springer Nature remains neutral with regard to jurisdictional claims in published maps and institutional affiliations.
About this article
Cite this article
Primas, F. Promoting gender equality in the European astronomical community. Nat Astron 3, 1075–1079 (2019). https://doi.org/10.1038/s41550-019-0936-3
Received:

Accepted:

Published:

Issue Date: