The field of gamma-ray burst astronomy arguably went through three decades of growing pains before reaching maturity. What development lessons can be learned for the adolescent field of fast radio burst astronomy?
Access options
Subscribe to Journal
Get full journal access for 1 year
$99.00
only $8.25 per issue
All prices are NET prices.
VAT will be added later in the checkout.
Rent or Buy article
Get time limited or full article access on ReadCube.
from$8.99
All prices are NET prices.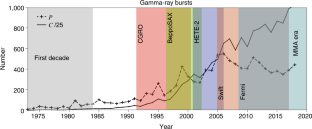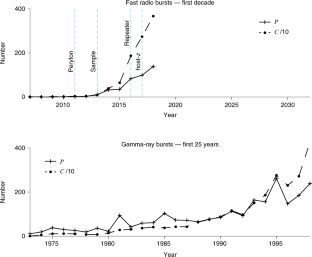 References
1.

Klebesadel, R. W., Strong, I. B. & Olson, R. A. Astrophys. J. 182, L85–L88 (1973).

2.

Lorimer, D. R. et al. Science 318, 777–780 (2007).

3.

Ruderman, M. Annals NY Acad. Sci. 262, 164–180 (1975).

4.

Ho, C., Epstein, R. I. & Fenimore, E. E. Gamma-ray Bursts: Observations, Analyses & Theories (Cambridge Univ. Press, Cambridge, 1992).

5.

Paczyński, B. Astrophys. J. 308, L43–L46 (1986).

6.

Fishman, G. & Meegan, C. Annu. Rev. Astron. Astrophys. 33, 415–458 (1995).

7.

Woosley, S. E. AIP Conf. Proc. 384, 709–718 (1996).

8.

Piran, T. IAU Symp. 165, 489–502 (1996).

9.

Mészáros, P. & Rees, M. J. Astrophys. J. 476, 232–237 (1997).

10.

Costa, E. et al. Nature 387, 783–785 (1997).

11.

Metzger, M. R. et al. Nature 387, 878–880 (1997).

12.

Cenko, S. B. et al. Astrophys. J. 803, L24 (2015).

13.

Spitler, L. G. et al. Nature 531, 202–205 (2016).

14.

Larson, S. B., McLean, I. S. & Becklin, E. E. Astrophys. J. 460, L95–L97 (1996).
Acknowledgements
I thank E. Henneken, ADS/Harvard Center for Astrophysics, for help with ADS programming and V. Ravi for providing Fig. 2. I gratefully acknowledge useful and enlightening discussions with M. Bailes, S. B. Cenko, D. A. Frail, D. A. Perley, E. S. Phinney and V. Ravi. I thank K. Plant for careful reading and Caltech librarian J. Painter for help with finding old references.
About this article
Cite this article
Kulkarni, S.R. From gamma-ray bursts to fast radio bursts. Nat Astron 2, 832–835 (2018). https://doi.org/10.1038/s41550-018-0621-y