Considerable progress has been made in the past decade to increase diversity in astronomy, and in particular to reach a 'critical mass' of women. It is however important to realize that this progress has mainly been the result of the selective inclusion of women from more privileged backgrounds.
Access options
Subscribe to Journal
Get full journal access for 1 year
$104.00
only $8.67 per issue
All prices are NET prices.
VAT will be added later in the checkout.
Rent or Buy article
Get time limited or full article access on ReadCube.
from$8.99
All prices are NET prices.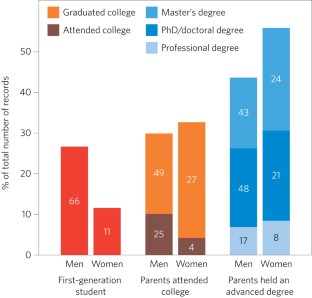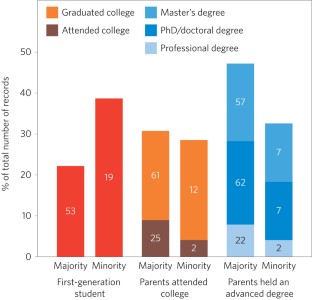 References
1

Knezek, P. Nat. Astron. 1, 0151 (2017).

2

Blanton, M. R. et al. Preprint at https://arxiv.org/abs/1703.00052 (2017).

3

Anderson, G. & Ivie, R. Demographics Survey of 2013 US AAS Members: Summary Results (Statistical Research Center of the American Institute of Physics, 2013).

4

Massey, R. Astron. Geophys. 56, 3.15–3.17 (2015).

5

Lundgren, B. et al. Publ. Astron. Soc. Pac. 127, 776–788 (2015).

6

Prescod-Weinstein, C. Nat. Astron. 1, 0145 (2017).

7

Misra, J., Hickes Lundquist, J., Holmes, E. & Agiomavritis, S. The ivory ceiling of service work. Academe (January/February 2011).

8

Choy, S. Students Whose Parents Did Not Go to College 3–34 (National Center for Education Statistics, 2001).

9

Plous, S. The Psychology of Judgment and Decision Making (McGraw-Hill Education, 1993).
Acknowledgements
The authors recognize that this work was done in collaboration with scientists on the 2015–2016 Committee on the Participation of Women in the Sloan Digital Sky Survey, including A. Aragon-Salamanca, B. Cherinka, K. Cunha, B. Gillespie, A. Hagen, A. Jones, K. Kinemuchi, B. Lundgren, A. Myers, A. Roman and G. Zasowski. This work was supported by the SDSS-IV Participating Institutions and the Alfred P. Sloan Foundation.
About this article
Cite this article
Lucatello, S., Diamond-Stanic, A. Diversity and inclusiveness in large scientific collaborations. Nat Astron 1, 0161 (2017) doi:10.1038/s41550-017-0161