Abstract
Sex determination evolved to control the development of unisexual flowers. In agriculture, it conditions how plants are cultivated and bred. We investigated how female flowers develop in monoecious cucurbits. We discovered in melon, Cucumis melo, a mechanism in which ethylene produced in the carpel is perceived in the stamen primordia through spatially differentially expressed ethylene receptors. Subsequently, the CmEIN3/CmEIL1 ethylene signalling module, in stamen primordia, activates the expression of CmHB40, a transcription factor that downregulates genes required for stamen development and upregulates genes associated with organ senescence. Investigation of melon genetic biodiversity revealed a haplotype, originating in Africa, altered in EIN3/EIL1 binding to CmHB40 promoter and associated with bisexual flower development. In contrast to other bisexual mutants in cucurbits, CmHB40 mutations do not alter fruit shape. By disentangling fruit shape and sex-determination pathways, our work opens up new avenues in plant breeding.
Access options
Access Nature and 54 other Nature Portfolio journals
Get Nature+, our best-value online-access subscription
$29.99 / 30 days
cancel any time
Subscribe to this journal
Receive 12 digital issues and online access to articles
$119.00 per year
only $9.92 per issue
Rent or buy this article
Prices vary by article type
from$1.95
to$39.95
Prices may be subject to local taxes which are calculated during checkout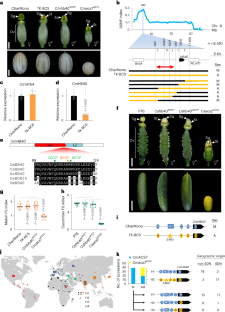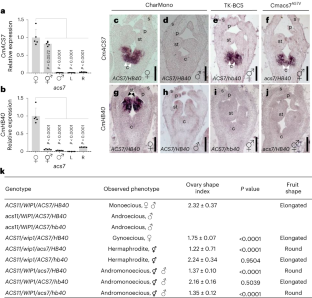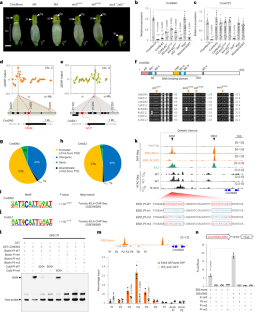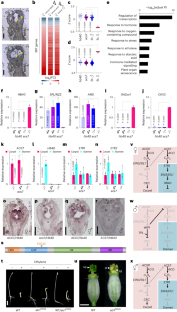 References
Pannell, J. R. Plant sex determination. Curr. Biol. 27, R191–R197 (2017).

Renner, S. S. The relative and absolute frequencies of angiosperm sexual systems: dioecy, monoecy, gynodioecy and an updated online database. Am. J. Bot. 101, 1588–1596 (2014).

Ming, R., Bendahmane, A. & Renner, S. S. Sex chromosomes in land plants. Annu. Rev. Plant Biol. 62, 485–514 (2011).

Irish, V. The ABC model of floral development. Curr. Biol. 27, R887–R890 (2017).

Coen, E. S. & Meyerowitz, E. M. The war of the whorls: genetic interactions controlling flower development. Nature 353, 31–37 (1991).

Feng, G. et al. Pathways to sex determination in plants: how many roads lead to Rome? Curr. Opin. Plant Biol. 54, 61–68 (2020).

Law, T. F., Lebel-Hardenack, S. & Grant, S. R. Silver enhances stamen development in female white campion (Silene latifolia [Caryophyllaceae]). Am. J. Bot. 89, 1014–1020 (2002).

Garcia, A. et al. The ethylene receptors CpETR1A and CpETR2B cooperate in the control of sex determination in Cucurbita pepo. J. Exp. Bot. 71, 154–167 (2020).

García, A., Aguado, E., Garrido, D., Martínez, C. & Jamilena, M. Two androecious mutations reveal the crucial role of ethylene receptors in the initiation of female flower development in Cucurbita pepo. Plant J. 103, 1548–1560 (2020).

Little, H. A., Papadopoulou, E., Hammar, S. A. & Grumet, R. The influence of ethylene perception on sex expression in melon (Cucumis melo L.) as assessed by expression of the mutant ethylene receptor, At-etr1-1, under the control of constitutive and floral targeted promoters. Sex. Plant Reprod. 20, 123–136 (2007).

Dubois, M., Van den Broeck, L. & Inzé, D. The pivotal role of ethylene in plant growth. Trends Plant Sci. 23, 311–323 (2018).

Boualem, A. et al. A conserved mutation in an ethylene biosynthesis enzyme leads to andromonoecy in melons. Science 321, 836–838 (2008).

Kater, M. M., Franken, J., Carney, K. J., Colombo, L. & Angenent, G. C. Sex determination in the monoecious species cucumber is confined to specific floral whorls. Plant Cell 13, 481–493 (2001).

Boualem, A. et al. A cucurbit androecy gene reveals how unisexual flowers develop and dioecy emerges. Science 350, 688–691 (2015).

Martin, A. et al. A transposon-induced epigenetic change leads to sex determination in melon. Nature 461, 1135–1138 (2009).

Zhang, S. et al. The control of carpel determinacy pathway leads to sex determination in cucurbits. Science 378, 543–549 (2022).

Boualem, A. et al. Ethylene plays a dual role in sex determination and fruit shape in cucurbits. Curr. Biol. 32, 2390–2401 (2022).

Chen, H. et al. An ACC oxidase gene essential for cucumber carpel development. Mol. Plant 9, 1315–1327 (2016).

Cebrian, G. et al. The ethylene biosynthesis gene CpACO1A: a new player in the regulation of sex determination and female flower development in Cucurbita pepo. Front. Plant Sci. 12, 817922 (2022).

Salinier, J. et al. The INRAE centre for vegetable germplasm: geographically and phenotypically diverse collections and their use in genetics and plant breeding. Plants 11, 347 (2022).

Dahmani-Mardas, F. et al. Engineering melon plants with improved fruit shelf life using the TILLING approach. PLoS ONE 5, e15776 (2011).

Boualem, A. et al. Development of a Cucumis sativus TILLinG platform for forward and reverse genetics. PLoS ONE 9, e97963 (2014).

Lü, P. et al. Genome encode analyses reveal the basis of convergent evolution of fleshy fruit ripening. Nat. Plants 4, 784–791 (2018).

Yang, W.-C., Ye, D., Xu, J. & Sundaresan, V. The SPOROCYTELESS gene of Arabidopsis is required for initiation of sporogenesis and encodes a novel nuclear protein. Genes Dev. 13, 2108–2117 (1999).

Xu, J. et al. ABORTED MICROSPORES acts as a master regulator of pollen wall formation in Arabidopsis. Plant Cell 26, 1544–1556 (2014).

Wolters, H. & Jürgens, G. Survival of the flexible: hormonal growth control and adaptation in plant development. Nat. Rev. Genet. 10, 305–317 (2009).

Cheng, H. et al. Gibberellin acts through jasmonate to control the expression of MYB21, MYB24 and MYB57 to promote stamen filament growth in Arabidopsis. PLoS Genet. 5, e1000440 (2009).

Acosta, I. F. & Przybyl, M. Jasmonate signaling during Arabidopsis stamen maturation. Plant Cell Physiol. 60, 2648–2659 (2019).

Thomas, S. G., Phillips, A. L. & Hedden, P. Molecular cloning and functional expression of gibberellin 2-oxidases, multifunctional enzymes involved in gibberellin deactivation. Proc. Natl Acad. Sci. USA 96, 4698–4703 (1999).

Werner, T., Motyka, V., Strnad, M. & Schmülling, T. Regulation of plant growth by cytokinin. Proc. Natl Acad. Sci. USA 98, 10487–10492 (2001).

Chang, C., Kwok, S. F., Bleecker, A. B. & Meyerowitz, E. M. Arabidopsis ethylene-response gene ETR1: similarity of product to two-component regulators. Science 262, 539–544 (1993).

Gallie, D. R. Ethylene receptors in plants—why so much complexity? F1000Prime Rep. 7, 39 (2015).

Yamasaki, S., Fujii, N. & Takahashi, H. The ethylene-regulated expression of CS-ETR2 and CS-ERS genes in cucumber plants and their possible involvement with sex expression in flowers. Plant Cell Physiol. 41, 608–616 (2000).

Akagi, T., Henry, I. M., Tao, R. & Comai, L. Plant genetics. A Y-chromosome-encoded small RNA acts as a sex determinant in persimmons. Science 346, 646–650 (2014).

Moore, M. J., Soltis, P. S., Bell, C. D., Burleigh, J. G. & Soltis, D. E. Phylogenetic analysis of 83 plastid genes further resolves the early diversification of eudicots. Proc. Natl Acad. Sci. USA 107, 4623–4628 (2010).

Bolger, A. M., Lohse, M. & Usadel, B. Trimmomatic: a flexible trimmer for Illumina sequence data. Bioinformatics 30, 2114–2120 (2014).

Pichot, C. et al. Cantaloupe melon genome reveals 3D chromatin features and structural relationship with the ancestral Cucurbitaceae karyotype. iScience 25, 103696 (2022).

Fekih, R. et al. MutMap+: genetic mapping and mutant identification without crossing in rice. PLoS ONE 8, e68529 (2013).

Magne, K. et al. Roles of BdUNICULME4 and BdLAXATUM-A in the non-domesticated grass Brachypodium distachyon. Plant J. 103, 645–659 (2020).

Tamura, K., Stecher, G. & Kumar, S. MEGA11: molecular evolutionary genetics analysis version 11. Mol. Biol. Evol. 38, 3022–3027 (2021).

Eleblu, J. S. Y. et al. The gynoecious CmWIP1 transcription factor interacts with CmbZIP48 to inhibit carpel development. Sci. Rep. 9, 15443 (2019).

Livak, K. J. & Schmittgen, T. D. Analysis of relative gene expression data using real-time quantitative PCR and the 2-ΔΔCT method. Methods 25, 402–408 (2001).

Nikovics, K. et al. The balance between the MIR164A and CUC2 genes controls leaf margin serration in Arabidopsis. Plant Cell 18, 2929–2945 (2006).

Bai, S. et al. Developmental analyses reveal early arrests of the spore-bearing parts of reproductive organs in unisexual flowers of cucumber (Cucumis sativus L.). Planta 220, 230–240 (2004).

O'Malley, R. C. et al. Cistrome and epicistrome features shape the regulatory DNA landscape. Cell 165, 1280–1292 (2016).

Milan, M. et al. FOXA 2 controls the cis-regulatory networks of pancreatic cancer cells in a differentiation grade-specific manner. EMBO J. 38, e102161 (2019).

Bartlett, A. et al. Mapping genome-wide transcription-factor binding sites using DAP-seq. Nat. Protoc. 12, 1659–1672 (2017).

Bradford, M. M. A rapid and sensitive method for the quantitation of microgram quantities of protein utilizing the principle of protein–dye binding. Anal. Biochem. 72, 248–254 (1976).

Song, J. et al. Biochemical and structural insights into the mechanism of DNA recognition by Arabidopsis ETHYLENE INSENSITIVE3. PLoS ONE 10, e0137439 (2015).

Yoo, S.-D., Cho, Y.-H. & Sheen, J. Arabidopsis mesophyll protoplasts: a versatile cell system for transient gene expression analysis. Nat. Protoc. 2, 1565–1572 (2007).

Hu, Y. et al. OsHOX1 and OsHOX28 redundantly shape rice tiller angle by reducing HSFA2D expression and auxin content. Plant Physiol. 184, 1424–1437 (2020).

Brudno, M. et al. LAGAN and Multi-LAGAN: efficient tools for large-scale multiple alignment of genomic DNA. Genome Res. 13, 721–731 (2003).

Frazer, K. A., Pachter, L., Poliakov, A., Rubin, E. M. & Dubchak, I. VISTA: computational tools for comparative genomics. Nucleic Acids Res. 32, W273–W279 (2004).
Acknowledgements
We thank P. Audigier, F. Vion and H. Ornstrup for taking care of the plant and the research facilities provided by the Institute of Plant Science Paris-Saclay (IPS2, France). We thank the Center of Biological Resources CRBLeg of GAFL Avignon for maintaining, characterizing and providing melon genetic resources; and the experimental unit UE AHM of Avignon for their technical expertise. This work was funded by the following: European Research Council, grant ERC-SEXYPARTH, 341076 (to A. Bendahmane); Agence Nationale de la Recherche, grant EPISEX, ANR-17-CE20-0019 (to A. Bendahmane); Agence Nationale de la Recherche, grant NECTAR, ANR-19-CE20-0023 (to A. Bendahmane); Laboratoire d'Excellence Sciences des Plantes de Saclay, grant SPS, ANR-10-LABX-40-SPS (to A. Boualem and A. Bendahmane); and the Inititiative d'Excellence Paris-Saclay, grant Lidex-3P, ANR-11-IDEX-0003-02 (to A. Bendahmane).
Ethics declarations
Competing interests
The authors declare no competing interests.
Peer review
Peer review information
Nature Plants thanks Niels Müller, Manuel Jamilena Quesada and the other, anonymous, reviewer(s) for their contribution to the peer review of this work.
Additional information
Publisher's note Springer Nature remains neutral with regard to jurisdictional claims in published maps and institutional affiliations.
Supplementary information
Supplementary Table 1: List of TILLING mutants generated in this study. Table 2: Origins, sexual phenotypes and CmHB40 haplotypes of all C. melo accessions used in this study. Table 3: Differentially expressed genes in stamen primordia of hb40W113* and acs7A57V hermaphrodite flowers and male flowers. The RNA expression data were normalized to the value in stamen primordia of female flowers. Table 4: Primers used in this study.
Rights and permissions
Springer Nature or its licensor (e.g. a society or other partner) holds exclusive rights to this article under a publishing agreement with the author(s) or other rightsholder(s); author self-archiving of the accepted manuscript version of this article is solely governed by the terms of such publishing agreement and applicable law.
About this article
Cite this article
Rashid, D., Devani, R.S., Rodriguez-Granados, N.Y. et al. Ethylene produced in carpel primordia controls CmHB40 expression to inhibit stamen development. Nat. Plants 9, 1675–1687 (2023). https://doi.org/10.1038/s41477-023-01511-z
Received:

Accepted:

Published:

Issue Date:

DOI: https://doi.org/10.1038/s41477-023-01511-z