Plant cell wall pectin has a homogalacturonan or rhamnogalacturonan backbone. Incomplete knowledge of RG-I biosynthetic enzymes has impeded in vitro pectin synthesis and pectin structure and function studies. Here, RGGAT1 is identified as a GT116 RG-I backbone biosynthetic galacturonosyltransferase that produces polymeric RG-I backbone when expressed with GT106 RG-I rhamnosyltransferases.
Access options
Subscribe to Nature+
Get immediate online access to Nature and 55 other Nature journal
Subscribe to Journal
Get full journal access for 1 year
$119.00
only $9.92 per issue
All prices are NET prices.
VAT will be added later in the checkout.
Tax calculation will be finalised during checkout.
Buy article
Get time limited or full article access on ReadCube.
$32.00
All prices are NET prices.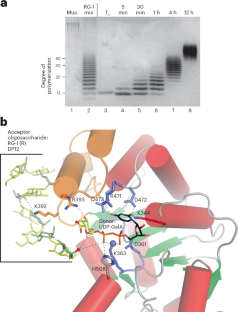 References
Atmodjo, M. A., Hao, Z. & Mohnen, D. Evolving views of pectin biosynthesis. Annu. Rev. Plant Biol. 64, 747–779 (2013). A review article summarizing the domain structure of pectin and complexity of its synthesis.

Amos, R. A. & Mohnen, D. Critical review of plant cell wall matrix polysaccharide glycosyltransferase activities verified by heterologous protein expression. Front. Plant Sci. 10, 915 (2019). A review article summarizing the heterologous expression of plant cell wall glycosyltransferases.

Voiniciuc, C. et al. Identification of key enzymes for pectin synthesis in seed mucilage. Plant Physiol. 178, 1045–1064 (2018). A research paper describing the identification of MUCI70 as associated with RG-I synthesis in Arabidopsis seed mucilage.

Takenaka, Y. et al. Pectin RG-I rhamnosyltransferases represent a novel plant-specific glycosyltransferase family. Nat. Plants 4, 669–676 (2018). A research paper describing the identification of RG-I backbone biosynthetic rhamnosyltrasnferases as founding members of GT106.

Taujale, R. et al. Mapping the glycosyltransferase fold landscape using interpretable deep learning. Nat. Commun. 12, 5656 (2021). A research paper describing the deep learning-based method used to predict glycosyltransferase fold type.
Additional information
Publisher's note Springer Nature remains neutral with regard to jurisdictional claims in published maps and institutional affiliations.
This is a summary of: Amos, R. A. et al. Polymerization of the backbone of the pectic polysaccharide rhamnogalacturonan I. Nat. Plants https://doi.org/10.1038/s41477-022-01270-3 (2022).
About this article
Cite this article
Unlocking RG-I backbone synthesis: identification of RGGAT1 and a new GT116 GT-A family. Nat. Plants 8, 1220–1221 (2022). https://doi.org/10.1038/s41477-022-01271-2
Published:

Issue Date:

DOI: https://doi.org/10.1038/s41477-022-01271-2