Abstract
Underground microbial ecosystems have profound impacts on plant health1,2,3,4,5. Recently, essential roles have been shown for plant specialized metabolites in shaping the rhizosphere microbiome6,7,8,9. However, the potential mechanisms underlying the root-to-soil delivery of these metabolites remain to be elucidated10. Cucurbitacins, the characteristic bitter triterpenoids in cucurbit plants (such as melon and watermelon), are synthesized by operon-like gene clusters11. Here we report two Multidrug and Toxic Compound Extrusion (MATE) proteins involved in the transport of their respective cucurbitacins, a process co-regulated with cucurbitacin biosynthesis. We further show that the transport of cucurbitacin B from the roots of melon into the soil modulates the rhizosphere microbiome by selectively enriching for two bacterial genera, Enterobacter and Bacillus, and we demonstrate that this, in turn, leads to robust resistance against the soil-borne wilt fungal pathogen, Fusarium oxysporum. Our study offers insights into how transporters for specialized metabolites manipulate the rhizosphere microbiota and thereby affect crop fitness.
Relevant articles
Open Access articles citing this article.
Jiadong Hu

,

Shi Qiu

…

Wansheng Chen

Nature Communications Open Access 04 August 2023

André Geremia Parise

&

Michael Marder

Theoretical and Experimental Plant Physiology Open Access 26 July 2023

Yan Zhao

,

Guanze Liu

…

Shengchao Yang

Molecular Horticulture Open Access 06 June 2023
Access options
Access Nature and 54 other Nature Portfolio journals
Get Nature+, our best-value online-access subscription
$29.99 / 30 days
cancel any time
Subscribe to this journal
Receive 12 digital issues and online access to articles
$119.00 per year
only $9.92 per issue
Rent or buy this article
Prices vary by article type
from$1.95
to$39.95
Prices may be subject to local taxes which are calculated during checkout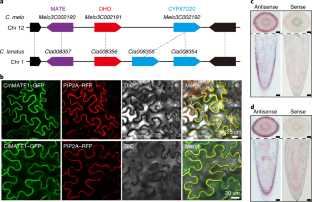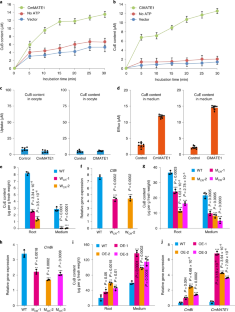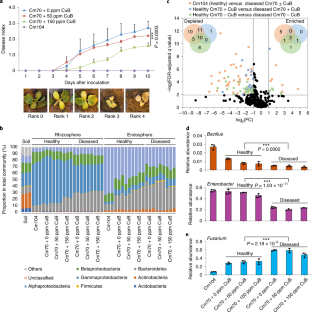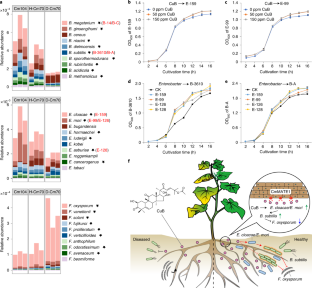 Data availability
All data supporting the findings of this study are available in the paper, the extended data and the Supplementary Information. The amplicon sequencing data and shotgun sequencing data were deposited at NCBI under Bioproject No. PRJNA756119 and are publicly accessible at https://www.ncbi.nlm.nih.gov/search/all/?term=PRJNA756119. Source data are provided with this paper.
References
Pieterse, C. M. et al. Induced systemic resistance by beneficial microbes. Annu. Rev. Phytopathol. 52, 347–375 (2014).

Hacquard, S., Spaepen, S., Garrido-Oter, R. & Schulze-Lefert, P. Interplay between innate immunity and the plant microbiota. Annu. Rev. Phytopathol. 55, 565–589 (2017).

Berendsen, R. L., Pieterse, C. M. & Bakker, P. A. The rhizosphere microbiome and plant health. Trends Plant Sci. 17, 478–486 (2012).

Vannier, N., Agler, M. & Hacquard, S. Microbiota-mediated disease resistance in plants. PLoS Pathog. 15, e1007740 (2019).

de la Fuente Cantó, C. et al. An extended root phenotype: the rhizosphere, its formation and impacts on plant fitness. Plant J. 103, 951–964 (2020).

Stringlis, I. A. et al. MYB72-dependent coumarin exudation shapes root microbiome assembly to promote plant health. Proc. Natl Acad. Sci. USA 115, E5213–E5222 (2018).

Hu, L. et al. Root exudate metabolites drive plant–soil feedbacks on growth and defense by shaping the rhizosphere microbiota. Nat. Commun. 9, 2738 (2018).

Huang, A. C. et al. A specialized metabolic network selectively modulates Arabidopsis root microbiota. Science 364, eaau6389 (2019).

Koprivova, A. et al. Root-specific camalexin biosynthesis controls the plant growth-promoting effects of multiple bacterial strains. Proc. Natl Acad. Sci. USA 116, 15735–15744 (2019).

Sasse, J., Martinoia, E. & Northen, T. Feed your friends: do plant exudates shape the root microbiome? Trends Plant Sci. 23, 25–41 (2018).

Zhou, Y. et al. Convergence and divergence of bitterness biosynthesis and regulation in Cucurbitaceae. Nat. Plants 2, 16183 (2016).

Augustin, J. M., Kuzina, V., Andersen, S. B. & Bak, S. Molecular activities, biosynthesis and evolution of triterpenoid saponins. Phytochemistry 72, 435–457 (2011).

Osbourn, A., Goss, R. J. & Field, R. A. The saponins—polar isoprenoids with important and diverse biological activities. Nat. Prod. Rep. 28, 1261–1268 (2011).

Thimmappa, R., Geisler, K., Louveau, T., O'Maille, P. & Osbourn, A. Triterpene biosynthesis in plants. Annu. Rev. Plant Biol. 65, 225–257 (2014).

Field, B. & Osbourn, A. E. Metabolic diversification—independent assembly of operon-like gene clusters in different plants. Science 320, 543–547 (2008).

Kazachkova, Y. et al. The GORKY glycoalkaloid transporter is indispensable for preventing tomato bitterness. Nat. Plants 7, 468–480 (2021).

Qi, X. et al. A different function for a member of an ancient and highly conserved cytochrome P450 family: from essential sterols to plant defense. Proc. Natl Acad. Sci. USA 103, 18848–18853 (2006).

Mugford, S. T. et al. A serine carboxypeptidase-like acyltransferase is required for synthesis of antimicrobial compounds and disease resistance in oats. Plant Cell 21, 2473–2484 (2009).

Boisson-Dernier, A. et al. Agrobacterium rhizogenes-transformed roots of Medicago truncatula for the study of nitrogen-fixing and endomycorrhizal symbiotic associations. Mol. Plant Microbe Interact. 14, 695–700 (2001).

Macias, F. A. et al. Structure–activity relationships (SAR) studies of benzoxazinones, their degradation products and analogues: phytotoxicity on standard target species (STS). J. Agric. Food Chem. 53, 538–548 (2005).

Ongena, M. & Jacques, P. Bacillus lipopeptides: versatile weapons for plant disease biocontrol. Trends Microbiol. 16, 115–125 (2008).

Niu, B., Paulson, J. N., Zheng, X. & Kolter, R. Simplified and representative bacterial community of maize roots. Proc. Natl Acad. Sci. USA 114, E2450–E2459 (2017).

Baetz, U. & Martinoia, E. Root exudates: the hidden part of plant defense. Trends Plant Sci. 19, 90–98 (2014).

Yoo, S.-D., Cho, Y.-H. & Sheen, J. Arabidopsis mesophyll protoplasts: a versatile cell system for transient gene expression analysis. Nat. Protoc. 2, 1565–1572 (2007).

Li, X. et al. Single-molecule analysis of PIP2;1 dynamics and partitioning reveals multiple modes of Arabidopsis plasma membrane aquaporin regulation. Plant Cell 23, 3780–3797 (2011).

Chen, H. et al. An ACC oxidase gene essential for cucumber carpel development. Mol. Plant 9, 1315–1327 (2016).

Lincoln, C., Long, J., Yamaguchi, J., Serikawa, K. & Hake, S. A knotted1-like homeobox gene in Arabidopsis is expressed in the vegetative meristem and dramatically alters leaf morphology when overexpressed in transgenic plants. Plant Cell 6, 1859–1876 (1994).

Tian, S. et al. Efficient CRISPR/Cas9-based gene knockout in watermelon. Plant Cell Rep. 36, 399–406 (2017).

Pak, H.-K. et al. Hairy root induction in Oriental melon (Cucumis melo) by Agrobacterium rhizogenes and reproduction of the root-knot nematode (Meloidogyne incognita). Plant Cell Tiss. Org. Cult. 98, 219–228 (2009).

Kajikawa, M., Morikawa, K., Abe, Y., Yokota, A. & Akashi, K. Establishment of a transgenic hairy root system in wild and domesticated watermelon (Citrullus lanatus) for studying root vigor under drought. Plant Cell Rep. 29, 771–778 (2010).

Zhou, X. & Wu, F. p-Coumaric acid influenced cucumber rhizosphere soil microbial communities and the growth of Fusarium oxysporum f. sp. cucumerinum Owen. PLoS ONE 7, e48288 (2012).

Wickham, H. Getting Started with ggplot2. In: ggplot2. Use R!. (Springer, Cham, 2016).

Bolger, A. M., Lohse, M. & Usadel, B. Trimmomatic: a flexible trimmer for Illumina sequence data. Bioinformatics 30, 2114–2120 (2014).

Garcia-Mas, J. et al. The genome of melon (Cucumis melo L.). Proc. Natl Acad. Sci. USA 109, 11872–11877 (2012).

Langmead, B. & Salzberg, S. L. Fast gapped-read alignment with Bowtie 2. Nat. Methods 9, 357–359 (2012).

Menzel, P., Ng, K. L. & Krogh, A. Fast and sensitive taxonomic classification for metagenomics with Kaiju. Nat. Commun. 7, 11257 (2016).

Klein, M. et al. The ATP-binding cassette (ABC) transporter Bpt1p mediates vacuolar sequestration of glutathione conjugates in yeast. FEBS Lett. 520, 63–67 (2002).

Yamanaka, N., Marqués, G. & O'Connor, M. B. Vesicle-mediated steroid hormone secretion in Drosophila melanogaster. Cell 163, 907–919 (2015).

Zhao, J. & Dixon, R. A. MATE transporters facilitate vacuolar uptake of epicatechin 3′-O-glucoside for proanthocyanidin biosynthesis in Medicago truncatula and Arabidopsis. Plant Cell 21, 2323–2340 (2009).

Zhang, J. et al. NRT1.1B is associated with root microbiota composition and nitrogen use in field-grown rice. Nat. Biotechnol. 37, 676–684 (2019).

Xu, Z. et al. Contribution of bacillomycin D in Bacillus amyloliquefaciens SQR9 to antifungal activity and biofilm formation. Appl. Environ. Microbiol. 79, 808–815 (2013).
Acknowledgements
We thank Q. R. Shen (Nanjing Agricultural University), H. S. Wang and S. L. Wang (Institute of Vegetables and Flowers, CAAS) for providing experimental assistance. This work was supported by the Yunnan provincial, Shenzhen municipal and Dapeng district governments. This work was funded by the National Key Research and Development Program of China (grant no. 2018YFA0901800 to Y.S.), the Yunnan Science Fund (grant no. 202105AF150028, 202005AE160015 and 2019FJ004 to Y.S.), the Shenzhen Science and Technology Program (grant no. KQTD2016113010482651 to S.H.), the Special Funds for Science Technology Innovation and Industrial Development of Shenzhen Dapeng New District (grant no. RC201901-05 to S.H.), the BBSRC Institute Strategic Programme Grant 'Molecules from Nature–Products and Pathways' (grant no. BBS/E/J/000PR9790 to A.O.) and the John Innes Foundation.
Ethics declarations
Competing interests
The authors declare no competing interests.
Peer review
Peer review information
Nature Plants thanks Reuben Peters and the other, anonymous, reviewer(s) for their contribution to the peer review of this work.
Additional information
Publisher's note Springer Nature remains neutral with regard to jurisdictional claims in published maps and institutional affiliations.
Supplementary information
Supplementary Tables 1–3.
About this article
Cite this article
Zhong, Y., Xun, W., Wang, X. et al. Root-secreted bitter triterpene modulates the rhizosphere microbiota to improve plant fitness. Nat. Plants 8, 887–896 (2022). https://doi.org/10.1038/s41477-022-01201-2
Received:

Accepted:

Published:

Issue Date:

DOI: https://doi.org/10.1038/s41477-022-01201-2