Abstract
The phloem consists of sieve elements (SEs) and companion cells (CCs). Here we show that Dof-class transcription factors preferentially expressed in the phloem (phloem-Dofs) are not only necessary and sufficient for SE and CC differentiation, but also induce negative regulators of phloem development, CLAVATA3/EMBRYO SURROUNDING REGION-RELATED25 (CLE25), CLE26 and CLE45 secretory peptides. CLEs were perceived by BARELY ANY MERISTEM (BAM)-class receptors and CLAVATA3 INSENSITIVE RECEPTOR KINASE (CIK) co-receptors, and post-transcriptionally decreased phloem-Dof proteins and repressed SE and CC formation. Multiple mutations in CLE-, BAM- or CIK-class genes caused ectopic formation of SEs and CCs, producing an SE/CC cluster at each phloem region. We propose that while phloem-Dofs induce phloem cell formation, they inhibit excess phloem cell formation by inducing CLEs. Normal-positioned SE and CC precursor cells appear to overcome the effect of CLEs by reinforcing the production of phloem-Dofs through a positive feedback transcriptional regulation.
Access options
Access Nature and 54 other Nature Portfolio journals
Get Nature+, our best-value online-access subscription
$29.99 per month
cancel any time
Subscribe to this journal
Receive 12 digital issues and online access to articles
$119.00 per year
only $9.92 per issue
Rent or buy this article
Get just this article for as long as you need it
$39.95
Prices may be subject to local taxes which are calculated during checkout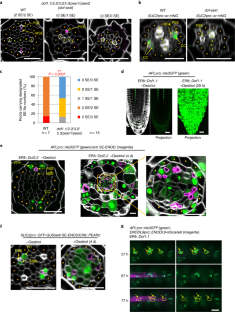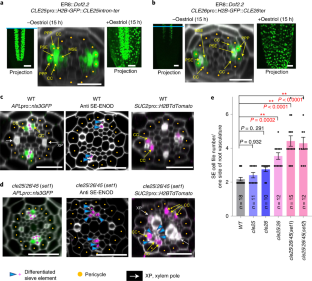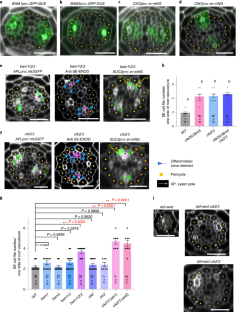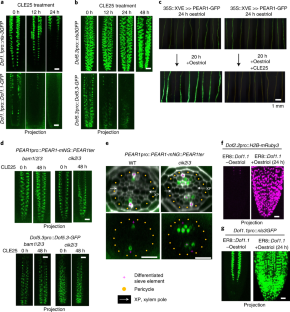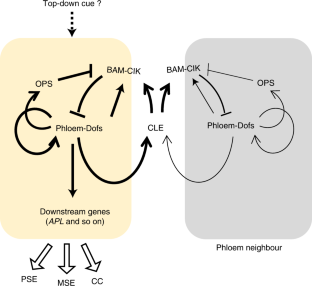 Data availability
Microarray data have been deposited in the Gene Expression Omnibus under accession number GSE166182. Plasmids for plant transformation and seeds produced in this study are available from P.Q. or T.K. on request. Plasmids used for protein production in insect cells are available from J.C. We used data of GSE6349 and GSE7641 downloaded from the NCBI website for initial screening of candidate genes involved in phloem development. Source data are provided with this paper.
References
Heo, J.-O., Roszak, P., Furuta, K. M. & Helariutta, Y. Phloem development: current knowledge and future perspectives. Am. J. Bot. 101, 1393–1402 (2014).

Anne, P. & Hardtke, C. S. Phloem function and development-biophysics meets genetics. Curr. Opin. Plant Biol. 43, 22–28 (2018).

López-Salmerón, V., Cho, H., Tonn, N. & Greb, T. The phloem as a mediator of plant growth plasticity. Curr. Biol. 29, R173–R181 (2019).

Fukuda, H. & Ohashi-Ito, K. Vascular tissue development in plants. Curr. Top. Dev. Biol. 131, 141–160 (2019).

Rodriguez-Villalon, A. Wiring a plant: genetic networks for phloem formation in Arabidopsis thaliana roots. New Phytol. 210, 45–50 (2016).

Ruonala, R., Ko, D. & Helariutta, Y. Genetic networks in plant vascular development. Annu. Rev. Genet. 51, 335–359 (2017).

Miyashima, S. et al. Mobile PEAR transcription factors integrate positional cues to prime cambial growth. Nature 565, 490–494 (2019).

Roszak, P. et al. Cell-by-cell dissection of phloem development links a maturation gradient to cell specialization. Science 374, eaba5531 (2021).

Wallner, E.-S. et al. Strigolactone- and karrikin-independent SMXL proteins are central regulators of phloem formation. Curr. Biol. 27, 1241–1247 (2017).

Furuta, K. M. et al. Plant development. Arabidopsis NAC45/86 direct sieve element morphogenesis culminating in enucleation. Science 345, 933–937 (2014).

Ren, S.-C. et al. CLE25 peptide regulates phloem initiation in Arabidopsis through a CLERK-CLV2 receptor complex. J. Integr. Plant Biol. 61, 1043–1061 (2019).

Anne, P. et al. CLERK is a novel receptor kinase required for sensing of root-active CLE peptides in Arabidopsis. Development 145, dev162354 (2018).

Depuydt, S. et al. Suppression of Arabidopsis protophloem differentiation and root meristem growth by CLE45 requires the receptor-like kinase BAM3. Proc. Natl Acad. Sci. USA 110, 7074–7079 (2013).

Rodriguez-Villalon, A. et al. Molecular genetic framework for protophloem formation. Proc. Natl Acad. Sci. USA 111, 11551–11556 (2014).

Rodriguez-Villalon, A., Gujas, B., van Wijk, R., Munnik, T. & Hardtke, C. S. Primary root protophloem differentiation requires balanced phosphatidylinositol-4,5-biphosphate levels and systemically affects root branching. Development 142, 1437–1446 (2015).

Graeff, M. & Hardtke, C. S. Metaphloem development in the Arabidopsis root tip. Development 148, 6 (2021).

Hu, C. et al. A CLE–BAM–CIK signaling module controls root protophloem differentiation in Arabidopsis. New Phytol. https://doi.org/10.1111/nph.17791 (2021).

Gujas, B. et al. A reservoir of pluripotent phloem cells safeguards the linear developmental trajectory of protophloem sieve elements. Curr. Biol. 30, 755–766.e4 (2020).

Hazak, O. et al. Perception of root‐active CLE peptides requires CORYNE function in the phloem vasculature. EMBO Rep. 18, 1367–1381 (2017).

Scacchi, E. et al. Spatio-temporal sequence of cross-regulatory events in root meristem growth. Proc. Natl Acad. Sci. USA 107, 22734–22739 (2010).

Truernit, E., Bauby, H., Belcram, K., Barthélémy, J. & Palauqui, J.-C. OCTOPUS, a polarly localised membrane-associated protein, regulates phloem differentiation entry in Arabidopsis thaliana. Development 139, 1306–1315 (2012).

Breda, A. S. et al. A cellular insulator against CLE45 peptide signaling. Curr. Biol. 29, 2501–2508.e3 (2019).

Anne, P. et al. OCTOPUS negatively regulates BIN2 to control phloem differentiation in Arabidopsis thaliana. Curr. Biol. 25, 2584–2590 (2015).

Lee, J.-Y. et al. Transcriptional and posttranscriptional regulation of transcription factor expression in Arabidopsis roots. Proc. Natl Acad. Sci. USA 103, 6055–6060 (2006).

Yanagisawa, S. The Dof family of plant transcription factors. Trends Plant Sci. 7, 555–560 (2002).

Zuo, J., Niu, Q.-W. & Chua, N.-H. An estrogen receptor-based transactivator XVE mediates highly inducible gene expression in transgenic plants. Plant J. 24, 265–273 (2000).

Hiratsu, K., Matsui, K., Koyama, T. & Ohme-Takagi, M. Dominant repression of target genes by chimeric repressors that include the EAR motif, a repression domain, in Arabidopsis. Plant J. 34, 733–739 (2003).

Khan, J. A., Wang, Q., Sjölund, R. D., Schulz, A. & Thompson, G. A. An early nodulin-like protein accumulates in the sieve element plasma membrane of Arabidopsis. Plant Physiol. 143, 1576–1589 (2007).

Shaner, N. C. et al. A bright monomeric green fluorescent protein derived from Branchiostoma lanceolatum. Nat. Methods 10, 407–409 (2013).

Bonke, M., Thitamadee, S., Mähönen, A. P., Hauser, M.-T. & Helariutta, Y. APL regulates vascular tissue identity in Arabidopsis. Nature 426, 181–186 (2003).

Ito, Y. et al. Dodeca-CLE peptides as suppressors of plant stem cell differentiation. Science 313, 842–845 (2006).

Hirakawa, Y. et al. Non-cell-autonomous control of vascular stem cell fate by a CLE peptide/receptor system. Proc. Natl Acad. Sci. USA 105, 15208–15213 (2008).

Stadler, R. et al. Expression of GFP-fusions in Arabidopsis companion cells reveals non-specific protein trafficking into sieve elements and identifies a novel post-phloem domain in roots. Plant J. 41, 319–331 (2005).

De Rybel, B. et al. A bHLH complex controls embryonic vascular tissue establishment and indeterminate growth in Arabidopsis. Dev. Cell 24, 426–437 (2013).

Qian, P. et al. The CLE9/10 secretory peptide regulates stomatal and vascular development through distinct receptors. Nat. Plants 4, 1071–1081 (2018).

Kubo, M. Transcription switches for protoxylem and metaxylem vessel formation. Genes Dev. 19, 1855–1860 (2005).

Schuetz, M. et al. Laccases direct lignification in the discrete secondary cell wall domains of protoxylem. Plant Physiol. 166, 798–807 (2014).

O'Malley, R. C. et al. Cistrome and epicistrome features shape the regulatory DNA landscape. Cell 165, 1280–1292 (2016).

Ohyama, K., Shinohara, H., Ogawa-Ohnishi, M. & Matsubayashi, Y. A glycopeptide regulating stem cell fate in Arabidopsis thaliana. Nat. Chem. Biol. 5, 578–580 (2009).

Shiu, S.-H. & Bleecker, A. B. Expansion of the receptor-like kinase/pelle gene family and receptor-like proteins in Arabidopsis. Plant Physiol. 132, 530–543 (2003).

Corcilius, L. et al. Arabinosylation modulates the growth-regulating activity of the peptide hormone CLE40a from soybean. Cell Chem. Biol. 24, 1347–1355.e7 (2017).

Gou, X. & Li, J. Paired receptor and coreceptor kinases perceive extracellular signals to control plant development. Plant Physiol. 182, 1667–1681 (2020).

Hu, C. et al. A group of receptor kinases are essential for CLAVATA signalling to maintain stem cell homeostasis. Nat. Plants 4, 205–211 (2018).

Hohmann, U., Lau, K. & Hothorn, M. The structural basis of ligand perception and signal activation by receptor kinases. Annu. Rev. Plant Biol. 68, 109–137 (2017).

Bajar, B. T. et al. Improving brightness and photostability of green and red fluorescent proteins for live cell imaging and FRET reporting. Sci. Rep. 6, 20889 (2016).

De Smet, I. et al. Receptor-like kinase ACR4 restricts formative cell divisions in the Arabidopsis root. Science 322, 594–597 (2008).

Dinneny, J. R. et al. Cell identity mediates the response of Arabidopsis roots to abiotic stress. Science 320, 942–945 (2008).

Dalrymple, M. A., McGeoch, D. J., Davison, A. J. & Preston, C. DNA sequence of the herpes simplex virus type 1 gene whose product is responsible for transcriptional activation of immediate early promoters. Nucleic Acids Res. 13, 7865–7879 (1985).

Kurihara, D., Mizuta, Y., Sato, Y. & Higashiyama, T. ClearSee: a rapid optical clearing reagent for whole-plant fluorescence imaging. Development 142, 4168–4179 (2015).

Schindelin, J. et al. Fiji: An open-source platform for biological-image analysis. Nat. Methods https://doi.org/10.1038/nmeth.2019 (2012).

Paciorek, T., Sauer, M., Balla, J., Wiśniewska, J. & Friml, J. Immunocytochemical technique for protein localization in sections of plant tissues. Nat. Protoc. 1, 104–107 (2006).

Wang, Z.-P. et al. Egg cell-specific promoter-controlled CRISPR/Cas9 efficiently generates homozygous mutants for multiple target genes in Arabidopsis in a single generation. Genome Biol. 16, 144 (2015).
Acknowledgements
We thank Y. Sugisawa and K. Ohashi-Ito for microarray experiments; J. Wang and S. Huang for ITC experiments; N.-H. Chua for ER8 vector, S. Takada for RPS5a-ER8, Q.-J. Chen for the CRISPR vector (pHEE401E); Y. Kondo, H. Fukuda and S. Sawa for providing CLE peptides; Y. Matsubayashi, H. Shinohara and the Arabidopsis Biological Resource Center for mutant seeds; and R. Lewis from Edanz Group (https://en-author-services.edanz.com/ac) for editing a draft of this manuscript. This work was supported by the Japan Society for the Promotion of Science (JSPS) KAKENHI (JP25113006, JP18H04837, JP19H03246, JP19K22430, JP20H04886 and JP21K19264 to T.K.; JP19K23750 and JP21K15123 to P.Q.; JPL17545 to G.W.), by National Natural Science Foundation of China (31771556) to G.W., by the Alexander von Humboldt Foundation (a Humboldt professorship to J.C.) and the Max-Planck-Gesellschaft (a Max Planck fellowship to J.C.).
Ethics declarations
Competing interests
The authors declare no competing interests.
Peer review
Peer review information
Nature Plants thanks Antia Rodriguez-Villalon and the other, anonymous, reviewer(s) for their contribution to the peer review of this work.
Additional information
Publisher's note Springer Nature remains neutral with regard to jurisdictional claims in published maps and institutional affiliations.
Supplementary information
About this article
Cite this article
Qian, P., Song, W., Zaizen-Iida, M. et al. A Dof-CLE circuit controls phloem organization. Nat. Plants 8, 817–827 (2022). https://doi.org/10.1038/s41477-022-01176-0
Received:

Accepted:

Published:

Issue Date:

DOI: https://doi.org/10.1038/s41477-022-01176-0