Abstract
CRISPR-Cas9, its derived base editors and CRISPR activation systems have greatly aided genome engineering in plants. However, these systems are mostly used separately, leaving their combinational potential largely untapped. Here we develop a versatile CRISPR-Combo platform, based on a single Cas9 protein, for simultaneous genome editing (targeted mutagenesis or base editing) and gene activation in plants. We showcase the powerful applications of CRISPR-Combo for boosting plant genome editing. First, CRISPR-Combo is used to shorten the plant life cycle and reduce the efforts in screening transgene-free genome-edited plants by activation of a florigen gene in Arabidopsis. Next, we demonstrate accelerated regeneration and propagation of genome-edited plants by activation of morphogenic genes in poplar. Furthermore, we apply CRISPR-Combo to achieve rice regeneration without exogenous plant hormones, which is established as a new method to predominately enrich heritable targeted mutations. In conclusion, CRISPR-Combo is a versatile genome engineering tool with promising applications in crop breeding.
Relevant articles
Open Access articles citing this article.
Chong Ren

,

Elias Kirabi Gathunga

…

Zhenchang Liang

Molecular Horticulture Open Access 18 October 2023

Pei Ni

,

Yidi Zhao

…

Yuan Zong

Genome Biology Open Access 29 June 2023

Tingwei Yan

,

Quancan Hou

…

Xiangyuan Wan

Plant Cell Reports Open Access 14 June 2023
Access options
Access Nature and 54 other Nature Portfolio journals
Get Nature+, our best-value online-access subscription
$29.99 / 30 days
cancel any time
Subscribe to this journal
Receive 12 digital issues and online access to articles
$119.00 per year
only $9.92 per issue
Rent or buy this article
Prices vary by article type
from$1.95
to$39.95
Prices may be subject to local taxes which are calculated during checkout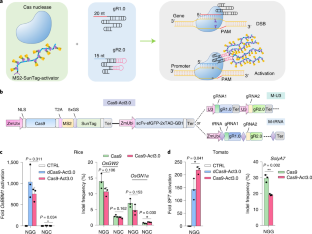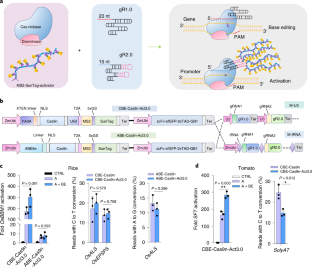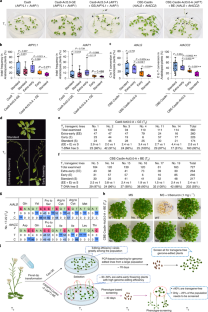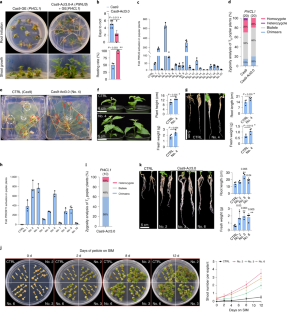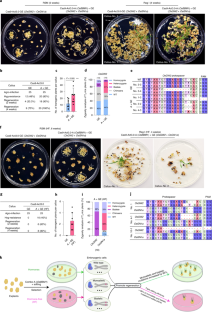 Data availability
All generated and processed data from this study are included in the published article and its Supplementary Information. The Golden Gate and Gateway compatible vectors for the CRISPR-Combo systems were deposited to Addgene: pYPQ-Cas9-Act3.0 (no. 178954), pYPQ-CBE-Cas9n-Act3.0 (no. 178955), pYPQ-ABE-Cas9n-Act3.0 (no. 178956), pYPQ-SpRY-Act3.0 (no. 178957), pYPQ-CBE-SpRYn-Act3.0 (no. 178958), pYPQ-ABE-SpRYn-Act3.0 (no. 178959), pYPQ-132-tRNA (no. 179211), pYPQ-133-tRNA (no. 179212), pYPQ-134-tRNA (no. 179213) and pYPQ-134B (no. 179216). The sequence data of targeted genes can be found from The Arabidopsis Information Resource (https://www.Arabidopsis.org/), Rice Genome Annotation Project (http://rice.uga.edu/) Solanaceae Genomics Network (https://solgenomics.net/) or Phytozome (https://phytozome-next.jgi.doe.gov/) using their locus identifiers as follows: OsBBM1 (LOC_Os11g19060), OsGW2 (LOC_Os02g14720), OsGN1a (LOC_Os01g10110), OsALS (LOC_Os02g30630), OsEPSPS (LOC_Os06g04280), OsYSA (LOC_Os03g40020), OsMAPK5 (LOC_Os03g17700), AtFT (AT1G65480), AtAP1 (AT1G69120), AtPYL1 (AT5G46790), AtALS (AT3G48560), AtACC2 (AT1G36180), PtWUS (Potri.005G114700), PtWOX11 (Potri.013G066900), PtARK1 (Potri.011G011100), Pt4CL1 (Potri.001G036900), SFT (Solyc03g063100) and SolyA7 (Solyc01g010970). The NGS data have been deposited to National Center for Biotechnology Information (accession code PRJNA779678; https://www.ncbi.nlm.nih.gov/bioproject/PRJNA779678).
References
Jinek, M. et al. A programmable dual-RNA-guided DNA endonuclease in adaptive bacterial immunity. Science 337, 816–821 (2012).

Zhang, Y., Malzahn, A. A., Sretenovic, S. & Qi, Y. The emerging and uncultivated potential of CRISPR technology in plant science. Nat. Plants 5, 778–794 (2019).

Gao, C. Genome engineering for crop improvement and future agriculture. Cell 184, 1621–1635 (2021).

Anzalone, A. V., Koblan, L. W. & Liu, D. R. Genome editing with CRISPR-Cas nucleases, base editors, transposases and prime editors. Nat. Biotechnol. 38, 824–844 (2020).

Molla, K. A., Sretenovic, S., Bansal, K. C. & Qi, Y. Precise plant genome editing using base editors and prime editors. Nat. Plants 7, 1166–1187 (2021).

Grunewald, J. et al. A dual-deaminase CRISPR base editor enables concurrent adenine and cytosine editing. Nat. Biotechnol. 38, 861–864 (2020).

Zhang, X. et al. Dual base editor catalyzes both cytosine and adenine base conversions in human cells. Nat. Biotechnol. 38, 856–860 (2020).

Sakata, R. C. et al. Base editors for simultaneous introduction of C-to-T and A-to-G mutations. Nat. Biotechnol. 38, 865–869 (2020).

Li, C. et al. Targeted, random mutagenesis of plant genes with dual cytosine and adenine base editors. Nat. Biotechnol. 38, 875–882 (2020).

Li, C. et al. SWISS: multiplexed orthogonal genome editing in plants with a Cas9 nickase and engineered CRISPR RNA scaffolds. Genome Biol. 21, 141 (2020).

Maeder, M. L. et al. CRISPR RNA-guided activation of endogenous human genes. Nat. Methods 10, 977–979 (2013).

Perez-Pinera, P. et al. RNA-guided gene activation by CRISPR-Cas9-based transcription factors. Nat. Methods 10, 973–976 (2013).

Lowder, L. G. et al. A CRISPR/Cas9 toolbox for multiplexed plant genome editing and transcriptional regulation. Plant Physiol. 169, 971–985 (2015).

Lowder, L. G. et al. Robust transcriptional activation in plants using multiplexed CRISPR-Act2.0 and mTALE-act systems. Mol. Plant 11, 245–256 (2018).

Pan, C., Sretenovic, S. & Qi, Y. CRISPR/dCas-mediated transcriptional and epigenetic regulation in plants. Curr. Opin. Plant Biol. 60, 101980 (2021).

Esvelt, K. M. et al. Orthogonal Cas9 proteins for RNA-guided gene regulation and editing. Nat. Methods 10, 1116–1121 (2013).

Boettcher, M. et al. Dual gene activation and knockout screen reveals directional dependencies in genetic networks. Nat. Biotechnol. 36, 170–178 (2018).

Bai, M. et al. Generation of a multiplex mutagenesis population via pooled CRISPR-Cas9 in soya bean. Plant Biotechnol. J. 18, 721–731 (2020).

Liu, H. J. et al. High-throughput CRISPR/Cas9 mutagenesis streamlines trait gene identification in maize. Plant Cell 32, 1397–1413 (2020).

Kiani, S. et al. Cas9 gRNA engineering for genome editing, activation and repression. Nat. Methods 12, 1051–1054 (2015).

Singh, D. et al. Real-time observation of DNA target interrogation and product release by the RNA-guided endonuclease CRISPR Cpf1 (Cas12a). Proc. Natl. Acad. Sci. USA 115, 5444–5449 (2018).

Breinig, M. et al. Multiplexed orthogonal genome editing and transcriptional activation by Cas12a. Nat. Methods 16, 51–54 (2019).

Pan, C. et al. CRISPR-Act3.0 for highly efficient multiplexed gene activation in plants. Nat. Plants 7, 942–953 (2021).

Walton, R. T., Christie, K. A., Whittaker, M. N. & Kleinstiver, B. P. Unconstrained genome targeting with near-PAMless engineered CRISPR-Cas9 variants. Science 368, 290–296 (2020).

Ren, Q. et al. PAM-less plant genome editing using a CRISPR-SpRY toolbox. Nat. Plants 7, 25–33 (2021).

Ren, J. et al. Expanding the scope of genome editing with SpG and SpRY variants in rice. Sci. China Life Sci. 64, 1784–1787 (2021).

Xu, Z. et al. SpRY greatly expands the genome editing scope in rice with highly flexible PAM recognition. Genome Biol. 22, 6 (2021).

Ren, Q. et al. Improved plant cytosine base editors with high editing activity, purity, and specificity. Plant Biotechnol. J. 19, 2052–2068 https://doi.org/10.1111/pbi.13635 (2021).

Li, G., Sretenovic, S., Eisenstein, E., Coleman, G. & Qi, Y. Highly efficient C‐to‐T and A‐to‐G base editing in a Populus hybrid. Plant Biotechnol. J. https://doi.org/10.1111/pbi.13581 (2021).

Randall, L. B. et al. Genome- and transcriptome-wide off-target analyses of an improved cytosine base editor. Plant Physiol. https://doi.org/10.1093/plphys/kiab264 (2021).

Richter, M. F. et al. Phage-assisted evolution of an adenine base editor with improved Cas domain compatibility and activity. Nat. Biotechnol. 38, 883–891 (2020).

Lapinaite, A. et al. DNA capture by a CRISPR-Cas9-guided adenine base editor. Science 369, 566–571 (2020).

Altpeter, F. et al. Advancing crop transformation in the era of genome editing. Plant Cell 28, 1510–1520 (2016).

Lowe, K. et al. Morphogenic regulators Baby boom and Wuschel improve monocot transformation. Plant Cell https://doi.org/10.1105/tpc.16.00124 (2016).

Maher, M. F. et al. Plant gene editing through de novo induction of meristems. Nat. Biotechnol. 38, 84–89 (2020).

Debernardi, J. M. et al. A GRF-GIF chimeric protein improves the regeneration efficiency of transgenic plants. Nat. Biotechnol. 38, 1274–1279 (2020).

Li, J. et al. The WUSCHELa (PtoWUSa) is involved in developmental plasticity of adventitious root in poplar. Genes 11, https://doi.org/10.3390/genes11020176 (2020).

Liu, B. et al. PtWOX11 acts as master regulator conducting the expression of key transcription factors to induce de novo shoot organogenesis in poplar. Plant Mol. Biol. 98, 389–406 (2018).

Liu, X., Zhang, Z., Bian, W., Duan, A. & Zhang, H. Enhancing the expression of ARK1 genes in poplar leads to multiple branches and transcriptomic changes. R. Soc. Open Sci. 7, 201201 (2020).

Khanday, I., Skinner, D., Yang, B., Mercier, R. & Sundaresan, V. A male-expressed rice embryogenic trigger redirected for asexual propagation through seeds. Nature 565, 91–95 (2019).

Watson, A. et al. Speed breeding is a powerful tool to accelerate crop research and breeding. Nat. Plants 4, 23–29 (2018).

Wang, Z. P. et al. Egg cell-specific promoter-controlled CRISPR/Cas9 efficiently generates homozygous mutants for multiple target genes in Arabidopsis in a single generation. Genome Biol. 16, 144 (2015).

Khanday, I., Santos-Medellín, C. & Sundaresan, V. Rice embryogenic trigger BABY BOOM1 promotes somatic embryogenesis by upregulation of auxin biosynthesis genes. bioRxiv https://doi.org/10.1101/2020.08.24.265025 (2020).

Meng, X. et al. Construction of a genome-wide mutant library in rice using CRISPR/Cas9. Mol. Plant https://doi.org/10.1016/j.molp.2017.06.006 (2017).

Clough, S. J. & Bent, A. F. Floral dip: a simplified method for Agrobacterium-mediated transformation of Arabidopsis thaliana. Plant J. 16, 735–743 (1998).

Leple, J. C., Brasileiro, A. C., Michel, M. F., Delmotte, F. & Jouanin, L. Transgenic poplars: expression of chimeric genes using four different constructs. Plant Cell Rep. 11, 137–141 (1992).

Liu, Q. et al. Hi-TOM: a platform for high-throughput tracking of mutations induced by CRISPR/Cas systems. Sci. China Life Sci. 62, 1–7 (2019).

Stewart, C. N. Jr. & Via, L. E. A rapid CTAB DNA isolation technique useful for RAPD fingerprinting and other PCR applications. Biotechniques 14, 748–750 (1993).

You, Q. et al. CRISPRMatch: an automatic calculation and visualization tool for high-throughput CRISPR genome-editing data analysis. Int. J. Biol. Sci. 14, 858–862 (2018).

Clement, K. et al. CRISPResso2 provides accurate and rapid genome editing sequence analysis. Nat. Biotechnol. 37, 224–226 (2019).
Acknowledgements
This work was supported by the NSF Plant Genome Research Program grants (award nos. IOS-1758745 and IOS-2029889), the USDA-NIFA Biotechnology Risk Assessment grant (award no. 2020-33522-32274), the USDA-AFRI Agricultural Innovations Through Gene Editing Program (award no. 2021-67013-34554) and Maryland Innovation Initiative Funding (award no. 1120-012_2) to Y.Q. and a USDA-NIFA grant (award no. 2019-67013-29197) and a USDA McIntire-Stennis project (award no. MD-PSLA-20006) to G.C. A.M. was supported by NRT-INFEWS: UMD Global STEWARDS (STEM Training at the Nexus of Energy, Water Reuse and Food Systems) that was awarded to the University of Maryland School of Public Health by the NSF National Research Traineeship Program (award no. 1828910). S.S. is a fellow of Foundation for Food and Agriculture Research.
Ethics declarations
Competing interests
Y.Q. and C.P. are inventors on a US Patent Application that has been filed on the CRISPR-Combo system in this study. Y.Q. is a consultant for Inari Agriculture and CTC Genomics. All other authors declare no competing interests.
Peer review
Peer review information
Nature Plants thanks Jian-feng Li, Sadiye Hayta and the other, anonymous, reviewer(s) for their contribution to the peer review of this work.
Additional information
Publisher's note Springer Nature remains neutral with regard to jurisdictional claims in published maps and institutional affiliations.
Supplementary information
Supplementary Methods, Figs. 1–7 and Tables 1–3.
Rights and permissions
Springer Nature or its licensor (e.g. a society or other partner) holds exclusive rights to this article under a publishing agreement with the author(s) or other rightsholder(s); author self-archiving of the accepted manuscript version of this article is solely governed by the terms of such publishing agreement and applicable law.
About this article
Cite this article
Pan, C., Li, G., Malzahn, A.A. et al. Boosting plant genome editing with a versatile CRISPR-Combo system. Nat. Plants 8, 513–525 (2022). https://doi.org/10.1038/s41477-022-01151-9
Received:

Accepted:

Published:

Issue Date:

DOI: https://doi.org/10.1038/s41477-022-01151-9