Abstract
Multicellular organisms undergo several developmental transitions during their life cycles. In contrast to animals, the plant germline is derived from adult somatic cells. As such, the juvenility of a plant must be reset in each generation. Previous studies have demonstrated that the decline in the levels of miR156/7 with age drives plant maturation. Here we show that the resetting of plant juvenility during each generation is mediated by de novo activation of MIR156/7 in Arabidopsis. Blocking this process leads to a shortened juvenile phase and premature flowering in the offspring. In particular, an Arabidopsis plant devoid of miR156/7 flowers even without formation of rosette leaves in long days. Mechanistically, we find that different MIR156/7 genes are reset at different developmental stages through distinct reprogramming routes. Among these genes, MIR156A, B and C are activated de novo during sexual reproduction and embryogenesis, while MIR157A and C are reset upon seed germination. This redundancy generates a robust reset mechanism that ensures accurate restoration of the juvenile phase in each plant generation.
Access options
Subscribe to Nature+
Get immediate online access to Nature and 55 other Nature journal
Subscribe to Journal
Get full journal access for 1 year
$119.00
only $9.92 per issue
All prices are NET prices.
VAT will be added later in the checkout.
Tax calculation will be finalised during checkout.
Buy article
Get time limited or full article access on ReadCube.
$32.00
All prices are NET prices.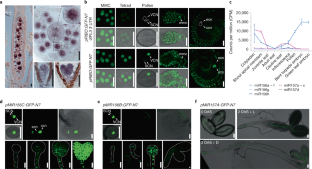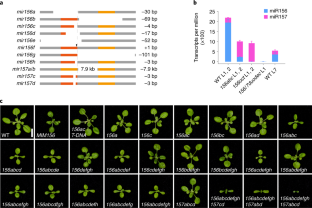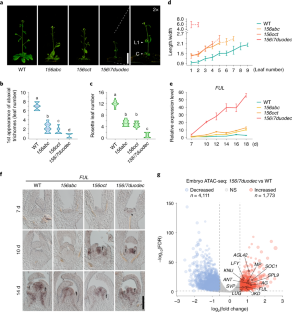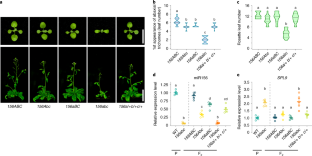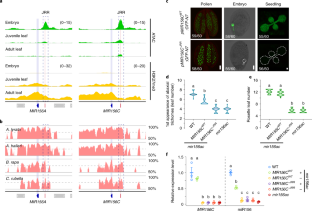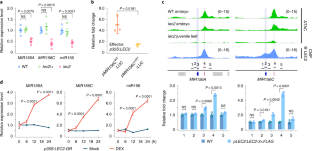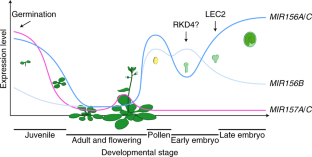 Data availability
All materials are available from the corresponding author on request. The ATAC-seq, ChIP-seq, RNA-seq and sRNA-seq data (BioProject PRJCA003872) are deposited in the Beijing Institute of Genomics Data Center (http://bigd.big.ac.cn). Source data are provided with this paper.
References
Moss, E. G. Heterochronic genes and the nature of developmental time. Curr. Biol. 17, R425–R434 (2007).

Bäurle, I. & Dean, C. The timing of developmental transitions in plants. Cell 125, 655–664 (2006).

Huijser, P. & Schmid, M. The control of developmental phase transitions in plants. Development 138, 4117–4129 (2011).

Amasino, R. Seasonal and developmental timing of flowering. Plant J. 61, 1001–1013 (2010).

Kawashima, T. & Berger, F. Epigenetic reprogramming in plant sexual reproduction. Nat. Rev. Genet. 15, 613–624 (2014).

Feng, X., Zilberman, D. & Dickinson, H. A conversation across generations: soma-germ cell crosstalk in plants. Dev. Cell 24, 215–225 (2013).

Borg, M. et al. Targeted reprogramming of H3K27me3 resets epigenetic memory in plant paternal chromatin. Nat. Cell Biol. 22, 621–629 (2020).

Borg, M. et al. Epigenetic reprogramming rewires transcription during the alternation of generations in Arabidopsis. eLife 10, e61894 (2021).

Magnusdottir, E. & Surani, M. A. How to make a primordial germ cell. Development 141, 245–252 (2014).

Berger, F. & Twell, D. Germline specification and function in plants. Annu Rev. Plant Biol. 62, 461–484 (2011).

Ambros, V. MicroRNAs and developmental timing. Curr. Opin. Genet. Dev. 21, 511–517 (2011).

Pasquinelli, A. E. & Ruvkun, G. Control of developmental timing by microRNAs and their targets. Annu. Rev. Cell Dev. Biol. 18, 495–513 (2002).

Poethig, R. S. Small RNAs and developmental timing in plants. Curr. Opin. Genet Dev. 19, 374–378 (2009).

Yu, S., Lian, H. & Wang, J. W. Plant developmental transitions: the role of microRNAs and sugars. Curr. Opin. Plant Biol. 27, 1–7 (2015).

Shikata, M., Yamaguchi, H., Sasaki, K. & Ohtsubo, N. Overexpression of Arabidopsis miR157b induces bushy architecture and delayed phase transition in Torenia fournieri. Planta 236, 1027–1035 (2012).

Wu, G. et al. The sequential action of miR156 and miR172 regulates developmental timing in Arabidopsis. Cell 138, 750–759 (2009).

Wang, J. W., Czech, B. & Weigel, D. miR156-regulated SPL transcription factors define an endogenous flowering pathway in Arabidopsis thaliana. Cell 138, 738–749 (2009).

Wang, F. X. et al. Chromatin accessibility dynamics and a hierarchical transcriptional regulatory network structure for plant somatic embryogenesis. Dev. Cell 54, 742–757.e8 (2020).

Reinhart, B. J., Weinstein, E. G., Rhoades, M. W., Bartel, B. & Bartel, D. P. MicroRNAs in plants. Genes Dev. 16, 1616–1626 (2002).

He, J. et al. Threshold-dependent repression of SPL gene expression by miR156/miR157 controls vegetative phase change in Arabidopsis thaliana. PLoS Genet. 14, e1007337 (2018).

Xu, L. et al. An expression atlas of miRNAs in Arabidopsis thaliana. Sci. China Life Sci. 61, 178–189 (2018).

Zhang, Y. et al. The poly(A) polymerase PAPS1 interacts with the RNA-directed DNA-methylation pathway in sporophyte and pollen development. Plant J. 99, 655–672 (2019).

Cheng, Y. J. et al. Cell division in the shoot apical meristem is a trigger for miR156 decline and vegetative phase transition in Arabidopsis. Proc. Natl Acad. Sci. USA 118, e2115667118 (2021).

Wang, Z. P. et al. Egg cell-specific promoter-controlled CRISPR/Cas9 efficiently generates homozygous mutants for multiple target genes in Arabidopsis in a single generation. Genome Biol. 16, 144 (2015).

Nodine, M. D. & Bartel, D. P. MicroRNAs prevent precocious gene expression and enable pattern formation during plant embryogenesis. Genes Dev. 24, 2678–2692 (2010).

Buenrostro, J. D., Giresi, P. G., Zaba, L. C., Chang, H. Y. & Greenleaf, W. J. Transposition of native chromatin for fast and sensitive epigenomic profiling of open chromatin, DNA-binding proteins and nucleosome position. Nat. Methods 10, 1213–1218 (2013).

Liu, C., Lu, F., Cui, X. & Cao, X. Histone methylation in higher plants. Annu Rev. Plant Biol. 61, 395–420 (2010).

Xu, M., Hu, T., Smith, M. R. & Poethig, R. S. Epigenetic regulation of vegetative phase change in Arabidopsis. Plant Cell 28, 28–41 (2016).

Poethig, R. S. The past, present, and future of vegetative phase change. Plant Physiol. 154, 541–544 (2010).

Braybrook, S. A. & Harada, J. J. LECs go crazy in embryo development. Trends Plant Sci. 13, 624–630 (2008).

Wang, F. & Perry, S. E. Identification of direct targets of FUSCA3, a key regulator of Arabidopsis seed development. Plant Physiol. 161, 1251–1264 (2013).

Gazzarrini, S., Tsuchiya, Y., Lumba, S., Okamoto, M. & McCourt, P. The transcription factor FUSCA3 controls developmental timing in Arabidopsis through the hormones gibberellin and abscisic acid. Dev. Cell 7, 373–385 (2004).

Tao, Z. et al. Embryonic resetting of the parental vernalized state by two B3 domain transcription factors in Arabidopsis. Nat. Plants 5, 424–435 (2019).

Crevillen, P. et al. Epigenetic reprogramming that prevents transgenerational inheritance of the vernalized state. Nature 515, 587–590 (2014).

Tao, Z. et al. Embryonic epigenetic reprogramming by a pioneer transcription factor in plants. Nature 551, 124–128 (2017).

Sheldon, C. C. et al. Resetting of FLOWERING LOCUS C expression after epigenetic repression by vernalization. Proc. Natl Acad. Sci. USA 105, 2214–2219 (2008).

Choi, J. et al. Resetting and regulation of Flowering Locus C expression during Arabidopsis reproductive development. Plant J. 57, 918–931 (2009).

Yun, H. et al. Identification of regulators required for the reactivation of FLOWERING LOCUS C during Arabidopsis reproduction. Planta 234, 1237–1250 (2011).

Waki, T., Hiki, T., Watanabe, R., Hashimoto, T. & Nakajima, K. The Arabidopsis RWP-RK protein RKD4 triggers gene expression and pattern formation in early embryogenesis. Curr. Biol. 21, 1277–1281 (2011).

Jeong, S., Palmer, T. M. & Lukowitz, W. The RWP-RK factor GROUNDED promotes embryonic polarity by facilitating YODA MAP kinase signaling. Curr. Biol. 21, 1268–1276 (2011).

Yu, S. et al. Sugar is an endogenous cue for juvenile-to-adult phase transition in plants. eLife 2, e00269 (2013).

Feng, Z. et al. Efficient genome editing in plants using a CRISPR/Cas system. Cell Res. 23, 1229–1232 (2013).

Lei, Y. et al. CRISPR-P: a web tool for synthetic single-guide RNA design of CRISPR-system in plants. Mol. Plant 7, 1494–1496 (2014).

Xie, K., Zhang, J. & Yang, Y. Genome-wide prediction of highly specific guide RNA spacers for CRISPR-Cas9-mediated genome editing in model plants and major crops. Mol. Plant 7, 923–926 (2014).

Zhang, T. Q. et al. An intrinsic microRNA timer regulates progressive decline in shoot regenerative capacity in plants. Plant Cell 27, 349–360 (2015).

Clough, S. J. & Bent, A. F. Floral dip: a simplified method for Agrobacterium-mediated transformation of Arabidopsis thaliana. Plant J. 16, 735–743 (1998).

Varkonyi-Gasic, E., Wu, R., Wood, M., Walton, E. F. & Hellens, R. P. Protocol: a highly sensitive RT-PCR method for detection and quantification of microRNAs. Plant Methods 3, 12 (2007).

Czechowski, T., Stitt, M., Altmann, T., Udvardi, M. K. & Scheible, W. R. Genome-wide identification and testing of superior reference genes for transcript normalization in Arabidopsis. Plant Physiol. 139, 5–17 (2005).

Ni, D. A. et al. The Arabidopsis MCM2 gene is essential to embryo development and its over-expression alters root meristem function. New Phytol. 184, 311–322 (2009).

Zhang, T. Q. et al. A two-step model for de novo activation of WUSCHEL during plant shoot regeneration. Plant Cell 29, 1073–1087 (2017).

Schindelin, J. et al. Fiji: an open-source platform for biological-image analysis. Nat. Methods 9, 676–682 (2012).

Ye, B. B. et al. AP2/ERF transcription factors integrate age and wound signals for root regeneration. Plant Cell 32, 226–241 (2020).

Yoo, S. D., Cho, Y. H. & Sheen, J. Arabidopsis mesophyll protoplasts: a versatile cell system for transient gene expression analysis. Nat. Protoc. 2, 1565–1572 (2007).

Mayor, C. et al. VISTA: visualizing global DNA sequence alignments of arbitrary length. Bioinformatics 16, 1046–1047 (2000).

Bailey, C. D. et al. Toward a global phylogeny of the Brassicaceae. Mol. Biol. Evol. 23, 2142–2160 (2006).

Yamaguchi, N. et al. PROTOCOLS: chromatin immunoprecipitation from Arabidopsis tissues. Arabidopsis Book 12, e0170 (2014).

Chen, S., Zhou, Y., Chen, Y. & Gu, J. fastp: an ultra-fast all-in-one FASTQ preprocessor. Bioinformatics 34, i884–i890 (2018).

Ewels, P., Magnusson, M., Lundin, S. & Kaller, M. MultiQC: summarize analysis results for multiple tools and samples in a single report. Bioinformatics 32, 3047–3048 (2016).

Lamesch, P. et al. The Arabidopsis Information Resource (TAIR): improved gene annotation and new tools. Nucleic Acids Res. 40, D1202–D1210 (2012).

Langmead, B. & Salzberg, S. L. Fast gapped-read alignment with Bowtie 2. Nat. Methods 9, 357–359 (2012).

Dobin, A. et al. STAR: ultrafast universal RNA-seq aligner. Bioinformatics 29, 15–21 (2013).

Li, H. et al. The sequence alignment/map format and SAMtools. Bioinformatics 25, 2078–2079 (2009).

Quinlan, A. R. & Hall, I. M. BEDTools: a flexible suite of utilities for comparing genomic features. Bioinformatics 26, 841–842 (2010).

Tarasov, A., Vilella, A. J., Cuppen, E., Nijman, I. J. & Prins, P. Sambamba: fast processing of NGS alignment formats. Bioinformatics 31, 2032–2034 (2015).

Ramirez, F., Dundar, F., Diehl, S., Gruning, B. A. & Manke, T. deepTools: a flexible platform for exploring deep-sequencing data. Nucleic Acids Res. 42, W187–W191 (2014).

Ramirez, F. et al. deepTools2: a next generation web server for deep-sequencing data analysis. Nucleic Acids Res. 44, W160–W165 (2016).

Ludwig, L. S. et al. Transcriptional states and chromatin accessibility underlying human erythropoiesis. Cell Rep. 27, 3228–3240.e7 (2019).

Yan, F., Powell, D. R., Curtis, D. J. & Wong, N. C. From reads to insight: a hitchhiker's guide to ATAC-seq data analysis. Genome Biol. 21, 22 (2020).

Zhang, Y. et al. Model-based analysis of ChIP-Seq (MACS). Genome Biol. 9, R137 (2008).

Ross-Innes, C. S. et al. Differential oestrogen receptor binding is associated with clinical outcome in breast cancer. Nature 481, 389–393 (2012).

Yu, G., Wang, L. G. & He, Q. Y. ChIPseeker: an R/Bioconductor package for ChIP peak annotation, comparison and visualization. Bioinformatics 31, 2382–2383 (2015).

Yu, G., Wang, L. G., Han, Y. & He, Q. Y. clusterProfiler: an R package for comparing biological themes among gene clusters. OMICS 16, 284–287 (2012).

Liao, Y., Smyth, G. K. & Shi, W. featureCounts: an efficient general purpose program for assigning sequence reads to genomic features. Bioinformatics 30, 923–930 (2014).

Cheng, C. Y. et al. Araport11: a complete reannotation of the Arabidopsis thaliana reference genome. Plant J. 89, 789–804 (2017).

Love, M. I., Huber, W. & Anders, S. Moderated estimation of fold change and dispersion for RNA-seq data with DESeq2. Genome Biol. 15, 550 (2014).

Stephens, M. False discovery rates: a new deal. Biostatistics 18, 275–294 (2017).

Martin, M. Cutadapt removes adapter sequences from high-throughput sequencing reads. EMBnet J. 17, 10–12 (2011).

Friedlander, M. R., Mackowiak, S. D., Li, N., Chen, W. & Rajewsky, N. miRDeep2 accurately identifies known and hundreds of novel microRNA genes in seven animal clades. Nucleic Acids Res. 40, 37–52 (2012).

Todesco, M., Rubio-Somoza, I., Paz-Ares, J. & Weigel, D. A collection of target mimics for comprehensive analysis of microRNA function in Arabidopsis thaliana. PLoS Genet. 6, e1001031 (2010).
Acknowledgements
We thank X. Hou (South China Botanical Garden, CAS) for the lec2 seeds; J. Zhu (Shanghai Center for Plant Stress Biology, CEPMS/SIPPE, CAS) and Q. Chen (China Agricultural University) for CRISPR/Cas9 plasmids; H. Liu (CEPMS/SIPPE, CAS) for the Dual-LUC system; L. Liu and S.-N. Yin (Core Facility Center of CEPMS/SIPPE, CAS) for technical support on FACS; members of the J.-W.W. lab for discussion and comments on the manuscript. This work was supported by grants from the National Key Research and Development Program (2016YFA0500800) to J.-W.W., National Natural Science Foundation of China (31788103; 31721001) to J.-W.W., Strategic Priority Research Program of the Chinese Academy of Sciences (XDB27030101) to J.-W.W., Science and Technology Commission of Shanghai Municipality (18JC1415000) to J.-W.W., and Shanghai Post-doctoral Excellence Program (2019029) to Y.-J.C.
Ethics declarations
Competing interests
The authors declare no competing interests.
Peer review
Peer review information
Nature Plants thanks Remko Offringa, Tony Millar and the other, anonymous, reviewer(s) for their contribution to the peer review of this work.
Additional information
Publisher's note Springer Nature remains neutral with regard to jurisdictional claims in published maps and institutional affiliations.
Supplementary information
About this article
Cite this article
Gao, J., Zhang, K., Cheng, YJ. et al. A robust mechanism for resetting juvenility during each generation in Arabidopsis. Nat. Plants 8, 257–268 (2022). https://doi.org/10.1038/s41477-022-01110-4
Received:

Accepted:

Published:

Issue Date:

DOI: https://doi.org/10.1038/s41477-022-01110-4