Abstract
Four species of grass generate half of all human-consumed calories. However, abundant biological data on species that produce our food remain largely inaccessible, imposing direct barriers to understanding crop yield and fitness traits. Here, we assemble and analyse a continent-wide database of field experiments spanning 10 years and hundreds of thousands of machine-phenotyped populations of ten major crop species. Training an ensemble of machine learning models, using thousands of variables capturing weather, ground sensor, soil, chemical and fertilizer dosage, management and satellite data, produces robust cross-continent yield models exceeding R2 = 0.8 prediction accuracy. In contrast to 'black box' analytics, detailed interrogation of these models reveals drivers of crop behaviour and complex interactions predicting yield and agronomic traits. These results demonstrate the capacity of machine learning models to interrogate large datasets, generate new and testable outputs and predict crop behaviour, highlighting the powerful role of data in the future of food.
This is a preview of subscription content
Access options
Subscribe to Journal
Get full journal access for 1 year
$119.00
only $9.92 per issue
All prices are NET prices.
VAT will be added later in the checkout.
Tax calculation will be finalised during checkout.
Rent or Buy article
Get time limited or full article access on ReadCube.
from$8.99
All prices are NET prices.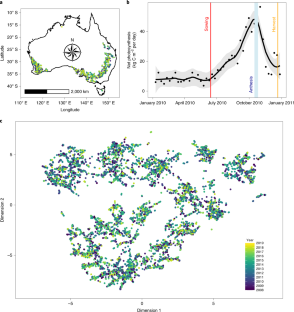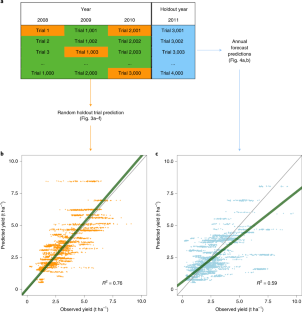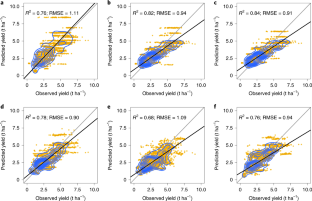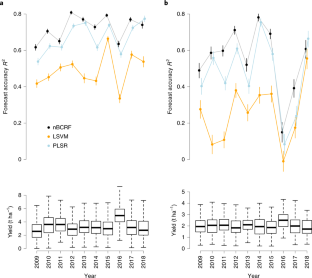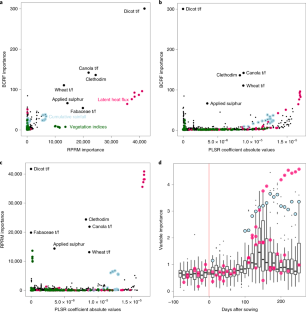 Data availability
All data are available from the Supplementary Information, the linked database descriptor publication5 uploaded to Scientific Data and the figshare7 repository, after screening under our own extensive imputations and quality controls and freely available for research or non-commercial purposes under a CC-BY-NC 3.0 license. Some data available in this repository5 are, alternately, available as a dataset on the Grains Research and Development Corporation website published under a CC-BY-NC 3.0 AU license. The dataset is based predominantly on data sourced from GRDC and GRDC's extensive investment in the collection, development and presentation of that dataset is acknowledged; however, the dataset has not been subject to GRDC's quality control processes, does not include updates and corrections that have been made to the dataset and as such may be unreliable such that results of research based on the dataset should not be relied on for any purpose; and any person wishing to conduct research using the original NVT data must approach GRDC directly with a research proposal, noting that terms and conditions may apply. Alternately, the extensively quality-controlled and imputed figshare repository remains freely accessible for research under a creative commons license7.
References
1.

United Nations Department of Economic and Social Affairs. World Population Prospects: 2015 Revision (United Nations, 2016).

2.

Burgueño, J., de los Campos, G., Weigel, K. & Crossa, J. Genomic prediction of breeding values when modeling genotype × environment interaction using pedigree and dense molecular markers. Crop Sci. 52, 707–719 (2012).

3.

Cabrera-Bosquet, L., Crossa, J., von Zitzewitz, J., Serret, M. D. & Luis Araus, J. High-throughput phenotyping and genomic selection: the frontiers of crop breeding converge. J. Integr. Plant Biol. 54, 312–320 (2012).

4.

Zamir, D. Where have all the crop phenotypes gone? PLoS Biol. 11, e1001595 (2013).

5.

Newman, S. J. & Furbank, R. T. A multiple species, continent-wide, million-phenotype agronomic plant dataset. Sci. Data 8, 116 (2021).

6.

NVT Protocols v1.1. 75 (Grains Research and Development Corporation) https://nvt.grdc.com.au/trials/nvt-protocols (2020).

7.

Newman, S. J. & Furbank, R. T. Continent-wide Agronomic Experiment Data (figshare, 2021); https://doi.org/10.6084/m9.figshare.c.5296369

8.

Justice, C. O. et al. Land and cryosphere products from Suomi NPP VIIRS: overview and status. J. Geophys. Res. Atmos. 118, 9753–9765 (2013).

9.

Cohen, W. B. & Justice, C. O. Validating MODIS terrestrial ecology products: linking in situ and satellite measurements. Remote Sens. Environ. 70, 1–3 (1999).

10.

Wan, Z., Zhang, Y., Zhang, Q. & Li, Z.-L. Quality assessment and validation of the MODIS global land surface temperature. Int. J. Remote Sens. 25, 261–274 (2004).

11.

Huete, A. et al. Overview of the radiometric and biophysical performance of the MODIS vegetation indices. Remote Sens. Environ. 83, 195–213 (2002).

12.

Schroeder, W., Oliva, P., Giglio, L. & Csiszar, I. A. The New VIIRS 375m active fire detection data product: algorithm description and initial assessment. Remote Sens. Environ. 143, 85–96 (2014).

13.

Deng, H. Interpreting tree ensembles with inTrees. Int. J. Data Sci. Anal. 7, 277–287 (2019).

14.

Breiman, L. & Cutler, A. randomForest: Breiman and Cutler's random forests for classification and regression. R package version 4.6-14 https://cran.r-project.org/web/packages/randomForest/randomForest.pdf (2012).

15.

Breiman, L. Random forests. Mach. Learn. 45, 5–32 (2001).

16.

Friedman, J. H. Greedy function approximation: a gradient boosting machine. Ann. Stat. 29, 1189–1232 (2001).

17.

Breiman, L., Friedman, J. H., Olshen, R. A. & Stone, C. J. Classification and Regression Trees (Chapman and Hall, 1984).

18.

Cortes, C. & Vapnik, V. Support-vector networks. Mach. Learn. 20, 273–297 (1995).

19.

Steinwart, I. & Thomann, P. liquidSVM. R package version 1.2.4 https://cran.r-project.org/package=liquidSVM (2017).

20.

Mevik, B. H. & Wehrens, R. The pls package: principal component and partial least squares regression in R. J. Stat. Softw. https://doi.org/10.18637/jss.v018.i02 (2007).

21.

Schymanski, S. J., Or, D. & Zwieniecki, M. Stomatal control and leaf thermal and hydraulic capacitances under rapid environmental fluctuations. PLoS ONE 8, e54231 (2013).

22.

Vialet-Chabrand, S. & Lawson, T. Dynamic leaf energy balance: deriving stomatal conductance from thermal imaging in a dynamic environment. J. Exp. Bot. 70, 2839–2855 (2019).

23.

Gonzalez-Dugo, M. P. et al. A comparison of operational remote sensing-based models for estimating crop evapotranspiration. Agric. Meteorol. 149, 1843–1853 (2009).

24.

Food Balances (2014-) (FAO, 2016); http://faostat3.fao.org/download/FB/FBS/E

25.

Sánchez-Azofeifa, A. et al. Estimation of the distribution of Tabebuia guayacan (Bignoniaceae) using high-resolution remote sensing imagery. Sensors 11, 3831–3851 (2011).

26.

Furbank, R. T., Sirault, X. R. R. & Stone, E. in Sustaining Global Food Security: The Nexus of Science and Policy (ed. Zeigler R. S.) 203–223 (CSIRO Publishing, 2019).

27.

Alcorn, M. A. et al. in Proc. IEEE Computer Society Conference on Computer Vision and Pattern Recognition 4840–4849 (IEEE, 2019). https://doi.org/10.1109/CVPR.2019.00498

28.

Holloway, E. The unlearnable checkerboard pattern. Commun. Blyth Inst. 1, 78–80 (2019).

29.

Mohri, M. & Medina, A. M. in Algorithmic Learning Theory (eds Bshouty, N.H. et al.)124–138 (Springer Verlag, 2012).

30.

Lehmann, J., Coumou, D. & Frieler, K. Increased record-breaking precipitation events under global warming. Clim. Change 132, 501–515 (2015).

31.

Westra, S. & Sisson, S. A. Detection of non-stationarity in precipitation extremes using a max-stable process model. J. Hydrol. 406, 119–128 (2011).

32.

Vaze, J. et al. Climate non-stationarity—validity of calibrated rainfall-runoff models for use in climate change studies. J. Hydrol. 394, 447–457 (2010).

33.

Verdon-Kidd, D. C. & Kiem, A. S. Quantifying drought risk in a nonstationary climate. J. Hydrometeorol. 11, 1019–1031 (2010).

34.

Milly, P. C. D. et al. Climate change: stationarity is dead: whither water management? Science 319, 573–574 (2008).

35.

Rosenzweig, C. et al. in Climate Change 2007: Impacts, Adaptation and Vulnerability (eds Parry, M. L. et al.) 79–131 (Cambridge Univ. Press, 2007).

36.

Sun, F., Roderick, M. L. & Farquhar, G. D. Rainfall statistics, stationarity, and climate change. Proc. Natl Acad. Sci. USA 115, 2305–2310 (2018).

37.

Lenaerts, B., Collard, B. C. Y. & Demont, M. Improving global food security through accelerated plant breeding. Plant Sci. 287, 110207 (2019).

38.

McCarl, B., Villavicencio, X. & Wu, X. Climate change and future analysis: is stationarity dying? Am. J. Agric. Econ. 90, 1241–1247 (2008).

39.

Towell, G. G. & Shavlik, J. W. Knowledge-based artificial neural networks. Artif. Intell. 1, 119–165 (1994).

40.

Bae, J. K. & Kim, J. Combining models from neural networks and inductive learning algorithms. Expert Syst. Appl. 38, 4839–4850 (2011).

41.

Jamshidian, M. & Jalal, S. Tests of homoscedasticity, normality, and missing completely at random for incomplete multivariate data. Psychometrika 75, 649–674 (2010).

42.

Dong, Y. & Peng, C.-Y. J. Principled missing data methods for researchers. Springerplus 2, 222 (2013).

43.

R Core Team. R: A Language and Environment for Statistical Computing (R Foundation for Statistical Computing, 2013).

44.

Wright, M. N. & Ziegler, A. Ranger: a fast implementation of random forests for high dimensional data in C++ and R. J. Stat. Softw. 77, 1–17 (2017).
Acknowledgements
We acknowledge funding from the Australian Research Council Centre of Excellence for Translational Photosynthesis (CE140100015). We wish to acknowledge the hard work of the many researchers and agronomists who collected the historical agronomic data for the Grains Research and Development Corporation National Variety Trials and formerly made these data freely available under a CC-BY-NC license. Without their previous generosity, data reprocessed and used in this work would remain unavailable and invisible, to both scientists and the farmers who fund the NVTs.
Ethics declarations
Competing interests
The authors declare no competing interests.
Additional information
Peer review information Nature Plants thanks Manuel Marcaida and the other, anonymous, reviewer(s) for their contribution to the peer review of this work.
Publisher's note Springer Nature remains neutral with regard to jurisdictional claims in published maps and institutional affiliations.
Supplementary information
About this article
Cite this article
Newman, S.J., Furbank, R.T. Explainable machine learning models of major crop traits from satellite-monitored continent-wide field trial data. Nat. Plants 7, 1354–1363 (2021). https://doi.org/10.1038/s41477-021-01001-0
Received:

Accepted:

Published:

Issue Date: