By adding high-resolution climatic factors to an innovative genotype-by-environment model, a study using high-quality data of global wheat trials demonstrates that climate change affects wheat breeding and that region-specific breeding efforts that target heat-tolerance traits achieve better yield stability in a warming climate.
Access options
Subscribe to Journal
Get full journal access for 1 year
$119.00
only $9.92 per issue
All prices are NET prices.
VAT will be added later in the checkout.
Tax calculation will be finalised during checkout.
Rent or Buy article
Get time limited or full article access on ReadCube.
from$8.99
All prices are NET prices.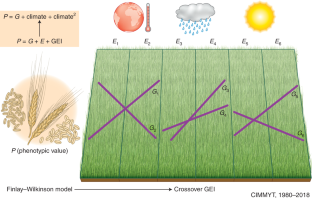 References
1.

Falconer, D. S. & Mackay, T. F. C. Introduction to Quantitative Genetics, 4th edn (Longman, 1996).

2.

Xiong, W. et al. Nat. Plants https://doi.org/10.1038/s41477-021-00988-w (2021).

3.

Tadesse, W. et al. Crop Breed Genet Genom. 1, e190005 (2019).

4.

Li, X., Guo, T., Mu, Q., Li, X. & Yu, J. Proc. Natl Acad. Sci. USA 115, 6679–6684 (2018).

5.

Anderson, D. R. Model Based Inference in the Life Sciences (Springer, 2008).

6.

Zhao, Y. et al. Sci. Adv. 7, eabf9106 (2021).

7.

Shi, L., Li, B., Kim, C., Kellnhofer, P. & Matusik, W. Nature 591, 234–239 (2021).

8.

Li, J. et al. Mol. Ecol. 28, 3544–3560 (2019).

9.

CGIAR. One CGIAR, https://www.cgiar.org/food-security-impact/one-cgiar/
Ethics declarations
Competing interests
The authors declare no competing interests.
About this article
Cite this article
Li, H., He, Z. Warming climate challenges breeding. Nat. Plants 7, 1164–1165 (2021). https://doi.org/10.1038/s41477-021-00996-w