Abstract
Increasing crop production is necessary to feed the world's expanding population, and crop breeders often utilize genetic variations to improve crop yield and quality. However, the narrow diversity of the wheat D genome seriously restricts its selective breeding. A practical solution is to exploit the genomic variations of Aegilops tauschii via introgression. Here, we established a rapid introgression platform for transferring the overall genetic variations of A. tauschii to elite wheats, thereby enriching the wheat germplasm pool. To accelerate the process, we assembled four new reference genomes, resequenced 278 accessions of A. tauschii and constructed the variation landscape of this wheat progenitor species. Genome comparisons highlighted diverse functional genes or novel haplotypes with potential applications in wheat improvement. We constructed the core germplasm of A. tauschii, including 85 accessions covering more than 99% of the species' overall genetic variations. This was crossed with elite wheat cultivars to generate an A. tauschii-wheat synthetic octoploid wheat (A-WSOW) pool. Laboratory and field analysis with two examples of the introgression lines confirmed its great potential for wheat breeding. Our high-quality reference genomes, genomic variation landscape of A. tauschii and the A-WSOW pool provide valuable resources to facilitate gene discovery and breeding in wheat.
Access options
Subscribe to Journal
Get full journal access for 1 year
$59.00
only $4.92 per issue
All prices are NET prices.
VAT will be added later in the checkout.
Tax calculation will be finalised during checkout.
Rent or Buy article
Get time limited or full article access on ReadCube.
from$8.99
All prices are NET prices.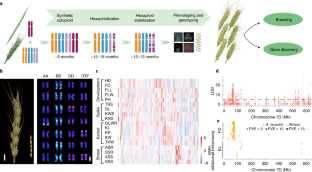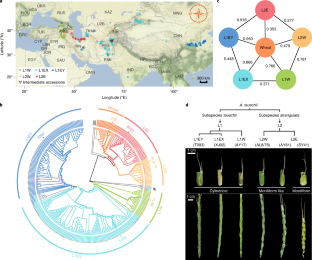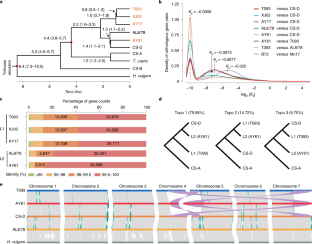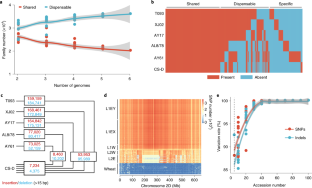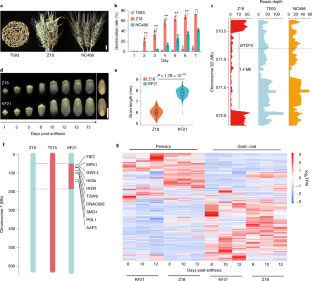 Data availability
All raw data of the genome, RNA sequencing and resequencing of A. tauschii were deposited in the National Center for Biotechnology Information (NCBI) under BioProject number PRJNA663737. All raw data of the wild population resequencing of A. tauschii were deposited in NCBI under BioProject number PRJNA705859. The assembly and annotation of these four genomes are available at China National GeneBank (CNGB) under accession number CNP0001325. All germplasm materials generated from this research have been stored in the State Key Laboratory of Crop Stress Adaptation and Improvement, Henan University. These materials can be shared with researchers for academic purposes upon request to C.-P.S., Y.Z., H. Li or C.Z. Source data are provided with this paper.
References
1.

McFadden, E. S. & Sears, E. R. The origin of Triticum spelta and its free-threshing hexaploid relatives. J. Hered. 37, 81–89 (1946).

2.

Kihara, H. Discovery of the DD-analyser, one of the ancestors of Triticum vulgare. Agric. Hortic. 19, 13–14 (1944).

3.

Huang, S. et al. Genes encoding plastid acetyl-CoA carboxylase and 3-phosphoglycerate kinase of the Triticum/Aegilops complex and the evolutionary history of polyploid wheat. Proc. Natl Acad. Sci. USA 99, 8133–8138 (2002).

4.

Singh, N. et al. Genomic analysis confirms population structure and identifies inter-lineage hybrids in Aegilops tauschii. Front. Plant. Sci. 10, 9 (2019).

5.

Wang, J. et al. Aegilops tauschii single nucleotide polymorphisms shed light on the origins of wheat D-genome genetic diversity and pinpoint the geographic origin of hexaploid wheat. New Phytol. 198, 925–937 (2013).

6.

Dvorak, J. et al. The origin of spelt and free-threshing hexaploid wheat. J. Hered. 103, 426–441 (2012).

7.

Voss-Fels, K. et al. Subgenomic diversity patterns caused by directional selection in bread wheat gene pools. Plant Genome 8, plantgenome2015.2003.0013 (2015).

8.

Pont, C. et al. Tracing the ancestry of modern bread wheats. Nat. Genet. 51, 905–911 (2019).

9.

Zhou, Y. et al. Triticum population sequencing provides insights into wheat adaptation. Nat. Genet. 52, 1412–1422 (2020).

10.

Mirzaghaderi, G. & Mason, A. S. Broadening the bread wheat D genome. Theor. Appl. Genet. 132, 1295–1307 (2019).

11.

Wang, H. et al. Horizontal gene transfer of Fhb7 from fungus underlies Fusarium head blight resistance in wheat. Science 368, eaba5435 (2020).

12.

Kishii, M. An update of recent use of Aegilops species in wheat breeding. Front. Plant. Sci. 10, 585 (2019).

13.

Zhao, G. et al. The Aegilops tauschii genome reveals multiple impacts of transposons. Nat. Plants 3, 946–955 (2017).

14.

Luo, M. C. et al. Genome sequence of the progenitor of the wheat D genome Aegilops tauschii. Nature 551, 498–502 (2017).

15.

Matsuoka, Y., Takumi, S. & Kawahara, T. Natural variation for fertile triploid F1 hybrid formation in allohexaploid wheat speciation. Theor. Appl. Genet. 115, 509–518 (2007).

16.

Das, M. K., Bai, G., Mujeeb-Kazi, A. & Rajaram, S. Genetic diversity among synthetic hexaploid wheat accessions (Triticum aestivum) with resistance to several fungal diseases. Genet. Resour. Crop. Evol. 63, 1285–1296 (2016).

17.

Li, A. L., Liu, D. C., Yang, W. Y., Kishii, M. & Mao, L. Synthetic hexaploid wheat: yesterday, today, and tomorrow. Engineering 4, 552–558 (2018).

18.

Cox, T. S. et al. Comparing two approaches for introgression of germplasm from Aegilops tauschii into common wheat. Crop J. 5, 355–362 (2017).

19.

Zhang, D. et al. Development and utilization of introgression lines using synthetic octaploid wheat (Aegilops tauschii × hexaploid wheat) as donor. Front. Plant. Sci. 9, 1113 (2018).

20.

Hao, M. et al. The resurgence of introgression breeding, as exemplified in wheat improvement. Front. Plant. Sci. 11, 252 (2020).

21.

Watson, A. et al. Speed breeding is a powerful tool to accelerate crop research and breeding. Nat. Plants 4, 23–29 (2018).

22.

Rasheed, A. et al. Crop breeding chips and genotyping platforms: progress, challenges, and perspectives. Mol. Plant 10, 1047–1064 (2017).

23.

Sun, C. et al. The wheat 660K SNP array demonstrates great potential for marker assisted selection in polyploid wheat. Plant Biotechnol. J. 18, 1354–1360 (2020).

24.

Van Slageren, M. Wild Wheats: a Monograph of Aegilops L. and Amblyopyrum (Jaub. & Spach) Eig (Poaceae) (Wageningen Agricultural Univ., 1994).

25.

Jones, H. et al. Strategy for exploiting exotic germplasm using genetic, morphological, and environmental diversity: the Aegilops tauschii Coss. example. Theor. Appl. Genet. 126, 1793–1808 (2013).

26.

Zhang, C. et al. An ancestral NB-LRR with duplicated 3′UTRs confers stripe rust resistance in wheat and barley. Nat. Commun. 10, 4023 (2019).

27.

Arora, S. et al. Resistance gene cloning from a wild crop relative by sequence capture and association genetics. Nat. Biotechnol. 37, 139–143 (2019).

28.

Kihara, H. & Tanaka, M. Morphological and physiological variation among Aegilops squarrosa strains collected in Pakistan, Afghanistan and Iran. Preslia 30, 241–251 (1958).

29.

Eig, A. Monographisch-Kritische Ubersicht der Gattung Aegilops Vol. 55 (Verlag des Repertoriums, 1929).

30.

Tanaka, M. Geographical distribution of Aegilops species based on the collections at the Plant Germ-Plasm Institute, Kyoto University. In Proc. of the 6th International Wheat Genetics Symposium (ed. Sakamoto, S.) 1009–1024 (Kyoto University, 1983).

31.

Jaaska, V. NAD-dependent aromatic alcohol dehydrogenase in wheats (Triticum L.) and goatgrasses (Aegilops L.): evolutionary genetics. Theor. Appl. Genet. 67, 535–540 (1984).

32.

Dvorak, J., Luo, M. C., Yang, Z. L. & Zhang, H. B. The structure of the Aegilops tauschii genepool and the evolution of hexaploid wheat. Theor. Appl. Genet. 97, 657–670 (1998).

33.

Mizuno, N., Yamasaki, M., Matsuoka, Y., Kawahara, T. & Takumi, S. Population structure of wild wheat D-genome progenitor Aegilops tauschii Coss.: implications for intraspecific lineage diversification and evolution of common wheat. Mol. Plant 19, 999–1013 (2010).

34.

Zhao, L. B. et al. Fluorescence in situ hybridization karyotyping reveals the presence of two distinct genomes in the taxon Aegilops tauschii. BMC Genom. 19, 3 (2018).

35.

Dudnikov, A. J. Multivariate analysis of genetic variation in Aegilops tauschii from the world germplasm collection. Genet. Resour. Crop. Evol. 47, 185–190 (2000).

36.

Dudnikov, A. J. Allozyme variation in transcaucasian populations of Aegilops squarrosa. Heredity 80, 248–258 (1998).

37.

Zhang, D. et al. An advanced backcross population through synthetic octaploid wheat as a 'bridge': development and QTL detection for seed dormancy. Front. Plant. Sci. 8, 2123 (2017).

38.

Cheng, H. et al. Frequent intra- and inter-species introgression shapes the landscape of genetic variation in bread wheat. Genome Biol. 20, 136 (2019).

39.

Montenegro, J. D. et al. The pangenome of hexaploid bread wheat. Plant J. 90, 1007–1013 (2017).

40.

Jia, J. et al. Aegilops tauschii draft genome sequence reveals a gene repertoire for wheat adaptation. Nature 496, 91–95 (2013).

41.

Luo, M. C. et al. A 4-gigabase physical map unlocks the structure and evolution of the complex genome of Aegilops tauschii, the wheat D-genome progenitor. Proc. Natl Acad. Sci. USA 110, 7940–7945 (2013).

42.

Sun, S. L. et al. Extensive intraspecific gene order and gene structural variations between Mo17 and other maize genomes. Nat. Genet. 50, 1289–1295 (2018).

43.

Thind, A. K. et al. Chromosome-scale comparative sequence analysis unravels molecular mechanisms of genome dynamics between two wheat cultivars. Genome Biol. 19, 104 (2018).

44.

McHale, L. K. et al. Structural variants in the soybean genome localize to clusters of biotic stress-response genes. Plant Physiol. 159, 1295–1308 (2012).

45.

Dolatabadian, A. et al. Characterization of disease resistance genes in the Brassica napus pangenome reveals significant structural variation. Plant Biotechnol. J. 18, 969–982 (2020).

46.

Zhang, W. J. et al. Identification and characterization of Sr13, a tetraploid wheat gene that confers resistance to the Ug99 stem rust race group. Proc. Natl Acad. Sci. USA 114, E9483–E9492 (2017).

47.

Wang, M. et al. TaCYP81D5, one member in a wheat cytochrome P450 gene cluster, confers salinity tolerance via reactive oxygen species scavenging. Plant Biotechnol. J. 18, 791–804 (2020).

48.

Beales, J., Turner, A., Griffiths, S., Snape, J. W. & Laurie, D. A. A pseudo-response regulator is misexpressed in the photoperiod insensitive Ppd-D1a mutant of wheat (Triticum aestivum L.). Theor. Appl. Genet. 115, 721–733 (2007).

49.

Turner, A., Beales, J., Faure, S., Dunford, R. & Laurie, D. The pseudo-response regulator Ppd-H1 provides adaptation to photoperiod in barley. Science 310, 1031–1034 (2005).

50.

Eiko et al. Development of PCR markers for Tamyb10 related to R-1, red grain colour gene in wheat. Theor. Appl. Genet. 122, 1561–1576 (2011).

51.

Yong, Z. et al. Genome-wide association study for pre-harvest sprouting resistance in a large germplasm collection of Chinese wheat landraces. Front. Plant. Sci. 08, 401 (2017).

52.

Dong, Z. D., Chen, J., Li, T., Chen, F. & Cui, D. Q. Molecular survey of Tamyb10-1 genes and their association with grain colour and germinability in Chinese wheat and Aegilops tauschii. J. Genet. 94, 453–459 (2015).

53.

Lang J. et al. Myb10-D confers PHS-3D resistance to pre-harvest sprouting by regulating NCED in ABA biosynthesis pathway of wheat. New Phytol. https://doi.org/10.1111/nph.17312 (2021).

54.

Hickey, L. T., Hafeez, A. N., Robinson, H., Jackson, S. A. & Wulff, B. B. H. Breeding crops to feed 10 billion. Nat. Biotechnol. 37, 744–754 (2019).

55.

Gao C. Genome engineering for crop improvement and future agriculture. Cell https://doi.org/10.1016/j.cell.2021.01.005 (2021).

56.

Liu, Y. et al. Pan-genome of wild and cultivated soybeans. Cell 182, 162–176 (2020).

57.

Della Coletta, R., Qiu, Y., Ou, S., Hufford, M. B. & Hirsch, C. N. How the pan-genome is changing crop genomics and improvement. Genome Biol. 22, 3 (2021).

58.

Alkan, C., Sajjadian, S. & Eichler, E. E. Limitations of next-generation genome sequence assembly. Nat. Methods 8, 61–65 (2011).

59.

Pellicer, J., Fay, M. F. & Leitch, I. J. The largest eukaryotic genome of them all? Botanical J. Linn. Soc. 164, 10–15 (2010).

60.

Appels, R. et al. Shifting the limits in wheat research and breeding using a fully annotated reference genome. Science 361, eaar7191 (2018).

61.

Tao, Y., Zhao, X., Mace, E., Henry, R. & Jordan, D. Exploring and exploiting pan-genomics for crop improvement. Mol. Plant 12, 156–169 (2019).

62.

Li, H. & Durbin, R. Fast and accurate short read alignment with Burrows–Wheeler transform. Bioinformatics 25, 1754–1760 (2009).

63.

McKenna, A. et al. The genome analysis toolkit: a MapReduce framework for analyzing next-generation DNA sequencing data. Genome Res. 20, 1297–1303 (2010).

64.

Danecek, P. et al. The variant call format and VCFtools. Bioinformatics 27, 2156–2158 (2011).

65.

Wang, K., Li, M. & Hakonarson, H. ANNOVAR: functional annotation of genetic variants from high-throughput sequencing data. Nucleic Acids Res. 38, e164 (2010).

66.

Retief, J. D. in Bioinformatics Methods and Protocols Vol. 132 (eds Misener, S. & Krawetz, S. A.) 243–258 (Humana Press, 2000).

67.

Patterson, N., Price, A. L. & Reich, D. Population structure and eigenanalysis. PLoS Genet. 2, 2074–2093 (2006).

68.

Van Berkum, N. L. et al. Hi-C: A method to study the three-dimensional architecture of genomes. J. Vis. Exp. https://doi.org/10.3791/1869 (2010).

69.

Servant, N. et al. HiC-Pro: an optimized and flexible pipeline for Hi-C data processing. Genome Biol. 16, 259 (2015).

70.

Liu, B. et al. Estimation of genomic characteristics by analyzing k-mer frequency in de novo genome projects. Preprint at https://arxiv.org/abs/1308.2012 (2013).

71.

Koren, S. et al. Canu: scalable and accurate long-read assembly via adaptive k-mer weighting and repeat separation. Genome Res. 27, 722–736 (2017).

72.

Chin, C.-S. et al. Phased diploid genome assembly with single-molecule real-time sequencing. Nat. Methods 13, 1050–1054 (2016).

73.

Chin, C. S. et al. Nonhybrid, finished microbial genome assemblies from long-read SMRT sequencing data. Nat. Methods 10, 563–569 (2013).

74.

Walker, B. J. et al. Pilon: an integrated tool for comprehensive microbial variant detection and genome assembly improvement. PLoS ONE 9, e112963 (2014).

75.

Burton, J. N. et al. Chromosome-scale scaffolding of de novo genome assemblies based on chromatin interactions. Nat. Biotechnol. 31, 1119–1125 (2013).

76.

Ruan, J. & Li, H. Fast and accurate long-read assembly with wtdbg2. Nat. Methods 17, 155–158 (2020).

77.

Kurtz, S. et al. Versatile and open software for comparing large genomes. Genome Biol. 5, R12 (2004).

78.

Simao, F. A., Waterhouse, R. M., Ioannidis, P., Kriventseva, E. V. & Zdobnov, E. M. BUSCO: assessing genome assembly and annotation completeness with single-copy orthologs. Bioinformatics 31, 3210–3212 (2015).

79.

Tang, H. et al. ALLMAPS: robust scaffold ordering based on multiple maps. Genome Biol. 16, 3 (2015).

80.

He, Y. et al. Long-read assembly of the Chinese Rhesus macaque genome and identification of ape-specific structural variants. Nat. Commun. 10, 4233 (2019).

81.

Chen, N. Using RepeatMasker to identify repetitive elements in genomic sequences. Curr. Protoc. Bioinformatics 4, 4.10 (2004).

82.

Yu, X. J., Zheng, H. K., Wang, J., Wang, W. & Su, B. Detecting lineage-specific adaptive evolution of brain-expressed genes in human using Rhesus macaque as outgroup. Genomics 88, 745–751 (2006).

83.

Birney, E., Clamp, M. & Durbin, R. GeneWise and Genomewise. Genome Res. 14, 988–995 (2004).

84.

Kim, D. et al. TopHat2: accurate alignment of transcriptomes in the presence of insertions, deletions and gene fusions. Genome Biol. 14, R36 (2013).

85.

Trapnell, C. et al. Transcript assembly and quantification by RNA-seq reveals unannotated transcripts and isoform switching during cell differentiation. Nat. Biotechnol. 28, 511–515 (2010).

86.

Grabherr, M. G. et al. Full-length transcriptome assembly from RNA-seq data without a reference genome. Nat. Biotechnol. 29, 644–652 (2011).

87.

Haas, B. J. et al. Improving the Arabidopsis genome annotation using maximal transcript alignment assemblies. Nucleic Acids Res. 31, 5654–5666 (2003).

88.

Kent, W. J. BLAT—the BLAST-like alignment tool. Genome Res. 12, 656–664 (2002).

89.

Stanke, M. et al. AUGUSTUS: ab initio prediction of alternative transcripts. Nucleic Acids Res. 34, W435–W439 (2006).

90.

Burge, C. & Karlin, S. Prediction of complete gene structures in human genomic DNA. J. Mol. Biol. 268, 78–94 (1997).

91.

Majoros, W. H., Pertea, M. & Salzberg, S. L. TigrScan and GlimmerHMM: two open source ab initio eukaryotic gene-finders. Bioinformatics 20, 2878–2879 (2004).

92.

Alioto, T., Blanco, E., Parra, G. & Guigó, R. Using geneid to identify genes. Curr. Protoc. Bioinformatics 64, e56 (2018).

93.

Bromberg, Y. & Rost, B. SNAP: predict effect of non-synonymous polymorphisms on function. Nucleic Acids Res. 35, 3823–3835 (2007).

94.

Haas, B. J. et al. Automated eukaryotic gene structure annotation using EVidenceModeler and the Program to Assemble Spliced Alignments. Genome Biol. 9, R7 (2008).

95.

Avni, R. et al. Wild emmer genome architecture and diversity elucidate wheat evolution and domestication. Science 357, 93–97 (2017).

96.

Lowe, T. M. & Chan, P. P. tRNAscan-SE on-line: integrating search and context for analysis of transfer RNA genes. Nucleic Acids Res. 44, W54–W57 (2016).

97.

Nawrocki, E. P. & Eddy, S. R. Infernal 1.1: 100-fold faster RNA homology searches. Bioinformatics 29, 2933–2935 (2013).

98.

Hunter, S. et al. InterPro: the integrative protein signature database. Nucleic Acids Res. 37, D211–D215 (2009).

99.

Yu, G., Wang, L. G., Han, Y. & He, Q. Y. ClusterProfiler: an R package for comparing biological themes among gene clusters. OMICS 16, 284–287 (2012).

100.

Emms, D. M. & Kelly, S. OrthoFinder: solving fundamental biases in whole genome comparisons dramatically improves orthogroup inference accuracy. Genome Biol. 16, 157 (2015).

101.

Edgar, R. C. MUSCLE: multiple sequence alignment with high accuracy and high throughput. Nucleic Acids Res. 32, 1792–1797 (2004).

102.

Yang, Z. PAML 4: phylogenetic analysis by maximum likelihood. Mol. Biol. Evol. 24, 1586–1591 (2007).

103.

Akdemir, K. C. & Chin, L. HiCPlotter integrates genomic data with interaction matrices. Genome Biol. 16, 198 (2015).

104.

Durand, E. Y., Patterson, N., Reich, D. & Slatkin, M. Testing for ancient admixture between closely related populations. Mol. Biol. Evol. 28, 2239–2252 (2011).

105.

Martin, S. H., Davey, J. W. & Jiggins, C. D. Evaluating the use of ABBA–BABA statistics to locate introgressed loci. Mol. Biol. Evol. 32, 244–257 (2015).

106.

Bosse, M. et al. Genomic analysis reveals selection for Asian genes in European pigs following human-mediated introgression. Nat. Commun. 5, 4392 (2014).

107.

Li, H. et al. Recombination between homoeologous chromosomes induced in durum wheat by the Aegilops speltoides Su1-Ph1 suppressor. Theor. Appl. Genet. 132, 3265–3276 (2019).

108.

Komuro, S., Endo, R., Shikata, K. & Kato, A. Genomic and chromosomal distribution patterns of various repeated DNA sequences in wheat revealed by a fluorescence in situ hybridization procedure. Genome 56, 131–137 (2013).

109.

Du, P. et al. Development of oligonucleotides and multiplex probes for quick and accurate identification of wheat and Thinopyrum bessarabicum chromosomes. Genome 60, 93–103 (2017).

110.

Meng, L., Li, H., Zhang, L. & Wang, J. QTL IciMapping: integrated software for genetic linkage map construction and quantitative trait locus mapping in biparental populations. Crop J. 3, 269–283 (2015).

111.

Kosambi, D. D. The estimation of map distances from recombination values. Ann. Eugen. 12, 172–175 (1943).

112.

Chen, S., Zhou, Y., Chen, Y. & Gu, J. Fastp: an ultra-fast all-in-one FASTQ preprocessor. Bioinformatics 34, i884–i890 (2018).

113.

Kokot, M., Długosz, M. & Deorowicz, S. KMC 3: counting and manipulating k-mer statistics. Bioinformatics 33, 2759–2761 (2017).

114.

Guo, Z. et al. Discovery, evaluation and distribution of haplotypes of the wheat Ppd-D1 gene. New Phytol. 185, 841–851 (2010).
Acknowledgements
We are grateful to J. Dvorak (University of California, Davis), J. Wang (Sichuan Agricultural University), W. Ji (Northwest A&F University) and Z. Ru (Henan Institute of Science and Technology) for sharing germplasm. We thank M.-C. Luo (University of California, Davis), Y. Jiao (Institute of Botany, Chinese Academy of Sciences (CAS)), Z. Ni (China Agricultural University), Z. Tian (Institute of Genetics and Developmental Biology, CAS), W. Song (Northwest A&F University), L. Mao (Institute of Crop Sciences, CAAS), D. Wang (Henan Agricultural University) and J. Sun (Institute of Crop Sciences, CAAS) for helpful discussion on the project. We also thank E. Wang (Institute of Plant Physiology and Ecology, CAS), S. Song (University of Pennsylvania) and J. Adams (Nanjing University) for critical reading of the manuscript. This project was supported by grants from the Ministry of Agriculture of China (2016ZX08009), National Natural Science Foundation of China (31430061, 32001492 and 31871615) and Natural Science Foundation of Henan Province (202300410053).
Ethics declarations
Competing interests
The authors declare no competing interests.
Additional information
Peer review information Nature Plants thanks Alexandra Przewieslik-Allen and the other, anonymous, reviewer(s) for their contribution to the peer review of this work.
Publisher's note Springer Nature remains neutral with regard to jurisdictional claims in published maps and institutional affiliations.
Supplementary information
Supplementary Text 1.1–1.4, Figs. 1–12, Tables 4, 5, 7–12, 14, 17 and 18 and references.
Supplementary Tables 1–3, 6, 13, 15 and 16.
About this article
Cite this article
Zhou, Y., Bai, S., Li, H. et al. Introgressing the Aegilops tauschii genome into wheat as a basis for cereal improvement. Nat. Plants (2021). https://doi.org/10.1038/s41477-021-00934-w
Received:

Accepted:

Published: