Abstract
Spatiotemporal control of cell division is essential for the growth and development of multicellular organisms. In plant cells, proper cell plate insertion during cytokinesis relies on the premitotic establishment of the division plane at the cell cortex. Two plant-specific cytoskeleton arrays, the preprophase band (PPB) and the phragmoplast, play important roles in division-plane orientation and cell plate formation, respectively1. Microtubule organization and dynamics and their communication with membranes at the cortex and cell plate are coordinated by multiple, mostly distinct microtubule-associated proteins2. How division-plane selection and establishment are linked, however, is still unknown. Here, we report members of the Arabidopsis IQ67 DOMAIN (IQD) family3 as microtubule-targeted proteins that localize to the PPB and phragmoplast and additionally reside at the cell plate and a polarized cortical region including the cortical division zone (CDZ). IQDs physically interact with PHRAGMOPLAST ORIENTING KINESIN (POK) proteins4,5 and PLECKSTRIN HOMOLOGY GTPase ACTIVATING (PHGAP) proteins6, which are core components of the CDZ1. The loss of IQD function impairs PPB formation and affects CDZ recruitment of POKs and PHGAPs, resulting in division-plane positioning defects. We propose that IQDs act as cellular scaffolds that facilitate PPB formation and CDZ set-up during symmetric cell division.
Relevant articles
Open Access articles citing this article.
Qinglin Ke

,

Huifan Sun

…

Licao Cui

BMC Genomics Open Access 05 April 2022
Access options
Access Nature and 54 other Nature Portfolio journals
Get Nature+, our best-value online-access subscription
$29.99 / 30 days
cancel any time
Subscribe to this journal
Receive 12 digital issues and online access to articles
$119.00 per year
only $9.92 per issue
Rent or buy this article
Prices vary by article type
from$1.95
to$39.95
Prices may be subject to local taxes which are calculated during checkout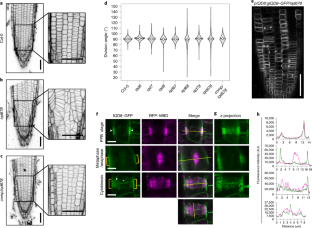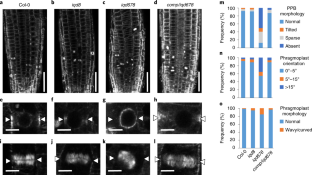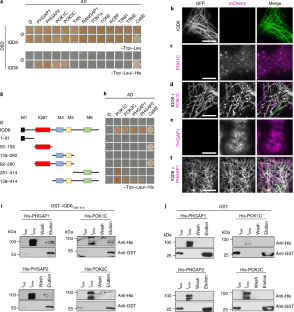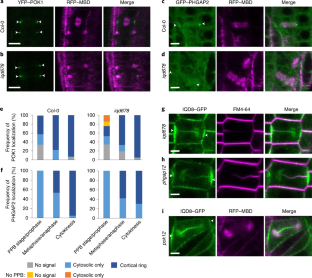 Data availability
All sequence information was obtained from the Arabidopsis Information Resource.
References
Smertenko, A. et al. Plant cytokinesis: terminology for structures and processes. Trends Cell Biol. 27, 885–894 (2017).

Rasmussen, C. G. & Bellinger, M. An overview of plant division-plane orientation. New Phytol. 219, 505–512 (2018).

Bürstenbinder, K. et al. The IQD family of calmodulin-binding proteins links calcium signaling to microtubules, membrane subdomains, and the nucleus. Plant Physiol. 173, 1692–1708 (2017).

Lipka, E. et al. The Phragmoplast-Orienting Kinesin-12 class proteins translate the positional information of the preprophase band to establish the cortical division zone in Arabidopsis thaliana. Plant Cell 26, 2617–2632 (2014).

Herrmann, A. et al. Dual localized kinesin-12 POK2 plays multiple roles during cell division and interacts with MAP65-3. EMBO Rep. 19, e46085 (2018).

Stöckle, D. et al. Putative RopGAPs impact division plane selection and interact with kinesin-12 POK1. Nat. Plants 2, 16120 (2016).

Abel, S., Savchenko, T. & Levy, M. Genome-wide comparative analysis of the IQD gene families in Arabidopsis thaliana and Oryza sativa. BMC Evol. Biol. 5, 72 (2005).

Wu, S., Xiao, H., Cabrera, A., Meulia, T. & van der Knaap, E. SUN regulates vegetative and reproductive organ shape by changing cell division patterns. Plant Physiol. 157, 1175–1186 (2011).

Mitra, D. et al. Microtubule-associated protein IQ67 DOMAIN5 regulates morphogenesis of leaf pavement cells in Arabidopsis thaliana. J. Exp. Bot. 70, 529–543 (2019).

Duan, P. et al. Natural variation in the promoter of GSE5 contributes to grain size diversity in rice. Mol. Plant. 10, 685–694 (2017).

Sugiyama, Y., Wakazaki, M., Toyooka, K., Fukuda, H. & Oda, Y. A novel plasma membrane-anchored protein regulates xylem cell-wall deposition through microtubule-dependent lateral inhibition of Rho GTPase domains. Curr. Biol. 27, 2522–2528 (2017).

Liang, H. et al. The microtubule-associated protein IQ67 DOMAIN5 modulates microtubule dynamics and pavement cell shape. Plant Physiol. 177, 1555–1568 (2018).

Schaefer, E. et al. The preprophase band of microtubules controls the robustness of division orientation in plants. Science 356, 186–189 (2017).

Spinner, L. et al. A protein phosphatase 2A complex spatially controls plant cell division. Nat. Commun. 4, 1863 (2013).

Mergner, J. et al. Mass-spectrometry-based draft of the Arabidopsis proteome. Nature 579, 409–414 (2020).

Landrein, B. & Hamant, O. How mechanical stress controls microtubule behavior and morphogenesis in plants: history, experiments and revisited theories. Plant J. 75, 324–338 (2013).

Martinez, P. et al. Predicting division planes of three-dimensional cells by soap-film minimization. Plant Cell 30, 2255–2266 (2018).

Bürstenbinder, K., Mitra, D. & Quegwer, J. Functions of IQD proteins as hub in cellular calcium and auxin signaling: a toolbox for shape formation and tissue-specification in plants? Plant Signal. Behav. 12, e1331198 (2017).

Kölling, M., Kumari, P. & Bürstenbinder, K. Calcium- and calmodulin-regulated microtubule-associated proteins as signal-integration hubs at the plasma membrane–cytoskeleton nexus. J. Exp. Bot. 70, 387–396 (2019).

Müller, S., Han, S. & Smith, L. G. Two kinesins are involved in the spatial control of cytokinesis in Arabidopsis thaliana. Curr. Biol. 16, 888–894 (2006).

Müller, S. & Livanos, P. Plant Kinesin-12: localization heterogeneity and functional implications. Int. J. Mol. Sci. 20, E4213 (2019).

Livanos, P. & Müller, S. Division plane establishment and cytokinesis. Annu. Rev. Plant Biol. 70, 239–267 (2019).

Bürstenbinder, K. et al. Arabidopsis calmodulin-binding protein IQ67-Domain 1 localizes to microtubules and interacts with Kinesin Light Chain-Related protein-1. J. Biol. Chem. 288, 1871–1882 (2013).

Hashimoto, K. & Kudla, J. Calcium decoding mechanisms in plants. Biochimie 93, 2054–2059 (2011).

Smith, J. M., Hedman, A. C. & Sacks, D. B. IQGAPs choreograph cellular signaling from the membrane to the nucleus. Trends Cell Biol. 25, 171–184 (2015).

Hedman, A. C., Smith, J. M. & Sacks, D. B. The biology of IQGAP proteins: beyond the cytoskeleton. EMBO Rep. 16, 427–446 (2015).

Clough, S. J. & Bent, A. F. Floral dip: a simplified method for Agrobacterium-mediated transformation of Arabidopsis thaliana. Plant J. 16, 735–743 (1998).

Bürstenbinder, K., Rzewuski, G., Wirtz, M., Hell, R. & Sauter, M. The role of methionine recycling for ethylene synthesis in Arabidopsis. Plant J. 49, 238–249 (2007).

Bürstenbinder, K. et al. Inhibition of 5′-methylthioadenosine metabolism in the Yang cycle alters polyamine levels, and impairs seedling growth and reproduction in Arabidopsis. Plant J. 62, 977–988 (2010).

Buschmann, H. et al. Arabidopsis KCBP interacts with AIR9 but stays in the cortical division zone throughout mitosis via its MyTH4-FERM domain. J. Cell Sci. 128, 2033–2046 (2015).

Karimi, M., Inze, D. & Depicker, A. GATEWAY vectors for Agrobacterium-mediated plant transformation. Trends Plant Sci. 7, 193–195 (2002).

Gantner, J. et al. Peripheral infrastructure vectors and an extended set of plant parts for the Modular Cloning system. PLoS ONE 13, e0197185 (2018).

Gehl, C., Waadt, R., Kudla, J., Mendel, R. R. & Hansch, R. New GATEWAY vectors for high throughput analyses of protein–protein interactions by bimolecular fluorescence complementation. Mol. Plant 2, 1051–1058 (2009).

Zhang, Y., Iakovidis, M. & Costa, S. Control of patterns of symmetric cell division in the epidermal and cortical tissues of the Arabidopsis root. Development 143, 978–982 (2016).

Boudaoud, A. et al. FibrilTool, an ImageJ plug-in to quantify fibrillar structures in raw microscopy images. Nat. Protoc. 9, 457–463 (2014).

Louveaux, M., Rochette, S., Beauzamy, L., Boudaoud, A. & Hamant, O. The impact of mechanical compression on cortical microtubules in Arabidopsis: a quantitative pipeline. Plant J. 88, 328–342 (2016).

Easlon, H. M. & Bloom, A. J. Easy Leaf Area: automated digital image analysis for rapid and accurate measurement of leaf area. Appl. Plant Sci. 2, 1400033 (2014).

Kim, J., Harter, K. & Theologis, A. Protein–protein interactions among the Aux/IAA proteins. Proc. Natl Acad. Sci. USA 94, 11786–11791 (1997).

Bailey, T. L. et al. MEME SUITE: tools for motif discovery and searching. Nucleic Acids Res. 37, 202–208 (2009).

Katoh, K., Kuma, K., Toh, H. & Miyata, T. MAFFT version 5: improvement in accuracy of multiple sequence alignment. Nucleic Acids Res. 33, 511–518 (2005).

Lefort, V., Longueville, J. E. & Gascuel, O. SMS: Smart Model Selection in PhyML. Mol. Biol. Evol. 34, 2422–2424 (2017).

Jones, D. T., Taylor, W. R. & Thornton, J. M. The rapid generation of mutation data matrices from protein sequences. Comput. Appl. Biosci. 8, 275–282 (1992).

Kumar, S., Stecher, G., Li, M., Knyaz, C. & Tamura, K. MEGA X: Molecular Evolutionary Genetics Analysis across Computing Platforms. Mol. Biol. Evol. 35, 1547–1549 (2018).

R Core Team. R: A language and environment for statistical computing. R Foundation for Statistical Computing (2020).

Ginestet, C. ggplot2: elegant graphics for data analysis. J. R. Stat. Soc. A 174, 245–246 (2011).

Drevensek, S. et al. The Arabidopsis TRM1–TON1 interaction reveals a recruitment network common to plant cortical microtubule arrays and eukaryotic centrosomes. Plant Cell 24, 178–191 (2012).
Acknowledgements
This research was funded by the Deutsche Forschungsgemeinschaft (DFG, grant nos. BU 2955/1-1 and BU 2955/2-1; K.B.), the Erasmus Mundus programme (P.K.) and core funding of the Leibniz Association (K.B. and S.A.). The laboratory of S.M. is hosted by the Center of Plant Molecular Biology at the University of Tübingen and funded by DFG, grant nos. MU3133/3-2, MU3133/6-1 and MU3133/8-1 (Heisenberg Fellowship). Y.P. acknowledges the support of iDiv funded by the German Research Foundation (DFG–FZT 118, grant no. 202548816). We thank H. Buschmann for providing materials. We thank R. Plötner, D. Mitra and S. Bourbon for assistance with the establishment of mutant and transgenic lines.
Ethics declarations
Competing interests
The authors declare no competing interests.
Additional information
Peer review information Nature Plants thanks Zhaosheng Kong and the other, anonymous, reviewer(s) for their contribution to the peer review of this work.
Publisher's note Springer Nature remains neutral with regard to jurisdictional claims in published maps and institutional affiliations.
Supplementary information
About this article
Cite this article
Kumari, P., Dahiya, P., Livanos, P. et al. IQ67 DOMAIN proteins facilitate preprophase band formation and division-plane orientation. Nat. Plants 7, 739–747 (2021). https://doi.org/10.1038/s41477-021-00923-z
Received:

Accepted:

Published:

Issue Date:

DOI: https://doi.org/10.1038/s41477-021-00923-z