Abstract
The molecular basis of the competence of the pericycle cell to initiate lateral root primordium formation is totally unknown. Here, we report that in Arabidopsis, two types of basic helix-loop-helix (bHLH) transcription factors, named PERICYCLE FACTOR TYPE-A (PFA) proteins and PERICYCLE FACTOR TYPE-B (PFB) proteins, govern the competence of pericycle cells to initiate lateral root primordium formation. Overexpression of PFA genes confers hallmark pericycle characteristics, including specific marker gene expression and auxin-induced cell division, and multiple loss-of-function mutations in PFA genes or the repression of PFB target genes results in the loss of this specific pericycle function. PFA and PFB proteins physically interact and are under mutual- and self-regulation, forming a positive feedback loop. This study unveils the transcriptional regulatory system that determines pericycle participation in lateral root initiation.
Relevant articles
Open Access articles citing this article.
Xueling Li

,

Yudou Cheng

…

Junfeng Guan

BMC Plant Biology Open Access 06 December 2021
Access options
Subscribe to Nature+
Get immediate online access to the entire Nature family of 50+ journals
Subscribe to Journal
Get full journal access for 1 year
$119.00
only $9.92 per issue
All prices are NET prices.
VAT will be added later in the checkout.
Tax calculation will be finalised during checkout.
Buy article
Get time limited or full article access on ReadCube.
$32.00
All prices are NET prices.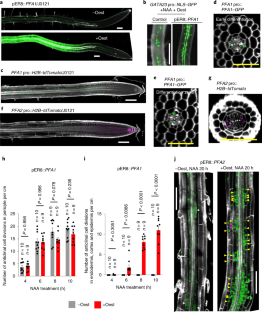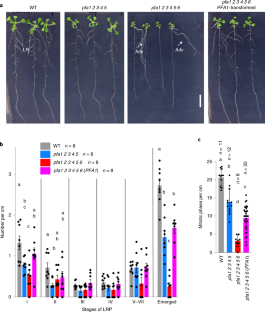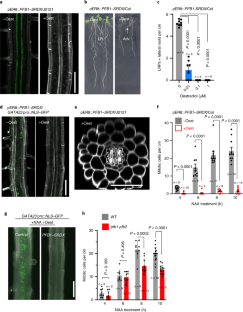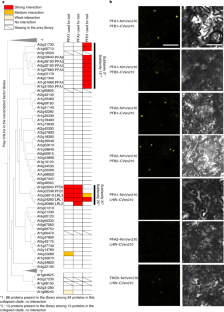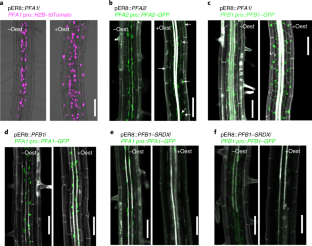 Data availability
The authors declare that all data supporting the findings of this study are available within the paper and any raw data can be obtained from the corresponding author upon request. Source data are provided with this paper.
References
Motte, H. & Beeckman, T. The evolution of root branching: increasing the level of plasticity. J. Exp. Bot. 70, 785–793 (2019).

Motte, H., Vanneste, S. & Beeckman, T. Molecular and environmental regulation of root development. Annu. Rev. Plant Biol. 70, 465–488 (2019).

Torres-Martínez, H. H., Rodríguez-Alonso, G., Shishkova, S. & Dubrovsky, J. G. Lateral root primordium morphogenesis in angiosperms. Front. Plant Sci. 10, 206 (2019).

Dubrovsky, J. G. et al. Auxin acts as a local morphogenetic trigger to specify lateral root founder cells. Proc. Natl Acad. Sci. USA 105, 8790–8794 (2008).

Moreno-Risueno, M. A. et al. Oscillating gene expression determines competence for periodic Arabidopsis root branching. Science 329, 1306–1311 (2010).

Himanen, K. et al. Auxin-mediated cell cycle activation during early lateral root initiation. Plant Cell 14, 2339–2351 (2002).

Beeckman, T. & De Smet, I. Pericycle. Curr. Biol. 24, 378–379 (2014).

Torres-Martínez, H. H., Hernández-Herrera, P., Corkidi, G. & Dubrovsky, J. From one cell to many: morphogenetic field of lateral root founder cells in Arabidopsis thaliana is built by gradual recruitment. Proc. Natl Acad. Sci. USA 117, 20943–20949 (2020).

Péret, B. et al. Arabidopsis lateral root development: an emerging story. Trends Plant Sci. 14, 399–408 (2009).

Benková, E. & Bielach, A. Lateral root organogenesis—from cell to organ. Curr. Opin. Plant Biol. 13, 677–683 (2010).

Laplaze, L. et al. GAL4–GFP enhancer trap lines for genetic manipulation of lateral root development in Arabidopsis thaliana. J. Exp. Bot. 56, 2433–2442 (2005).

Dinneny, J. R. et al. Cell identity mediates the response of Arabidopsis roots to abiotic stress. Science 320, 942–945 (2008).

De Smet, I. et al. Receptor-like kinase ACR4 restricts formative cell divisions in the Arabidopsis root. Science 322, 594–597 (2008).

Hiratsu, K., Matsui, K., Koyama, T. & Ohme-Takagi, M. Dominant repression of target genes by chimeric repressors that include the EAR motif, a repression domain, in Arabidopsis. Plant J. 34, 733–739 (2003).

Pires, N. & Dolan, L. Origin and diversification of basic-helix-loop-helix proteins in plants. Mol. Biol. Evol. 27, 862–874 (2010).

Carretero-Paulet, L. et al. Genome-wide classification and evolutionary analysis of the bHLH family of transcription factors in Arabidopsis, poplar, rice, moss, and algae. Plant Physiol. 153, 1398–1412 (2010).

Zuo, J., Niu, Q. W. & Chua, N. H. An estrogen receptor-based transactivator XVE mediates highly inducible gene expression in transgenic plants. Plant J. 24, 265–273 (2000).

De Rybel, B. et al. A novel Aux/IAA28 signaling cascade activates GATA23-dependent specification of lateral root founder cell identity. Curr. Biol. 20, 1697–1706 (2010).

Goh, T. et al. Lateral root initiation requires the sequential induction of transcription factors LBD16 and PUCHI in Arabidopsis thaliana. New Phytol. 224, 749–760 (2019).

Shaner, N. C. et al. Improved monomeric red, orange and yellow fluorescent proteins derived from Discosoma sp. red fluorescent protein. Nat. Biotechnol. 22, 1567–1572 (2004).

Malamy, J. E. & Benfey, P. N. Organization and cell differentiation in lateral roots of Arabidopsis thaliana. Development 124, 33–44 (1997).

Dubrovsky, J. G., Doerner, P. W., Colón-Carmona, A. & Rost, T. L. Pericycle cell proliferation and lateral root initiation in Arabidopsis. Plant Physiol. 124, 1648–1657 (2000).

Colon-Carmona, A., You, R., Haimovitch-Gal, T. & Doerner, P. Spatio-temporal analysis of mitotic activity with a labile cyclin–GUS fusion protein. Plant J. 20, 503–508 (1999).

Amoutzias, G. D., Robertson, D. L., Oliver, S. G. & Bornberg-Bauer, E. Convergent evolution of gene networks by single-gene duplications in higher eukaryotes. EMBO Rep. 5, 274–279 (2004).

Gookin, T. E. & Assmann, S. M. Significant reduction of BiFC non-specific assembly facilitates in planta assessment of heterotrimeric G-protein interactors. Plant J. 80, 553–567 (2014).

Massari, M. E. & Murre, C. Helix-loop-helix proteins: regulators of transcription in eucaryotic organisms. Mol. Cell. Biol. 20, 429–440 (2000).

Lin, Q. et al. GLABRA2 directly suppresses basic helix-loop-helix transcription factor genes with diverse functions in root hair development. Plant Cell 27, 2894–2906 (2015).

Zhang, J. et al. Sperm cells are passive cargo of the pollen tube in plant fertilization. Nat. Plants 3, 17079 (2017).

Omelyanchuk, N. A. et al. A detailed expression map of the PIN1 auxin transporter in Arabidopsis thaliana root. BMC Plant Biol. 16, 5 (2016).

Benková, E. et al. Local, efflux-dependent auxin gradients as a common module for plant organ formation. Cell 115, 591–602 (2003).

Okushima, Y., Fukaki, H., Onoda, M., Theologis, A. & Tasaka, M. ARF7 and ARF19 regulate lateral root formation via direct activation of LBD/ASL genes in Arabidopsis. Plant Cell 19, 118–130 (2007).

Lee, H. W., Kim, N. Y., Lee, D. J. & Kim, J. LBD18/ASL20 regulates lateral root formation in combination with LBD16/ASL18 downstream of ARF7 and ARF19 in Arabidopsis. Plant Physiol. 151, 1377–1389 (2009).

Kiryushkin, A. S. et al. Lateral root initiation in the parental root meristem of cucurbits: old players in a new position. Front. Plant Sci. 10, 365 (2019).

Feng, Z., Zhu, J., Du, X. & Cui, X. Effects of three auxin-inducible LBD members on lateral root formation in Arabidopsis thaliana. Planta 236, 1227–1237 (2012).

Ohashi-Ito, K. & Bergmann, D. C. Regulation of the Arabidopsis root vascular initial population by LONESOME HIGHWAY. Development 134, 2959–2968 (2007).

Parizot, B. et al. Diarch symmetry of the vascular bundle in Arabidopsis root encompasses the pericycle and is reflected in distich lateral root initiation. Plant Physiol. 146, 140–148 (2008).

Atta, R. et al. Pluripotency of Arabidopsis xylem pericycle underlies shoot regeneration from root and hypocotyl explants grown in vitro. Plant J. 57, 626–644 (2009).

Sugimoto, K., Jiao, Y. & Meyerowitz, E. M. Arabidopsis regeneration from multiple tissues occurs via a root development pathway. Dev. Cell 18, 463–471 (2010).

Yin, K. et al. A dual-color marker system for in vivo visualization of cell cycle progression in Arabidopsis. Plant J. 80, 541–552 (2014).

Musielak, T. J., Schenkel, L., Kolb, M., Henschen, A. & Bayer, M. A simple and versatile cell wall staining protocol to study plant reproduction. Plant Reprod. 28, 161–169 (2015).

Kurihara, D., Mizuta, Y., Sato, Y. & Higashiyama, T. ClearSee: a rapid optical clearing reagent for whole-plant fluorescence imaging. Development 142, 4168–4179 (2015).

Mitsuda, N. et al. Efficient yeast one-/two-hybrid screening using a library composed only of transcription factors in Arabidopsis thaliana. Plant Cell Physiol. 51, 2145–2151 (2010).

Boulton, S. J. & Jackson, S. P. Saccharomyces cerevisiae Ku70 potentiates illegitimate DNA double-strand break repair and serves as a barrier to error-prone DNA repair pathways. EMBO J. 15, 5093–5103 (1996).

Wang, Z. P. et al. Egg cell-specific promoter-controlled CRISPR/Cas9 efficiently generates homozygous mutants for multiple target genes in Arabidopsis in a single generation. Genome Biol. 16, 144 (2015).
Acknowledgements
Special thanks to F. Tobe, T. Ishizuka and Y. Takiguchi for technical assistance regarding the establishment of the Y2H assay system and screening experiments, Chua N.-H. for the pER8 vector, L. Hausmann for the pLH5000 vector, Q.-J. Chen for the CRISPR vector (pHEE401E), T. Beeckman for GATA23 pro::NLS–GFP, M. Umeda for Cytrap, R. Tsien for tdTomato, S. Assmann for the BiFC vectors, E. Dafa Alla for comments on the manuscripts, and the Arabidopsis Biological Resource Centre for the Arabidopsis seeds. This work was supported by JSPS KAKENHI grant numbers 19H03246 and 19K22430 to T.K., MEXT KAKENHI grant numbers 18H04837 and 20H04886 to T.K., MEXT KAKENHI grant number 25113006 to T.K., N.M. and M.M., and a Grant-in-Aid for JSPS Fellow number 13J01792 to Y.Z.
Ethics declarations
Competing interests
The authors declare no competing interests.
Additional information
Peer review information Nature Plants thanks Tom Beeckman, Joseph Dubrovsky and Ben Scheres for their contribution to the peer review of this work.
Publisher's note Springer Nature remains neutral with regard to jurisdictional claims in published maps and institutional affiliations.
Supplementary information
About this article
Cite this article
Zhang, Y., Mitsuda, N., Yoshizumi, T. et al. Two types of bHLH transcription factor determine the competence of the pericycle for lateral root initiation. Nat. Plants 7, 633–643 (2021). https://doi.org/10.1038/s41477-021-00919-9
Received:

Accepted:

Published:

Issue Date:

DOI: https://doi.org/10.1038/s41477-021-00919-9
Further reading
Xueling Li
Yudou Cheng
Junfeng Guan

BMC Plant Biology (2021)

Nature Plants (2021)