Abstract
Phosphatidylinositol 4,5-bisphosphate (PI(4,5)P2) is a low-abundance membrane lipid essential for plasma membrane function1,2. In plants, mutations in phosphatidylinositol 4-phosphate (PI4P) 5-kinases (PIP5K) suggest that PI(4,5)P2 production is involved in development, immunity and reproduction3,4,5. However, phospholipid synthesis is highly intricate6. It is thus likely that steady-state depletion of PI(4,5)P2 triggers confounding indirect effects. Furthermore, inducible tools available in plants allow PI(4,5)P2 to increase7,8,9 but not decrease, and no PIP5K inhibitors are available. Here, we introduce iDePP (inducible depletion of PI(4,5)P2 in plants), a system for the inducible and tunable depletion of PI(4,5)P2 in plants in less than three hours. Using this strategy, we confirm that PI(4,5)P2 is critical for various aspects of plant development, including root growth, root-hair elongation and organ initiation. We show that PI(4,5)P2 is required to recruit various endocytic proteins, including AP2-µ, to the plasma membrane, and thus to regulate clathrin-mediated endocytosis. Finally, we find that inducible PI(4,5)P2 perturbation impacts the dynamics of the actin cytoskeleton as well as microtubule anisotropy. Together, we propose that iDePP is a simple and efficient genetic tool to test the importance of PI(4,5)P2 in given cellular or developmental responses, and also to evaluate the importance of this lipid in protein localization.
Access options
Subscribe to Journal
Get full journal access for 1 year
$119.00
only $9.92 per issue
All prices are NET prices.
VAT will be added later in the checkout.
Tax calculation will be finalised during checkout.
Rent or Buy article
Get time limited or full article access on ReadCube.
from$8.99
All prices are NET prices.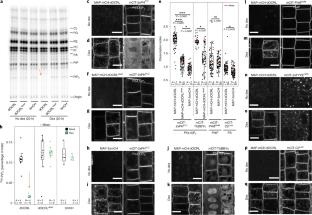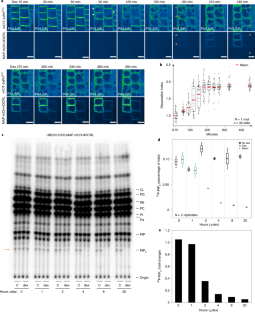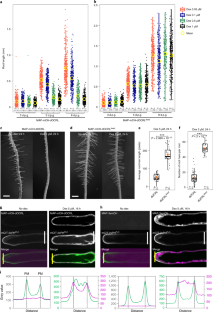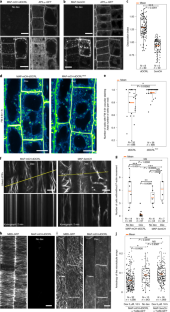 Data availability
The Arabidopsis lines and plasmids generated in this study are available from the corresponding authors upon request and the transgenic lines are also available at NASC as NASC stocks N2110785–N2110797. Source data are provided with this paper.
References
1.

Bigay, J. & Antonny, B. Curvature, lipid packing, and electrostatics of membrane organelles: defining cellular territories in determining specificity. Dev. Cell 23, 886–895 (2012).

2.

Balla, T. Phosphoinositides: tiny lipids with giant impact on cell regulation. Physiol. Rev. 93, 1019–1137 (2013).

3.

Noack, L. C. & Jaillais, Y. Precision targeting by phosphoinositides: how PIs direct endomembrane trafficking in plants. Curr. Opin. Plant Biol. 40, 22–33 (2017).

4.

Noack, L. C. & Jaillais, Y. Functions of anionic lipids in plants. Annu. Rev. Plant Biol. 71, 71–102 (2020).

5.

Heilmann, I. Phosphoinositide signaling in plant development. Development 143, 2044–2055 (2016).

6.

Colin, L. A. & Jaillais, Y. Phospholipids across scales: lipid patterns and plant development. Curr. Opin. Plant Biol. 53, 1–9 (2019).

7.

Gujas, B. et al. Perturbing phosphoinositide homeostasis oppositely affects vascular differentiation in Arabidopsis thaliana roots. Development 144, 3578–3589 (2017).

8.

Ischebeck, T., Stenzel, I. & Heilmann, I. Type B phosphatidylinositol-4-phosphate 5-kinases mediate Arabidopsis and Nicotiana tabacum pollen tube growth by regulating apical pectin secretion. Plant Cell 20, 3312–3330 (2008).

9.

Barbosa, I. C. et al. Phospholipid composition and a polybasic motif determine D6 PROTEIN KINASE polar association with the plasma membrane and tropic responses. Development 143, 4687–4700 (2016).

10.

Simon, M. L. et al. A multi-colour/multi-affinity marker set to visualize phosphoinositide dynamics in Arabidopsis. Plant J. 77, 322–337 (2014).

11.

Simon, M. L. et al. A PtdIns(4)P-driven electrostatic field controls cell membrane identity and signalling in plants. Nat. Plants 2, 16089 (2016).

12.

Platre, M. P. et al. A combinatorial lipid code shapes the electrostatic landscape of plant endomembranes. Dev. Cell 45, 465–480 (2018).

13.

Zhao, Y. et al. Phosphoinositides regulate clathrin-dependent endocytosis at the tip of pollen tubes in Arabidopsis and tobacco. Plant Cell 22, 4031–4044 (2010).

14.

Dejonghe, W. et al. Disruption of endocytosis through chemical inhibition of clathrin heavy chain function. Nat. Chem. Biol. https://doi.org/10.1038/s41589-019-0262-1 (2019).

15.

Yperman, K. et al. Molecular architecture of the endocytic TPLATE complex. Sci. Adv. 7, eabe7999 (2021).

16.

Mei, Y., Jia, W. J., Chu, Y. J. & Xue, H. W. Arabidopsis phosphatidylinositol monophosphate 5-kinase 2 is involved in root gravitropism through regulation of polar auxin transport by affecting the cycling of PIN proteins. Cell Res. 22, 581–597 (2012).

17.

Ischebeck, T. et al. Phosphatidylinositol 4,5-bisphosphate influences PIN polarization by controlling clathrin-mediated membrane trafficking in Arabidopsis. Plant Cell 25, 4894–4911 (2013).

18.

He, K. et al. Dynamics of phosphoinositide conversion in clathrin-mediated endocytic traffic. Nature 552, 410–414 (2017).

19.

Gadeyne, A. et al. The TPLATE adaptor complex drives clathrin-mediated endocytosis in plants. Cell 156, 691–704 (2014).

20.

Narasimhan, M. et al. Evolutionarily unique mechanistic framework of clathrin-mediated endocytosis in plants. eLife https://doi.org/10.7554/eLife.52067 (2020).

21.

Raucher, D. et al. Phosphatidylinositol 4,5-bisphosphate functions as a second messenger that regulates cytoskeleton-plasma membrane adhesion. Cell 100, 221–228 (2000).

22.

Zhang, Q. et al. Phosphatidic acid regulates microtubule organization by interacting with MAP65-1 in response to salt stress in Arabidopsis. Plant Cell 24, 4555–4576 (2012).

23.

Munnik, T. & Nielsen, E. Green light for polyphosphoinositide signals in plants. Curr. Opin. Plant Biol. 14, 489–497 (2011).

24.

Gungabissoon, R. A., Jiang, C.-J., Drøbak, B. K., Maciver, S. K. & Hussey, P. J. Interaction of maize actin-depolymerising factor with actin and phosphoinositides and its inhibition of plant phospholipase C. Plant J. 16, 689–696 (1998).

25.

Guo, S., Stolz, L. E., Lemrow, S. M. & York, J. D. SAC1-like domains of yeast SAC1, INP52, and INP53 and of human synaptojanin encode polyphosphoinositide phosphatases. J. Biol. Chem. 274, 12990–12995 (1999).

26.

Huang, S., Blanchoin, L., Kovar, D. R. & Staiger, C. J. Arabidopsis capping protein (AtCP) is a heterodimer that regulates assembly at the barbed ends of actin filaments. J. Biol. Chem. 278, 44832–44842 (2003).

27.

Staiger, C. J., Gibbon, B. C., Kovar, D. R. & Zonia, L. E. Profilin and actin-depolymerizing factor: modulators of actin organization in plants. Trends Plant Sci. 2, 275–281 (1997).

28.

Shibasaki, Y. et al. Massive actin polymerization induced by phosphatidylinositol-4-phosphate 5-kinase in vivo. J. Biol. Chem. 272, 7578–7581 (1997).

29.

Vaughn, L. et al. in The Plant Cytoskeleton. Advances in Plant Biology Vol. 2 (ed. Liu, B.) 307–326 (Springer, 2011).

30.

Balla, T. Imaging and manipulating phosphoinositides in living cells. J. Physiol. 582, 927–937 (2007).

31.

Lorenzo-Orts, L., Couto, D. & Hothorn, M. Identity and functions of inorganic and inositol polyphosphates in plants. New Phytol. 225, 637–652 (2020).

32.

Marques-Bueno, M. M. et al. A versatile Multisite Gateway-compatible promoter and transgenic line collection for cell type-specific functional genomics in Arabidopsis. Plant J. 85, 320–333 (2016).

33.

Saile, S. C. et al. Coiled-coil and RPW8-type immune receptors function at the plasma membrane in a phospholipid dependent manner. Preprint at bioRxiv https://doi.org/10.1101/2020.11.18.388520 (2020).

34.

Johnson, C. M., Chichili, G. R. & Rodgers, W. Compartmentalization of phosphatidylinositol 4,5-bisphosphate signaling evidenced using targeted phosphatases. J. Biol. Chem. 283, 29920–29928 (2008).

35.

Perera, I. Y., Love, J., Heilmann, I., Thompson, W. F. & Boss, W. F. Up-regulation of phosphoinositide metabolism in tobacco cells constitutively expressing the human type I inositol polyphosphate 5-phosphatase. Plant Physiol. 129, 1795–1806 (2002).

36.

Christie, J. M. et al. Plant UVR8 photoreceptor senses UV-B by tryptophan-mediated disruption of cross-dimer salt bridges. Science 335, 1492–1496 (2012).

37.

Jaillais, Y. et al. Tyrosine phosphorylation controls brassinosteroid receptor activation by triggering membrane release of its kinase inhibitor. Genes Dev. 25, 232–237 (2011).

38.

Karimi, M., Depicker, A. & Hilson, P. Recombinational cloning with plant gateway vectors. Plant Physiol. 145, 1144–1154 (2007).

39.

Konopka, C. A., Backues, S. K. & Bednarek, S. Y. Dynamics of Arabidopsis dynamin-related protein 1C and a clathrin light chain at the plasma membrane. Plant Cell 20, 1363–1380 (2008).

40.

Yamaoka, S. et al. Identification and dynamics of Arabidopsis adaptor protein-2 complex and its involvement in floral organ development. Plant Cell 25, 2958–2969 (2013).

41.

Nagel, M.-K. et al. Arabidopsis SH3P2 is an ubiquitin-binding protein that functions together with ESCRT-I and the deubiquitylating enzyme AMSH3. Proc.Natl Acad. Sci. USA 114, E7197–E7204 (2017).

42.

Grandjean, O. et al. In vivo analysis of cell division, cell growth, and differentiation at the shoot apical meristem in Arabidopsis. Plant Cell 16, 74–87 (2004).

43.

Stanislas, T., Hamant, O. & Traas, J. In-vivo analysis of morphogenesis in plants. Methods Cell Biol. 139, 203–223 (2017).

44.

Doumane, M., Lionnet, C., Bayle, V., Jaillais, Y. & Caillaud, M.-C. Automated tracking of root for confocal time-lapse imaging of cellular processes. Bio Protoc. https://doi.org/10.21769/BioProtoc.2245 (2017).

45.

Zarza, X. et al. Lipid kinases PIP5K7 and PIP5K9 are required for polyamine-triggered K(+) efflux in Arabidopsis roots. Plant J. 104, 416–432 (2020).

46.

Munnik, T. & Zarza, X. in Plant Lipid Signaling Protocols Vol. 1009 (eds Munnik, T. & Heilmann, I.) 3–15 (Humana Press, 2013).

47.

Wickham, H. ggplot2: Elegant Graphics for Data Analysis (Springer, 2016).

48.

Bates, D., Mächler, M., Bolker, B. & Walker, S. Fitting linear mixed-effects models using lme4. Preprint at https://arxiv.org/abs/1406.5823 (2014).

49.

Fox, J., & Weisberg, S. (2011). Multivariate Linear Models in R. An R Companion to Applied Regression. (SAGE, 2011).

50.

Hothorn, T., Bretz, F., Westfall, P. & Heiberger, R. M. Multcomp: simultaneous inference for general linear hypotheses v.1.0-3 (2008).

51.

Lenth, R. V. Least-squares means: the R package lsmeans. J. Stat. Softw. 69, 1–33 (2016).
Acknowledgements
We are grateful to the SiCE group (RDP), in particular T. Gaude and V. Bayle (RDP, Lyon), and to Y. Boutté (Laboratoire de Biogenèse Membranaire), D. Van Damme (Vlaams Instituut voor Biotechnologie (VIB)), T. Stanislas (ZMBP), F. Besnard and N. Doll (RDP), for comments and discussion. We also thank former interns L. Courgeon (ENS de Lyon) and A. Bauer (ENS de Lyon), who performed preliminary experiments during the early steps of this project and helped with plant labour, and K. Grünwald. We thank J. Berger, P. Bolland and A. Lacroix from our plant facility. We acknowledge the contribution of Structure Fédérative de Recherche Biosciences (UMS3444/CNRS, US8/Inserm, ENS de Lyon, Université Claude Bernard Lyon 1) facilities: C. Lionet, E. Chatre and J. Brocard at the LBI-PLATIM-MICROSCOPY for assistance with imaging. We are also grateful to E. Russinova (VIB) for kindly providing us with ES9-17; S. Bednarek for sharing markers and for discussion and M. Uyttewaal (INRAE) for the MBD–GFP marker. We thank E. Isono (University of Konstanz) for sharing SH3P2–GFP's transgenic line with us. We also thank R. Boisseau (OBEE department, University of Montana) for help with the statistical analysis. This work was supported by the European Research Council (no. 3363360-APPL under FP/2007–2013, Y.J.; EU-FET 828753, T.M.), the Netherlands Organisation for Scientific Research (NWO 867.15.020; 711.017.005; T.M.), Austrian Academy of Science through the Gregor Mendel Institute (Y.B.), French National Research Agency ANR (caLIPSO; ANR-18-CE13-0025-02; Y.J.), ANR JC/JC JUNIOR INVESTIGATOR GRANT (INTERPLAY; ANR-16-CE13-0021; M.-C.C., A.F.) and a SEED FUND ENS LYON-2016 (M.-C.C.).
Ethics declarations
Competing interests
The authors declare no competing interests.
Additional information
Peer review information Nature Plants thanks Takashi Aoyama, Bo Liu and the other, anonymous, reviewer(s) for their contribution to the peer review of this work.
Publisher's note Springer Nature remains neutral with regard to jurisdictional claims in published maps and institutional affiliations.
Supplementary information
About this article
Cite this article
Doumane, M., Lebecq, A., Colin, L. et al. Inducible depletion of PI(4,5)P2 by the synthetic iDePP system in Arabidopsis. Nat. Plants 7, 587–597 (2021). https://doi.org/10.1038/s41477-021-00907-z
Received:

Accepted:

Published:

Issue Date: