Abstract
As a source of both energy and environmental information, monitoring of incoming light is crucial for plants to optimize growth throughout development1. Concordantly, the light signalling pathways in plants are highly integrated with numerous other regulatory pathways2,3. One of these signal integrators is the basic leucine zipper domain (bZIP) transcription factor LONG HYPOCOTYL 5 (HY5), which has a key role as a positive regulator of light signalling in plants4,5. Although HY5 is thought to act as a DNA-binding transcriptional regulator6,7, the lack of any apparent transactivation domain8 makes it unclear how HY5 is able to accomplish its many functions. Here we describe the identification of three B-box containing proteins (BBX20, BBX21 and BBX22) as essential partners for HY5-dependent modulation of hypocotyl elongation, anthocyanin accumulation and transcriptional regulation. The bbx20 bbx21 bbx22 (bbx202122) triple mutant mimics the phenotypes of hy5 in the light and its ability to suppress the cop1 mutant phenotype in darkness. Furthermore, 84% of genes that exhibit differential expression in bbx202122 are also regulated by HY5, and we provide evidence that HY5 requires the B-box proteins for transcriptional regulation. Finally, expression of a truncated dark-stable version of HY5 (HY5(ΔN77)) together with BBX21 mutated in its VP motif strongly promoted de-etiolation in dark-grown seedlings, demonstrating the functional interdependence of these factors. In sum, this work clarifies long-standing questions regarding HY5 action and provides an example of how a master regulator might gain both specificity and dynamicity through the obligate dependence of cofactors.
Relevant articles
Open Access articles citing this article.
Caitlin N. Jacques

,

David S. Favero

…

Michael M. Neff

BMC Plant Biology Open Access 15 August 2022

Chun-Kai Huang

,

Wen-Dar Lin

&

Shu-Hsing Wu

Genome Biology Open Access 09 February 2022

Dan Luo

,

Cheng Xiong

…

Taotao Wang

Horticulture Research Open Access 01 July 2021
Access options
Subscribe to Nature+
Get immediate online access to Nature and 55 other Nature journal
Subscribe to Journal
Get full journal access for 1 year
$119.00
only $9.92 per issue
All prices are NET prices.
VAT will be added later in the checkout.
Tax calculation will be finalised during checkout.
Buy article
Get time limited or full article access on ReadCube.
$32.00
All prices are NET prices.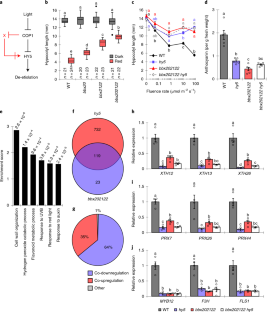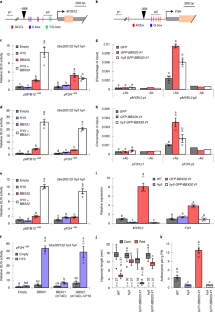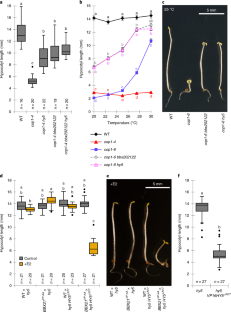 Data Availability
The RNA-seq data has been deposited at the NCBI Gene Expression Omnibus under the accession number GSE137147. Source data are provided with this paper.
References
Sullivan, J. A. & Deng, X. W. From seed to seed: the role of photoreceptors in Arabidopsis development. Dev. Biol. 260, 289–297 (2003).

Lau, O. S. & Deng, X. W. Plant hormone signaling lightens up: integrators of light and hormones. Curr. Opin. Plant Biol. 13, 571–577 (2010).

Paik, I., Kathare, P. K., Kim, J. I. & Huq, E. Expanding roles of PIFs in signal integration from multiple processes. Mol. Plant 10, 1035–1046 (2017).

Koornneef, M., Rolff, E. & Spruit, C. J. P. Genetic control of light-inhibited hypocotyl elongation in Arabidopsis thaliana (L.) Heynh. Z. Pflanzenphysiol. 100, 147–160 (1980).

Gangappa, S. N. & Botto, J. F. The multifaceted roles of HY5 in plant growth and development. Mol. Plant 9, 1353–1365 (2016).

Chattopadhyay, S., Ang, L. H., Puente, P., Deng, X. W. & Wei, N. Arabidopsis bZIP protein HY5 directly interacts with light-responsive promoters in mediating light control of gene expression. Plant Cell 10, 673–683 (1998).

Zhang, H. et al. Genome-wide mapping of the HY5-mediated gene networks in Arabidopsis that involve both transcriptional and post-transcriptional regulation. Plant J. 65, 346–358 (2011).

Oyama, T., Shimura, Y. & Okada, K. The Arabidopsis HY5 gene encodes a bZIP protein that regulates stimulus-induced development of root and hypocotyl. Genes Dev. 11, 2983–2995 (1997).

Galvao, V. C. & Fankhauser, C. Sensing the light environment in plants: photoreceptors and early signaling steps. Curr. Opin. Neurobiol. 34, 46–53 (2015).

Podolec, R. & Ulm, R. Photoreceptor-mediated regulation of the COP1/SPA E3 ubiquitin ligase. Curr. Opin. Plant Biol. 45, 18–25 (2018).

Deng, X. W. et al. COP1, an Arabidopsis regulatory gene, encodes a protein with both a zinc-binding motif and a Gβ homologous domain. Cell 71, 791–801 (1992).

Osterlund, M. T., Hardtke, C. S., Wei, N. & Deng, X. W. Targeted destabilization of HY5 during light-regulated development of Arabidopsis. Nature 405, 462–466 (2000).

Ang, L. H. & Deng, X. W. Regulatory hierarchy of photomorphogenic loci: allele-specific and light-dependent interaction between the HY5 and COP1 loci. Plant Cell 6, 613–628 (1994).

Ang, L. H. et al. Molecular interaction between COP1 and HY5 defines a regulatory switch for light control of Arabidopsis development. Mol. Cell 1, 213–222 (1998).

Burko, Y. et al. Chimeric activators and repressors define HY5 activity and reveal a light-regulated feedback mechanism. Plant Cell 32, 967–983 (2020).

Chang, C. S. et al. LZF1, a HY5-regulated transcriptional factor, functions in Arabidopsis de-etiolation. Plant J. 54, 205–219 (2008).

Datta, S., Hettiarachchi, C., Johansson, H. & Holm, M. SALT TOLERANCE HOMOLOG2, a B-box protein in Arabidopsis that activates transcription and positively regulates light-mediated development. Plant Cell 19, 3242–3255 (2007).

Fan, X.-Y. et al. BZS1, a B-box protein, promotes photomorphogenesis downstream of both brassinosteroid and light signaling pathways. Mol. Plant 5, 591–600 (2012).

Chang, C.-S. J., Maloof, J. N. & Wu, S.-H. COP1-mediated degradation of BBX22/LZF1 optimizes seedling development in Arabidopsis. Plant Physiol. 156, 228–239 (2011).

Xu, D. et al. BBX21, an Arabidopsis B-box protein, directly activates HY5 and is targeted by COP1 for 26S proteasome-mediated degradation. Proc. Natl Acad. Sci. USA 113, 7655–7660 (2016).

Datta, S. et al. LZF1/SALT TOLERANCE HOMOLOG3, an Arabidopsis B-box protein involved in light-dependent development and gene expression, undergoes COP1-mediated ubiquitination. Plant Cell 20, 2324–2338 (2008).

Wei, C.-Q. et al. The Arabidopsis B-box protein BZS1/BBX20 interacts with HY5 and mediates strigolactone regulation of photomorphogenesis. J. Genet. Genomics 43, 555–563 (2016).

Shin, J., Park, E. & Choi, G. PIF3 regulates anthocyanin biosynthesis in an HY5-dependent manner with both factors directly binding anthocyanin biosynthetic gene promoters in Arabidopsis. Plant J. 49, 981–994 (2007).

Stracke, R. et al. The Arabidopsis bZIP transcription factor HY5 regulates expression of the PFG1/MYB12 gene in response to light and ultraviolet-B radiation. Plant Cell Environ. 33, 88–103 (2010).

Hajdu, A. et al. ELONGATED HYPOCOTYL 5 mediates blue light signalling to the Arabidopsis circadian clock. Plant J. 96, 1242–1254 (2018).

Ma, L. et al. Genomic evidence for COP1 as a repressor of light-regulated gene expression and development in Arabidopsis. Plant Cell 14, 2383–2398 (2002).

Misera, S., Muller, A. J., Weiland-Heidecker, U. & Jurgens, G. The FUSCA genes of Arabidopsis: negative regulators of light responses. Mol. Gen. Genet. 244, 242–252 (1994).

Holm, M., Hardtke, C. S., Gaudet, R. & Deng, X. W. Identification of a structural motif that confers specific interaction with the WD40 repeat domain of Arabidopsis COP1. EMBO J. 20, 118–127 (2001).

Lau, K., Podolec, R., Chappuis, R., Ulm, R. & Hothorn, M. Plant photoreceptors and their signaling components compete for COP1 binding via VP peptide motifs. EMBO J. 38, e102140 (2019).

Spiegelman, B. M. & Heinrich, R. Biological control through regulated transcriptional coactivators. Cell 119, 157–167 (2004).

McNellis, T. W. et al. Genetic and molecular analysis of an allelic series of cop1 mutants suggests functional roles for the multiple protein domains. Plant Cell 6, 487–500 (1994).

Toledo-Ortiz, G. et al. The HY5–PIF regulatory module coordinates light and temperature control of photosynthetic gene transcription. PLoS Genet. 10, e1004416 (2014).

Fauser, F., Schiml, S. & Puchta, H. Both CRISPR/Cas-based nucleases and nickases can be used efficiently for genome engineering in Arabidopsis thaliana. Plant J. 79, 348–359 (2014).

Vandesompele, J. et al. Accurate normalization of real-time quantitative RT–PCR data by geometric averaging of multiple internal control genes. Genome Biol. 3, RESEARCH0034 (2002).

Cock, P. J., Fields, C. J., Goto, N., Heuer, M. L. & Rice, P. M. The Sanger FASTQ file format for sequences with quality scores, and the Solexa/Illumina FASTQ variants. Nucleic Acids Res. 38, 1767–1771 (2010).

Langmead, B. & Salzberg, S. L. Fast gapped-read alignment with Bowtie 2. Nat. Methods 9, 357–359 (2012).

Li, B. & Dewey, C. N. RSEM: accurate transcript quantification from RNA-seq data with or without a reference genome. BMC Bioinf. 12, 323 (2011).

Love, M. I., Huber, W. & Anders, S. Moderated estimation of fold change and dispersion for RNA-seq data with DESeq2. Genome Biol. 15, 550 (2014).

Huang, D. W., Sherman, B. T. & Lempicki, R. A. Bioinformatics enrichment tools: paths toward the comprehensive functional analysis of large gene lists. Nucleic Acids Res. 37, 1–13 (2009).

Huang, D. W., Sherman, B. T. & Lempicki, R. A. Systematic and integrative analysis of large gene lists using DAVID bioinformatics resources. Nat. Protoc. 4, 44–57 (2009).

Job, N., Yadukrishnan, P., Bursch, K., Datta, S. & Johansson, H. Two B-Box proteins regulate photomorphogenesis by oppositely modulating HY5 through their diverse C-terminal domains. Plant Physiol. 176, 2963–2976 (2018).

Yoo, S. D., Cho, Y. H. & Sheen, J. Arabidopsis mesophyll protoplasts: a versatile cell system for transient gene expression analysis. Nat. Protoc. 2, 1565–1572 (2007).

Kirby, J. & Kavanagh, T. A. NAN fusions: a synthetic sialidase reporter gene as a sensitive and versatile partner for GUS. Plant J. 32, 391–400 (2002).

Karimi, M., Inze, D. & Depicker, A. GATEWAY vectors for Agrobacterium-mediated plant transformation. Trends Plant Sci. 7, 193–195 (2002).

Martin, G. et al. Circadian waves of transcriptional repression shape PIF-regulated photoperiod-responsive growth in Arabidopsis. Curr. Biol. 28, 311–318 (2018).

Binkert, M. et al. UV-B-responsive association of the Arabidopsis bZIP transcription factor ELONGATED HYPOCOTYL5 with target genes, including its own promoter. Plant Cell 26, 4200–4213 (2014).

Oravecz, A. et al. CONSTITUTIVELY PHOTOMORPHOGENIC1 is required for the UV-B response in Arabidopsis. Plant Cell 18, 1975–1990 (2006).

Wickham, H. ggplot2: Elegant Graphics for Data Analysis (Springer–Verlag, 2009); https://doi.org/10.1007/978-0-387-98141-3
Acknowledgements
We thank K. Halliday for proof-reading the manuscript. This project was supported by Deutsche Forschungsgemeinschaft (DFG grant JO 1409/1-1 to H.J. and JO 1409/2-1 to K.B.) and a Royal Society Grant (RG150711 to G.T.-O). Work in Geneva was supported by the Swiss National Science Foundation grant 31003A_175774 to R. Ulm.
Ethics declarations
Competing interests
The authors declare no competing interests.
Additional information
Peer review information Nature Plants thanks Enamul Huq and the other, anonymous, reviewer(s) for their contribution to the peer review of this work.
Publisher's note Springer Nature remains neutral with regard to jurisdictional claims in published maps and institutional affiliations.
Supplementary information
Supplementary Methods and Supplementary Table 1.
Lists of bbx202122 and hy5 DEGs from RNA sequencing, including a list of DEGs overlapping in the two mutants. n = 3 biological replicates. See Methods for details on statistical analysis.
About this article
Cite this article
Bursch, K., Toledo-Ortiz, G., Pireyre, M. et al. Identification of BBX proteins as rate-limiting cofactors of HY5. Nat. Plants 6, 921–928 (2020). https://doi.org/10.1038/s41477-020-0725-0
Received:

Accepted:

Published:

Issue Date:

DOI: https://doi.org/10.1038/s41477-020-0725-0