Alternative splicing provides a fundamental and ubiquitous mechanism of gene regulation. Stimuli-induced retention of introns introduces novel proteoforms with altered signalling output: full-length CPK28 blocks immune signalling, while a truncated variant, lacking calcium responsiveness, promotes it.
Access options
Subscribe to Journal
Get full journal access for 1 year
$119.00
only $9.92 per issue
All prices are NET prices.
VAT will be added later in the checkout.
Tax calculation will be finalised during checkout.
Rent or Buy article
Get time limited or full article access on ReadCube.
from$8.99
All prices are NET prices.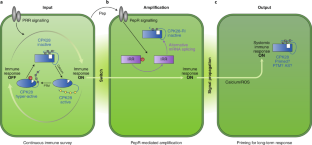 References
1.

Ross, A. et al. EMBO J. 33, 62–75 (2014).

2.

Hander, T. et al. Science 363, eaar7486 (2019).

3.

Wang, J. et al. Mol. Cell 69, 493–504 (2018).

4.

Monaghan, J. et al. Cell Host Microbe 16, 605–615 (2014).

5.

Dressano, K. et al. Nat. Plants https://doi.org/10.1038/s41477-020-0724-1 (2020).

6.

Ding, F. et al. BMC Genomics 15, 431 (2014).

7.

Hake, K. & Romeis, T. Plant Cell Environ. 42, 904–917 (2019).

8.

Bazin, J. et al. PLoS Pathog. 16, e1008401 (2020).

9.

Bender, K. W. et al. J. Biol. Chem. 292, 3988–4002 (2017).
About this article
Cite this article
Wirthmueller, L., Romeis, T. Sp(l)icing up PepR signalling. Nat. Plants 6, 912–913 (2020). https://doi.org/10.1038/s41477-020-0708-1