Access options
Subscribe to Nature+
Get immediate online access to Nature and 55 other Nature journal
Subscribe to Journal
Get full journal access for 1 year
$119.00
only $9.92 per issue
All prices are NET prices.
VAT will be added later in the checkout.
Tax calculation will be finalised during checkout.
Buy article
Get time limited or full article access on ReadCube.
$32.00
All prices are NET prices.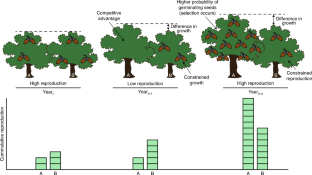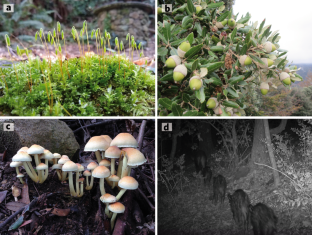 References
Fernández-Martínez, M. et al. Nutrient scarcity as a selective pressure for mast seeding. Nat. Plants 5, 1222–1228 (2019).

Kelly, D. Nutrient scarcity cannot cause mast seeding. Nat. Plants https://doi.org/10.1038/s41477-020-0702-7 (2020).

Fernández-Martínez, M. et al. Nutrient-rich plants emit a less intense blend of volatile isoprenoids. New Phytol. 220, 773–784 (2018).

Peñuelas, J. et al. The bioelements, the elementome, and the biogeochemical niche. Ecology 100, e02652 (2019).

Fernández-Martínez, M., Vicca, S., Janssens, I. A., Espelta, J. M. & Peñuelas, J. The role of nutrients, productivity and climate in determining tree fruit production in European forests. New Phytol. 213, 669–679 (2016).

Reekie, E. G. & Bazzaz, F. A. Reproductive effort in plants. II Does carbon reflect the allocation of other resources? Am. Nat. 129, 897–906 (1987).

Redmond, M. D., Davis, T. S., Ferrenberg, S. M. & Wion, A. P. Resource allocation trade-offs in a mast-seeding conifer: piñon pine prioritizes reproduction over defense. AoB Plants 11, 1–11 (2019).

Pearse, I. S., Koenig, W. D. & Kelly, D. Mechanisms of mast seeding: resources, weather, cues, and selection. New Phytol. 212, 546–562 (2016).

Wright, I. J. et al. The worldwide leaf economics spectrum. Nature 428, 821–827 (2004).

Cardinale, B. J. et al. Biodiversity loss and its impact on humanity. Nature 489, 326–326 (2012).

Fernández-Martínez, M., Bogdziewicz, M., Espelta, J. M. & Peñuelas, J. Nature beyond linearity: meteorological variability and Jensen's inequality can explain mast seeding behavior. Front. Ecol. Evol. 5, 1–8 (2017).

Fernández-Martínez, M., Garbulsky, M., Peñuelas, J., Peguero, G. & Espelta, J. M. Temporal trends in the enhanced vegetation index and spring weather predict seed production in Mediterranean oaks. Plant Ecol. 216, 1061–1072 (2015).

Fernández-Martínez, M. et al. Towards a moss sclerophylly continuum: evolutionary history, water chemistry and climate control traits of hygrophytic mosses. Funct. Ecol. 33, 2273–2289 (2019).

Rydgren, K. & Økland, R. H. Sex distribution and sporophyte frequency in a population of the clonal moss Hylocomium splendens. J. Bryol. 24, 207–214 (2002).

Martínez de Aragón, J., Riera, P., Giergiczny, M. & Colinas, C. Value of wild mushroom picking as an environmental service. Policy Econ. 13, 419–424 (2011).

Groot Bruinderink, G. W. T. A., Hazebroek, E. & Van Der Voot, H. Diet and condition of wild boar, Sus scrofu scrofu, without supplementary feeding. J. Zool. 233, 631–648 (1994).
Ethics declarations
Competing interests
The authors declare no competing interests.
Additional information
Publisher's note Springer Nature remains neutral with regard to jurisdictional claims in published maps and institutional affiliations.
About this article
Cite this article
Fernández-Martínez, M., Sardans, J., Sayol, F. et al. Reply to: Nutrient scarcity cannot cause mast seeding. Nat. Plants 6, 763–765 (2020). https://doi.org/10.1038/s41477-020-0703-6
Received:

Accepted:

Published:

Issue Date:

DOI: https://doi.org/10.1038/s41477-020-0703-6