Abstract
The nuclear envelope (NE) is structurally and functionally vital for eukaryotic cells, yet its protein constituents and their functions are poorly understood in plants. Here, we combined subtractive proteomics and proximity-labelling technology coupled with quantitative mass spectrometry to understand the landscape of NE membrane proteins in Arabidopsis. We identified ~200 potential candidates for plant NE transmembrane (PNET) proteins, which unravelled the compositional diversity and uniqueness of the plant NE. One of the candidates, named PNET1, is a homologue of human TMEM209, a critical driver for lung cancer. A functional investigation revealed that PNET1 is a bona fide nucleoporin in plants. It displays both physical and genetic interactions with the nuclear pore complex (NPC) and is essential for embryo development and reproduction in different NPC contexts. Our study substantially enlarges the plant NE proteome and sheds new light on the membrane composition and function of the NPC.
Access options
Subscribe to Journal
Get full journal access for 1 year
$59.00
only $4.92 per issue
All prices are NET prices.
VAT will be added later in the checkout.
Tax calculation will be finalised during checkout.
Rent or Buy article
Get time limited or full article access on ReadCube.
from$8.99
All prices are NET prices.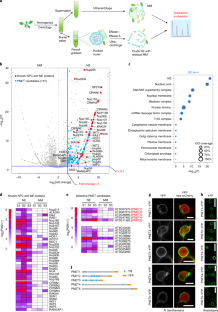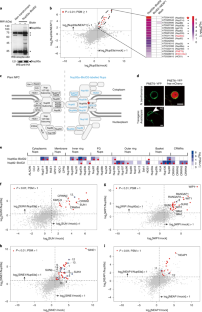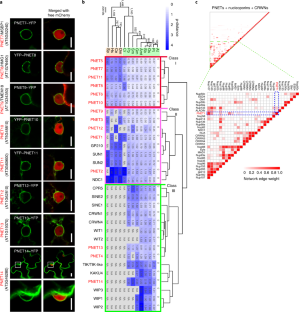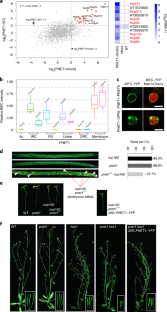 Data availability
The data that support the results in this study are available from the corresponding author on reasonable request. All the MS proteomics data have been deposited to the ProteomeXchange Consortium via the PRIDE partner repository (identifier, PXD015919). All MS datasets are listed in Supplementary Table 10. Source data are provided with this paper.
References
1.

Wilson, K. L. & Berk, J. M. The nuclear envelope at a glance. J. Cell Sci. 123, 1973–1978 (2010).

2.

Gomez-Cavazos, J. S. & Hetzer, M. W. Outfits for different occasions: tissue-specific roles of nuclear envelope proteins. Curr. Opin. Cell Biol. 24, 775–783 (2012).

3.

Smoyer, C. J. et al. Analysis of membrane proteins localizing to the inner nuclear envelope in living cells. J. Cell Biol. 215, 575–590 (2016).

4.

Zhou, X., Graumann, K., Wirthmueller, L., Jones, J. D. & Meier, I. Identification of unique SUN-interacting nuclear envelope proteins with diverse functions in plants. J. Cell Biol. 205, 677–692 (2014).

5.

Wang, H., Dittmer, T. A. & Richards, E. J. Arabidopsis CROWDED NUCLEI (CRWN) proteins are required for nuclear size control and heterochromatin organization. BMC Plant Biol. 13, 200 (2013).

6.

Zhao, Q., Brkljacic, J. & Meier, I. Two distinct interacting classes of nuclear envelope-associated coiled-coil proteins are required for the tissue-specific nuclear envelope targeting of Arabidopsis RanGAP. Plant Cell 20, 1639–1651 (2008).

7.

Zhou, X., Graumann, K., Evans, D. E. & Meier, I. Novel plant SUN–KASH bridges are involved in RanGAP anchoring and nuclear shape determination. J. Cell Biol. 196, 203–211 (2012).

8.

Schirmer, E. C., Florens, L., Guan, T., Yates, J. R. 3rd & Gerace, L. Nuclear membrane proteins with potential disease links found by subtractive proteomics. Science 301, 1380–1382 (2003).

9.

Kim, D. I. et al. An improved smaller biotin ligase for BioID proximity labeling. Mol. Biol. Cell 27, 1188–1196 (2016).

10.

Tamura, K., Fukao, Y., Iwamoto, M., Haraguchi, T. & Hara-Nishimura, I. Identification and characterization of nuclear pore complex components in Arabidopsis thaliana. Plant Cell 22, 4084–4097 (2010).

11.

Goto, C., Tamura, K., Fukao, Y., Shimada, T. & Hara-Nishimura, I. The novel nuclear envelope protein KAKU4 modulates nuclear morphology in Arabidopsis. Plant Cell 26, 2143–2155 (2014).

12.

Graumann, K., Runions, J. & Evans, D. E. Characterization of SUN-domain proteins at the higher plant nuclear envelope. Plant J. 61, 134–144 (2010).

13.

Varas, J. et al. Absence of SUN1 and SUN2 proteins in Arabidopsis thaliana leads to a delay in meiotic progression and defects in synapsis and recombination. Plant J. 81, 329–346 (2015).

14.

Zhou, X., Groves, N. R. & Meier, I. SUN anchors pollen WIP–WIT complexes at the vegetative nuclear envelope and is necessary for pollen tube targeting and fertility. J. Exp. Bot. 66, 7299–7307 (2015).

15.

Hung, V. et al. Proteomic mapping of cytosol-facing outer mitochondrial and ER membranes in living human cells by proximity biotinylation. eLife 6, e24463 (2017).

16.

Lambert, J. P., Tucholska, M., Go, C., Knight, J. D. & Gingras, A. C. Proximity biotinylation and affinity purification are complementary approaches for the interactome mapping of chromatin-associated protein complexes. J. Proteomics 118, 81–94 (2015).

17.

Liu, X. et al. An AP-MS- and BioID-compatible MAC-tag enables comprehensive mapping of protein interactions and subcellular localizations. Nat. Commun. 9, 1188 (2018).

18.

Shin, J. J. H., Gillingham, A. K., Begum, F., Chadwick, J. & Munro, S. TBC1D23 is a bridging factor for endosomal vesicle capture by golgins at the trans-Golgi. Nat. Cell Biol. 19, 1424–1432 (2017).

19.

Conlan, B., Stoll, T., Gorman, J. J., Saur, I. & Rathjen, J. P. Development of a rapid in planta BioID system as a probe for plasma membrane-associated immunity proteins. Front. Plant Sci. 9, 1882 (2018).

20.

Khan, M., Youn, J. Y., Gingras, A. C., Subramaniam, R. & Desveaux, D. In planta proximity dependent biotin identification (BioID). Sci. Rep. 8, 9212 (2018).

21.

Lin, Q. et al. Screening of proximal and interacting proteins in rice protoplasts by proximity-dependent biotinylation. Front. Plant Sci. 8, 749 (2017).

22.

Mair, A., Xu, S. L., Branon, T. C., Ting, A. Y. & Bergmann, D. C. Proximity labeling of protein complexes and cell-type-specific organellar proteomes in Arabidopsis enabled by TurboID. eLife 8, e47864 (2019).

23.

Zhang, Y. et al. TurboID-based proximity labeling reveals that UBR7 is a regulator of N NLR immune receptor-mediated immunity. Nat. Commun. 10, 3252 (2019).

24.

Pawar, V. et al. A novel family of plant nuclear envelope-associated proteins. J. Exp. Bot. 67, 5699–5710 (2016).

25.

Kosugi, S., Hasebe, M., Tomita, M. & Yanagawa, H. Systematic identification of cell cycle-dependent yeast nucleocytoplasmic shuttling proteins by prediction of composite motifs. Proc. Natl Acad. Sci. USA 106, 10171–10176 (2009).

26.

Dou, X. Y. et al. AtTMEM18 plays important roles in pollen tube and vegetative growth in Arabidopsis. J. Integr. Plant Biol. 58, 679–692 (2016).

27.

Neelakandan, A. K. et al. Molecular characterization and functional analysis of Glycine max sterol methyl transferase 2 genes involved in plant membrane sterol biosynthesis. Plant Mol. Biol. 74, 503–518 (2010).

28.

Yang, X. H., Xu, Z. H. & Xue, H. W. Arabidopsis membrane steroid binding protein 1 is involved in inhibition of cell elongation. Plant Cell 17, 116–131 (2005).

29.

Romanauska, A. & Kohler, A. The inner nuclear membrane is a metabolically active territory that generates nuclear lipid droplets. Cell 174, 700–715 (2018).

30.

Poulet, A., Probst, A. V., Graumann, K., Tatout, C. & Evans, D. Exploring the evolution of the proteins of the plant nuclear envelope. Nucleus 8, 46–59 (2017).

31.

Gu, Y. et al. Nuclear pore permeabilization is a convergent signaling event in effector-triggered immunity. Cell 166, 1526–1538 (2016).

32.

Obayashi, T., Aoki, Y., Tadaka, S., Kagaya, Y. & Kinoshita, K. ATTED-II in 2018: a plant coexpression database based on investigation of the statistical property of the mutual rank index. Plant Cell Physiol. 59, e3 (2018).

33.

Fujitomo, T., Daigo, Y., Matsuda, K., Ueda, K. & Nakamura, Y. Critical function for nuclear envelope protein TMEM209 in human pulmonary carcinogenesis. Cancer Res. 72, 4110–4118 (2012).

34.

Goto, C., Hashizume, S., Fukao, Y., Hara-Nishimura, I. & Tamura, K. Comprehensive nuclear proteome of Arabidopsis obtained by sequential extraction. Nucleus 10, 81–92 (2019).

35.

Wang, S. et al. A noncanonical role for the CKI-RB-E2F cell-cycle signaling pathway in plant effector-triggered immunity. Cell Host Microbe 16, 787–794 (2014).

36.

Gu, Y. The nuclear pore complex: a strategic platform for regulating cell signaling. New Phytol. 219, 25–30 (2018).

37.

Mosalaganti, S. et al. In situ architecture of the algal nuclear pore complex. Nat. Commun. 9, 2361 (2018).

38.

Gu, Y. & Innes, R. W. The KEEP ON GOING protein of Arabidopsis recruits the ENHANCED DISEASE RESISTANCE1 protein to trans-Golgi network/early endosome vesicles. Plant Physiol. 155, 1827–1838 (2011).

39.

Calikowski, T. T. & Meier, I. Isolation of nuclear proteins. Methods Mol. Biol. 323, 393–402 (2006).

40.

Zargar, S. M. et al. Quantitative proteomics of Arabidopsis shoot microsomal proteins reveals a cross-talk between excess zinc and iron deficiency. Proteomics 15, 1196–1201 (2015).

41.

Kumar, S., Stecher, G. & Tamura, K. MEGA7: molecular evolutionary genetics analysis version 7.0 for bigger datasets. Mol. Biol. Evol. 33, 1870–1874 (2016).

42.

Wisecaver, J. H. et al. A global coexpression network approach for connecting genes to specialized metabolic pathways in plants. Plant Cell 29, 944–959 (2017).

43.

Gu, Y. & Innes, R. W. The KEEP ON GOING protein of Arabidopsis regulates intracellular protein trafficking and is degraded during fungal infection. Plant Cell 24, 4717–4730 (2012).
Acknowledgements
We thank S. McCormick for a critical reading of the manuscript. This work was supported by funding from the Innovative Genomics Institute (IGI) at UC Berkeley and the Tsinghua-Peking Joint Center for Life Sciences.
Ethics declarations
Competing interests
The authors declare no competing interests.
Additional information
Peer review information Nature Plants thanks Tokuko Haraguchi and the other, anonymous, reviewer(s) for their contribution to the peer review of this work.
Publisher's note Springer Nature remains neutral with regard to jurisdictional claims in published maps and institutional affiliations.
Supplementary information
Supplementary Tables 1–10.
About this article
Cite this article
Tang, Y., Huang, A. & Gu, Y. Global profiling of plant nuclear membrane proteome in Arabidopsis. Nat. Plants 6, 838–847 (2020). https://doi.org/10.1038/s41477-020-0700-9
Received:

Accepted:

Published:

Issue Date: