Abstract
Photosynthesis provides food, fibre and fuel that support our society; understanding the mechanisms controlling dynamic changes in this process helps identify new options to improve photosynthesis. Photosynthesis shows diel changes, which have been largely attributed to external light/dark conditions, as well as internal gene expression and the post-translational modification of critical enzymes. Here we report diel fluctuations of magnesium (Mg) in rice (Oryza sativa) chloroplasts, which may function as a rhythm regulator contributing to the post-translational regulation of photosynthetic CO2 assimilation in rice. We found that a chloroplast-localized Mg2+ transporter gene, OsMGT3, which is rhythmically expressed in leaf mesophyll cells, partly modulates Mg fluctuations in rice chloroplasts. Knockout of OsMGT3 substantially reduced Mg2+ uptake, as well as the amplitude of free Mg2+ fluctuations in chloroplasts, which was closely associated with a decrease in ribulose 1,5-bisphosphate carboxylase activity in vivo and a consequent decline in the photosynthetic rate. In addition, the mesophyll-specific overexpression of OsMGT3 remarkably improved photosynthetic efficiency and growth performance in rice. Taken together, these observations demonstrate that OsMGT3-dependent diel Mg fluctuations in chloroplasts may contribute to Mg-dependent enzyme activities for photosynthesis over the daily cycle. Enhancing Mg2+ input to chloroplasts could be a potential approach to improving photosynthetic efficiency in plants.
Access options
Subscribe to Journal
Get full journal access for 1 year
$59.00
only $4.92 per issue
All prices are NET prices.
VAT will be added later in the checkout.
Tax calculation will be finalised during checkout.
Rent or Buy article
Get time limited or full article access on ReadCube.
from$8.99
All prices are NET prices.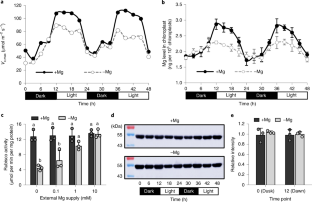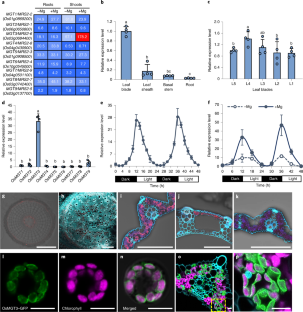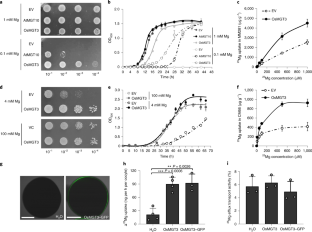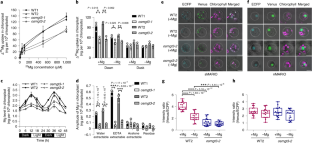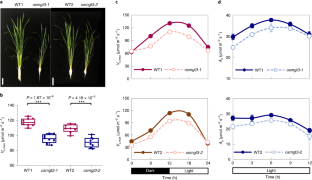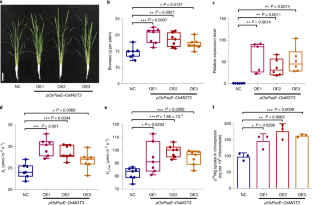 Data availability
The data that support the findings of this study are available within the article, and any source data can be obtained from the corresponding author on request.
References
1.

Long, S. P., Marshall-Colon, A. & Zhu, X. G. Meeting the global food demand of the future by engineering crop photosynthesis and yield potential. Cell 161, 56–66 (2015).

2.

Zhu, X. G., Long, S. P. & Ort, D. R. Improving photosynthetic efficiency for greater yield. Annu. Rev. Plant Biol. 61, 235–261 (2010).

3.

Shen, B. R. et al. Engineering a new chloroplastic photorespiratory bypass to increase photosynthetic efficiency and productivity in rice. Mol. Plant 12, 199–214 (2019).

4.

South, P. F., Cavanagh, A. P., Liu, H. W. & Ort, D. R. Synthetic glycolate metabolism pathways stimulate crop growth and productivity in the field. Science 363, eaat9077 (2019).

5.

Herdean, A. Ion Transport in Chloroplasts with Role in Regulation of Photosynthesis (Department of Biological and Environmental Sciences, Univ. of Gothenburg, 2015).

6.

Dodd, A. N., Kusakina, J., Hall, A., Gould, P. D. & Hanaoka, M. The circadian regulation of photosynthesis. Photosynth. Res. 119, 181–190 (2014).

7.

Dodd, A. N. et al. Plant circadian clocks increase photosynthesis, growth, survival, and competitive advantage. Science 309, 630–633 (2005).

8.

Hennessey, T. L. & Field, C. B. Circadian rhythms in photosynthesis oscillations in carbon assimilation and stomatal conductance under constant conditions. Plant Physiol. 96, 831–836 (1991).

9.

Nassoury, N., Fritz, L. & Morse, D. Circadian changes in ribulose-1,5-bisphosphate carboxylase/oxygenase distribution inside individual chloroplasts can account for the rhythm in dinoflagellate carbon fixation. Plant Cell 13, 923–934 (2001).

10.

Haydon, M. J., Roman, A. & Arshad, W. Nutrient homeostasis within the plant circadian network. Front. Plant Sci. 6, 299 (2015).

11.

Feeney, K. A. et al. Daily magnesium fluxes regulate cellular timekeeping and energy balance. Nature 532, 375–379 (2016).

12.

Ruiz, M. C. M. et al. Circadian oscillations of cytosolic free calcium regulate the Arabidopsis circadian clock. Nat. Plants 4, 690–698 (2018).

13.

Covington, M. F., Maloof, J. N., Straume, M., Kay, S. A. & Harmer, S. L. Global transcriptome analysis reveals circadian regulation of key pathways in plant growth and development. Genome Biol. 9, R130 (2008).

14.

Wang, G. Y. et al. Circadian clock-regulated phosphate transporter PHT4;1 plays an important role in Arabidopsis defense. Mol. Plant 4, 516–526 (2011).

15.

Chen, Z. C., Peng, W. T., Li, J. & Liao, H. Functional dissection and transport mechanism of magnesium in plants. Semin. Cell Dev. Biol. 74, 142–152 (2018).

16.

Farhat, N. et al. Effects of magnesium deficiency on photosynthesis and carbohydrate partitioning. Acta Physiol. Plant. 38, 145 (2016).

17.

Stec, B. Structural mechanism of Rubisco activation by carbamylation of the active site lysine. Proc. Natl Acad. Sci. USA 109, 18785–18790 (2012).

18.

Hermans, C., Conn, S. J., Chen, J., Xiao, Q. & Verbruggen, N. An update on magnesium homeostasis mechanisms in plants. Metallomics 5, 1170–1183 (2013).

19.

Li, L., Tutone, A. F., Drummond, R. S., Gardner, R. C. & Luan, S. A novel family of magnesium transport genes in Arabidopsis. Plant Cell 13, 2761–2775 (2001).

20.

Saito, T. et al. Expression and functional analysis of the CorA-MRS2-ALR-type magnesium transporter family in rice. Plant Cell Physiol. 54, 1673–1683 (2013).

21.

Sun, Y., Yang, R., Li, L. & Huang, J. The magnesium transporter MGT10 is essential for chloroplast development and photosynthesis in Arabidopsis thaliana. Mol. Plant 10, 1584–1587 (2017).

22.

Chen, Z. C., Yamaji, N., Motoyama, R., Nagamura, Y. & Ma, J. F. Up-regulation of a magnesium transporter gene OsMGT1 is required for conferring aluminum tolerance in rice. Plant Physiol. 159, 1624–1633 (2012).

23.

Chen, Z. C. et al. A magnesium transporter OsMGT1 plays a critical role in salt tolerance in rice. Plant Physiol. 174, 1837–1849 (2017).

24.

Zhang, L. D., Peng, Y. Y., Li, J., Tian, X. Y. & Chen, Z. C. OsMGT1 confers resistance to magnesium deficiency by enhancing the import of Mg in rice. Int. J. Mol. Sci. 20, 207 (2019).

25.

Cakmak, I. & Kirkby, E. A. Role of magnesium in carbon partitioning and alleviating photooxidative damage. Physiol. Plant. 133, 692–704 (2008).

26.

Peng, Y. Y. et al. Magnesium deficiency triggers SGR-mediated chlorophyll degradation for magnesium remobilization. Plant Physiol. 181, 262–275 (2019).

27.

Kucharski, L. M., Lubbe, W. J. & Maguire, M. E. Cation hexaammines are selective and potent inhibitors of the CorA magnesium transport system. J. Biol. Chem. 275, 16767–16773 (2000).

28.

Li, H. et al. Molecular and functional characterization of the magnesium transporter gene ZmMGT12 in maize. Gene 665, 167–173 (2018).

29.

Maeshima, K. et al. A transient rise in free Mg2+ ions released from ATP–Mg hydrolysis contributes to mitotic chromosome condensation. Curr. Biol. 28, 444–451 (2018).

30.

Finazzi, G. et al. Ions channels/transporters and chloroplast regulation. Cell Calcium 58, 86–97 (2014).

31.

Kikuchi, S. et al. Collection, mapping, and annotation of over 28,000 cDNA clones from japonica rice. Science 301, 376–379 (2003).

32.

Izumi, M. et al. Establishment of monitoring methods for autophagy in rice reveals autophagic recycling of chloroplasts and root plastids during energy limitation. Plant Physiol. 167, 1307–1320 (2015).

33.

Greenham, K. & McClung, C. R. Integrating circadian dynamics with physiological processes in plants. Nat. Rev. Genet. 16, 598–610 (2015).

34.

Ishijima, S., Uchibori, A., Takagi, H., Maki, R. & Ohnishi, M. Light-induced increase in free Mg2+ concentration in spinach chloroplasts: measurement of free Mg2+ by using a fluorescent probe and necessity of stromal alkalinization. Arch. Biochem. Biophys. 412, 126–132 (2003).

35.

Martí Ruiz, M. C., Jung, H. J. & Webb, A. A. R. Circadian gating of dark-induced increases in chloroplast- and cytosolic-free calcium in Arabidopsis. New Phytol. 225, 1993–2005 (2019).

36.

Pottosin, I. & Shabala, S. Transport across chloroplast membranes: optimizing photosynthesis for adverse environmental conditions. Mol. Plant 9, 356–370 (2016).

37.

Schneider, A. et al. The evolutionarily conserved protein PHOTOSYNTHESIS AFFECTED MUTANT71 is required for efficient manganese uptake at the thylakoid membrane in Arabidopsis. Plant Cell 28, 892–910 (2016).

38.

Zhang, B. et al. Inner envelope CHLOROPLAST MANGANESE TRANSPORTER 1 supports manganese homeostasis and phototrophic growth in Arabidopsis. Mol. Plant 11, 943–954 (2018).

39.

Yamagami, R., Bingaman, J. L., Frankel, E. A. & Bevilacqua, P. C. Cellular conditions of weakly chelated magnesium ions strongly promote RNA stability and catalysis. Nat. Commun. 9, 2149 (2018).

40.

Vothknecht, U. C. & Soll, J. Chloroplast membrane transport: interplay of prokaryotic and eukaryotic traits. Gene 354, 99–109 (2005).

41.

Parry, M. A. et al. Rubisco activity and regulation as targets for crop improvement. J. Exp. Bot. 64, 717–730 (2013).

42.

Kubis, A. & Bar-Even, A. Synthetic biology approaches for improving photosynthesis. J. Exp. Bot. 70, 1425–1433 (2019).

43.

Ma, X. et al. A robust CRISPR/Cas9 system for convenient, high-efficiency multiplex genome editing in monocot and dicot plants. Mol. Plant 8, 1274–1284 (2015).

44.

Yamaji, N. & Ma, J. F. Spatial distribution and temporal variation of the rice silicon transporter Lsi1. Plant Physiol. 143, 1306–1313 (2007).

45.

Long, S. P. & Bernacchi, C. J. Gas exchange measurements, what can they tell us about the underlying limitations to photosynthesis? Procedures and sources of error. J. Exp. Bot. 54, 2393–2401 (2003).

46.

Farquhar, G. D., von Caemmerer, S. & Berry, J. A. A biochemical model of photosynthetic CO2 assimilation in leaves of C3 species. Planta 149, 78–90 (1980).

47.

Andrews, J. R., Bredenkamp, G. J. & Baker, N. R. Evaluation of the role of state transitions in determining the efficiency of light utilisation for CO2 assimilation in leaves. Photosynth. Res. 38, 15–26 (1993).

48.

Nelson, D. L. & Kennedy, E. P. Magnesium transport in Escherichia coli inhibition by cobaltous ion. J. Biol. Chem. 246, 3042–3049 (1971).

49.

Yokosho, K., Yamaji, N. & Ma, J. F. An Al-inducible MATE gene is involved in external detoxification of Al in rice. Plant J. 68, 1061–1069 (2011).

50.

Abramoff, M. D., Magalhaes, P. J. & Ram, S. J. Image processing with ImageJ. Biophotonics Intern. 11, 36–42 (2004).

51.

Field, A. Discovering Statistics Using IBM SPSS Statistics 4th edn (SAGE Publications Ltd., 2013).

52.

Kunst, L. Preparation of physiologically active chloroplasts from Arabidopsis. Methods Mol. Biol. 82, 43–48 (1998).

53.

Lan, Y. & Mott, K. A. Determination of apparent K m values for ribulose 1,5-bisphosphate carboxylase/oxygenase (Rubisco) activase using the spectrophotometric assay of Rubisco activity. Plant Physiol. 95, 604–609 (1991).

54.

Kalderon, D., Richardson, W. D., Markham, A. F. & Smith, A. E. Sequence requirements for nuclear location of simian virus 40 large-T antigen. Nature 311, 33–38 (1984).
Acknowledgements
We thank L. Li for providing the MM281 strain and the pTrc99A and AtMGT10-pTrc99A vectors. We thank T. Nagai for providing MARIO. We also thank R. Gardner for providing the CM66 strain and Y. Liu for providing pYLsgRNA-U6a. We further thank M. Qu for help with guiding the ΔpH measurements, and T. Walk and Golden Fidelity LLC for language editing. This work is financially supported by the China National Key Program for Research and Development (grant no. 2016YFD0100700 to Z.C.C. and H.L.) and the National Natural Science Foundation of China (grant no. 31672218 to Z.C.C.), and by a Grant-in-Aid for Specially Promoted Research (JSPS KAKENHI grant no. 16H06296 to J.F.M.).
Ethics declarations
Competing interests
The authors declare no competing interests.
Additional information
Publisher's note Springer Nature remains neutral with regard to jurisdictional claims in published maps and institutional affiliations.
Supplementary information
List of primers used in this study.
Source data
Unprocessed western blots.
Unprocessed western blots.
About this article
Cite this article
Li, J., Yokosho, K., Liu, S. et al. Diel magnesium fluctuations in chloroplasts contribute to photosynthesis in rice. Nat. Plants 6, 848–859 (2020). https://doi.org/10.1038/s41477-020-0686-3
Received:

Accepted:

Published:

Issue Date: