Seed germination is tightly regulated so that it only occurs in optimal environmental conditions; for root parasitic plants, this is the presence of a potential host plant revealed by strigolactone exudates. New research shows that, unexpectedly, this response to strigolactone bypasses the core gibberellin-dependent pathway for germination.
Access options
Subscribe to Journal
Get full journal access for 1 year
$119.00
only $9.92 per issue
All prices are NET prices.
VAT will be added later in the checkout.
Tax calculation will be finalised during checkout.
Rent or Buy article
Get time limited or full article access on ReadCube.
from$8.99
All prices are NET prices.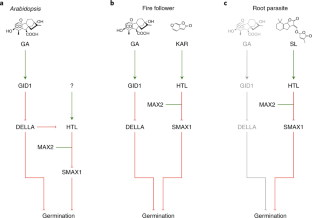 References
1.

Bunsick, M. et al. Nat. Plants https://doi.org/10.1038/s41477-020-0653-z (2020).

2.

Waters, M. T., Gutjahr, C., Bennett, T. & Nelson, D. C. Annu. Rev. Plant Biol. 68, 291–322 (2017).

3.

Yoneyama, K., Awad, A. A., Xie, X. N. & Takeuchi, Y. Plant Cell Physiol. 51, 1095–1103 (2010).

4.

Sun, T. P. Curr. Biol. 21, R338–R345 (2011).

5.

Waters, M. T. et al. Development 139, 1285–1295 (2012).

6.

Conn, C. E. et al. Science 349, 540–543 (2015).

7.

Shu, K., Zhou, W. G., Chen, F., Luo, X. F. & Yang, W. Y. Front Plant Sci. 9, 416 (2018).

8.

Lee, S. C. et al. Genes Dev. 16, 646–658 (2002).

9.

Stanga, J. P., Smith, S. M., Briggs, W. R. & Nelson, D. C. Plant Physiol. 163, 318–330 (2013).

10.

Nelson, D. C. et al. Plant Physiol. 149, 863–873 (2009).
About this article
Cite this article
Machin, D.C., Bennett, T. Two routes to germinate a seed. Nat. Plants 6, 602–603 (2020). https://doi.org/10.1038/s41477-020-0678-3