Abstract
Directional intercellular transport of the phytohormone auxin mediated by PIN-FORMED (PIN) efflux carriers has essential roles in both coordinating patterning processes and integrating multiple external cues by rapidly redirecting auxin fluxes. PIN activity is therefore regulated by multiple internal and external cues, for which the underlying molecular mechanisms are not fully elucidated. Here, we demonstrate that 3′-PHOSPHOINOSITIDE-DEPENDENT PROTEIN KINASE1 (PDK1), which is conserved in plants and mammals, functions as a molecular hub that perceives upstream lipid signalling and modulates downstream substrate activity through phosphorylation. Using genetic analysis, we show that the loss-of-function Arabidopsis pdk1.1 pdk1.2 mutant exhibits a plethora of abnormalities in organogenesis and growth due to defective polar auxin transport. Further cellular and biochemical analyses reveal that PDK1 phosphorylates D6 protein kinase, a well-known upstream activator of PIN proteins. We uncover a lipid-dependent phosphorylation cascade that connects membrane-composition-based cellular signalling with plant growth and patterning by regulating morphogenetic auxin fluxes.
Access options
Subscribe to Nature+
Get immediate online access to the entire Nature family of 50+ journals
Subscribe to Journal
Get full journal access for 1 year
$119.00
only $9.92 per issue
All prices are NET prices.
VAT will be added later in the checkout.
Tax calculation will be finalised during checkout.
Buy article
Get time limited or full article access on ReadCube.
$32.00
All prices are NET prices.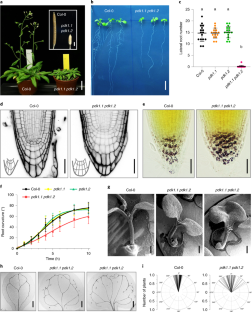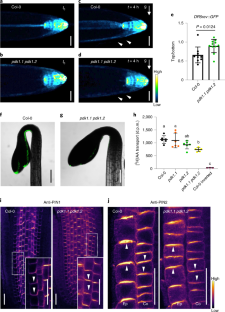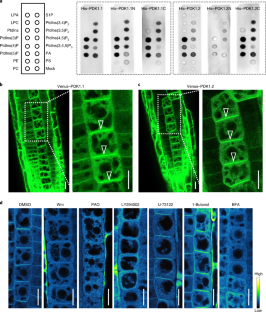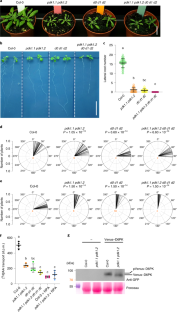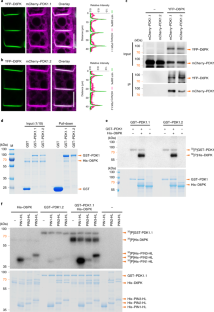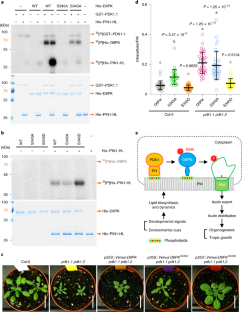 Data availability
Source data for Figs. 1–6, and Extended Figs. 2–4, 7, 9 and 10 are provided with the paper. Sequencing data from this Article is provided in the Arabidopsis Genome Initiative databases under the following accession numbers: PIN1 (AT1G73590), PIN2 (AT5G57090), PIN3 (AT1G70940), PIN4 (AT2G01420), PIN7 (AT1G23080), PDK1.1 (AT5G04510), PDK1.2 (AT3G10540), D6PK (AT5G55910), D6PKL1 (AT4G26610), D6PKL2 (AT5G47750), D6PKL3 (AT3G27580), PID (AT2G34650), WAG1 (AT1G53700) and WAG2 (AT3G14370). All data necessary to evaluate the conclusions in the paper or the Supplementary Information are available from the corresponding authors on request.
References
Swarup, K. et al. The auxin influx carrier LAX3 promotes lateral root emergence. Nat. Cell Biol. 10, 946–954 (2008).

Petrášek, J. et al. PIN proteins perform a rate-limiting function in cellular auxin efflux. Science 312, 914–918 (2006).

Adamowski, M. & Friml, J. PIN-dependent auxin transport: action, regulation, and evolution. Plant Cell 27, 20–32 (2015).

Geisler, M. et al. Cellular efflux of auxin catalyzed by the Arabidopsis MDR/PGP transporter AtPGP1. Plant J. 44, 179–194 (2005).

Armengot, L., Marquès-Bueno, M. M. & Jaillais, Y. Regulation of polar auxin transport by protein and lipid kinases. J. Exp. Bot. 67, 4015–4037 (2016).

Friml, J. et al. A PINOID-dependent binary switch in apical-basal PIN polar targeting directs auxin efflux. Science 306, 862–865 (2004).

Dhonukshe, P. et al. Plasma membrane-bound AGC3 kinases phosphorylate PIN auxin carriers at TPRXS(N/S) motifs to direct apical PIN recycling. Development 137, 3245–3255 (2010).

Grones, P. et al. PID/WAG-mediated phosphorylation of the Arabidopsis PIN3 auxin transporter mediates polarity switches during gravitropism. Sci. Rep. 8, 10279 (2018).

Zourelidou, M. et al. The polarly localized D6 PROTEIN KINASE is required for efficient auxin transport in Arabidopsis thaliana. Development 136, 627–636 (2009).

Zourelidou, M. et al. Auxin efflux by PIN-FORMED proteins is activated by two different protein kinases, D6 PROTEIN KINASE and PINOID. eLife 3, e02860 (2014).

Marhava, P. et al. A molecular rheostat adjusts auxin flux to promote root protophloem differentiation. Nature 558, 297–300 (2018).

Jia, W. et al. Mitogen-activated protein kinase cascade MKK7-MPK6 plays important roles in plant development and regulates shoot branching by phosphorylating PIN1 in Arabidopsis. PLoS Biol. 14, e1002550 (2016).

Dory, M. et al. Coevolving MAPK and PID phosphosites indicate an ancient environmental control of PIN auxin transporters in land plants. FEBS Lett. 592, 89–102 (2018).

Rigó, G. et al. Inactivation of plasma membrane-localized CDPK-RELATED KINASE5 decelerates PIN2 exocytosis and root gravitropic response in Arabidopsis. Plant Cell 25, 1592–1608 (2013).

Michniewicz, M. et al. Antagonistic regulation of PIN phosphorylation by PP2A and PINOID directs auxin flux. Cell 130, 1044–1056 (2007).

Dai, M. et al. A PP6-type phosphatase holoenzyme directly regulates PIN phosphorylation and auxin efflux in Arabidopsis. Plant Cell 24, 2497–2514 (2012).

Guo, X. et al. TYPE-ONE PROTEIN PHOSPHATASE4 regulates pavement cell interdigitation by modulating PIN-FORMED1 polarity and trafficking in Arabidopsis. Plant Physiol. 167, 1058–1075 (2015).

Weller, B. et al. Dynamic PIN-FORMED auxin efflux carrier phosphorylation at the plasma membrane controls auxin efflux-dependent growth. Proc. Natl Acad. Sci. USA 114, E887–E896 (2017).

Laetitia, M. et al. A PtdIns(4)P-driven electrostatic field controls cell membrane identity and signalling in plants. Nat. Plants 2, 16089 (2016).

Wang, P. et al. Phosphatidic acid directly regulates PINOID-dependent phosphorylation and activation of the PIN-FORMED 2 auxin efflux transporter in response to salt stress. Plant Cell 31, 250–271 (2019).

Barbosa, I. C. R. et al. Phospholipid composition and a polybasic motif determine D6 PROTEIN KINASE polar association with the plasma membrane and tropic responses. Development 143, 4687–4700 (2016).

Pearce, L. R., Komander, D. & Alessi, D. R. The nuts and bolts of AGC protein kinases. Nat. Rev. Mol. Cell Biol. 11, 9–22 (2010).

Rintelen, F., Stocker, H., Thomas, G. & Hafen, E. PDK1 regulates growth through Akt and S6K in Drosophila. Proc. Natl. Acad. Sci. USA 98, 15020–15025 (2001).

Lawlor, M. A. et al. Essential role of PDK1 in regulating cell size and development in mice. EMBO J. 21, 3728–3738 (2002).

Deak, M., Casamayor, A., Currie, R. A., Peter Downes, C. & Alessi, D. R. Characterisation of a plant 3-phosphoinositide-dependent protein kinase-1 homologue which contains a pleckstrin homology domain. FEBS Lett. 451, 220–226 (1999).

Rentel, M. C. et al. OXI1 kinase is necessary for oxidative burst-mediated signalling in Arabidopsis. Nature 427, 858–861 (2004).

Anthony, R. G., Khan, S., Costa, J., Pais, M. S. & Bögre, L. The Arabidopsis protein kinase PTI1-2 is activated by convergent phosphatidic acid and oxidative stress signaling pathways downstream of PDK1 and OXI1. J. Biol. Chem. 281, 37536–37546 (2006).

Camehl, I. et al. The OXI1 kinase pathway mediates Piriformospora indica-induced growth promotion in Arabidopsis. PLoS Pathog. 7, e1002051 (2011).

Anthony, R. G. et al. A protein kinase target of a PDK1 signalling pathway is involved in root hair growth in Arabidopsis. EMBO J. 23, 572–581 (2004).

Rademacher, E. H. & Offringa, R. Evolutionary adaptations of plant AGC kinases: from light signaling to cell polarity regulation. Front. Plant Sci. 3, 250 (2012).

Zegzouti, H. et al. Structural and functional insights into the regulation of Arabidopsis AGC VIIIa kinases. J. Biol. Chem. 281, 35520–35530 (2006).

Scholz, S. et al. The AGC protein kinase UNICORN controls planar growth by attenuating PDK1 in Arabidopsis thaliana. PLoS Genet. 15, e1007927 (2019).

Xiao, Y. & Offringa, R. PDK1 regulates auxin transport and Arabidopsis vascular development through AGC1 kinase PAX. Nat. Plants https://doi.org/10.1038/s41477-020-0650-2 (2020).

Friml, J. et al. AtPIN4 mediates sink-driven auxin gradients and root patterning in Arabidopsis. Cell 108, 661–673 (2002).

Band, L. R. et al. Root gravitropism is regulated by a transient lateral auxin gradient controlled by a tipping-point mechanism. Proc. Natl Acad. Sci. USA 109, 4668–4673 (2012).

Sabatini, S. et al. An auxin-dependent distal organizer of pattern and polarity in the Arabidopsis root. Cell 99, 463–472 (1999).

Friml, J. et al. Efflux-dependent auxin gradients establish the apical–basal axis of Arabidopsis. Nature 426, 147–153 (2003).

Prát, T. et al. WRKY23 is a component of the transcriptional network mediating auxin feedback on PIN polarity. PLoS Genet. 14, e1007177 (2018).

Zadnikova, P. et al. Role of PIN-mediated auxin efflux in apical hook development of Arabidopsis thaliana. Development 137, 607–617 (2010).

Stepanova, A. N. et al. TAA1-mediated auxin biosynthesis is essential for hormone crosstalk and plant development. Cell 133, 177–191 (2008).

Friml, J., Wiśniewska, J., Benková, E., Mendgen, K. & Palme, K. Lateral relocation of auxin efflux regulator PIN3 mediates tropism in Arabidopsis. Nature 415, 806–809 (2002).

Gray, W. M., Ostin, A., Sandberg, G., Romano, C. P. & Estelle, M. High temperature promotes auxin-mediated hypocotyl elongation in Arabidopsis. Proc. Natl Acad. Sci. USA 95, 7197–7202 (2002).

Franklin, K. A. et al. PHYTOCHROME-INTERACTING FACTOR 4 (PIF4) regulates auxin biosynthesis at high temperature. Proc. Natl Acad. Sci. USA 108, 20231–20235 (2011).

Parry, G. & Estelle, M. Auxin receptors: a new role for F-box proteins. Curr. Opin. Cell Biol. 18, 152–156 (2006).

Brumos, J. et al. Local auxin biosynthesis is a key regulator of plant development. Dev. Cell 47, 306–318 (2018).

Luschnig, C., Gaxiola, R. A., Grisafi, P. & Fink, G. R. EIR1, a root specific protein involved in auxin transport, is required for gravitropism in Arabidopsis thaliana. Genes Dev. 12, 2175–2187 (1998).

Swarup, R. et al. Root gravitropism requires lateral root cap and epidermal cells for transport and response to a mobile auxin signal. Nat. Cell Biol. 7, 1057–1065 (2005).

Zegzouti, H., Anthony, R. G., Jahchan, N., Bogre, L. & Christensen, S. K. Phosphorylation and activation of PINOID by the phospholipid signaling kinase 3-phosphoinositide-dependent protein kinase 1 (PDK1) in Arabidopsis. Proc. Natl Acad. Sci. USA 103, 6404–6409 (2006).

Zhang, J., Nodzynski, T., Pencik, A., Rolcik, J. & Friml, J. PIN phosphorylation is sufficient to mediate PIN polarity and direct auxin transport. Proc. Natl Acad. Sci. USA 107, 918–922 (2010).

Van Leeuwen, W., Ökrész, L., Bögre, L. & Munnik, T. Learning the lipid language of plant signalling. Trends Plant Sci. 9, 378–384 (2004).

Geldner, N. et al. The Arabidopsis GNOM ARF-GEF mediates endosomal recycling, auxin transport, and auxin-dependent plant growth. Cell 112, 219–230 (2003).

Noack, L. C. & Jaillais, Y. Precision targeting by phosphoinositides: how PIs direct endomembrane trafficking in plants. Curr. Opin. Plant Biol. 40, 22–33 (2017).

Platre, M. P. et al. Developmental control of plant Rho GTPase nano-organization by the lipid phosphatidylserine. Science 364, 57–62 (2019).

Mei, Y., Jia, W., Chu, Y. & Xue, H. Arabidopsis phosphatidylinositol monophosphate 5-kinase 2 is involved in root gravitropism through regulation of polar auxin transport by affecting the cycling of PIN proteins. Cell Res. 22, 581–597 (2011).

Stenzel, I. et al. Phosphatidylinositol 4,5-bisphosphate influences PIN polarization by controlling clathrin-mediated membrane trafficking in Arabidopsis. Plant Cell 25, 4894–4911 (2013).

Tejos, R. et al. Bipolar plasma membrane distribution of phosphoinositides and their requirement for auxin-mediated cell polarity and patterning in Arabidopsis. Plant Cell 26, 2114–2128 (2014).

Gao, H. B., Chu, Y. J. & Xue, H. W. Phosphatidic acid (PA) binds PP2AA1 to regulate PP2A activity and PIN1 polar localization. Mol. Plant 6, 1692–1702 (2013).

Zhang, J. et al. Inositol trisphosphate-induced Ca2+ signaling modulates auxin transport and PIN polarity. Dev. Cell 20, 855–866 (2011).

Xu, J. et al. A molecular framework for plant regeneration. Science 311, 385–388 (2006).

Benková, E. et al. Local, efflux-dependent auxin gradients as a common module for plant organ formation. Cell 115, 591–602 (2003).

Xu, J. & Scheres, B. Dissection of Arabidopsis ADP-RIBOSYLATION FACTOR 1 function in epidermal cell polarity. Plant Cell 17, 525–536 (2005).

Clough, S. J. & Bent, A. F. Floral dip: a simplified method for Agrobacterium-mediated transformation of Arabidopsis thaliana. Plant J. 16, 735–743 (1998).

Liu, W., Xu, Z. H., Luo, D. & Xue, H. W. Roles of OsCKI1, a rice casein kinase I, in root development and plant hormone sensitivity. Plant J. 36, 189–202 (2003).

Rook, F. et al. Sucrose-specific signalling represses translation of the Arabidopsis ATB2 bZIP transcription factor gene. Plant J. 15, 253–263 (1998).

Schindelin, J. et al. Fiji: an open-source platform for biological-image analysis. Nat. Methods 9, 676–682 (2012).

Baster, P. et al. SCFTIR1/AFB-auxin signalling regulates PIN vacuolar trafficking and auxin fluxes during root gravitropism. EMBO J. 32, 260–274 (2013).

Abas, L. et al. Intracellular trafficking and proteolysis of the Arabidopsis auxin-efflux facilitator PIN2 are involved in root gravitropism. Nat. Cell Biol. 8, 249–256 (2006).

Lewis, D. R. & Muday, G. K. Measurement of auxin transport in Arabidopsis thaliana. Nat. Protoc. 4, 437–451 (2009).

Tan, S. et al. Salicylic acid targets protein phosphatase 2A to attenuate growth in plants. Curr. Biol. 30, 381–395 (2020).
Acknowledgements
We thank C. Schwechheimer and B. Scheres for sharing published materials; M. Glanc for providing pET28a-PIN2/3 plasmids; X. Gao for help with SEM imaging, L. Rodriguez for advice on co-IP; staff at the bioimaging and life science facilities of IST Austria for continuous service and assistance; and the Nottingham Arabidopsis Stock Centre (NASC) and the Arabidopsis Biological Resource Centre (ABRC) for providing T-DNA insertional mutants. J.P. acknowledges the support from imaging facility of IEB CAS. The research leading to these results has received funding from Chinese Ten-Thousand Talent Program (to H.-W.X.) and the European Union's Horizon2020 program (ERC grant agreement no. 742985, to J.F.). S.T. was funded by a European Molecular Biology Organization (EMBO) long-term postdoctoral fellowship (ALTF 723–2015). X.Z. was supported by a PhD scholarship from China Scholarship Council.
Ethics declarations
Competing interests
The authors declare no competing interests.
Additional information
Publisher's note Springer Nature remains neutral with regard to jurisdictional claims in published maps and institutional affiliations.
Supplementary information
Supplementary Figs. 1–9, Tables 1–7 and references for the Supplementary Information.
About this article
Cite this article
Tan, S., Zhang, X., Kong, W. et al. The lipid code-dependent phosphoswitch PDK1–D6PK activates PIN-mediated auxin efflux in Arabidopsis. Nat. Plants 6, 556–569 (2020). https://doi.org/10.1038/s41477-020-0648-9
Received:

Accepted:

Published:

Issue Date:

DOI: https://doi.org/10.1038/s41477-020-0648-9