Each plant organ or tissue senses a different type of environmental signal as input to the circadian clock and shares that information in some way. The small protein EARLY FLOWERING 4 (ELF4) functions as a shoot-to-root mobile signal, thereby allowing regulation of the root clock's pace depending on ambient temperature.
This is a preview of subscription content
Access options
Subscribe to Journal
Get full journal access for 1 year
$119.00
only $9.92 per issue
All prices are NET prices.
VAT will be added later in the checkout.
Tax calculation will be finalised during checkout.
Rent or Buy article
Get time limited or full article access on ReadCube.
from$8.99
All prices are NET prices.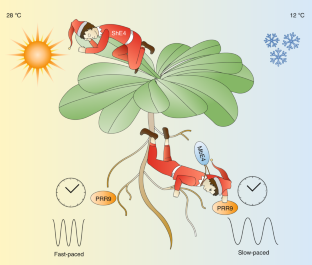 References
1.

Aebersold, C. V. & Bell, C. A. Elves on the Shelf: Christmas Tradition (CCA & B, LLC, 2005).

2.

Chen, W. W. & Takahashi, N. et al. Nat. Plants https://doi.org/10.1038/s41477-020-0634-2 (2020).

3.

Hearn, T. J. & Webb, A. A. R. F1000 Res. 9, 51 (2020).

4.

Takahashi, N., Hirata, Y., Aihara, K. & Mas, P. Cell 163, 148–159 (2015).

5.

James, A. B. et al. Science 322, 1832–1835 (2008).

6.

Haydon, M. J., Mielczarek, O., Robertson, F. C., Hubbard, K. E. & Webb, A. A. Nature 502, 689–692 (2013).

7.

Mizuno, T. et al. Plant Cell Physiol. 55, 958–976 (2014).

8.

Thomas, H. R. & Frank, M. H. New Phytol. 22, 582–589 (2019).

9.

Gould, P. D. et al. eLife 7, e31700 (2018).

10.

Shimizu, H. et al. Nat. Plants 1, 15163 (2015).

11.

Ota, R., Ohkubo, Y., Yamashita, Y., Ogawa-Ohnishi, M. & Matsubayashi, Y. Nat. Commun. 11, 641 (2020).
Ethics declarations
Competing interests
The authors declare no competing interests.
About this article
Cite this article
Kubota, A., Endo, M. ELF in the root. Nat. Plants 6, 336–337 (2020). https://doi.org/10.1038/s41477-020-0636-0