Abstract
The vast majority of eukaryotic cells contain mitochondria, essential powerhouses and metabolic hubs1. These organelles have a bacterial origin and were acquired during an early endosymbiosis event2. Mitochondria possess specialized gene expression systems composed of various molecular machines, including the mitochondrial ribosomes (mitoribosomes). Mitoribosomes are in charge of translating the few essential mRNAs still encoded by mitochondrial genomes3. While chloroplast ribosomes strongly resemble those of bacteria4,5, mitoribosomes have diverged significantly during evolution and present strikingly different structures across eukaryotic species6,7,8,9,10. In contrast to animals and trypanosomatids, plant mitoribosomes have unusually expanded ribosomal RNAs and have conserved the short 5S rRNA, which is usually missing in mitoribosomes11. We have previously characterized the composition of the plant mitoribosome6, revealing a dozen plant-specific proteins in addition to the common conserved mitoribosomal proteins. In spite of the tremendous recent advances in the field, plant mitoribosomes remained elusive to high-resolution structural investigations and the plant-specific ribosomal features of unknown structures. Here, we present a cryo-electron microscopy study of the plant 78S mitoribosome from cauliflower at near-atomic resolution. We show that most of the plant-specific ribosomal proteins are pentatricopeptide repeat proteins (PPRs) that deeply interact with the plant-specific rRNA expansion segments. These additional rRNA segments and proteins reshape the overall structure of the plant mitochondrial ribosome, and we discuss their involvement in the membrane association and mRNA recruitment prior to translation initiation. Finally, our structure unveils an rRNA-constructive phase of mitoribosome evolution across eukaryotes.
Access options
Subscribe to Journal
Get full journal access for 1 year
$59.00
only $4.92 per issue
All prices are NET prices.
VAT will be added later in the checkout.
Tax calculation will be finalised during checkout.
Rent or Buy article
Get time limited or full article access on ReadCube.
from$8.99
All prices are NET prices.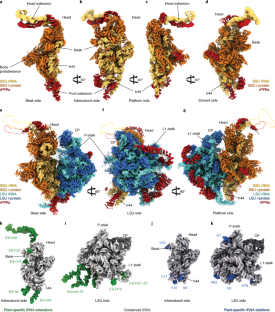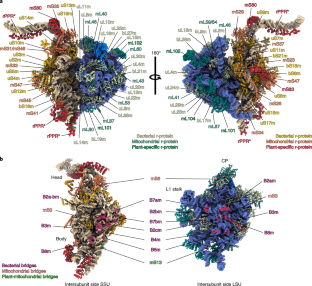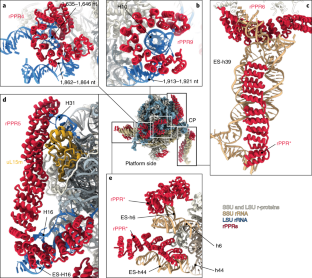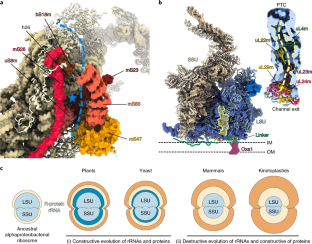 Data availability
The cryo-EM maps of the mitoribosome have been deposited at the Electron Microscopy Data Bank (EMDB-10654), containing the full mitoribosome map along with the focused LSU from the full mitoribosome, the focused SSU body, the focused SSU head and the SSU head extension from the multi-body refinement. The atomic model of the full mitoribosome have been deposited in the PDB (6XYW).
References
1.

Spinelli, J. B. & Haigis, M. C. The multifaceted contributions of mitochondria to cellular metabolism. Nat. Cell Biol. 20, 745–754 (2018).

2.

Gray, M. W. Mosaic nature of the mitochondrial proteome: implications for the origin and evolution of mitochondria. Proc. Natl Acad. Sci. USA 112, 10133–10138 (2015).

3.

Bieri, P., Greber, B. J. & Ban, N. High-resolution structures of mitochondrial ribosomes and their functional implications. Curr. Opin. Struct. Biol. 49, 44–53 (2018).

4.

Boerema, A. P. et al. Structure of the chloroplast ribosome with chl-RRF and hibernation-promoting factor. Nat. Plants 4, 212–217 (2018).

5.

Bieri, P., Leibundgut, M., Saurer, M., Boehringer, D. & Ban, N. The complete structure of the chloroplast 70S ribosome in complex with translation factor pY. EMBO J. 36, 475–486 (2017).

6.

Waltz, F. et al. Small is big in Arabidopsis mitochondrial ribosome. Nat. Plants 5, 106–117 (2019).

7.

Desai, N., Brown, A., Amunts, A. & Ramakrishnan, V. The structure of the yeast mitochondrial ribosome. Science 355, 528–531 (2017).

8.

Ramrath, D. J. F. et al. Evolutionary shift toward protein-based architecture in trypanosomal mitochondrial ribosomes. Science 362, eaau7735 (2018).

9.

Brown, A. et al. Structures of the human mitochondrial ribosome in native states of assembly. Nat. Struct. Mol. Biol. 24, 866–869 (2017).

10.

Greber, B. J. et al. The complete structure of the 55S mammalian mitochondrial ribosome. Science 348, 303–308 (2015).

11.

Unseld, M., Marienfeld, J. R., Brandt, P. & Brennicke, A. The mitochondrial genome of Arabidopsis thaliana contains 57 genes in 366,924 nucleotides. Nat. Genet. 15, 57–61 (1997).

12.

Nakane, T., Kimanius, D., Lindahl, E. & Scheres, S. H. Characterisation of molecular motions in cryo-EM single-particle data by multi-body refinement in RELION. eLife 7, e42166 (2018).

13.

Amunts, A., Brown, A., Toots, J., Scheres, S. H. W. & Ramakrishnan, V. The structure of the human mitochondrial ribosome. Science 348, 95–98 (2015).

14.

Leontiadou, F., Triantafillidou, D. & Choli-Papadopoulou, T. On the characterization of the putative S20-thx operon of Thermus thermophilus. Biol. Chem. 382, 1001–1006 (2001).

15.

Kummer, E. et al. Unique features of mammalian mitochondrial translation initiation revealed by cryo-EM. Nature 560, 263–267 (2018).

16.

Zoschke, R. & Bock, R. Chloroplast translation: structural and functional organization, operational control, and regulation. Plant Cell 30, 745–770 (2018).

17.

Sloan, D. B. et al. Cytonuclear integration and co-evolution. Nat. Rev. Genet. 19, 635–648 (2018).

18.

Englmeier, R., Pfeffer, S. & Förster, F. Structure of the human mitochondrial ribosome studied in situ by cryoelectron tomography. Structure 25, 1574–1581 (2017).

19.

Pfeffer, S., Woellhaf, M. W., Herrmann, J. M. & Förster, F. Organization of the mitochondrial translation machinery studied in situ by cryoelectron tomography. Nat. Commun. 6, 6019 (2015).

20.

Barkan, A. et al. A combinatorial amino acid code for RNA recognition by pentatricopeptide repeat proteins. PLoS Genet. 8, 4–11 (2012).

21.

Hammani, K. et al. Helical repeats modular proteins are major players for organelle gene expression. Biochimie 100, 141–150 (2014).

22.

Zheng, S. Q. et al. MotionCor2: anisotropic correction of beam-induced motion for improved cryo-electron microscopy. Nat. Methods 14, 331–332 (2017).

23.

Zhang, K. Gctf: real-time CTF determination and correction. J. Struct. Biol. 193, 1–12 (2016).

24.

Zivanov, J. et al. New tools for automated high-resolution cryo-EM structure determination in RELION-3. eLife 7, e42166 (2018).

25.

Kucukelbir, A., Sigworth, F. J. & Tagare, H. D. Quantifying the local resolution of cryo-EM density maps. Nat. Methods 11, 63–65 (2014).

26.

Arenz, S. et al. Structures of the orthosomycin antibiotics avilamycin and evernimicin in complex with the bacterial 70S ribosome. Proc. Natl Acad. Sci. USA 113, 7527–7532 (2016).

27.

Pettersen, E. F. et al. UCSF Chimera—a visualization system for exploratory research and analysis. J. Comput. Chem. 25, 1605–1612 (2004).

28.

Emsley, P., Lohkamp, B., Scott, W. G. & Cowtan, K. Features and development of Coot. Acta Crystallogr. D 66, 486–501 (2010).

29.

Goddard, T. D. et al. UCSF ChimeraX: meeting modern challenges in visualization and analysis. Protein Sci. 27, 14–25 (2018).

30.

Ott, M., Amunts, A. & Brown, A. Organization and regulation of mitochondrial protein synthesis. Annu. Rev. Biochem. 85, 77–101 (2016).

31.

Zimmermann, L. et al. A completely reimplemented MPI bioinformatics toolkit with a new hhpred server at its core. J. Mol. Biol. 430, 2237–2243 (2018).
Acknowledgements
We thank A. Bezault for assistance with the Talos Arctica electron microscope; L. Kuhn, J. Chicher and P. Hamman of the Strasbourg Espanade proteomic platform for the proteomic analysis; and M. Sissler for her comments during the article redaction. This work has benefitted from the facilities and expertise of the Biophysical and Structural Chemistry platform (BPCS) at IECB, CNRS UMS3033, Inserm US001, University of Bordeaux. This work was supported by the Centre National de la Recherche Scientifique, the University of Strasbourg, by Agence Nationale de la Recherche (ANR) grants (MITRA, ANR-16-CE11-0024-02, to P.G. and Y.H.) and by the LabEx consortium MitoCross in the frame of the French National Program Investissement d'Avenir (ANR-11-LABX-0057_MITOCROSS), as well as by a European Research Council Starting Grant (TransTryp ID 759120, to Y.H.).
Ethics declarations
Competing interests
The authors declare no competing interests.
Additional information
Publisher's note Springer Nature remains neutral with regard to jurisdictional claims in published maps and institutional affiliations.
Supplementary information
About this article
Cite this article
Waltz, F., Soufari, H., Bochler, A. et al. Cryo-EM structure of the RNA-rich plant mitochondrial ribosome. Nat. Plants 6, 377–383 (2020). https://doi.org/10.1038/s41477-020-0631-5
Received:

Accepted:

Published:

Issue Date: