Abstract
Streptococcus pyogenes Cas9 (SpCas9)-NG recognizes NGN protospacer adjacent motifs and expands the scope of genome-editing tools. In this study, we found that SpCas9-NG not only targeted the genome but also efficiently self-targeted the single-guide RNA sequence in transfer DNA in transgenic plants, potentially increasing off-target risk by generating new single-guide RNAs. We further showed that the self-target effect of SpCas9-NG could be greatly alleviated by using a modified single-guide RNA scaffold starting with a GCCCC sequence.
Access options
Subscribe to Journal
Get full journal access for 1 year
$59.00
only $4.92 per issue
All prices are NET prices.
VAT will be added later in the checkout.
Rent or Buy article
Get time limited or full article access on ReadCube.
from$8.99
All prices are NET prices.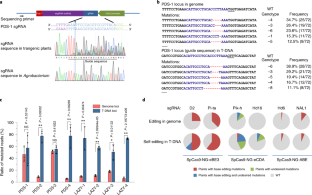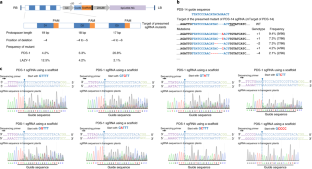 References
1.

Hsu, P. D., Lander, E. S. & Zhang, F. Development and applications of CRISPR-Cas9 for genome engineering. Cell 157, 1262–1278 (2014).

2.

Hu, J. H. et al. Evolved Cas9 variants with broad PAM compatibility and high DNA specificity. Nature 556, 57–63 (2018).

3.

Nishimasu, H. et al. Engineered CRISPR-Cas9 nuclease with expanded targeting space. Science 361, 1259–1262 (2018).

4.

Endo, M. et al. Genome editing in plants by engineered CRISPR–Cas9 recognizing NG PAM. Nat. Plants 5, 14–17 (2019).

5.

Ge, Z. et al. Engineered xCas9 and SpCas9-NG variants broaden PAM recognition sites to generate mutations in Arabidopsis plants. Plant Biotechnol. J. 17, 1865–1867 (2019).

6.

Hua, K., Tao, X., Han, P., Wang, R. & Zhu, J.-K. Genome engineering in rice using Cas9 variants that recognize NG PAM sequences. Mol. Plant 12, 1003–1014 (2019).

7.

Ren, B. et al. Cas9-NG greatly expands the targeting scope of the genome-editing toolkit by recognizing NG and other atypical PAMs in rice. Mol. Plant 12, 1015–1026 (2019).

8.

Zhong, Z. et al. Improving plant genome editing with high-fidelity xCas9 and non-canonical PAM-targeting Cas9-NG. Mol. Plant 12, 1027–1036 (2019).

9.

Xing, H.-L. et al. A CRISPR/Cas9 toolkit for multiplex genome editing in plants. BMC Plant Biol. 14, 327 (2014).

10.

Kelliher, T. et al. One-step genome editing of elite crop germplasm during haploid induction. Nat. Biotechnol. 37, 287–292 (2019).

11.

Filichkin, S. A. & Gelvin, S. B. Formation of a putative relaxation intermediate during T-DNA processing directed by the Agrobacterium tumefaciens VirD1, D2 endonuclease. Mol. Microbiol. 8, 915–926 (1993).

12.

Nishimasu, H. et al. Crystal structure of Cas9 in complex with guide RNA and target DNA. Cell 156, 935–949 (2014).

13.

Xu, R.-F. et al. Generation of inheritable and "transgene clean" targeted genome-modified rice in later generations using the CRISPR/Cas9 system. Sci. Rep. 5, 11491 (2015).

14.

Wang, Z.-P. et al. Egg cell-specific promoter-controlled CRISPR/Cas9 efficiently generates homozygous mutants for multiple target genes in Arabidopsis in a single generation. Genome Biol. 16, 144 (2015).

15.

Dang, Y. et al. Optimizing sgRNA structure to improve CRISPR-Cas9 knockout efficiency. Genome Biol. 16, 280 (2015).

16.

Qin, R. et al. Developing a highly efficient and wildly adaptive CRISPR-SaCas9 toolset for plant genome editing. Plant Biotechnol. J. 17, 706–708 (2019).

17.

Shimatani, Z. et al. Targeted base editing in rice and tomato using a CRISPR-Cas9 cytidine deaminase fusion. Nat. Biotechnol. 35, 441–443 (2017).

18.

Li, H. et al. CRISPR/Cas9-mediated adenine base editing in rice genome. Rice Sci. 26, 125–128 (2019).

19.

Hu, L. et al. Plant phosphomannose isomerase as a selectable marker for rice transformation. Sci. Rep. 6, 25921 (2016).

20.

Liu, Q. et al. Hi-TOM: a platform for high-throughput tracking of mutations induced by CRISPR/Cas systems. Sci. China Life Sci. 62, 1–7 (2019).
Acknowledgements
This work was funded by the Genetically Modified Breeding Major Projects (grant nos. 2019ZX08010003-001-008 and 2016ZX08010-002-008) and the National Natural Science Foundation of China (grant no. U19A2022).
Ethics declarations
Competing interests
The authors declare no competing interests.
Additional information
Peer review information Nature Plants thanks Seiichi Toki, Bing Yang and the other, anonymous, reviewers for their contribution to the peer review of this work.
Publisher's note Springer Nature remains neutral with regard to jurisdictional claims in published maps and institutional affiliations.
Supplementary information
Supplementary Figs. 1–8 and Tables 1–9.
About this article
Cite this article
Qin, R., Li, J., Liu, X. et al. SpCas9-NG self-targets the sgRNA sequence in plant genome editing. Nat. Plants 6, 197–201 (2020). https://doi.org/10.1038/s41477-020-0603-9
Received:

Accepted:

Published:

Issue Date: