Abstract
Plants possess an astonishing capability of effectively adapting to a wide range of temperatures, ranging from freezing to near-boiling temperatures1,2. Yet, heat is a critical obstacle to plant survival. The deleterious effects of heat shock on cell function include misfolding of cellular proteins, disruption of cytoskeletons and membranes, and disordering of RNA metabolism and genome integrity3,4,5. Plants stimulate diverse heat shock response pathways in response to abrupt temperature increases. While it is known that stressful high temperatures disturb genome integrity by causing nucleotide modifications and strand breakages or impeding DNA repair6, it is largely unexplored how plants cope with heat-induced DNA damages. Here, we demonstrated that high expression of osmotically reponsive genes 1 (HOS1) induces thermotolerance by activating DNA repair components. Thermotolerance and DNA repair capacity were substantially reduced in HOS1-deficient mutants, in which thermal induction of genes encoding DNA repair systems, such as the DNA helicase RECQ2, was markedly decreased. Notably, HOS1 proteins were thermostabilized in a heat shock factor A1/heat shock protein 90 (HSP90)-dependent manner. Our data indicate that the thermoresponsive HSP90–HOS1–RECQ2 module contributes to sustaining genome integrity during the acquisition of thermotolerance, providing a distinct molecular link between DNA repair and thermotolerance.
Access options
Subscribe to Journal
Get full journal access for 1 year
We are sorry, but there is no personal subscription option available for your country.
Rent or Buy article
Get time limited or full article access on ReadCube.
from$8.99
All prices are NET prices.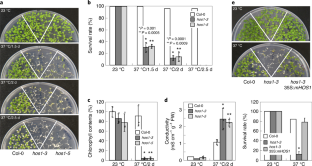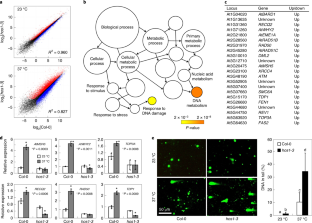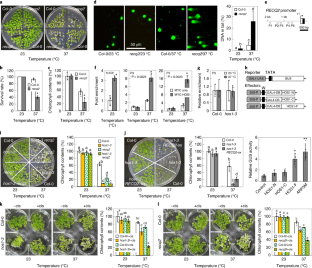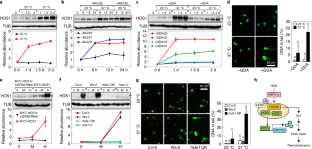 Data availability
The raw RNA-seq data generated during this study were deposited in the NCBI Sequence Read Archive (SRA) database under the accession code PRJNA658831. Source data are provided with this paper. The authors declare that any other supporting data are available from the corresponding author upon request.
References
1.

Wanner, L. A. & Junttila, O. Cold-induced freezing tolerance in Arabidopsis. Plant Physiol. 120, 391–400 (1999).

2.

Wahid, A., Gelani, S., Ashraf, M. & Foolad, M. R. Heat tolerance in plants: an overview. Environ. Exp. Bot. 61, 199–223 (2007).

3.

Toivola, D. M., Strnad, P., Habtezion, A. & Omary, M. B. Intermediate filaments take the heat as stress proteins. Trends Cell Biol. 20, 79–91 (2010).

4.

Welch, W. J. & Suhan, J. P. Cellular and biochemical events in mammalian cells during and after recovery from physiological stress. J. Cell Biol. 103, 2035–2052 (1986).

5.

Boulon, S., Westman, B. J., Hutten, S., Boisvert, F. M. & Lamond, A. I. The nucleolus under stress. Mol. Cell 40, 216–227 (2010).

6.

Kantidze, O. L., Velichko, A. K., Luzhin, A. V. & Razin, S. V. Heat stress-induced DNA damage. Acta Naturae 8, 75–78 (2016).

7.

Lee, H. et al. The Arabidopsis HOS1 gene negatively regulates cold signal transduction and encodes a RING finger protein that displays cold-regulated nucleo-cytoplasmic partitioning. Genes Dev. 15, 912–924 (2001).

8.

Lazaro, A. et al. The Arabidopsis E3 ubiquitin ligase HOS1 negatively regulates CONSTANS abundance in the photoperiodic control of flowering. Plant Cell 24, 982–999 (2012).

9.

Jung, J. H. et al. The cold signaling attenuator HIGH EXPRESSION OF OSMOTICALLY RESPONSIVE GENE1 activates FLOWERING LOCUS C transcription via chromatin remodeling under short-term cold stress in Arabidopsis. Plant Cell 25, 4378–4390 (2013).

10.

Crawford, A. J., McLachlan, D. H., Hetherington, A. M. & Franklin, K. A. High temperature exposure increases plant cooling capacity. Curr. Biol. 22, R396–R397 (2012).

11.

Park, Y. J., Lee, H. J., Ha, J. H., Kim, J. Y. & Park, C. M. COP1 conveys warm temperature information to hypocotyl thermomorphogenesis. New Phytol. 215, 269–280 (2017).

12.

Kim, J. H., Lee, H. J., Jung, J. H., Lee, S. & Park, C. M. HOS1 facilitates the phytochrome B-mediated inhibition of PIF4 function during hypocotyl growth in Arabidopsis. Mol. Plant 13, 274–284 (2017).

13.

Dong, C. H. et al. The negative regulator of plant cold responses, HOS1, is a RING E3 ligase that mediates the ubiquitination and degradation of ICE1. Proc. Natl Acad. Sci. USA 103, 8281–8286 (2006).

14.

Mittler, R., Vanderauwera, S., Gollery, M. & Van, B. F. Reactive oxygen gene network of plants. Trends Plant Sci. 9, 490–498 (2004).

15.

Menke, M., Chen, I., Angelis, K. J. & Schubert, I. DNA damage and repair in Arabidopsis thaliana as measured by the comet assay after treatment with different classes of genotoxins. Mutat. Res. 27, 87–93 (2001).

16.

Kobbe, D., Blanck, S., Demand, K., Focke, M. & Puchta, H. AtRECQ2, a RecQ helicase homologue from Arabidopsis thaliana, is able to disrupt various recombinogenic DNA structures in vitro. Plant J. 55, 397–405 (2008).

17.

Hartung, F., Plchová, H. & Puchta, H. Molecular characterisation of RecQ homologues in Arabidopsis thaliana. Nucleic Acids Res. 28, 4275–4282 (2000).

18.

MacGregor, D. R. & Penfield, S. Exploring the pleiotropy of hos1. J. Exp. Bot. 66, 1661–1671 (2015).

19.

Wang, B. et al. HOS1 regulates Argonaute1 by promoting transcription of the microRNA gene MIR168b in Arabidopsis. Plant J. 81, 861–870 (2015).

20.

Röhrig, S. et al. The RecQ-like helicase HRQ1 is involved in DNA crosslink repair in Arabidopsis in a common pathway with the Fanconi anemia-associated nuclease FAN1 and the postreplicative repair ATPase RAD5A. New Phytol. 218, 1478–1490 (2018).

21.

Borges, H. L., Linden, R. & Wang, J. Y. J. DNA damage-induced cell death. Cell Res. 18, 17–26 (2008).

22.

Koch, E. & Slusarenko, A. Arabidopsis is susceptible to infection by a downy mildew fungus. Plant Cell 2, 437–445 (1990).

23.

Swindell, W. R., Huebner, M. & Weber, A. P. Transcriptional profiling of Arabidopsis heat shock proteins and transcription factors reveals extensive overlap between heat and non-heat stress response pathways. BMC Genomics 8, 125 (2007).

24.

Jantschitsch, C. & Trautinger, F. Heat shock and UV-B-induced DNA damage and mutagenesis in skin. Photochem. Photobiol. Sci. 2, 899–903 (2003).

25.

Finka, A. & Goloubinoff, P. Proteomic data from human cell cultures refine mechanisms of chaperone-mediated protein homeostasis. Cell Stress Chaperones 18, 591–605 (2013).

26.

Liu, H. C., Liao, H. T. & Charng, Y. Y. The role of class A1 heat shock factors (HSFA1s) in response to heat and other stresses in Arabidopsis. Plant Cell Environ. 34, 738–751 (2011).

27.

Liu, Z. et al. Arabidopsis UVH6, a homolog of human XPD and yeast RAD3 DNA repair genes, functions in DNA repair and is essential for plant growth. Plant Physiol. 132, 1405–1414 (2003).

28.

Britt, A. Repair of DNA damage induced by solar UV. Photosynth. Res. 81, 105–112 (2004).

29.

Yu, L. et al. Thermopriming triggers splicing memory in Arabidopsis. J. Exp. Bot. 69, 2659–2675 (2018).

30.

Cheng, Z. et al. Nup96 and HOS1 are mutually stabilized and gate CONSTANS protein level, conferring long-day photoperiodic flowering regulation in Arabidopsis. Plant Cell 32, 374–391 (2020).

31.

Ellis, R. J., van der Vies, S. M. & Hemmingsen, S. M. The molecular chaperone concept. Biochem. Soc. Symp. 55, 145–153 (1989).

32.

Seo, P. J. et al. Cold activation of a plasma membrane-tethered NAC transcription factor induces a pathogen resistance response in Arabidopsis. Plant J. 61, 661–671 (2010).

33.

Earley, K. W. et al. Gateway-compatible vectors for plant functional genomics and proteomics. Plant J. 45, 616–629 (2006).

34.

Ochel, H. J., Eichhorn, K. & Gademann, G. Geldanamycin: the prototype of a class of antitumor drugs targeting the heat shock protein 90 family of molecular chaperones. Cell Stress Chaperones 6, 105–112 (2001).

35.

Sharma, S. V., Agatsuma, T. & Nakano, H. Targeting of the protein chaperone, HSP90, by the transformation suppressing agent, radicicol. Oncogene 16, 2639–2645 (1998).

36.

Lee, D. H. & Goldberg, A. L. Proteasome inhibitors: valuable new tools for cell biologists. Trends Cell Biol. 8, 397–403 (1998).

37.

Lee, S., Seo, P. J., Lee, H. J. & Park, C. M. A NAC transcription factor NTL4 promotes reactive oxygen species production during drought-induced leaf senescence in Arabidopsis. Plant J. 70, 831–844 (2012).

38.

Gutierrez, L. et al. The lack of a systematic validation of reference genes: a serious pitfall undervalued in reverse transcription–polymerase chain reaction (RT–PCR) analysis in plants. Plant Biotechnol. J. 6, 609–618 (2008).

39.

Lee, H. J. et al. FCA mediates thermal adaptation of stem growth by attenuating auxin action in Arabidopsis. Nat. Commun. 5, 5473 (2014).

40.

Seo, P. J., Kim, M. J., Ryu, J. Y., Jeong, E. Y. & Park, C. M. Two splice variants of the IDD14 transcription factor competitively form nonfunctional heterodimers which may regulate starch metabolism. Nat. Commun. 2, 303 (2011).
Acknowledgements
We thank Y.-Y. Charng for providing the hsfa1 QK mutant seeds and D. Somers for providing the HSP90-RNAi plants and the ABRC for Arabidopsis plant materials. The RECQ2 cDNA was kindly provided by H. Puchta (Karlsruhe Institute of Technology, Germany). We thank J.-H. Kim for subcloning the RECQ2 gene and S. Shim for statistical analysis. This work was supported by the Leaping Research (grant no. NRF-2018R1A2A1A19020840) Program provided by the National Research Foundation of Korea (NRF) and the Next-Generation BioGreen 21 Program (PJ013134) provided by the Rural Development Administration of Korea.
Ethics declarations
Competing interests
The authors declare no competing interests.
Additional information
Peer review information Nature Plants thanks Chunzhao Zhao and the other, anonymous, reviewer(s) for their contribution to the peer review of this work.
Publisher's note Springer Nature remains neutral with regard to jurisdictional claims in published maps and institutional affiliations.
Supplementary information
Primers used. The PCR primers used were designed according to the National Center for Biotechnology Information (NCBI) Primer-BLAST software (https://www.ncbi.nlm.nih.gov/tools/primer-blast/) in a way that the calculated melting temperatures of the primers are in a temperature range of 50–65 °C. F, forward primer. R, reverse primer.
About this article
Cite this article
Han, SH., Park, YJ. & Park, CM. HOS1 activates DNA repair systems to enhance plant thermotolerance. Nat. Plants 6, 1439–1446 (2020). https://doi.org/10.1038/s41477-020-00809-6
Received:

Accepted:

Published:

Issue Date:
Further reading
Young-Joon Park

,

Jae Young Kim

,

June-Hee Lee

,

Shin-Hee Han

&

Chung-Mo Park

Trends in Plant Science (2021)

Annika Dorn

&

Holger Puchta

Nature Plants (2020)