Abstract
During colonization of their hosts, pathogens secrete effector proteins to promote disease development through various mechanisms. Increasing evidence shows that the host microbiome plays a crucial role in health, and that hosts actively shape their microbiomes to suppress disease. We proposed that pathogens evolved to manipulate host microbiomes to their advantage in turn. Here, we show that the previously identified virulence effector VdAve1, secreted by the fungal plant pathogen Verticillium dahliae, displays antimicrobial activity and facilitates colonization of tomato and cotton through the manipulation of their microbiomes by suppressing antagonistic bacteria. Moreover, we show that VdAve1, and also the newly identified antimicrobial effector VdAMP2, are exploited for microbiome manipulation in the soil environment, where the fungus resides in absence of a host. In conclusion, we demonstrate that a fungal plant pathogen uses effector proteins to modulate microbiome compositions inside and outside the host, and propose that pathogen effector catalogues represent an untapped resource for new antibiotics.
Relevant articles
Open Access articles citing this article.
Mark C. Derbyshire

&

Sylvain Raffaele

Nature Communications Open Access 28 August 2023

Lin Liu

,

Yeqiang Xia

…

Qing Yang

Nature Communications Open Access 29 June 2023

Hongxin Chen

,

Robert King

…

Jason Rudd

BMC Biology Open Access 06 February 2023
Access options
Access Nature and 54 other Nature Portfolio journals
Get Nature+, our best-value online-access subscription
$29.99 / 30 days
cancel any time
Subscribe to this journal
Receive 12 digital issues and online access to articles
$119.00 per year
only $9.92 per issue
Rent or buy this article
Prices vary by article type
from$1.95
to$39.95
Prices may be subject to local taxes which are calculated during checkout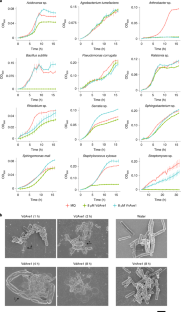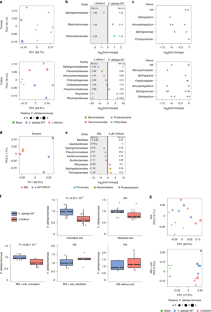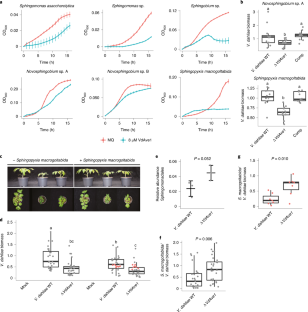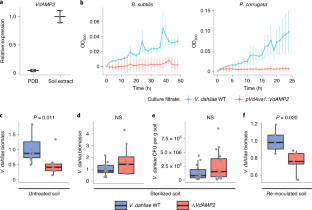 Data availability
The metagenomics data have been deposited in the European Nucleotide Archive under accession number PRJEB34281. Source data are provided with this paper.
References
Rovenich, H., Boshoven, J. C. & Thomma, B. P. H. J. Filamentous pathogen effector functions: of pathogens, hosts and microbiomes. Curr. Opin. Plant Biol. 20, 96–103 (2014).

Stergiopoulos, I. & de Wit, P. J. Fungal effector proteins. Annu. Rev. Phytopathol. 47, 233–263 (2009).

Huttenhower, C. et al. Structure, function and diversity of the healthy human microbiome. Nature 486, 207–214 (2012).

Turner, T. R., James, E. K. & Poole, P. S. The plant microbiome. Genome Biol. 14, 209 (2013).

Bulgarelli, D. et al. Revealing structure and assembly cues for Arabidopsis root-inhabiting bacterial microbiota. Nature 488, 91–95 (2012).

Lundberg, D. S. et al. Defining the core Arabidopsis thaliana root microbiome. Nature 488, 86–90 (2012).

Levy, A. et al. Genomic features of bacterial adaptation to plants. Nat. Genet. 50, 138–150 (2017).

Koprivova, A. et al. Root-specific camalexin biosynthesis controls the plant growth-promoting effects of multiple bacterial strains. Proc. Natl Acad. Sci. USA 116, 15735–15744 (2019).

Huang, A. C. et al. A specialized metabolic network selectively modulates Arabidopsis root microbiota. Science 364, eaau6389 (2019).

Rudrappa, T., Czymmek, K. J., Pare, P. W. & Bais, H. P. Root-secreted malic acid recruits beneficial soil bacteria. Plant Physiol. 148, 1547–1556 (2008).

Berendsen, R. L., Pieterse, C. M. & Bakker, P. A. The rhizosphere microbiome and plant health. Trends Plant Sci. 17, 478–486 (2012).

Berendsen, R. L. Disease-induced assemblage of a plant-beneficial bacterial consortium. ISME J. 12, 1496–1507 (2018).

Snelders, N. C., Kettles, G. J., Rudd, J. J. & Thomma, B. P. H. J. Plant pathogen effector proteins as manipulators of host microbiomes? Mol. Plant Pathol. 19, 257–259 (2018).

Fradin, E. F. & Thomma, B. P. H. J. Physiology and molecular aspects of Verticillium wilt diseases caused by V. dahliae and V. albo-atrum. Mol. Plant Pathol. 7, 71–86 (2006).

Klosterman, S. J., Atallah, Z. K., Vallad, G. E. & Subbarao, K. V. Diversity, pathogenicity, and management of Verticillium species. Annu. Rev. Phytopathol. 47, 39–62 (2009).

Mol, L. & Van Riessen, H. Effect of plant roots on the germination of microsclerotia of Verticillum dahliae. Eur. J. Plant Pathol. 101, 673–678 (1995).

de Jonge, R. et al. Tomato immune receptor Ve1 recognizes effector of multiple fungal pathogens uncovered by genome and RNA sequencing. Proc. Natl Acad. Sci. USA 109, 5110–5115 (2012).

Ficarra, F. A., Grandellis, C., Garavaglia, B. S., Gottig, N. & Ottado, J. Bacterial and plant natriuretic peptides improve plant defence responses against pathogens. Mol. Plant Pathol. 19, 801–811 (2018).

Gehring, C. A. & Irving, H. R. Natriuretic peptides—a class of heterologous molecules in plants. Int. J. Biochem. Cell Biol. 35, 1318–1322 (2003).

Faino, L., de Jonge, R. & Thomma, B. P. H. J. The transcriptome of Verticillium dahliae-infected Nicotiana benthamiana determined by deep RNA sequencing. Plant Signal. Behav. 7, 1065–1069 (2012).

Ingham, A. B. & Moore, R. J. Recombinant production of antimicrobial peptides in heterologous microbial systems. Biotechnol. Appl. Biochem. 47, 1–9 (2007).

Takeuchi, M., Hamana, K. & Hiraishi, A. Proposal of the genus Sphingomonas sensu stricto and three new genera, Sphingobium, Novosphingobium and Sphingopyxis, on the basis of phylogenetic and chemotaxonomic analyses. Int. J. Syst. Evolut. Microbiol. 51, 1405–1417 (2001).

Aylward, F. O. et al. Comparison of 26 Sphingomonad genomes reveals diverse environmental adaptations and biodegradative capabilities. Appl. Environ. Microbiol. 79, 3724–3733 (2013).

Innerebner, G., Knief, C. & Vorholt, J. A. Protection of Arabidopsis thaliana against leaf-pathogenic Pseudomonas syringae by Sphingomonas strains in a controlled model system. Appl. Environ. Microbiol. 77, 3202–3210 (2011).

Bai, Y. et al. Functional overlap of the Arabidopsis leaf and root microbiota. Nature 528, 364–369 (2015).

Faino, L. et al. Single-molecule real-time sequencing combined with optical mapping yields completely finished fungal genome. mBio 6, e00936-15 (2015).

Depotter, J. R. L. et al. Homogenization of sub-genome secretome gene expression patterns in the allodiploid fungus Verticillium longisporum. Preprint at biorXiv https://doi.org/10.1101/341636 (2018).

Gibriel, H., Li, J., Zhu, L., Seidl, M. & Thomma, B. P. H. J. Verticillium dahliae strains that infect the same host plant display highly divergent effector catalogs. Preprint at biorXiv https://doi.org/10.1101/528729 (2019).

Dal Peraro, M. & van der Goot, F. G. Pore-forming toxins: ancient, but never really out of fashion. Nat. Rev. Microbiol. 14, 77–92 (2016).

Coulthurst, S. The Type VI secretion system: a versatile bacterial weapon. Microbiology 165, 503–515 (2019).

Zhao, W., Caro, F., Robins, W. & Mekalanos, J. J. Antagonism toward the intestinal microbiota and its effect on Vibrio cholerae virulence. Science 359, 210–213 (2018).

Alfano, J. R. & Collmer, A. Type III secretion system effector proteins: double agents in bacterial disease and plant defense. Annu. Rev. Phytopathol. 42, 385–414 (2004).

Xiong, D. et al. Deep mRNA sequencing reveals stage-specific transcriptome alterations during microsclerotia development in the smoke tree vascular wilt pathogen, Verticillium dahliae. BMC Genomics 15, 324 (2014).

Fradin, E. F. et al. Genetic dissection of Verticillium Wilt resistance mediated by tomato Ve1. Plant Physiol. 150, 320–332 (2009).

Zhang, Z. et al. Optimized agroinfiltration and virus-induced gene silencing to study Ve1-mediated Verticillium resistance in tobacco. Mol. Plant Microbe Interact. 26, 182–190 (2013).

Frandsen, R. J., Andersson, J. A., Kristensen, M. B. & Giese, H. Efficient four fragment cloning for the construction of vectors for targeted gene replacement in filamentous fungi. BMC Mol. Biol. 9, 70 (2008).

Santhanam, P. in Plant Fungal Pathogens (eds Thomma, B. P. H. J. & Bolton, M. D.) 509–517 (Springer, 2012).

Bozzola, J. J. Conventional specimen preparation techniques for scanning electron microscopy of biological specimens. Methods Mol. Biol. 1117, 133–150 (2014).

Callahan, B. J., Sankaran, K., Fukuyama, J. A., McMurdie, P. J. & Holmes, S. P. Bioconductor workflow for microbiome data analysis: from raw reads to community analyses. F1000 Res. 5, 1492 (2016).

Callahan, B. J. et al. DADA2: high-resolution sample inference from Illumina amplicon data. Nat. Methods 13, 581–583 (2016).

McMurdie, P. J. & Holmes, S. phyloseq: an R package for reproducible interactive analysis and graphics of microbiome census data. PLoS ONE 8, e61217 (2013).

Love, M. I., Huber, W. & Anders, S. Moderated estimation of fold change and dispersion for RNA-seq data with DESeq2. Genome Biol. 15, 550 (2014).

Depotter, J. R. L., Thomma, B. P. H. J. & Wood, T. A. Measuring the impact of Verticillium longisporum on oilseed rape (Brassica napus) yield in field trials in the United Kingdom. Eur. J. Plant Pathol. 153, 321–326 (2019).

de Jonge, R. et al. Extensive chromosomal reshuffling drives evolution of virulence in an asexual pathogen. Genome Res. 23, 1271–1282 (2013).

Kelley, L. A. et al. The Phyre2 web portal for protein modeling, prediction and analysis. Nat. Protoc. 10, 845–858 (2015).
Acknowledgements
We thank M. Giesbers from the Wageningen Electron Microscopy Centre for technical assistance. Work in the laboratory of B.P.H.J.T. is supported by the Research Council Earth and Life Sciences of the Netherlands Organization of Scientific Research. B.P.H.J.T. acknowledges support by the Deutsche Forschungsgemeinschaft (German Research Foundation) under Germany's Excellence Strategy: EXC 2048/1, project ID no. 390686111.
Ethics declarations
Competing interests
The authors declare no competing interests.
Additional information
Peer review information Nature Plants thanks Yang Bai, Omri M. Finkel and the other, anonymous, reviewer(s) for their contribution to the peer review of this work.
Publisher's note Springer Nature remains neutral with regard to jurisdictional claims in published maps and institutional affiliations.
Supplementary information
Supplementary Tables 1–7.
About this article
Cite this article
Snelders, N.C., Rovenich, H., Petti, G.C. et al. Microbiome manipulation by a soil-borne fungal plant pathogen using effector proteins. Nat. Plants 6, 1365–1374 (2020). https://doi.org/10.1038/s41477-020-00799-5
Received:

Accepted:

Published:

Issue Date:

DOI: https://doi.org/10.1038/s41477-020-00799-5