Abstract
Some plants can 'remember' past environmental experience to become adapted to a given environment. For instance, after experiencing prolonged low-temperature exposure in winter (winter cold), vernalization-responsive plants remember past cold experience when temperature rises in spring, to acquire competence to flower at a later season favourable for seed production1,2. In Arabidopsis thaliana, prolonged cold induces silencing of the potent floral repressor FLOWERING LOCUS C (FLC) by Polycomb group (PcG) chromatin modifiers. This Polycomb-repressed chromatin state is epigenetically maintained and thus 'memorized' in subsequent growth and development upon return to warmth1,3. 'Memory of winter cold' has been viewed as being mitotically stable but meiotically unstable3,4,5, and thus not to be transmitted intergenerationally. In general, whether and how chromatin-mediated environmental memories are transmitted across generations are unknown in plants. Here, we show that the cold-induced Polycomb-repressed chromatin state at FLC or memory of winter cold is maintained in the egg cell, that is meiotically stable in the process of female gamete formation, and provide evidence that this Polycomb-mediated memory is not maintained in the sperm cell. Moreover, we show that this cold memory is inherited maternally but not paternally to the zygote and early embryos. Our study demonstrates and further provides mechanistic insights into intergenerational transmission of chromatin state-mediated environmental memories in plants.
Relevant articles
Open Access articles citing this article.
Jérômine Vigneau

&

Michael Borg

Plant Reproduction Open Access 08 July 2021
Access options
Subscribe to Nature+
Get immediate online access to Nature and 55 other Nature journal
Subscribe to Journal
Get full journal access for 1 year
$119.00
only $9.92 per issue
All prices are NET prices.
VAT will be added later in the checkout.
Tax calculation will be finalised during checkout.
Buy article
Get time limited or full article access on ReadCube.
$32.00
All prices are NET prices.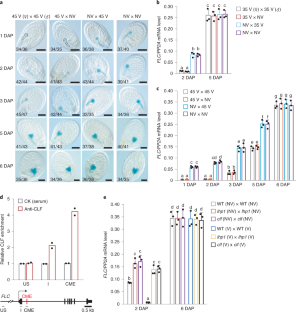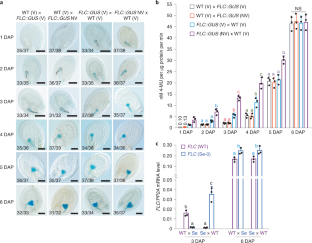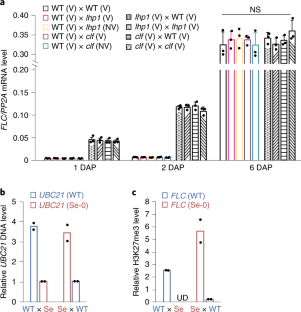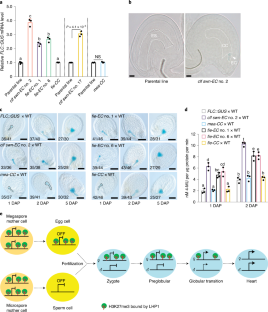 Data availability
The data supporting the findings in this study are included in this article and its extended data and Supplementary Information or available from the corresponding authors on request. Source data are provided with this paper.
References
Kim, D. H., Doyle, M. R., Sung, S. & Amasino, R. M. Vernalization: winter and the timing of flowering in plants. Annu. Rev. Cell Dev. Biol. 25, 277–299 (2009).

Andres, F. & Coupland, G. The genetic basis of flowering responses to seasonal cues. Nat. Rev. Genet. 13, 627–639 (2012).

Mylne, J. S. et al. LHP1, the Arabidopsis homologue of HETEROCHROMATIN PROTEIN1, is required for epigenetic silencing of FLC. Proc. Natl Acad. Sci. USA 103, 5012–5017 (2006).

Schiessl, S. V., Quezada-Martinez, D., Tebartz, E., Snowdon, R. J. & Qian, L. W. The vernalisation regulator FLOWERING LOCUS C is differentially expressed in biennial and annual Brassica napus. Sci. Rep. 9, 14911 (2019).

Finnegan, E. J., Genger, R. K., Kovac, K., Peacock, W. J. & Dennis, E. S. DNA methylation and the promotion of flowering by vernalization. Proc. Natl Acad. Sci. USA 95, 5824–5829 (1998).

Lee, I., Michaels, S. D., Masshardt, A. S. & Amasino, R. M. The late-flowering phenotype of FRIGIDA and luminidependens is suppressed in the Landsberg erecta strain of Arabidopsis. Plant J. 6, 903–909 (1994).

Angel, A., Song, J., Dean, C. & Howard, M. A Polycomb-based switch underlying quantitative epigenetic memory. Nature 476, 105–108 (2011).

Yuan, W. et al. A cis cold memory element and a trans epigenome reader mediate Polycomb silencing of FLC by vernalization in Arabidopsis. Nat. Genet. 48, 1527–1534 (2016).

Heo, J. B. & Sung, S. Vernalization-mediated epigenetic silencing by a long intronic noncoding RNA. Science 331, 76–79 (2011).

Yang, H. et al. Distinct phases of Polycomb silencing to hold epigenetic memory of cold in. Arabidopsis Sci. 357, 1142–1145 (2017).

Jiang, D. & Berger, F. DNA replication-coupled histone modification maintains Polycomb gene silencing in plants. Science 357, 1146–1149 (2017).

Tao, Z. et al. Embryonic epigenetic reprogramming by a pioneer transcription factor in plants. Nature 551, 124–128 (2017).

Sheldon, C. C. et al. Resetting of FLOWERING LOCUS C expression after epigenetic repression by vernalization. Proc. Natl Acad. Sci. USA 105, 2214–2219 (2008).

Choi, J. et al. Resetting and regulation of FLOWERING LOCUS C expression during Arabidopsis reproductive development. Plant J. 57, 918–931 (2009).

Santos-Mendoza, M. et al. Deciphering gene regulatory networks that control seed development and maturation in Arabidopsis. Plant J. 54, 608–620 (2008).

Li, Z., Fu, X., Wang, Y., Liu, R. & He, Y. Polycomb-mediated gene silencing by the BAH-EMF1 complex in plants. Nat. Genet. 50, 1254–1261 (2018).

Mozgova, I. & Hennig, L. The Polycomb group protein regulatory network. Annu. Rev. Plant Biol. 66, 269–296 (2015).

Belmonte, M. F. et al. Comprehensive developmental profiles of gene activity in regions and subregions of the Arabidopsis seed. Proc. Natl Acad. Sci. USA 110, E435–E444 (2013).

Tao, Z. et al. Embryonic resetting of the parental vernalized state by two B3 domain transcription factors in Arabidopsis. Nat. Plants 5, 424–435 (2019).

Sung, S. et al. Epigenetic maintenance of the vernalized state in Arabidopsis thaliana requires LIKE HETEROCHROMATIN PROTEIN 1. Nat. Genet. 38, 706–710 (2006).

Zhao, P. et al. Two-step maternal-to-zygotic transition with two-phase parental genome contributions. Dev. Cell 49, 882–893 (2019).

Nodine, M. D. & Bartel, D. P. Maternal and paternal genomes contribute equally to the transcriptome of early plant embryos. Nature 482, 94–97 (2012).

Borges, F. et al. Comparative transcriptomics of Arabidopsis sperm cells. Plant Physiol. 148, 1168–1181 (2008).

Wuest, S. E. et al. Arabidopsis female gametophyte gene expression map reveals similarities between plant and animal gametes. Curr. Biol. 20, 506–512 (2010).

Lafos, M. et al. Dynamic regulation of H3K27 trimethylation during Arabidopsis differentiation. PLoS Genet. 7, e1002040 (2011).

Gu, X., Xu, T. & He, Y. A histone H3 lysine-27 methyltransferase complex represses lateral root formation in Arabidopsis thaliana. Mol. Plant 7, 977–988 (2014).

Zhang, X. et al. The Arabidopsis LHP1 protein colocalizes with histone H3 Lys27 trimethylation. Nat. Struct. Mol. Biol. 14, 869–871 (2007).

Baroux, C., Gagliardini, V., Page, D. R. & Grossniklaus, U. Dynamic regulatory interactions of Polycomb group genes: MEDEA autoregulation is required for imprinted gene expression in Arabidopsis. Genes Dev. 20, 1081–1086 (2006).

Steffen, J. G., Kang, I. H., Macfarlane, J. & Drews, G. N. Identification of genes expressed in the Arabidopsis female gametophyte. Plant J. 51, 281–292 (2007).

Gaydos, L. J., Wang, W. & Strome, S. H3K27me and PRC2 transmit a memory of repression across generations and during development. Science 345, 1515–1518 (2014).

Zheng, H. et al. Resetting epigenetic memory by reprogramming of histone modifications in mammals. Mol. Cell 63, 1066–1079 (2016).

Borg, M. et al. Targeted reprogramming of H3K27me3 resets epigenetic memory in plant paternal chromatin. Nat. Cell Biol. 22, 621–629 (2020).

Chen, M. & Penfield, S. Feedback regulation of COOLAIR expression controls seed dormancy and flowering time. Science 360, 1014–1017 (2018).

Shindo, C. et al. Role of FRIGIDA and FLOWERING LOCUS C in determining variation in flowering time of Arabidopsis. Plant Physiol. 138, 1163–1173 (2005).

Schonrock, N. et al. Polycomb-group proteins repress the floral activator AGL19 in the FLC-independent vernalization pathway. Genes Dev. 20, 1667–1678 (2006).

Michaels, S. D. & Amasino, R. M. FLOWERING LOCUS C encodes a novel MADS domain protein that acts as a repressor of flowering. Plant Cell 11, 949–956 (1999).

Blazquez, M. Quantitative GUS activity assay of plant extracts. CSH Protoc. 8, 4690 (2007).

Wang, Y., Gu, X., Yuan, W., Schmitz, R. J. & He, Y. Photoperiodic control of the floral transition through a distinct Polycomb repressive complex. Dev. Cell 28, 727–736 (2014).

Tofanelli, R., Vijayan, A., Scholz, S. & Schneitz, K. Protocol for rapid clearing and staining of fixed Arabidopsis ovules for improved imaging by confocal laser scanning microscopy. Plant Methods 15, 120 (2019).

Wu, Y. et al. Arabidopsis FIMBRIN5, an actin bundling factor, is required for pollen germination and pollen tube growth. Plant Cell 22, 3745–3763 (2010).
Acknowledgements
We are grateful to R. M. Amasino for kindly providing the FRI-Col seeds and I. E. Somssich for the pJawohl8-RNAi plasmid. We thank Y. Li for assistance with constructing the FRI clf and FRI lhp1 lines and Z. Gao for assistance with genetic crossing. This work was supported by the National Natural Science Foundation of China (grant nos. 31721001 and 31830049 to Y.H.) and the Chinese Academy of Sciences (grant no. XDB27030202 to Y.H.).
Ethics declarations
Competing interests
The authors declare no competing interests.
Additional information
Peer review information Nature Plants thanks Daniel Woods and the other, anonymous, reviewer(s) for their contribution to the peer review of this work.
Publisher's note Springer Nature remains neutral with regard to jurisdictional claims in published maps and institutional affiliations.
Supplementary information
About this article
Cite this article
Luo, X., Ou, Y., Li, R. et al. Maternal transmission of the epigenetic 'memory of winter cold' in Arabidopsis. Nat. Plants 6, 1211–1218 (2020). https://doi.org/10.1038/s41477-020-00774-0
Received:

Accepted:

Published:

Issue Date:

DOI: https://doi.org/10.1038/s41477-020-00774-0