Abstract
Assessment of the impact of variation in chloroplast and mitochondrial DNA (collectively termed the plasmotype) on plant phenotypes is challenging due to the difficulty in separating their effect from nuclear-derived variation (the nucleotype). Haploid-inducer lines can be used as efficient plasmotype donors to generate new plasmotype–nucleotype combinations (cybrids)1. We generated a panel comprising all possible cybrids of seven Arabidopsis thaliana accessions and extensively phenotyped these lines for 1,859 phenotypes under both stable and fluctuating conditions. We show that natural variation in the plasmotype results in both additive and epistatic effects across all phenotypic categories. Plasmotypes that induce more additive phenotypic changes also cause more epistatic effects, suggesting a possible common basis for both additive and epistatic effects. On average, epistatic interactions explained twice as much of the variance in phenotypes as additive plasmotype effects. The impact of plasmotypic variation was also more pronounced under fluctuating and stressful environmental conditions. Thus, the phenotypic impact of variation in plasmotypes is the outcome of multi-level nucleotype–plasmotype–environment interactions and, as such, the plasmotype is likely to serve as a reservoir of variation that is predominantly exposed under certain conditions. The production of cybrids using haploid inducers is a rapid and precise method for assessment of the phenotypic effects of natural variation in organellar genomes. It will facilitate efficient screening of unique nucleotype–plasmotype combinations to both improve our understanding of natural variation in these combinations and identify favourable combinations to enhance plant performance.
Access options
Subscribe to Nature+
Get immediate online access to Nature and 55 other Nature journal
Subscribe to Journal
Get full journal access for 1 year
$119.00
only $9.92 per issue
All prices are NET prices.
VAT will be added later in the checkout.
Tax calculation will be finalised during checkout.
Buy article
Get time limited or full article access on ReadCube.
$32.00
All prices are NET prices.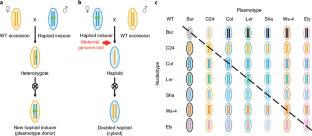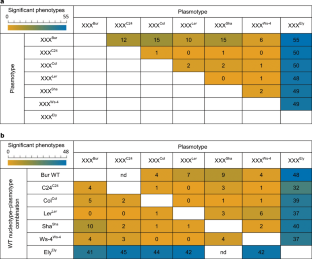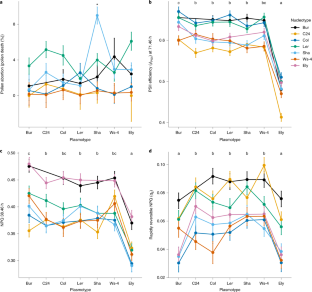 Data availability
Sequencing and transcriptome data are available through the European Nucleotide Archive with the primary accession codes PRJEB29654 and PRJEB35324. The raw datasets are available through Dryad at https://doi.org/10.5061/dryad.cz8w9gj05. The analysed datasets that support our findings are available as Supplementary Data. The associated raw data for Figs. 3 and 4 are provided in Supplementary Data 1, and the raw data for Fig. 2 are provided in Supplementary Data 2. Source data for Figs. 3 and Fig. 4 and Extended Data Figs. 1, 3, 4 and 7–9 are provided with the paper. The germplasm generated in this project will be available via the European Arabidopsis Stock Centre (www.arabidopsis.info).
References
Ravi, M. et al. A haploid genetics toolbox for Arabidopsis thaliana. Nat. Commun. 5, 5334 (2014).

Chan, K. X., Phua, S. Y., Crisp, P., McQuinn, R. & Pogson, B. J. Learning the languages of the chloroplast: retrograde signaling and beyond. Annu. Rev. Plant Biol. 67, 25–53 (2016).

Petrillo, E. et al. A chloroplast retrograde signal regulates nuclear alternative splicing. Science 344, 427–430 (2014).

Kleine, T. & Leister, D. Retrograde signaling: organelles go networking. Biochim. Biophys. Acta Bioenerg. 1857, 1313–1325 (2016).

Flood, P. J. et al. Whole-genome hitchhiking on an organelle mutation. Curr. Biol. 26, 1306–1311 (2016).

Joseph, B., Corwin, J. A., Li, B., Atwell, S. & Kliebenstein, D. J. Cytoplasmic genetic variation and extensive cytonuclear interactions influence natural variation in the metabolome. eLife 2, e00776 (2013).

Zeyl, C., Andreson, B. & Weninck, E. Nuclear-mitochondrial epistasis for fitness in Saccharomyces cerevisiae. Evolution 59, 910–914 (2005).

Montooth, K. L., Meiklejohn, C. D., Abt, D. N. & Rand, D. M. Mitochondrial-nuclear epistasis affects fitness within species but does not contribute to fixed incompatibilities between species of Drosophila. Evolution 64, 3364–3379 (2010).

Joseph, B. et al. Hierarchical nuclear and cytoplasmic genetic architectures for plant growth and defense within Arabidopsis. Plant Cell 25, 1929–1945 (2013).

Tang, Z. et al. Potential involvement of maternal cytoplasm in the regulation of flowering time via interaction with nuclear genes in maize. Crop Science 54, 544–553 (2014).

Roux, F. et al. Cytonuclear interactions affect adaptive traits of the annual plant Arabidopsis thaliana in the field. Proc. Natl Acad. Sci. USA 113, 3687–3692 (2016).

Mossman, J. A., Ge, J. Y., Navarro, F. & Rand, D. M. Mitochondrial DNA fitness depends on nuclear genetic background in Drosophila. G3 (Bethesda) 9, 1175–1188 (2019).

Dobler, R., Rogell, B., Budar, F. & Dowling, D. K. A meta-analysis of the strength and nature of cytoplasmic genetic effects. J. Evol. Biol. 27, 2021–2034 (2014).

Bock, D. G., Andrew, R. L. & Rieseberg, L. H. On the adaptive value of cytoplasmic genomes in plants. Mol. Ecol. 23, 4899–4911 (2014).

Levings, C. S. The Texas cytoplasm of maize: cytoplasmic male sterility and disease susceptibility. Science 250, 942–947 (1990).

Miclaus, M. et al. Maize cytolines unmask key nuclear genes that are under the control of retrograde signaling pathways in plants. Genome Biol. Evol. 8, 3256–3270 (2016).

Sambatti, J. B., Ortiz‐Barrientos, D., Baack, E. J. & Rieseberg, L. H. Ecological selection maintains cytonuclear incompatibilities in hybridizing sunflowers. Ecol. Lett. 11, 1082–1091 (2008).

Dowling, D. K., Abiega, K. C. & Arnqvist, G. Temperature‐specific outcomes of cytoplasmic‐nuclear interactions on egg‐to‐adult development time in seed beetles. Evolution 61, 194–201 (2007).

Ravi, M. & Chan, S. W. L. Haploid plants produced by centromere-mediated genome elimination. Nature 464, 615–618 (2010).

El-Lithy, M. E. et al. Altered photosynthetic performance of a natural Arabidopsis accession is associated with atrazine resistance. J. Exp. Bot. 56, 1625–1634 (2005).

Flood, P. J. et al. Natural variation in phosphorylation of photosystem II proteins in Arabidopsis thaliana: is it caused by genetic variation in the STN kinases? Philos. Trans. R. Soc. B 369, 20130499 (2014).

Falconer, D. & Mackay, T. J. H. Introduction to Quantitative Genetics (Longmans Green, 1996).

Somerville, C. R. & Ogren, W. L. Photorespiration mutants of Arabidopsis thaliana deficient in serine-glyoxylate aminotransferase activity. Proc. Natl Acad. Sci. USA 77, 2684–2687 (1980).

Cingolani, P. et al. A program for annotating and predicting the effects of single nucleotide polymorphisms, SnpEff. Fly 6, 80–92 (2012).

Strand, D. D., Nicholas, F. & Kramer, D. M. The higher plant plastid NAD(P)H dehydrogenase-like complex (NDH) is a high efficiency proton pump that increases ATP production by cyclic electron flow. Journal of Biological Chemistry 292, 11850–11860 (2017).

Laughlin, T. G. et al. Structure of the complex I-like molecule NDH of oxygenic photosynthesis. Nature 566, 411–414 (2019).

Kermicle, J. L. Androgenesis conditioned by a mutation in maize. Science 166, 1422–1424 (1969).

Schneerman, M., Charbonneau, M. & Weber, D. A survey of ig-containing materials. Maize Genet. Coop. Newsl. 74, 92–93 (2000).

Houben, A., Sanei, M. & Pickering, R. Barley doubled-haploid production by uniparental chromosome elimination. Plant Cell Tissue Organ Cult. 104, 321–327 (2011).

Karimi-Ashtiyani, R. et al. Point mutation impairs centromeric CENH3 loading and induces haploid plants. Proc. Natl Acad. Sci. USA 112, 11211–11216 (2015).

Kromdijk, J. et al. Improving photosynthesis and crop productivity by accelerating recovery from photoprotection. Science 354, 857–861 (2016).

Flood, P. J., Harbinson, J. & Aarts, M. G. M. Natural genetic variation in plant photosynthesis. Trends Plant Sci. 16, 327–335 (2011).

Murchie, E. H. et al. Measuring the dynamic photosynthome. Ann. Bot-London 122, 207–220 (2018).

Ruf, S. et al. High-efficiency generation of fertile transplastomic Arabidopsis plants. Nat. Plants 5, 282–289 (2019).

Kwak, S.-Y. et al. Chloroplast-selective gene delivery and expression in planta using chitosan-complexed single-walled carbon nanotube carriers. Nat. Nanotechnol. 14, 447–455 (2019).

Zhang, J. et al. Full crop protection from an insect pest by expression of long double-stranded RNAs in plastids. Science 347, 991–994 (2015).

Jin, S. & Daniell, H. The engineered chloroplast genome just got smarter. Trends Plant Sci. 20, 622–640 (2015).

Hoekstra, L. A., Siddiq, M. A. & Montooth, K. L. Pleiotropic effects of a mitochondrial–nuclear incompatibility depend upon the accelerating effect of temperature in Drosophila. Genetics 195, 1129–1139 (2013).

Mossman, J. A., Biancani, L. M., Zhu, C.-T. & Rand, D. M. Mitonuclear epistasis for development time and its modification by diet in Drosophila. Genetics 203, 463–484 (2016).

Hill, G. E. et al. Assessing the fitness consequences of mitonuclear interactions in natural populations. Biol. Rev. 94, 1089–1104 (2019).

Yin, L. et al. Photosystem II function and dynamics in three widely used Arabidopsis thaliana accessions. PLoS ONE 7, e46206 (2012).

Gobron, N. et al. A cryptic cytoplasmic male sterility unveils a possible gynodioecious past for Arabidopsis thaliana. PLoS ONE 8, e62450 (2013).

Wijnker, E. et al. Hybrid recreation by reverse breeding in Arabidopsis thaliana. Nat. Protoc. 9, 761–772 (2014).

Martin, M. Cutadapt removes adapter sequences from high-throughput sequencing reads. EMBO J. 17, 10–12 (2011).

Sloan, D. B., Wu, Z. & Sharbrough, J. Correction of persistent errors in Arabidopsis reference mitochondrial genomes. Plant Cell 30, 525–527 (2018).

Li, H. Aligning sequence reads, clone sequences and assembly contigs with BWA-MEM. Preprint at https://arxiv.org/abs/1303.3997 (2013).

Li, H. et al. The sequence alignment/Map format and SAMtools. Bioinformatics 25, 2078–2079 (2009).

The 1001 Genomes Consortium. 1,135 genomes reveal the global pattern of polymorphism in Arabidopsis thaliana. Cell. 166, 481–491 (2016).

Flood, P. J. et al. Phenomics for photosynthesis, growth and reflectance in Arabidopsis thaliana reveals circadian and long-term fluctuations in heritability. Plant Methods 12, 1–14 (2016).

Kokorian, J., Polder, G., Keurentjes, J., Vreugdenhil, D. & Guzman, M. O. in Proc. ImageJ User and Developer Conference, Luxembourg, 27–29 October 2010 (eds Jahnen, A. & Moll, C.) 178–182 (Centre de Recherche Public Henri Tudor, 2010).

Cruz, J. A. et al. Dynamic environmental photosynthetic imaging reveals emergent phenotypes. Cell Systems 2, 365–377 (2016).

Joosen, R. V. L. et al. Germinator: a software package for high-throughput scoring and curve fitting of Arabidopsis seed germination. Plant J. 62, 148–159 (2010).

Peterson, R., Slovin, J. P. & Chen, C. A simplified method for differential staining of aborted and non-aborted pollen grains. Int. J. Plant Biol. 1, 66–69 (2010).

Lisec, J., Schauer, N., Kopka, J., Willmitzer, L. & Fernie, A. R. Gas chromatography mass spectrometry-based metabolite profiling in plants. Nat. Prot. 1, 387–396 (2006).

Carreno-Quintero, N. et al. Untargeted metabolic quantitative trait loci analyses reveal a relationship between primary metabolism and potato tuber quality. Plant Physiol. 158, 1306–1318 (2012).

Wehrens, R. et al. Improved batch correction in untargeted MS-based metabolomics. Metabolomics 12, 88 (2016).

Sumner, L. W. et al. Proposed minimum reporting standards for chemical analysis. Metabolomics 3, 211–221 (2007).

Trapnell, C., Pachter, L. & Salzberg, S. L. TopHat: discovering splice junctions with RNA-seq. Bioinformatics 25, 1105–1111 (2009).

Love, M. I., Huber, W. & Anders, S. Moderated estimation of fold change and dispersion for RNA-seq data with DESeq2. Genome Biol. 15, 550 (2014).

Reimand, J. et al. g:Profiler—a web server for functional interpretation of gene lists (2016 update). Nucleic Acids Res. 44, W83–W89 (2016).

Wood, S. N., Pya, N. & Säfken, B. Smoothing parameter and model selection for general smooth models. J. Am. Stat. Assoc. 111, 1548–1563 (2016).

Bates, D., Mächler, M., Bolker, B. & Walker, S. Fitting linear mixed-effects models using lme4. J. Stat. Softw. 67, 48 (2015).
Acknowledgements
H. Blankestijn, J. van de Belt, D. Oberste-Lehn, E. Schijlen, C. Hanhart, J. ter Riele and S. Schop (Wageningen University & Research) are acknowledged for help with experiments; J. Klasen (Max Planck Institute for Plant Breeding Research), A. Languillaume and R. van Bezouw (Wageningen University & Research) for statistical advice; and D. Aanen (Wageningen University & Research) for helpful discussions. This work was, in part, supported by the Netherlands Organization for Scientific Research through ALW-TTI Green Genetics (P.J.F.) and ALWGS.2016.012 (T.P.J.M.T). The European Molecular Biology Organization supported this work through grant no. ALTF 679-2013 (E.W.), and the European Community through the Marie-Curie Initial Training Network 'COMREC' project no. 606956 funded under FP7-PEOPLE (V.C.-B.). ZonMw Enabling Technology Hotels and the Consortium for Improving Plant Yield Enabling Technology Hotels provided funds for the metabolomics, RNA-seq and seed phenotyping. Work at Michigan State University for DEPI phenotyping was supported by the US Department of Energy, Chemical Sciences, Geosciences, and Biosciences Division, Basic Energy Sciences, Office of Science at the US Department of Energy (through grant no. DE-FG02–91ER20021).
Ethics declarations
Competing interests
The authors declare no competing interests.
Additional information
Publisher's note Springer Nature remains neutral with regard to jurisdictional claims in published maps and institutional affiliations.
Supplementary information
About this article
Cite this article
Flood, P.J., Theeuwen, T.P.J.M., Schneeberger, K. et al. Reciprocal cybrids reveal how organellar genomes affect plant phenotypes. Nat. Plants 6, 13–21 (2020). https://doi.org/10.1038/s41477-019-0575-9
Received:

Accepted:

Published:

Issue Date:

DOI: https://doi.org/10.1038/s41477-019-0575-9
This article is cited by
Nature Plants (2020)

Jian Lv
Kun Yu
Tim Kelliher

Nature Biotechnology (2020)

Nghiem Quynh Chi
Chris Harwood
Ngo Van Chinh

Euphytica (2020)