Abstract
The Arabidopsis genome contains three genes encoding proteins of the TRANSPARENT TESTA GLABRA 1 (TTG1) WD-repeat (WDR) subfamily. TTG1 is a known regulator of epidermal cell differentiation and pigment production, while LIGHT-REGULATED WD1 and LIGHT-REGULATED WD2 are known regulators of the circadian clock. Here, we discovered a new central role for TTG1 WDR proteins as regulators of the circadian system, as evidenced by the lack of detectable circadian rhythms in a triple lwd1 lwd2 ttg1 mutant. This shows that there has been subfunctionalization via protein changes within the angiosperms, with some TTG1 WDR proteins developing a stronger role in circadian clock regulation while losing the protein characteristics essential for pigment production and epidermal cell specification, and others weakening their ability to drive circadian clock regulation. Our work shows that even where proteins are very conserved, small changes can drive big functional differences.
Access options
Subscribe to Journal
Get full journal access for 1 year
$59.00
only $4.92 per issue
All prices are NET prices.
VAT will be added later in the checkout.
Tax calculation will be finalised during checkout.
Rent or Buy article
Get time limited or full article access on ReadCube.
from$8.99
All prices are NET prices.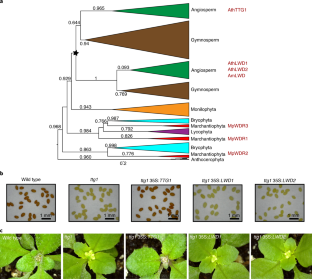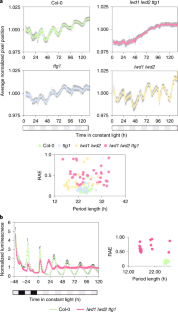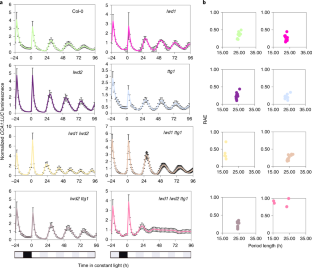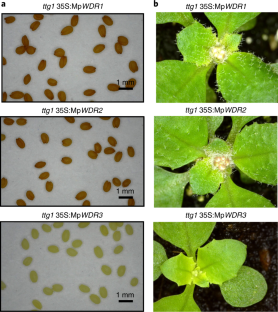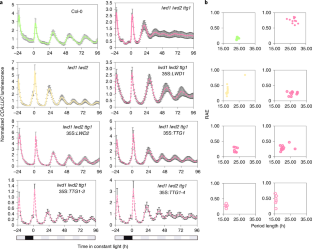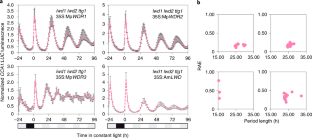 References
1.

Jacob, F. Evolution and tinkering. Science 196, 1161–1166 (1977).

2.

Wray, G. A. The evolutionary significance of cis-regulatory mutations. Nat. Rev. Genet. 8, 206–216 (2007).

3.

Carroll, S. B. Evo-devo and an expanding evolutionary synthesis: a genetic theory of morphological evolution. Cell 134, 25–36 (2008).

4.

Smith, T. F., Gaitatzes, C., Saxena, K. & Neer, E. J. The WD repeat: a common architecture for diverse functions. Trends Biochem. Sci. 24, 181–185 (1999).

5.

Ramsay, N. A. & Glover, B. J. MYB–bHLH–WD40 protein complex and the evolution of cellular diversity. Trends Plant Sci. 10, 63–70 (2005).

6.

Kornneef, M. The complex syndrome of ttg mutants. Arab. Inf. 18, 45–51 (1981).

7.

Pattanaik, S., Patra, B., Singh, S. K. & Yuan, L. An overview of the gene regulatory network controlling trichome development in the model plant, Arabidopsis. Front. Plant Sci. 5, 259 (2014).

8.

Schiefelbein, J., Huang, L. & Zheng, X. Regulation of epidermal cell fate in Arabidopsis roots: the importance of multiple feedback loops. Front. Plant Sci. 5, 47 (2014).

9.

Xu, W., Dubos, C. & Lepiniec, L. Transcriptional control of flavonoid biosynthesis by MYB–bHLH–WDR complexes. Trends Plant Sci. 20, 176–185 (2015).

10.

Pesch, M. et al. TRANSPARENT TESTA GLABRA1 and GLABRA1 compete for binding to GLABRA3 in Arabidopsis. Plant Physiol. 168, 584–597 (2015).

11.

Zhang, B., Chopra, D., Schrader, A. & Hülskamp, M. Evolutionary comparison of competitive protein-complex formation of MYB, bHLH, and WDR proteins in plants. J. Exp. Bot. 70, 3197–3209 (2019).

12.

Wu, J.-F., Wang, Y. & Wu, S.-H. Two new clock proteins, LWD1 and LWD2, regulate Arabidopsis photoperiodic flowering. Plant Physiol. 148, 948–959 (2008).

13.

Wang, Y. et al. LIGHT-REGULATED WD1 and PSEUDO-RESPONSE REGULATOR9 form a positive feedback regulatory loop in the Arabidopsis circadian clock. Plant Cell 23, 486–498 (2011).

14.

Wu, J.-F. et al. LWD–TCP complex activates the morning gene CCA1 in Arabidopsis. Nat. Commun. 7, 13181 (2016).

15.

Nakamichi, N., Kita, M., Ito, S., Yamashino, T. & Mizuno, T. PSEUDO-RESPONSE REGULATORS, PRR9, PRR7 and PRR5, together play essential roles close to the circadian clock of Arabidopsis thaliana. Plant Cell Physiol. 46, 686–698 (2005).

16.

The Angiosperm Phylogeny Group III. An update of the Angiosperm Phylogeny Group classification for the orders and families of flowering plants: APG III. Bot. J. Linn. Soc. 161, 105–121 (2009).

17.

McClung, C. R. Wheels within wheels: new transcriptional feedback loops in the Arabidopsis circadian clock. F1000Prime Rep. 6, 2 (2014).

18.

Okada, R. et al. Functional characterization of CCA1/LHY homolog genes, PpCCA1a and PpCCA1b, in the moss Physcomitrella patens. Plant J. 60, 551–563 (2009).

19.

Holm, K., Källman, T., Gyllenstrand, N., Hedman, H. & Lagercrantz, U. Does the core circadian clock in the moss Physcomitrella patens (bryophyta) comprise a single loop? BMC Plant Biol. 10, 109 (2010).

20.

Linde, A.-M. et al. Early evolution of the land plant circadian clock. New Phytol. 216, 576–590 (2017).

21.

Dodd, A. N. Plant circadian clocks increase photosynthesis, growth, survival, and competitive advantage. Science 309, 630–633 (2005).

22.

Serna, L. & Martin, C. Trichomes: different regulatory networks lead to convergent structures. Trends Plant Sci. 11, 274–280 (2006).

23.

Yang, C. & Ye, Z. Trichomes as models for studying plant cell differentiation. Cell. Mol. Life Sci. 70, 1937–1948 (2012).

24.

Clough, S. J. & Bent, A. F. Floral dip: a simplified method for Agrobacterium-mediated transformation of Arabidopsis thaliana. Plant J. 16, 735–743 (1998).

25.

Albert, N. W. et al. Light-induced vegetative anthocyanin pigmentation in Petunia. J. Exp. Bot. 60, 2191–2202 (2009).

26.

Martí Ruiz, M. C. et al. Circadian oscillations of cytosolic free calcium regulate the Arabidopsis circadian clock. Nat. Plants 4, 690–698 (2018).

27.

Zielinsky, T., Moore, A. M., Troup, E., Halliday, K. J. & Millar, A. J. Strengths and limitations of period estimation methods for circadian data. PLoS ONE 9, e96462 (2014).
Acknowledgements
We thank M. Dorling for laboratory and greenhouse support, and E. Moyroud for helpful discussions. E. Matthus and J. Davies provided help with the root hair analysis, M. Stancombe and X. Wang provided help with the circadian clock experiments, and N. Albert and K. Davies provided guidance on anthocyanin extraction. We thank S.-H. Wu (Institute of Plant and Microbial Biology, Academia Sinica, Taipei) for providing the lwd1lwd2 CCA1:LUC line. We thank the Cambridge University Botanic Garden for supplying A. trichopoda tissue for RT-PCR. C. A. Lugo provided support with the statistical analysis, and Q. Wang provided support with the figures and dot plot presentations. C.A.A. acknowledges support from the Cambridge University Botanic Garden Research Fund. T.J.H. was supported by BBSRC UK grant BB/M006212/1, awarded to A.A.R.W.
Ethics declarations
Competing interests
The authors declare no competing interests.
Additional information
Peer review information Nature Plants thanks Magnus Ekland and the other, anonymous, reviewers for their contribution to the peer review of this work.
Publisher's note Springer Nature remains neutral with regard to jurisdictional claims in published maps and institutional affiliations.
Supplementary information
Supplementary Figs. 1 and 2, and Supplementary Tables 1–3.
About this article
Cite this article
Airoldi, C.A., Hearn, T.J., Brockington, S.F. et al. TTG1 proteins regulate circadian activity as well as epidermal cell fate and pigmentation. Nat. Plants 5, 1145–1153 (2019). https://doi.org/10.1038/s41477-019-0544-3
Received:

Accepted:

Published:

Issue Date:
Further reading
Hainan Tian

&

Shucai Wang

International Journal of Molecular Sciences (2020)

Sébastien Viudes

,

Vincent Burlat

&

Christophe Dunand

Plant, Cell & Environment (2020)